Claire McCardell Fashion Designs: let's look closely at the art!
Today we'll look closely at the constructions of Claire Mccardell fashion designs to deepen our understanding of garment construction and bias cuts made visible through stripes and plaids. (for more understanding of these principles, I invited you to Patternmaking Demystified (plus draping) online intensive.)
She's also one of the 26 featured biographies in my book The Language of Fashion Design. For other "museum visits": see Agatha Ruiz de la Prada page, Seydou Keita post and Tamara de Lempicka post)
Claire McCardell (1905–1958) was an American fashion designer in the arena of ready-to-wear clothing in the 20th century. From the 1930s to the 1950s, she was known for designing functional, affordable, and stylish women's sportswear within the constraints of mass-production, and is today acknowledged as the creator of the "American Look", a democratic and casual approach to fashion that rejected the formality of French couture. (CREDIT: I took that from Wikipedia's description).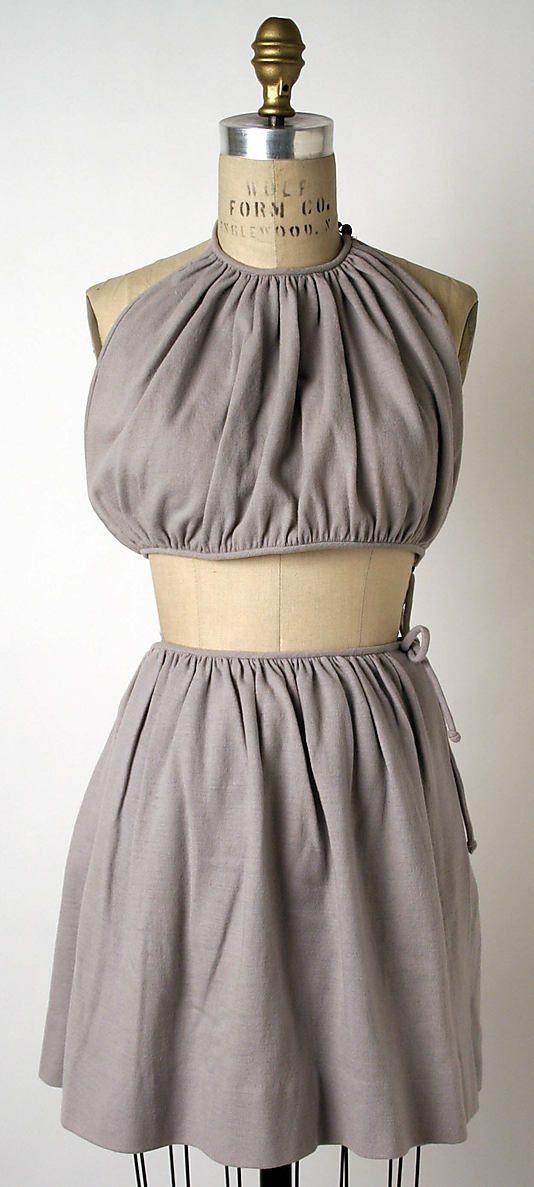 Yes, folks, thanks to the resources available today, I am able to quickly pull together an impromptu "museum visit" for you .
Also, You can get a "live" walk-through these images with yours truly in this video.
As a starry-eyed Junior Year Parsons School of Design Fashion student in 1993, my draping professor (remember the inimitable Maria Laveris, anyone? MASTER craftswoman!!) took us into the then-basement costume archive at the Metropolitan Museum of Art to see some of the Claire McCardell fashion design garments you see here, and many others. We observed her garments off of the mannequin, examining their construction inside and out with white gloves.

Here, you will only see their "outsides".
I'm posting this gallery in honor of my online course's "stripes and plaids" assignment:
Claire Mccardell fashion designs made awesome use of yarn-dyed weave patterns-and the glory of it is that stripes and plaids will always expose the grain of the fabric in the garment.
In stripe or plaid woven fabric, we can see exactly where the bias is (and remember that bias fabric is elastic, like a lattice and that straight grain is firm and doesn't give), and see exactly where the straight grain runs, and see the creative ways that she worked with the construction using these woven patterns (you'll see below).
She also often used sleeves cut in-one with the garments (kimono, dolman). Many pieces were easier to fit arms and bust, and easier to make than set-in sleeves, and often belted.
Stripes and Plaids can really help you understand how garments are put together because they show the grainline or the direction of the threads in the cloth…. Check out my Pinterest board devoted to this topic here.
At the bottom of this page, I also include solid colored garments with exquisite construction that aren't striped or plaid. MCCardell's gathered bodices with piped edges or carefully pleating, for example. Even some of her knit swimwear is in there…thick, but cute! Her swimsuits broke new ground and many of her clothing designs were daring for their time . Check out My pinterest board devoted to vintage swimwear, here.
Pore over the images on this page, "take what you like, and leave the rest……" whether obvious or not, the simplicity of her vision and craft can be totally taken for granted: Claire McCardell fashion designs are timeless, relevant, practical, elegant, and artistic. She is our proudest representation of American design. Influenced by Madame Gres and Vionnet with the innovation of the bias cut, but totally American in her sporty and practical wartime approach to femininity.
If you read the notes and then analyze the garment with the notes, you will learn so much!
I hope I'm not the only one who gets goose-bumps looking at these!
ENJOY!!!!!!!
Much Love,
Laura
Plaids, Stripes, Dots, and Prints: Claire McCardell fashion design.

This jumpsuit and jacket above are cut entirely on bias, lending a soft shape and unrestricted comfort due to the bias' elasticity. She also takes advantage of placing the plaid decoratively. Waist is fitted, but there is soft gathered fullness for the bust. The jacket sleeve is cut in one with the jacket, no armhole seam
.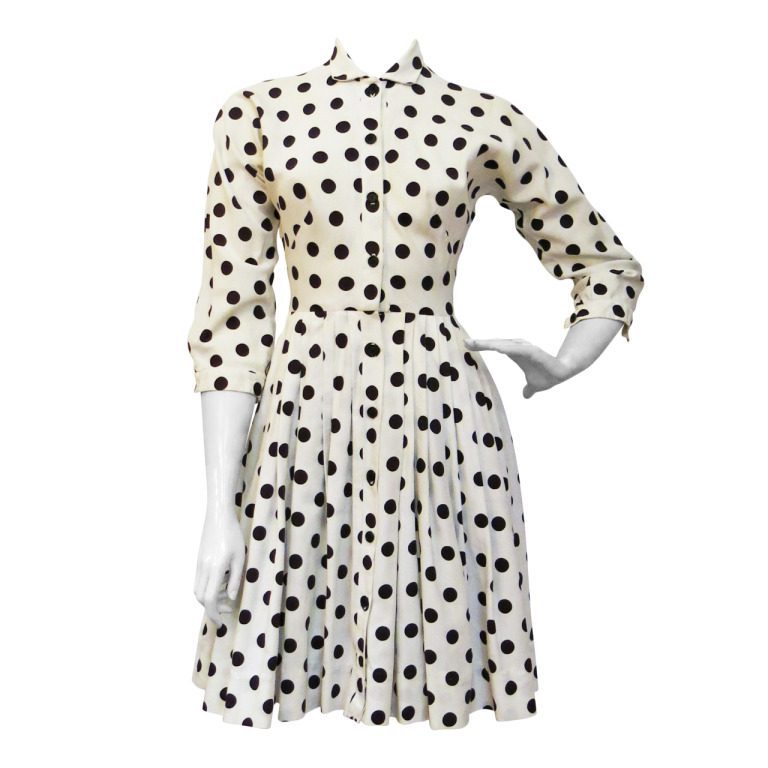 Above, Pleated polka dotted skirt into a slightly bias bodice, French Darts, and no armhole seam…kimono sleeve. Sweet how the buttons play on the polka dot.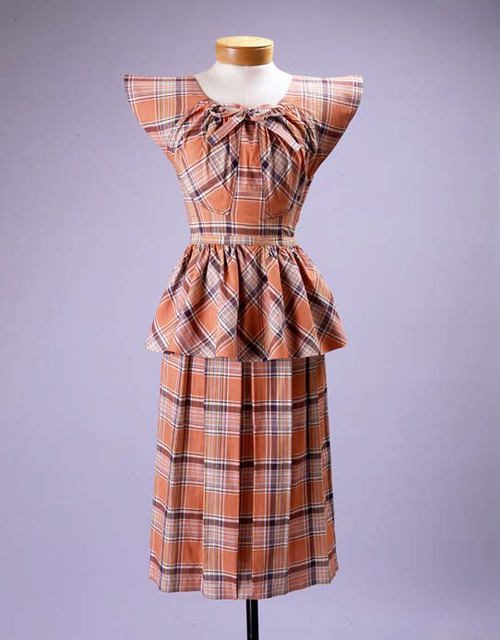 Above is a straight grain bodice, gathered bias peplum for visual interest, pleated straight grain skirt with VERY clever bias panel inserts for bust fullness.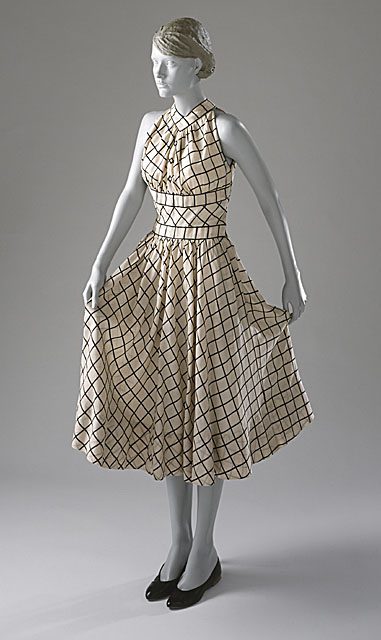 Notice the fluidity of a bias cut plaid skirt. Usually gathered or pleated skirts are cut on the straight grain, and the visual and the drape are different when rotated to true bias. Strips of straight grain "squares" are placed above and below the bias midriff, and an "L" shaped cut of plaid creates the neckline. Again, gathers above and below the bias bust area give soft fullness.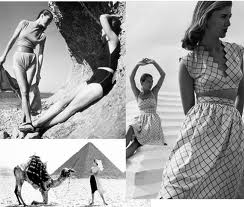 This paid ensemble above is entirely on bias, gathered into bias waistband, but look at the amazing neckline, using the plaid itself and its straight-grain edges!!!!! This photo is featured in my book.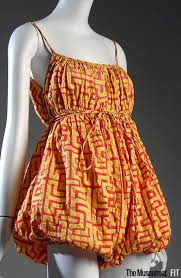 The playful poufy romper above features spaghetti ties, airy fullness, and straight grain construction using gathers at neck and hem. Claire McCardell fashion designs speak to a wide range of ages, which is awesome!
.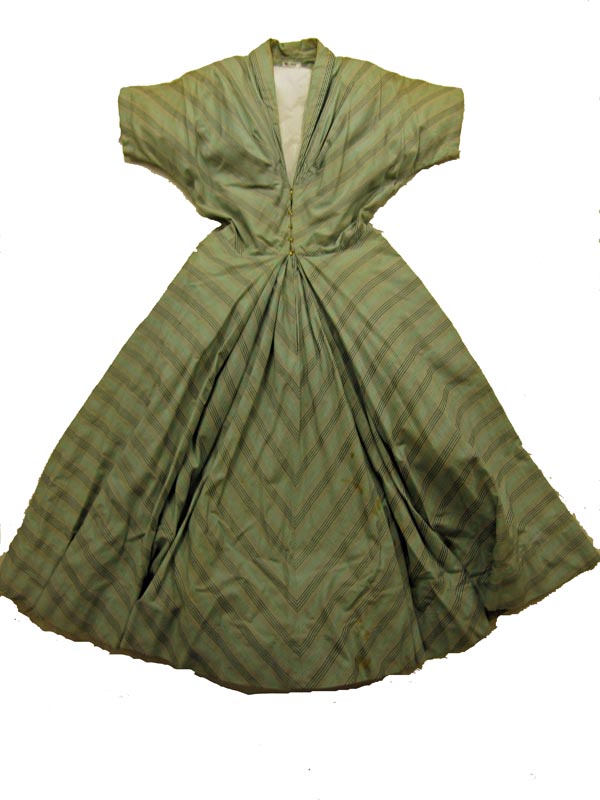 Bias cuts, pleats, gathers, and wraps:
Entirely true bias dress with center front seam creating a "chevron" effect, sleeves cut in-one with bodice, shawl collar, and deep, layered inverted box pleating at center front.Many Claire McCardell fashion designs feature a chevron effect.
.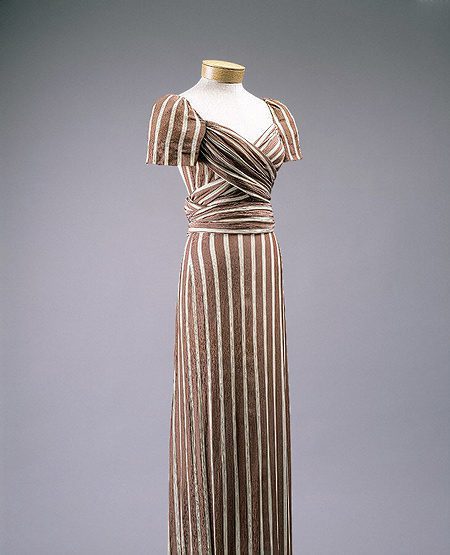 This wrap -top features bands/panels of "scrunched" strip, reminiscent of Madame Gres' sculpted "Greek" gowns. They gather into the armhole and release over the bodice. This fabric drapes heavily over the lower body tapering into fullness at the hem. Stripes carry movement. The wrapping theme comes up again and again.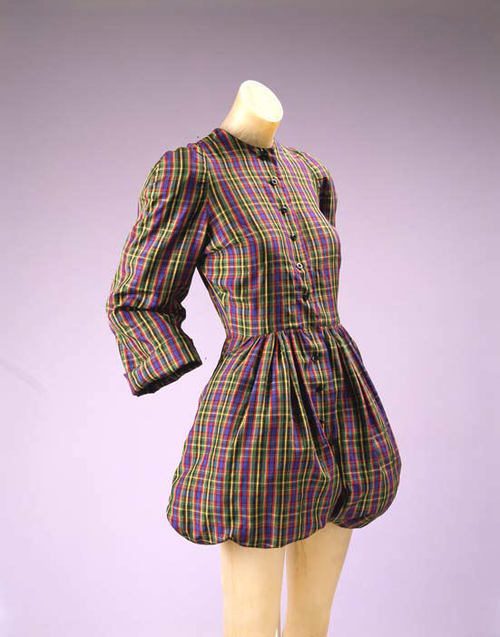 Here she actually uses a set-in sleeve! It's ALMOST a raglan sleeve, if you look closely you can see how the cap of the sleeve invades the bodice farther than a typical sleeve. That's why there is a seam in the shoulder portion of the sleeve to help shape it, which raglan sleeves often need.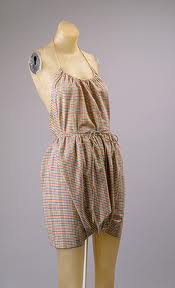 Her famous "diaper" suit is like a dress that pulls up between the legs from behind and then ties around the waist for this effect. (Does that make sense?) Very cool!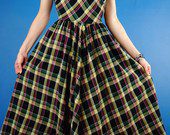 Above, a fitted bias bodice holds incredibly full gathered skirt with bias Center front, straight grain side seams. She really uses the grain of plaids like a painter :0). Another bias center front skirt with a straight -grain side seam, bias bodice and waistband. Cinched waist, very full hem!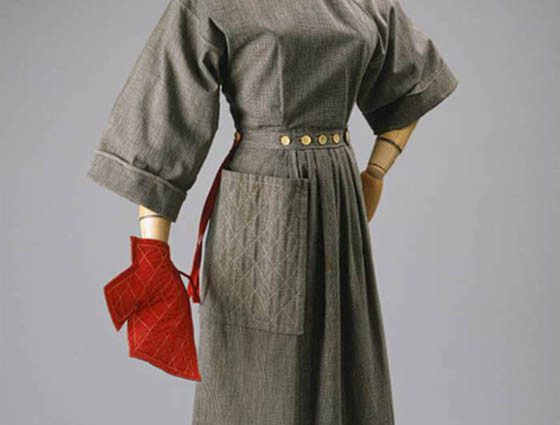 Her wildly famous "popover" dress was actually sold with an oven mitt during war times when domestic help was unaffordable for most!!!!
ABOVE, a set -in-sleeve…. pleats at center front waist, quilted huge patch pockets with decorative topstitching to match the ovenmit, (she does a lot of huge pockets thank you!). This is not a stripe or a plaid, but the grainline is still highly visible.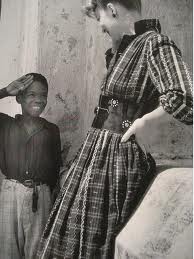 Above, An entirely straight grain shirtdress with a set-in-sleeve, boldly belted (almost corseted) for fit.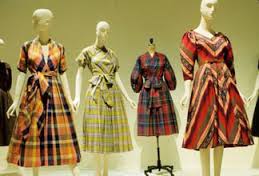 There is a lot going on here with all of these pieces! Straight grain plaid skirts, bias chevron skirt at far right, set-in sleeves, matched stripes, straight grain and bias sashes, kimono short sleeves, straight and bias bodice shapes….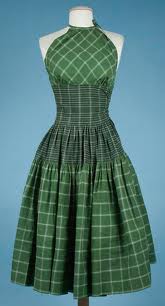 To be honest, I have never "met "this dress, so I don't know if the midriff panel is the same fabric pin-tucked horizontally for decoration (and texture) or if it is another fabric. Bias panel over bust gathers into the midriff, as does the straight grain skirt below. Spaghetti tie neckline.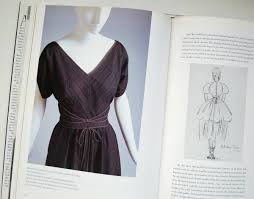 Ahh, bias gown, kimono sleeves (no separate sleeves seamed in) and the neckline is cut on the true grain for no stretch and perfect shape.
Some of her colder weather looks, coats and capes.
ROMPERS!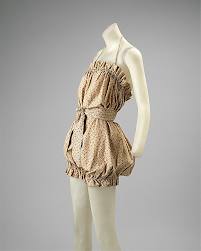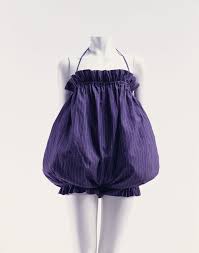 These rompers have the most beautiful ruffled edge and silhouette! All it takes is a sash for a fitted look.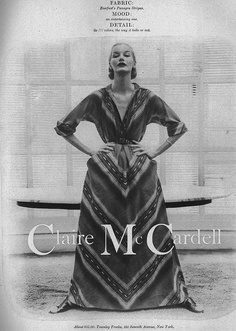 The Chevron effect is created again, when Bias stripes are joined at center from seam, and inverted box pleat at waistline. Sleeve is again integrated in the bodice cut, not separate.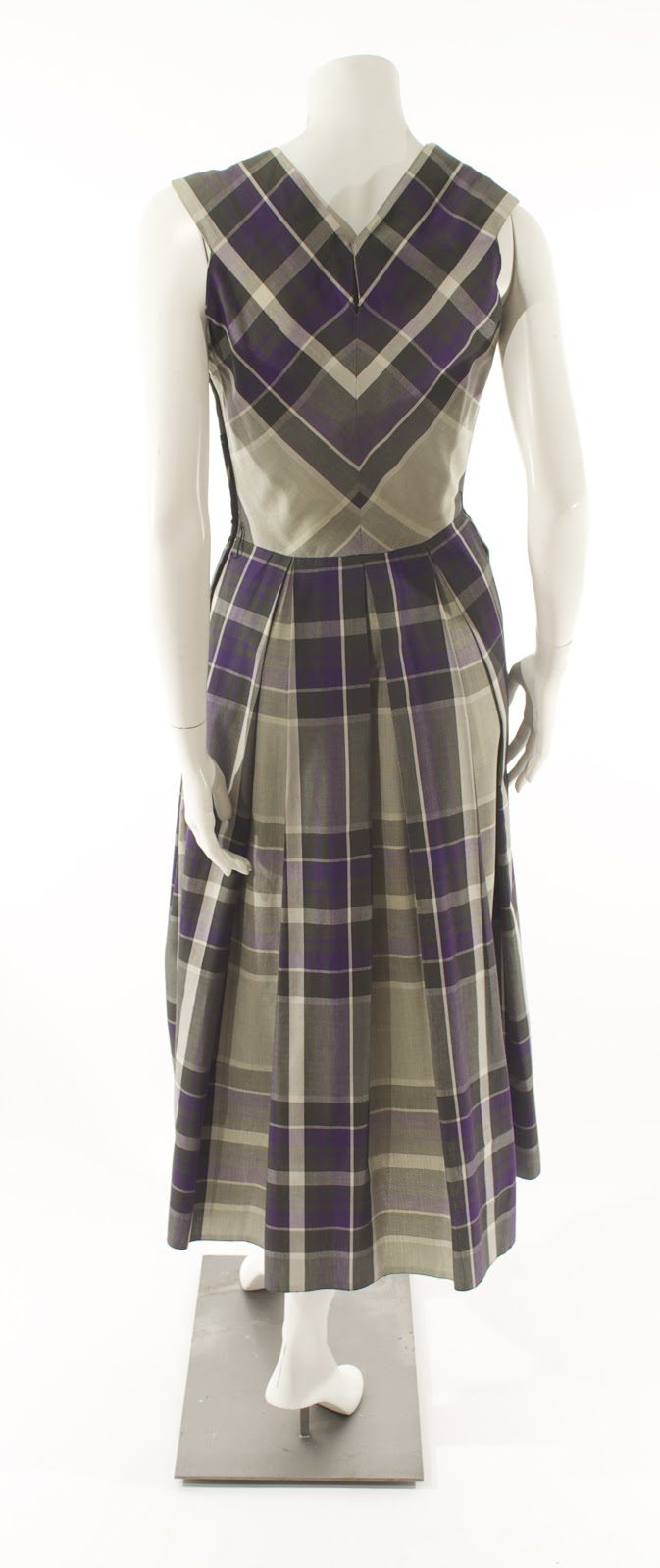 Claire McCardell fashion designs:
practicality, functionality and elegance-from playful daywear to elegant evening wear designs:
Back view of dress, notice that the neckline follows the plaid's grain and pattern to get its shape, notice the clean closure at back neck, and straight grain pleated skirt.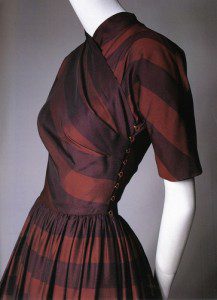 Asymmetrical stripes drape diagonally across the bodice, at side bust to accommodate bust fullness, and there is no armhole, it's a kimono sleeve cut in one. Fitted dirndl skirt gathered into natural waist.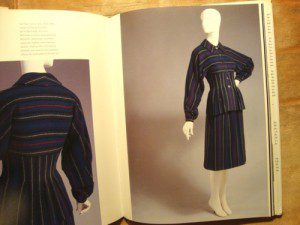 Play on grain for pattern interest, the stripes going into the sleeve show that it is the same strip as the upper bodice uses. Fitting panels with vertical seams emphasize the shape of the body not only through the shape but the visual effect of the stripes.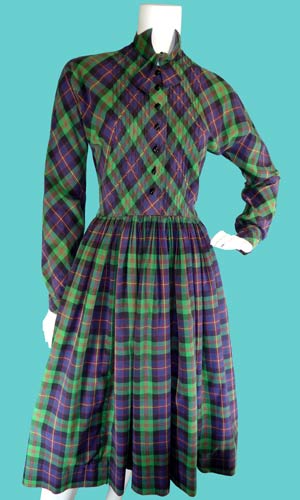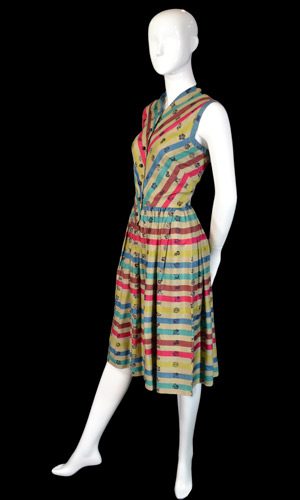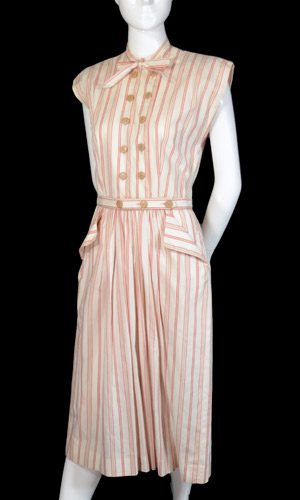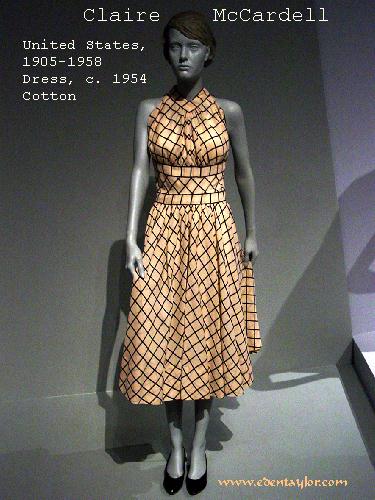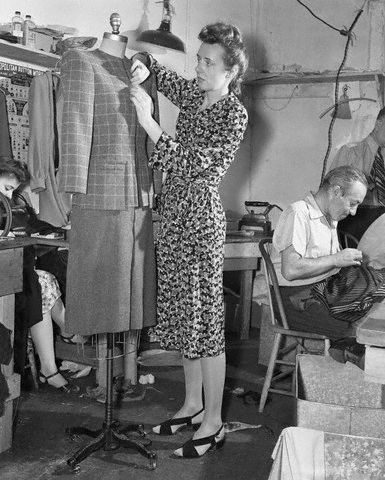 The master at work, Claire McCardell fashion designs. The piece above is boxy, but most of what we see here has a very feminine silhouette.
THE GRAIN IS EVERYTHING!
Watch the stripes, which way do they go on each panel of each garment??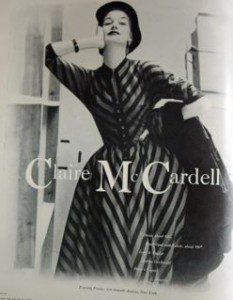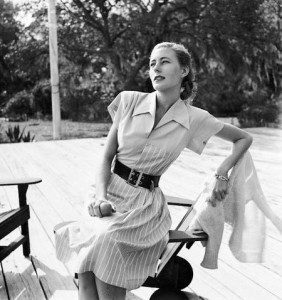 Interesting fabric blocking for playful asymmetry.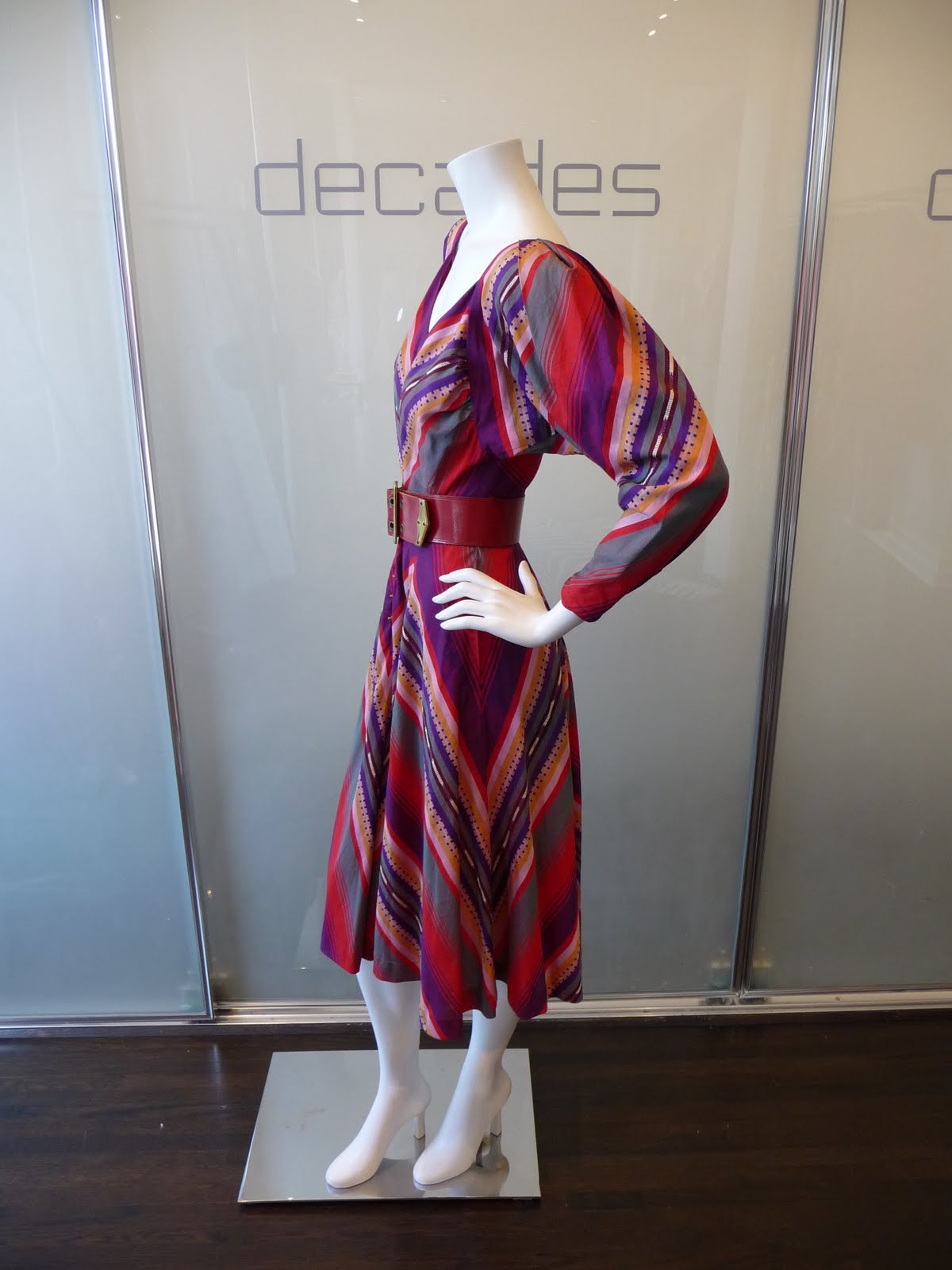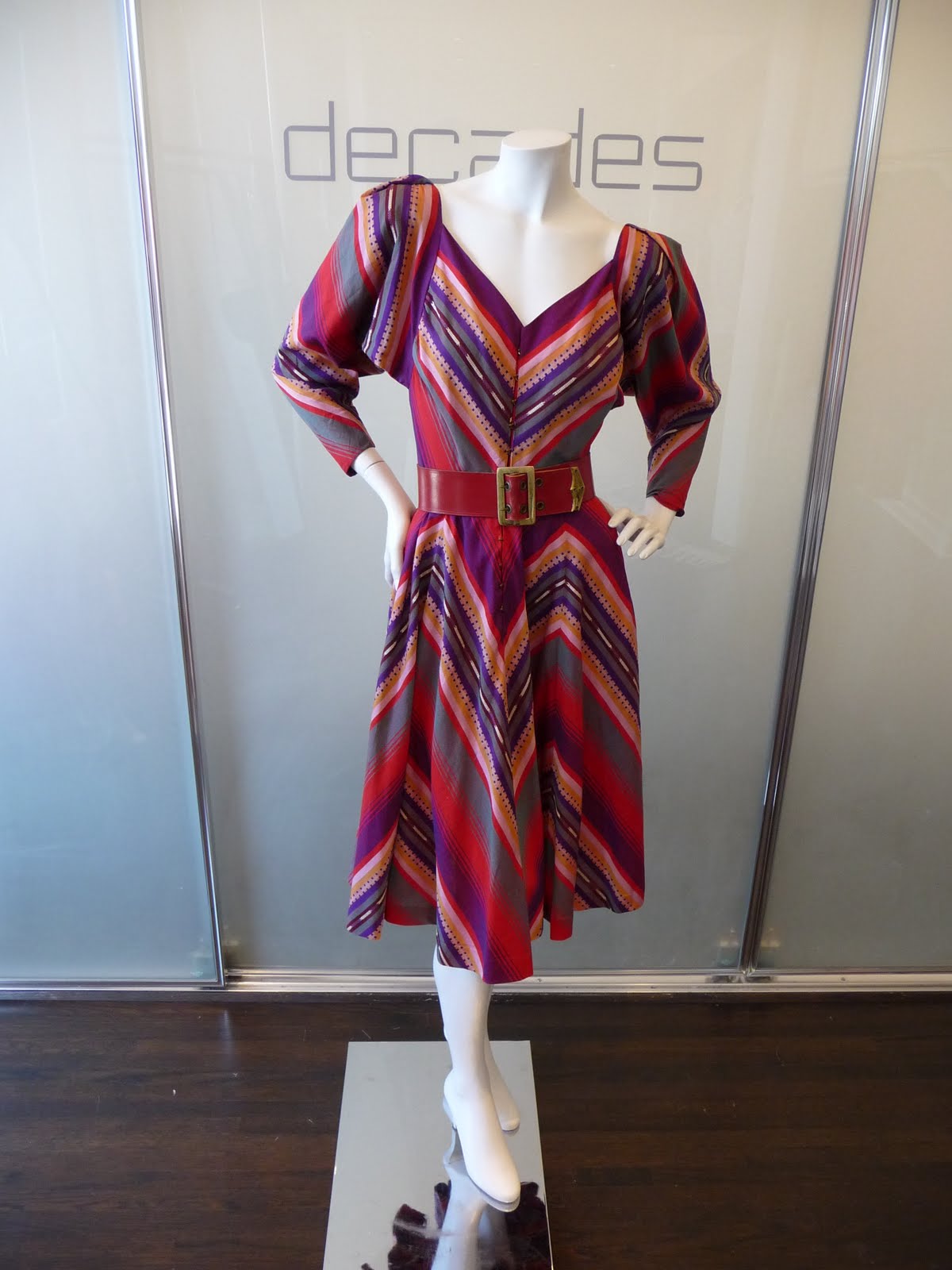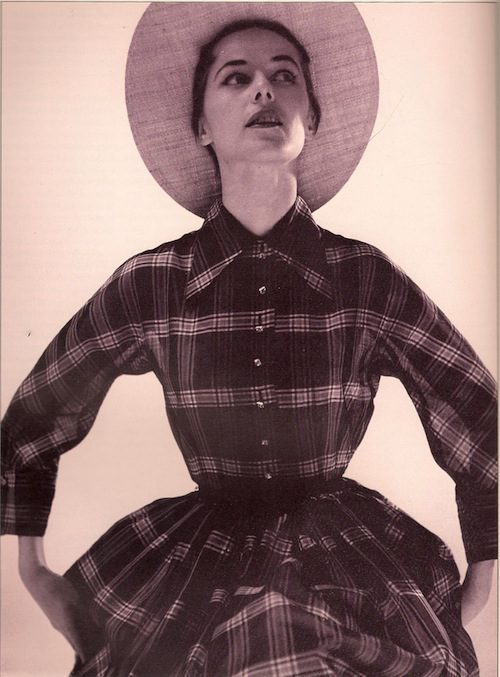 This fabric is quite sheer.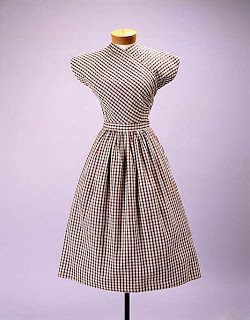 Another bias draped boric creates a dartless bodice smooth at right and gathers at the right side seam and sleeve is in one cut again.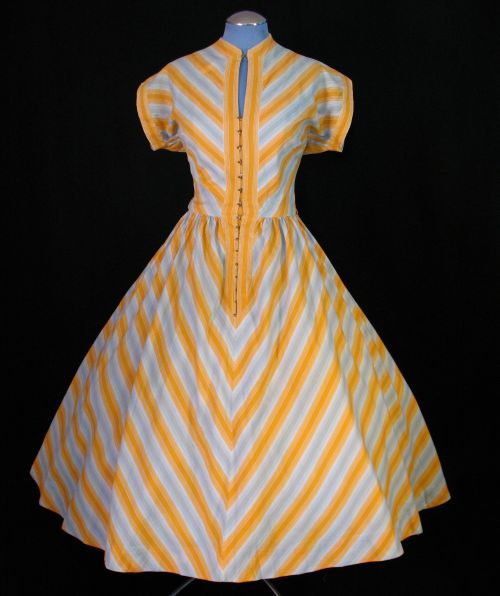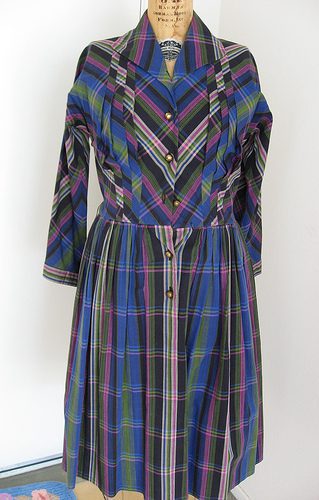 Pleating through bias plaid…… amazing effects!! Too bad the center front skirt button placket doesn't match up at center front…at a close look, you can see the last button of the bodice is undone, that's why…..(!)

A totally straight grain garment defined by release tucks through the waist and tucked again into the shoulder.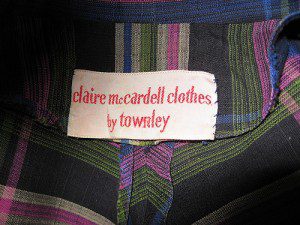 Townley Frocks, the label she designed for.
Many of these Claire McCardell Fashion Designs translate perfectly into today!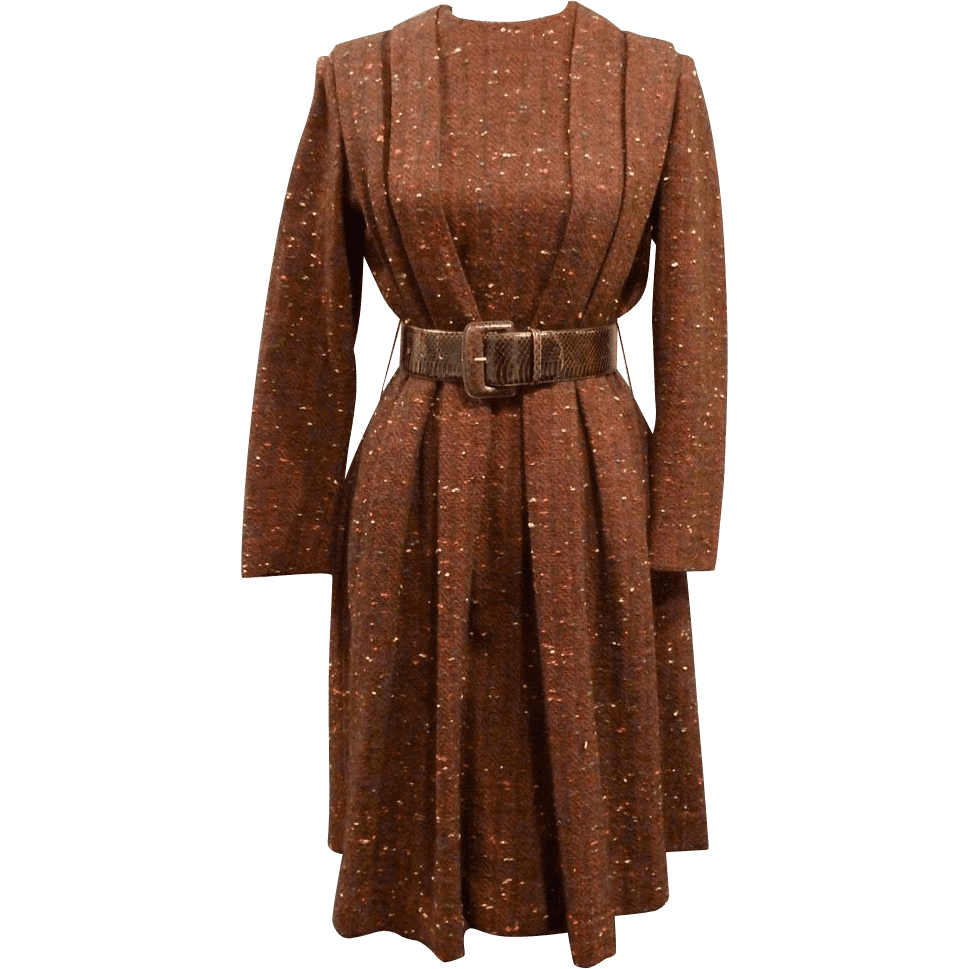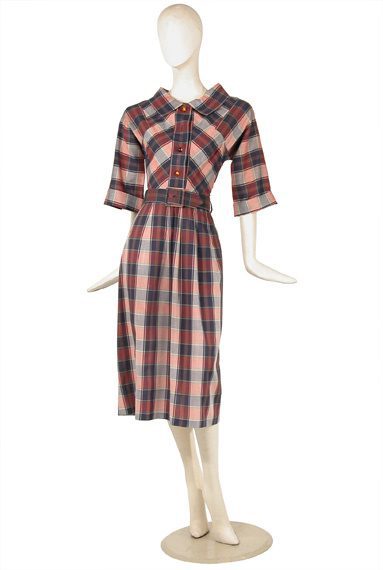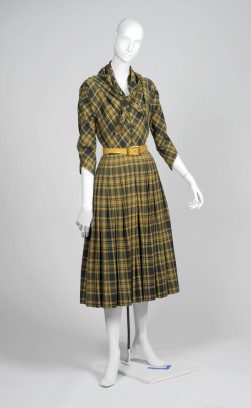 It's amazing how the plaid is carefully controlled through the hip and releases into the pleated flow above.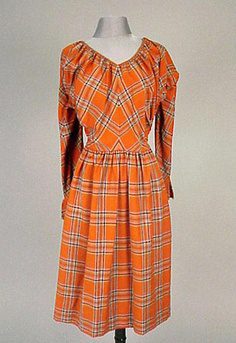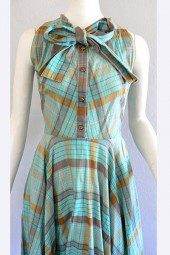 One the left, just see that BIAS BODICE!!!! Notice, at the right. how is the first circle-skirt, full-on circular flare in plaid, in this entire exhibition. You can tell because the plaid "falls" towards the side seams, and because the flares are full at the hem and the waistline is smooth.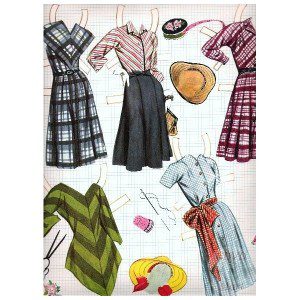 Claire McCardell Fashion Designs inspire paper dolls.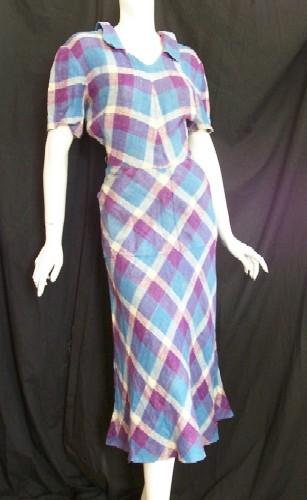 First bias skirt in this group that releases into flares after clinging through the hips, with her huge patch packets. (You'll see them if you look closely) Also there is a surprising set-in sleeve. The bias in the bodice is not true bias, but slight bias, and the collar has no stand.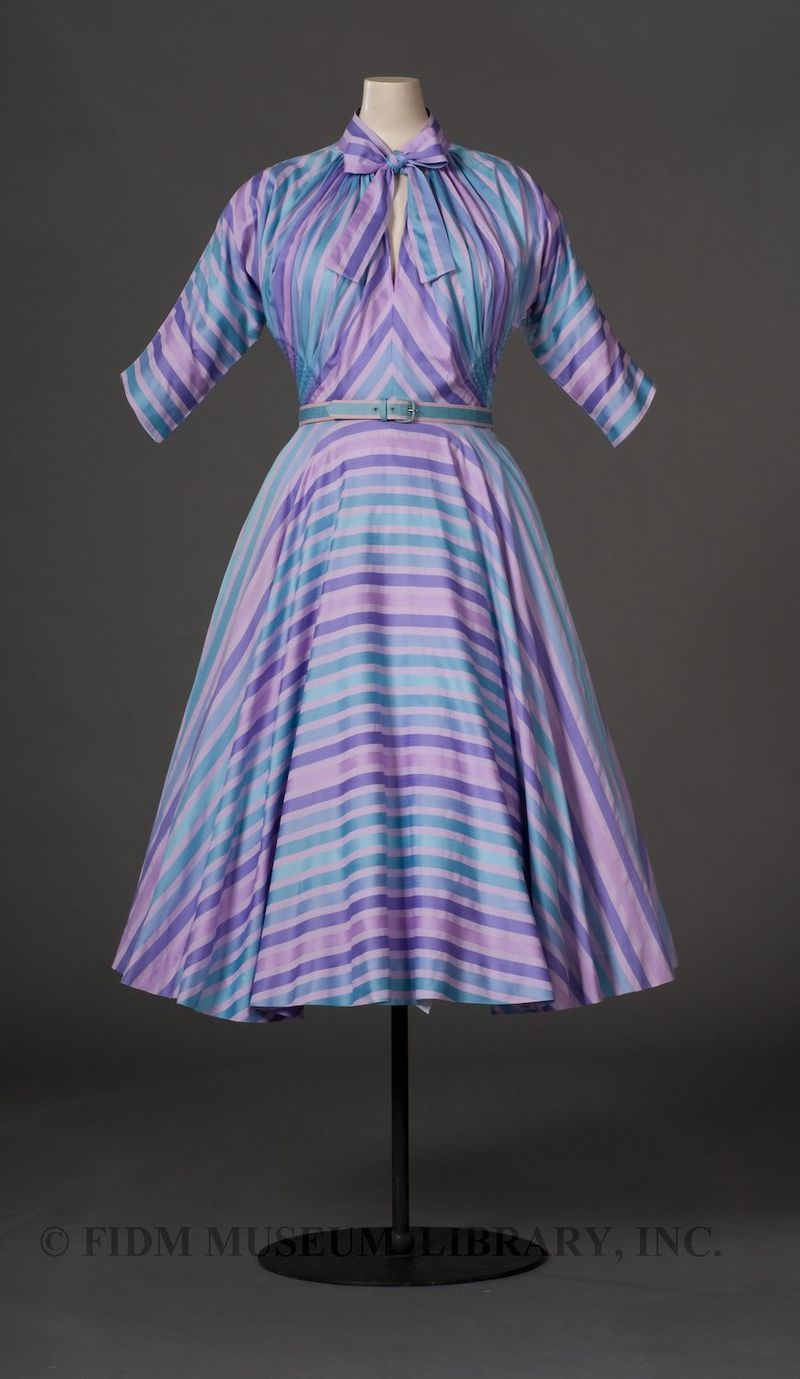 Here is circular flare in stripe, and in the side waist you can see careful rows of tucks lined up into a rigid construction.

Notice how at back, the bodice stripes on the left are perpendicular to the stripes at the right.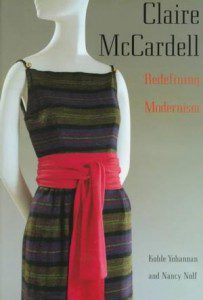 Simple, standard, straight grain shift, above, and …
NOT, below!!!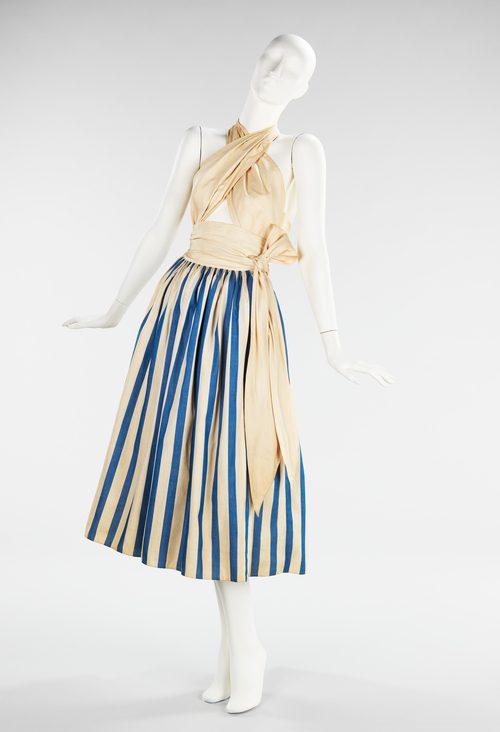 Noitice how stripes react when gathered…..
Claire McCArdell fashion designs feature bias wrap bodices which fit softly, and bold exposure using the bias over the bust
.,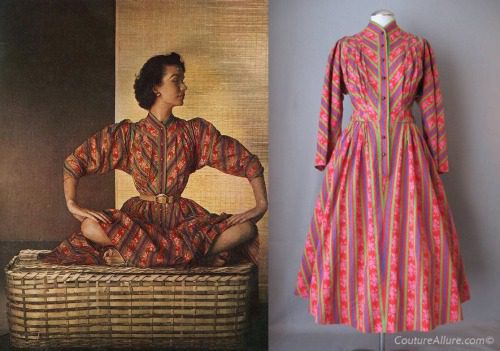 If you look above, you'll see a circular skirt that is gathered, not smooth, when gathered into the waist.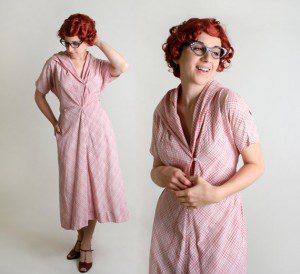 A McCardell dress on a more contemporary model. Similar to the green Chevron shawl collar dress up seen above.
I love that the dresses below are designed precisely around the maxi striped fabrics, practically color-blocking the dresses.
NOW FOR SOME SOLIDS: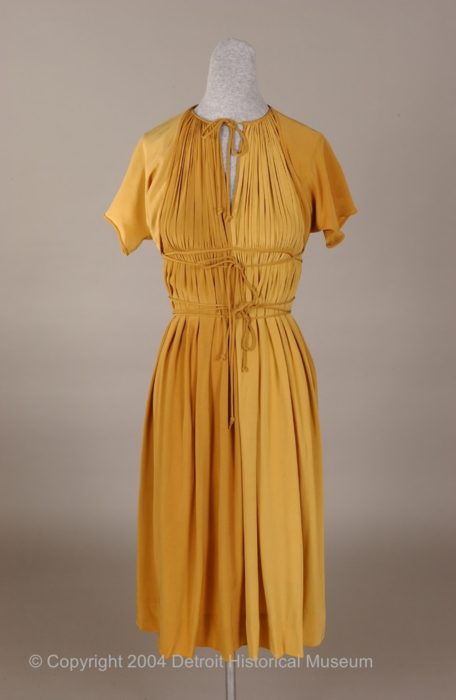 Gathers secured by spaghetti tubing above,
and a fitted piece where all of the seams are hidden and emphasized by ribbon trim.
.
Sashes and ties emphasizing the figure.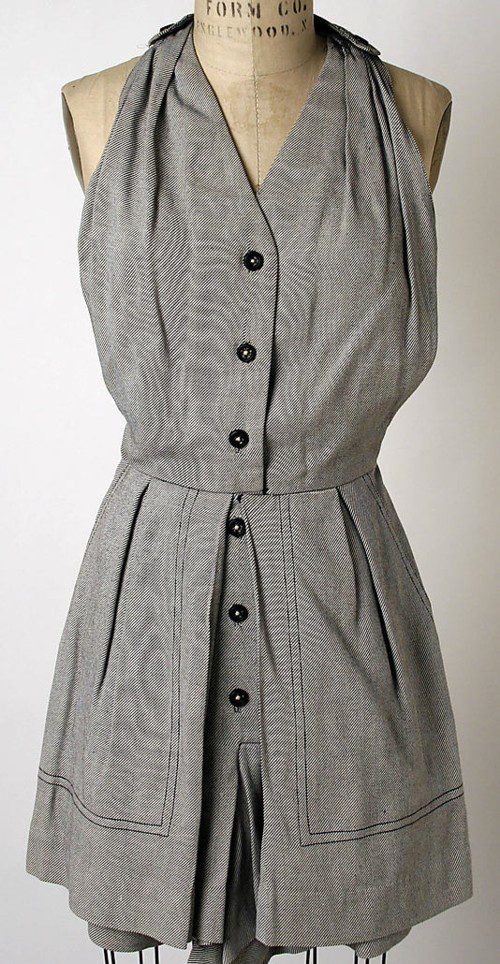 This is one of the pieces I saw at the Metropolitan Museum in my twenties. I sketched it…. I'll have to post that here when I find it again!
Let's focus on the fabrics for a minute: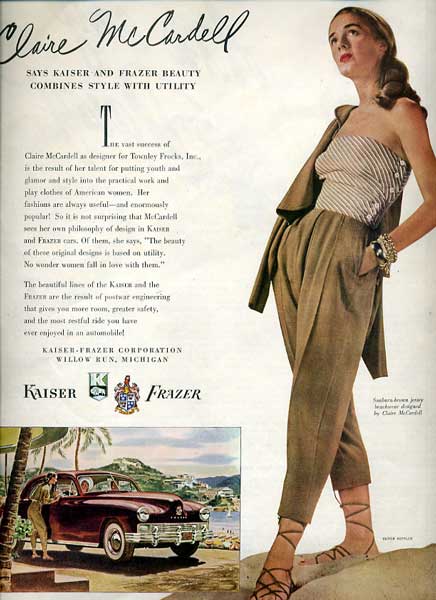 The stripe above shows the French dart in the bias stripe.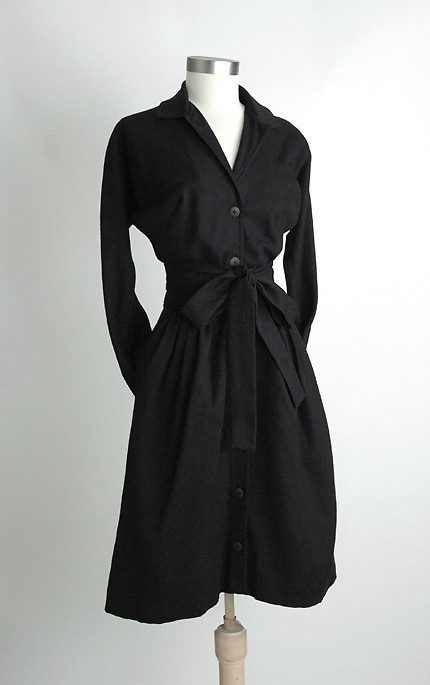 So practical , this shirtdress…above.
The firm brown woven below feels like leather, doesn't it?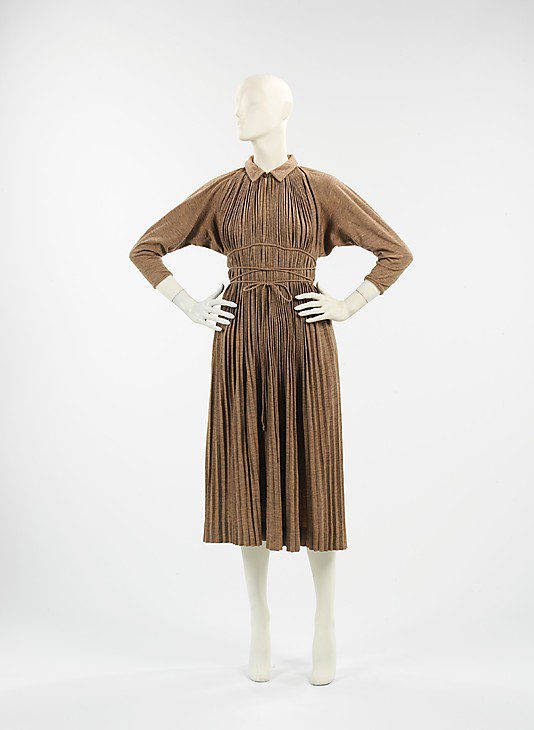 Notice the sleekly, softly draped jersey knit above,
and the crisp volume and bulk of the first woven fabric below!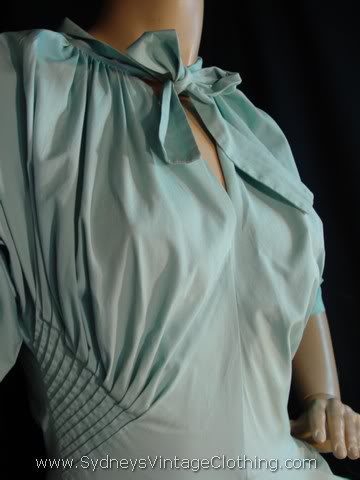 We saw these tucks used in the side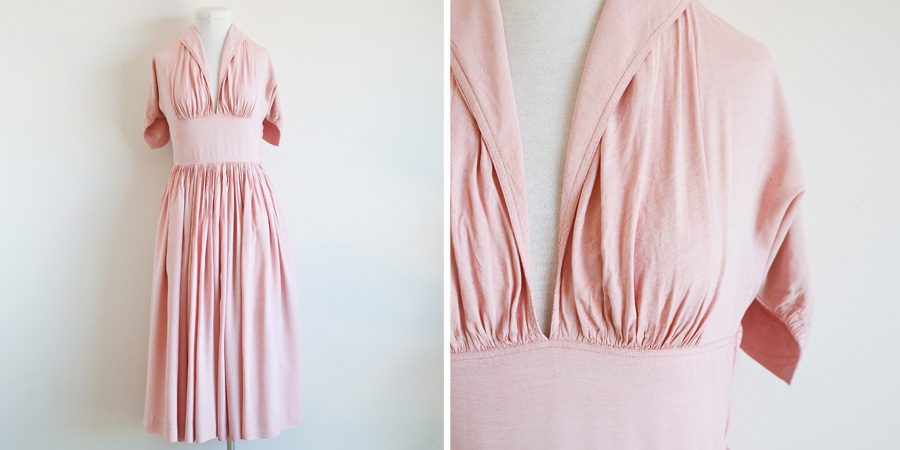 Seriously, one of my favorite aspects of her Claire McCardell fashion designs is the avoidance of the set-in sleeve. Who needs it, really :0)?
Just imagine, how dress below would work just as well today as it did then!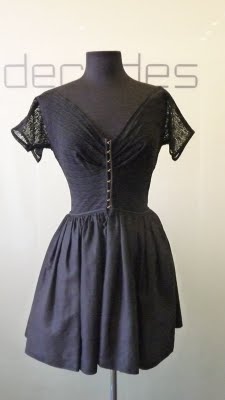 The sleeves look rigid below, but it will drape softly around an arm.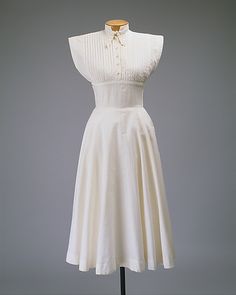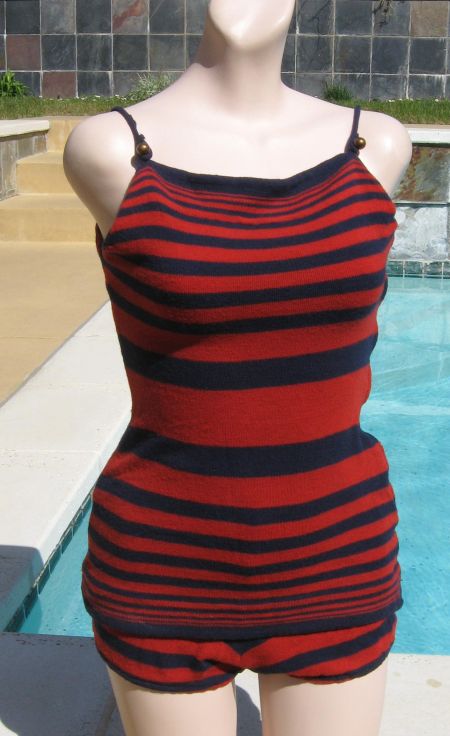 Hey, it's the first Tankini! By Claire McCardell fashion designs a knitted jersey swimsuit in stripe- a two piecer!
Below, evenly spaced, crisp pleats in the waistline.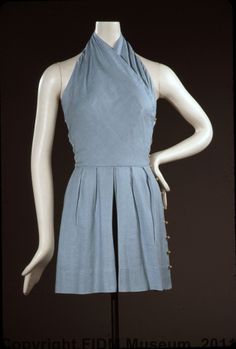 Above, did you notice how the halter top is cut on the bias and draped into the neckline? That's how it drapes so nicely over the bust without darts. Also, see if you can notice how the bottom half of the garment is totally STRAIGHT grained in contrast.
And to finish–A floral print!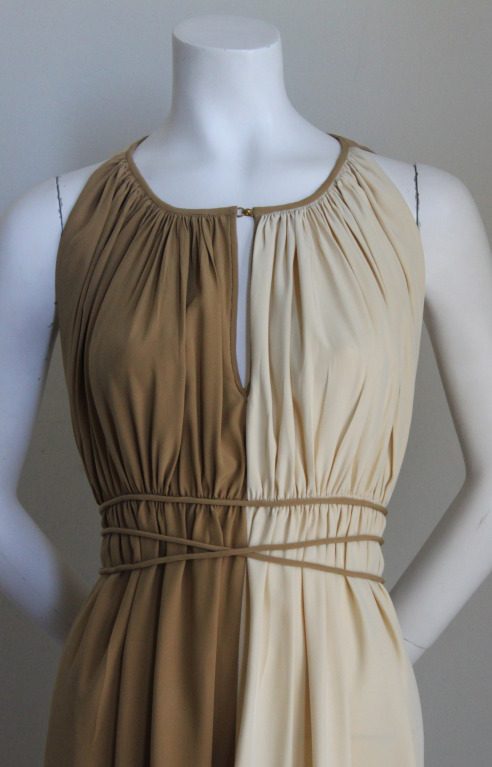 It's so bold to see this dress color blocked. She didn't color block that often!
To learn to design, model drawing,, technical design, and sketching and illustration, , using the skills and techniques I teach at Parsons, for your own unique fashion designs: info here.