Designing Sweaters and Sketching (3 videos here)
It's December…..There's no time I'd rather be designing sweaters and sketching handknits, knit dresses and sweater-leggings!
 (even though as fashion designers we are usually designing the season far in advance!)
There are three videos linked in this blog post, make sure you get to enjoy all three!
I hosted 3 livestream classes this week on
 designing sweaters and sketching sweater-wear 
I started in Video One by analyzing one of my favorite dresses.
Then I  took elements of it to the drawing board, and created original sketches.
You can also catch that replay on my FB page with the direct link: https://www.facebook.com/fashionillustrationtribe/videos/1722128571154756/
VIDEO 1:
(click image below to view)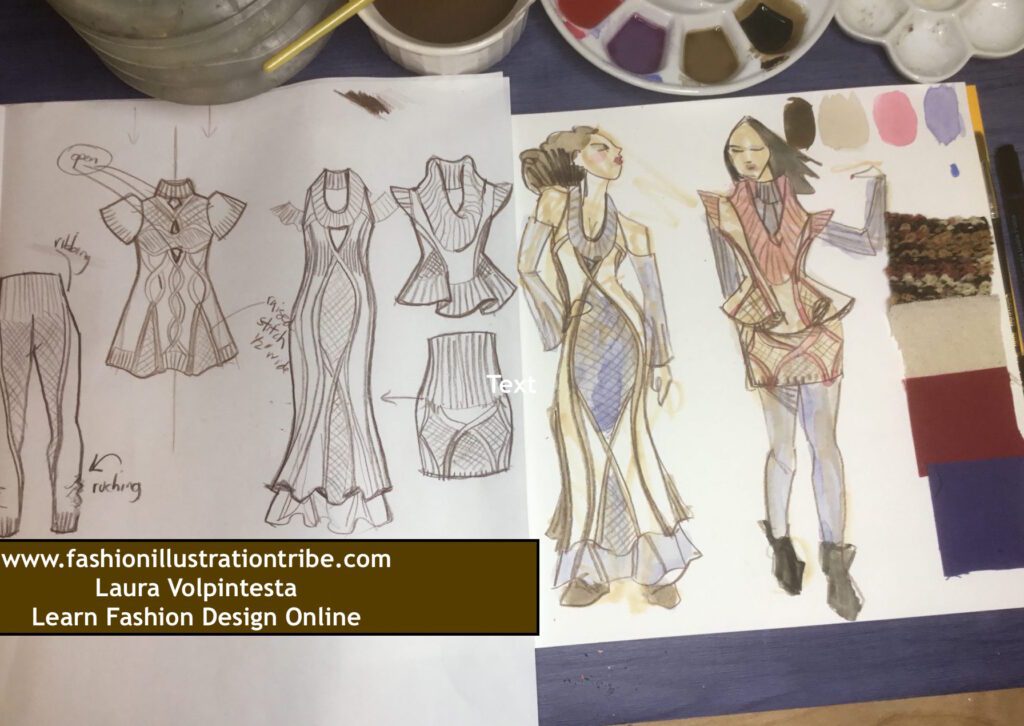 The following  week took those designs to the next level:
IN Video Two, Step 2
We sketched more sweater garments.
Some sketches on figures, some as flats, and then we "brought them to life" by
Sketching them on to figures
really brings it to life in a new way.
I totally fall in love with this stage!
We talk about gouache technique for your sketchbook, and color mixing, and some recommended paints. https://www.facebook.com/fashionillustrationtribe/posts/1729072523793694
VIDEO 2:
(click image below to view)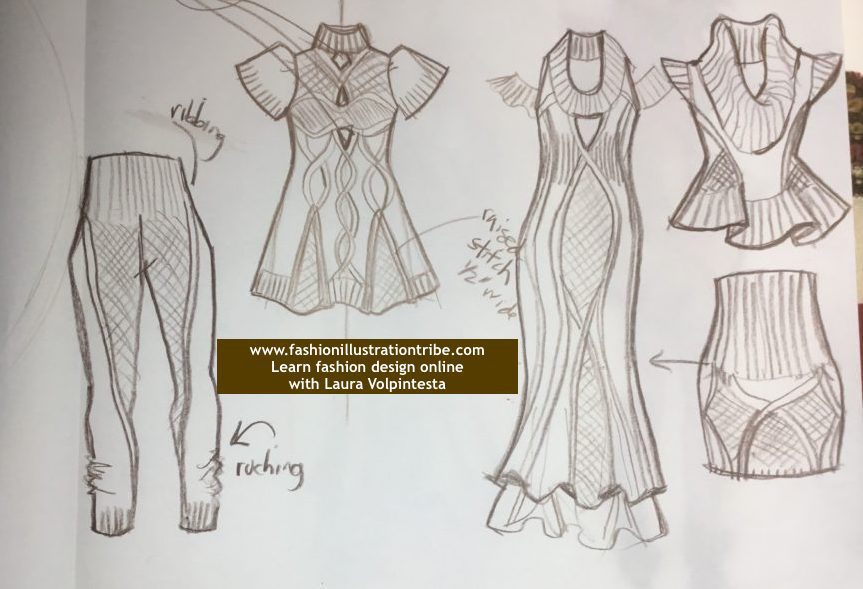 In this video you'll see a timelapse of the plain white and black line drawings of the collection as flats become recolored. I did the recoloring using an app on my ipad.
Finally, VIDEO THREE, step 3, ran into a tech problem that resulted in only a timelapse, hi-speed replay.
I may re-teach that lesson anyway because then I can explain the details, but let me explain quickly what happened in this video.
(Check out my other articles and videos about digital sketching)
(and You can also learn  fantastic and easy apps for fashion illustration in my ABOUT FACES course, check it out!)
(click image below to view)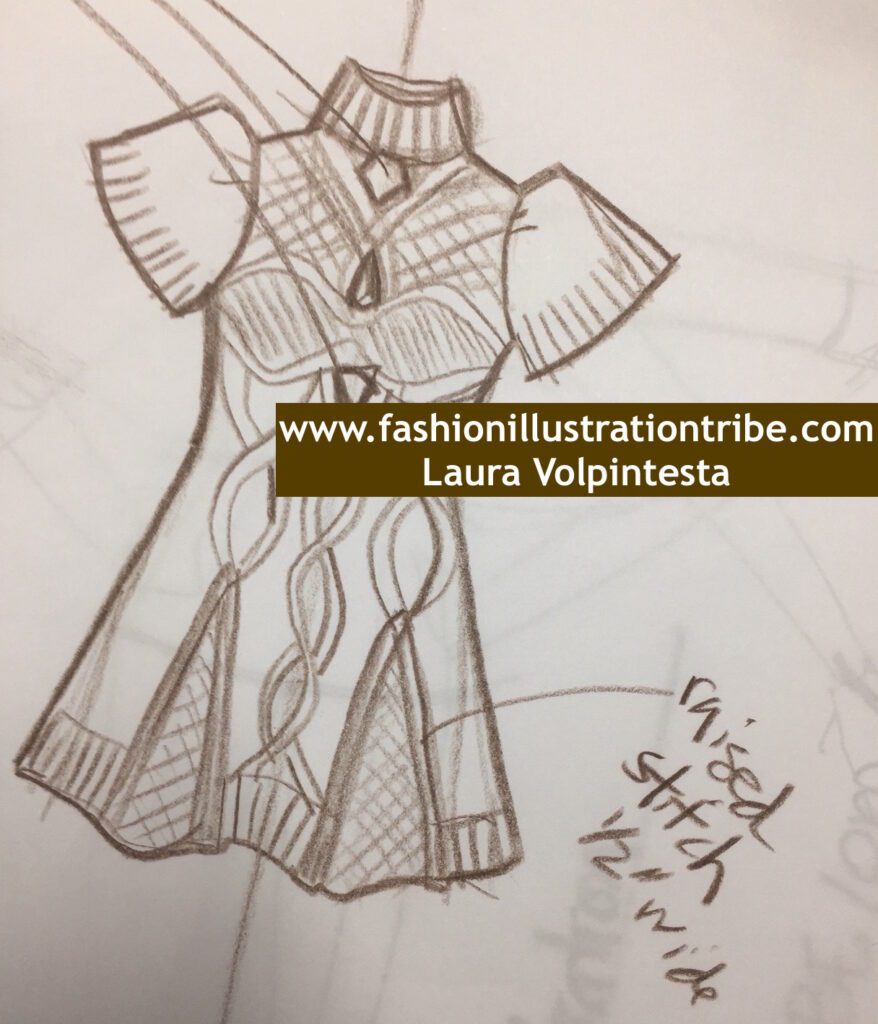 Here, the coloring may seem a bit rough, but it's thrilling to see the design concept come together
And to know that I can sketch it again and again!
My Parsons fashion design students
…this week… one student IN PARTICULAR was really stressing out about "ruining her sketches" by throwing paint on them.
Now I know that fear….
And yet I know they rarely get "ruined"…that creating through the fear usually has great results!
But I do have a quick, easy way that, for creative purposes, you can quickly recolor a group to try out different ideas visually without TOUCHING your sketches!!!
You could photocopy or print photos of your line sketches and recolor them with markers or watercolor a number of new ways,
Just to get a feel for your design group and then make decisions for yourself or show them to your team.
What i did here was import my photo into a digital painting app.
I love these because I can sketch freehand and it's totally portable.
In the video, I used Procreate app because it has a livestreaming capability (HELLO!!!!).
As well as a timelapse replay capability,, photo import capability, and great watercolors, color pastels, design markers, ink pens, and more!
My hope is that some of these lessons, insights and processes and tools will inspire you to create, express, and explore your fashion visions.
It's wonderful practice to sketch designs for winter 
while you are in fact looking for things to wear and changing out your closet from the summer and fall because it's so RELEVANT.
Relevance makes design so personal and exciting!
at the same time,…Deep winter (a month or two from now) is also one of my favorite times for sketching swim and summer, because for me it's a wonderful form of escapism from the doldrums of winter.
Another GREAT WAY TO ESCAPE WINTER DOLDRUMS is through your own CREATIVITY!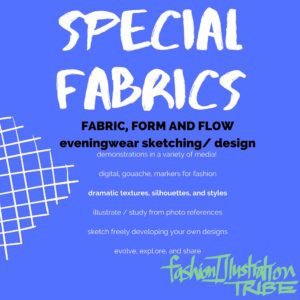 And what could be more relevant during the HOLIDAY season than an EVENINGWEAR course?
(The KNITWEAR lessons are free on this page, but I wanted to also let you know about the EVENINGWEAR course!)
Shine, shimmer, dramatic silhouettes and sparkle are all built into this course, so you can dream up your own art and ideas for the holiday season, straight through to the New Year's Day when you'll get your 5th lesson!
the 6 hour Eveningwear Design Course: "FABRIC AND FLOW "is available to explore special silhouettes, textures and ideas,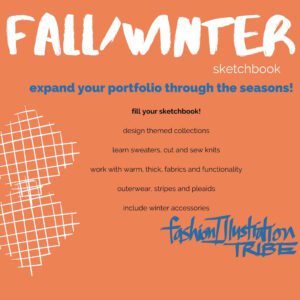 the Fall/ Winter design course is also a great  complement today's post because it dives deeper into thick, warm textures, outerwear, knits, stripes, and plaids. Also think: winter accessories and lots of layers and coverage in your style!
What will YOU design??
Let me know in the comments below if it was helpful, what your favorite takeaways are,
Or what you'd like to learn more about!
Love
Laura