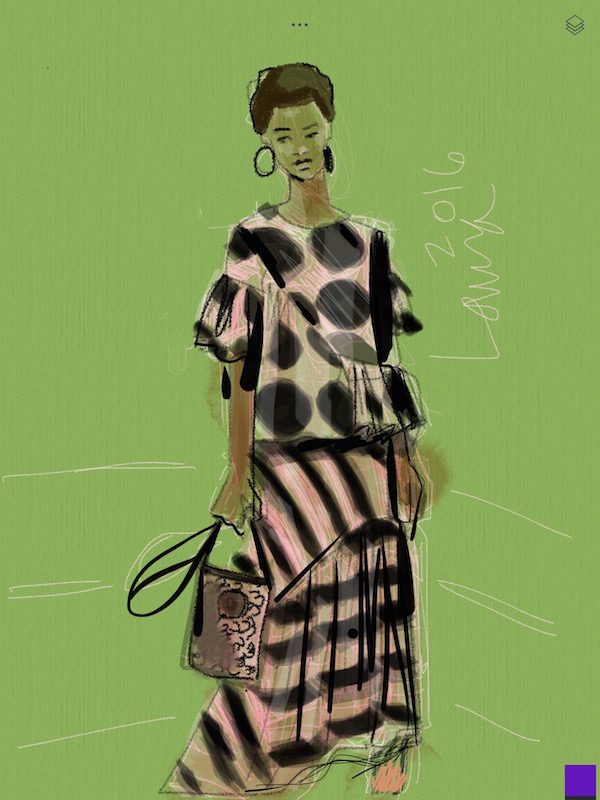 (My 2 above Illustrations using Tayasui Sketches) 
Here are my discoveries about the 3 best fashion illustration apps— IN MY EXPERIENCE–to share with you so you can thoroughly enjoy fashion sketch ing on your iPad or Android device! (videos included further down )
All of the  recommended apps are available on Google Play and App store, so 3 best fashion illustration apps are available for both operating systems;
Personally, I first started illustrating digitally a few years ago using an iPad MINI with apps in 2015 after resisting them for a long time and was thrilled with the results when I finally fell in love with them.
I'm a classic gouache and pencil, Parsons-trained, old-school fashion sketcher and illustrator, and I only wanted to experience rich texture and grit on my ipad that would feel as closely as possible to working organically on illustration paper with wet gouache.
Though I've moved up to an  iPad Pro for my  fashion illustration and art, it really hasn't changed much in my approach… just a larger screen. 
*** psssssss…you can learn to draw and paint right away in each of these beautiful apps in my ABOUT FACES digital course.****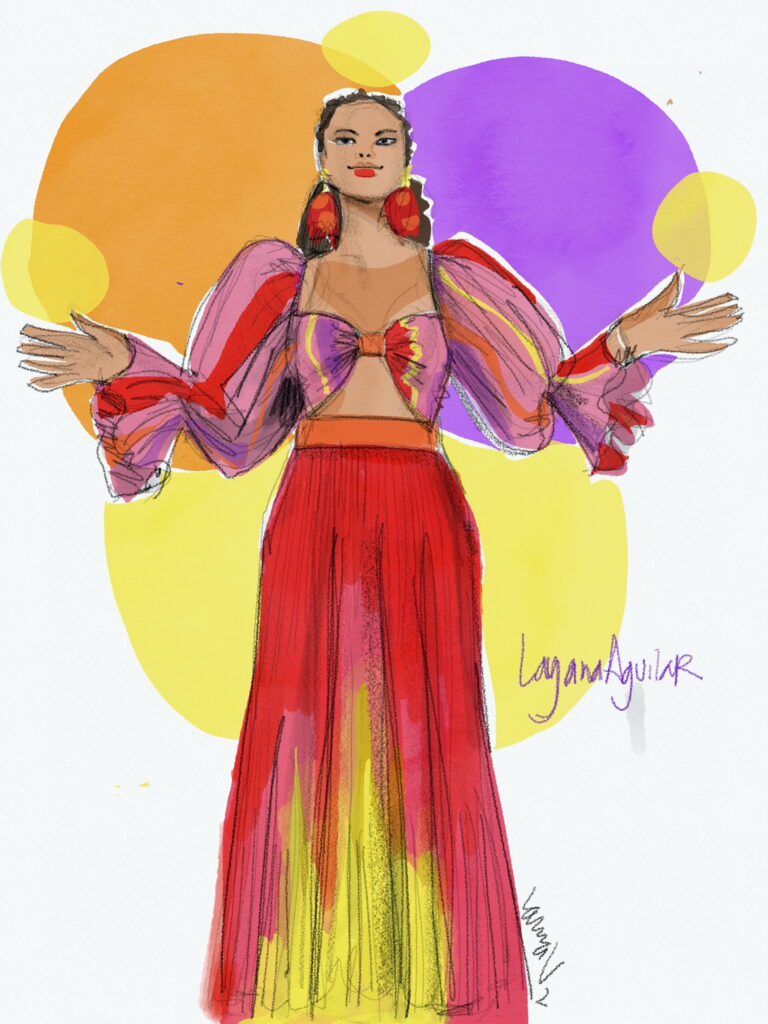 1.  TAYASUI SKETCHES PRO APP
For the classic artist, freehand fashion illustration feels the most natural and organic like gouache and pencil on your digital device when you use Tayasui Sketches… a  VERY affordable, and VERY flexible app for fashion sketching with tools that many other apps don't have, such as
various paper textures,
infinite paper colors,
access to text,tool 
textures and  patterns such as watercolor for filling shapes
VERY easy to access and select tools menu interface
a viscerally textural feel (if and when you want that like I do) that really looks and feels like gritty, sensitive pencil, watercolor, brush pen, ink etc. It even has sound effects if you want them on!
It also has various digital "sketchbooks"... like little moleskines that you can use to organize your work, and put labels and titles on them!
You can easily share your work via social media or export to photoshop or camera.  SHARING DIGITAL WORK looks bright and clean on socials! 
if you want to, and you can also RECORD YOUR DRAWING PROCESS in real time with or without sound, and play it back later!
cut and paste portions of your drawing to duplicate, shrink or rotate them
adjust the opacity of tools and layers
adjust the size of your tools.
I'm someone who always strives to keep the tactile look and  feel of real art supplies in my digital fashion illustration, and that's why Tayasui Sketches Pro app is my first choice of apps for fashion illustration.  I also recommend it to you because it is clean, easy, intuitive, natural, a total joy to learn.
Here is a step by step example of one of MY VERY FIRST fashion illustrations "growing " in Tayasui Sketches app.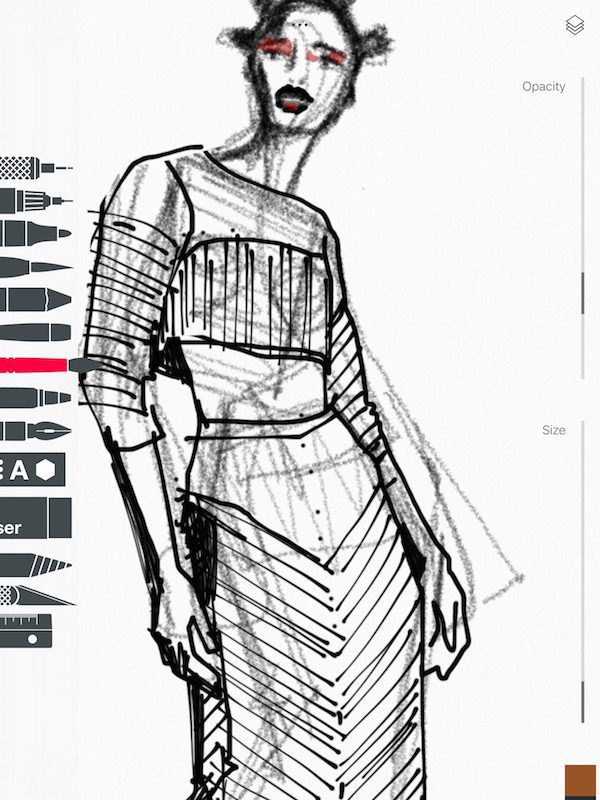 I want show you the soft grittiness of the pencil and range of light to darks. I like to sketch first in light pencil, then follow up with ink pen and paint over that. (see?)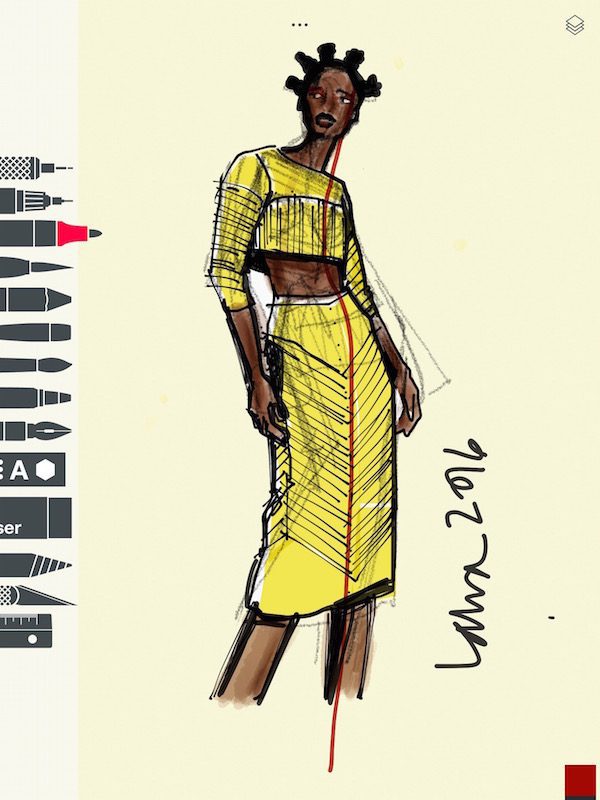 Tools I used in the Tayasui app for fashion illustration:
Here you can see I used an  alternate paper color, and the watercolor  (used on the skin tone) tool's texture and also the sheer, smooth marker tool i used for the yellow fabric.  A black "felt tip pen" tool is used for all of the lines. 
Most apps for fashion illustration have a great black brush tip ink pen tool.
I added white highlights for "pop"  by using an opaque white over the base colors and marker tools (see the tools in the image above, the toolbar appears to the left) to add the African/ Ankara print motif and colors (I actually usually use colored pencils for that instead now). Notice I was able to choose a color for the background/ paper color! (creamy)
The sketch in the video below was done with the same app, also using pencil, marker, brush pen and watercolor tools. And no mess! totally portable! Colored paper, colored pencils, everything I want, right in my iPad!
AND? no stylus required.….. zoom features mean I can work with my finger if i want (I like to) and still get details like the face, etc.
2. Adobe Fresco App for fashion illustration
this is a big update, because I previously relied heavily on (and loved and adored) Adobe Illustrator Draw App and Adobe Photoshop Sketch App . 
When I received news that Adobe Draw and Adobe Sketch had been closed and morphed into Adobe Fresco i was HEARTBROKEN for YEARS.  Adobe Draw and Adobe Sketch had an incredibly intuitive, clean and simple interface the way Tayasui Sketches has.  I felt i'd never be able to access the capabilities of those apps again.
The new Adobe Fresco app is a lot "busier" and more complex than their "forefathers". It's much more similar to Procreate app, which i never liked BECAUSE of its complicated interface. But I can finally say that I have learned to recreate all of the effects that I loved it for previously and it's moved into a nd place on my  TOP FASHION ILLUSTRATION APPS list.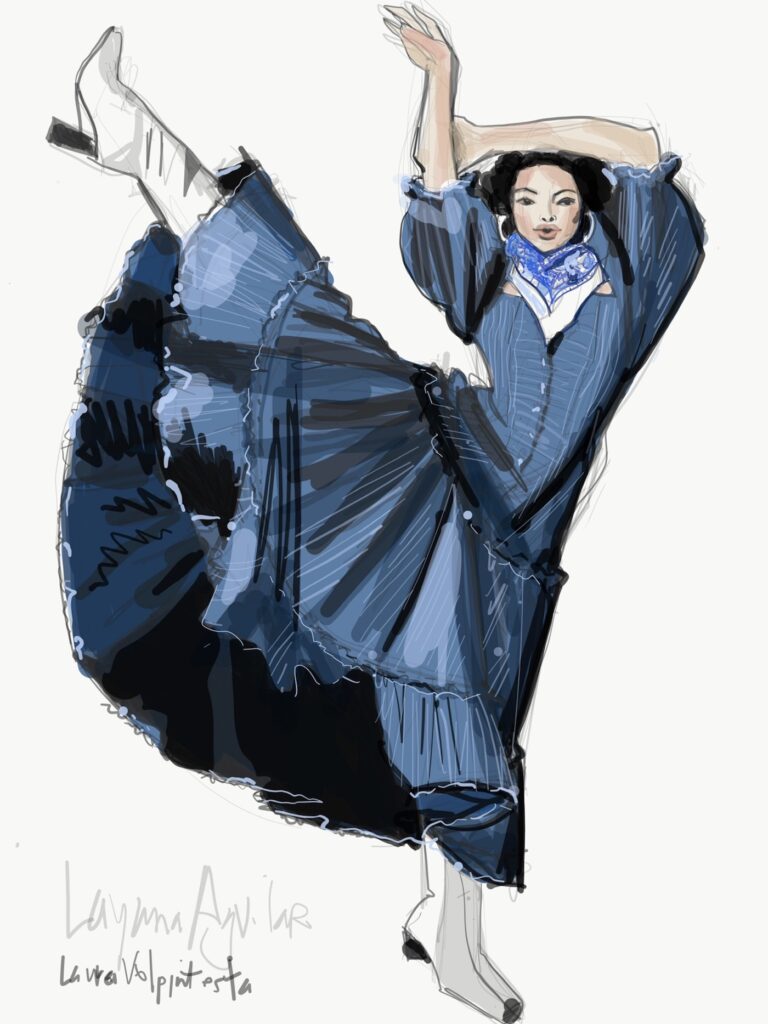 The fashion Illustration above of a Layana Aguilar dress was done with Adobe Draw app- see the clean, slick, vector image stye and brilliant color of it. ***Now these same tools and capabilites have been moved into Adobe Fresco.
The Timelapse below shows the pencil and sheer watercolor capabilites of Adobe Fresco (what was great about the now extinct Adobe Sketch app)*
The fashion illustration below is also done with Adobe was done in Adobe Draw, but if you use the vector brushes (infinitely zoomable) in Adobe Fresco, you can recreate the same exact drawing. Notice how creamy and clean/ smooth the vector sketch is.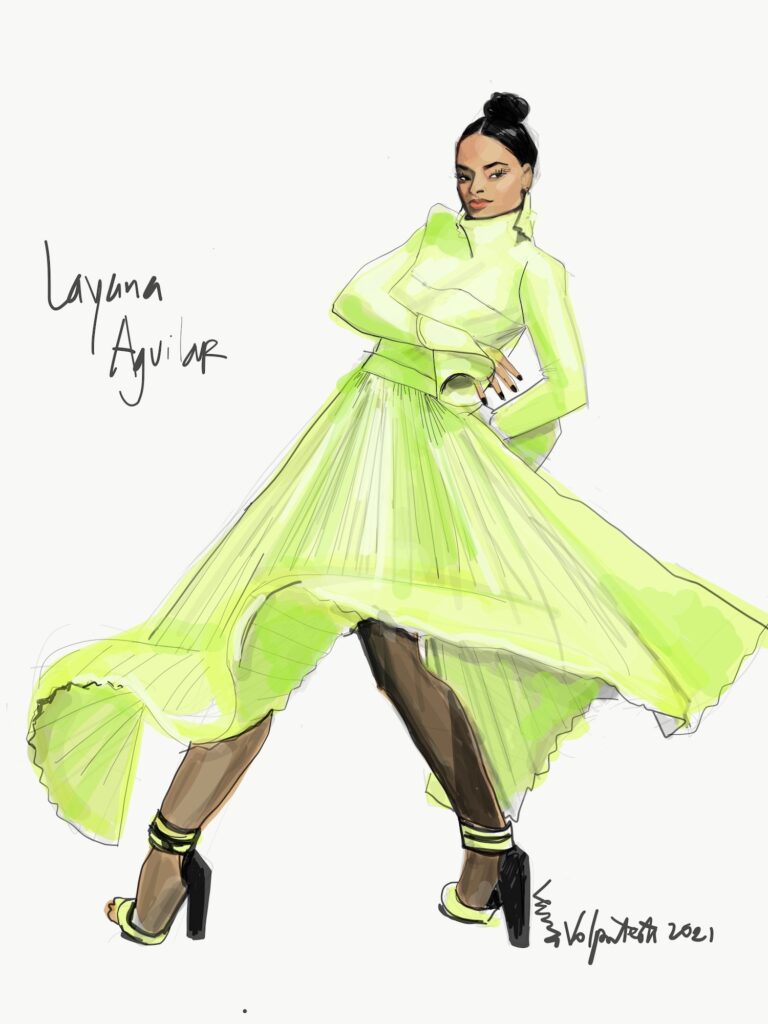 Below, another Adobe Fresco fashion illustration imitating gouache and pencil technique, in timelapse.
This one is TOTALLY DIFFERENT than other apps for fashion illustration!
Adobe Draw app (used in the video above) was super smooth, sleek. and slick , there were no textures in it unless you created them yourself.
Utter simplicity was its beauty. Adobe Fresco has more cluttered tool bar than Adobe Draw did, but I am SOOOO THANKFUL that I learned on the original and now know how to transfer everything I love about the techniques i developed, into the new Adobe Fresco app.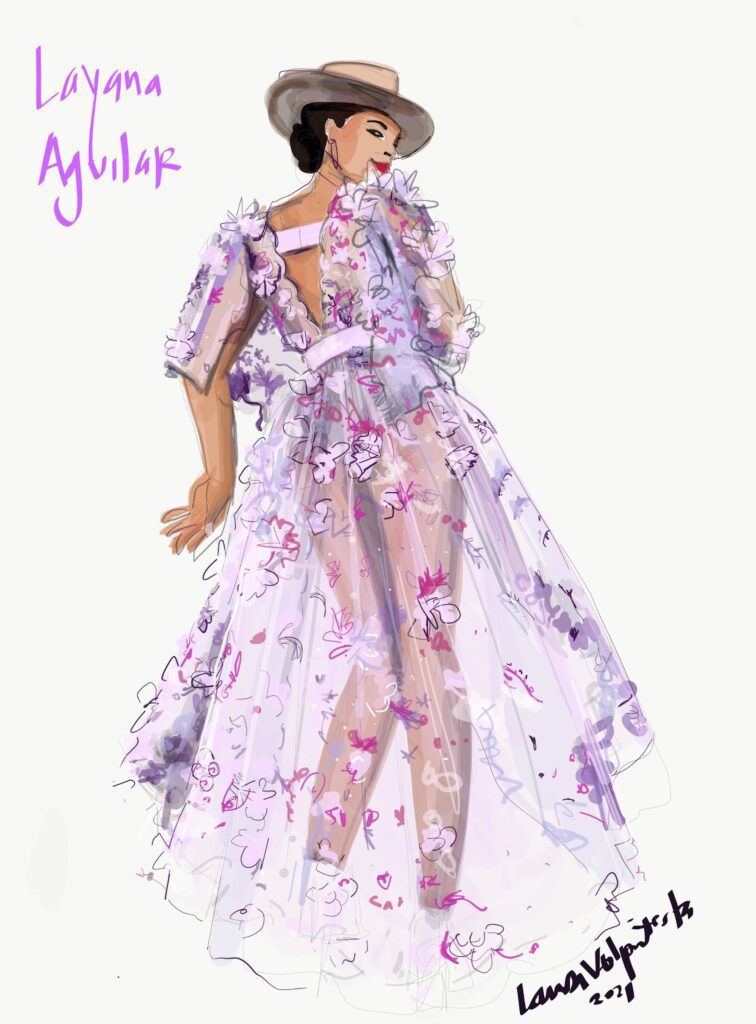 Digital fashion illustration with apps: fashion designer Layana Aguilar by Laura Volpintesta
See those super clean,flat color shapes and super fine lines? I layer flat colors to get dimension and texture, as well as form and shadows. It's a vector based way of creating images, so you can create something like a logo that is transparent grounded. You can also blow up the images infinitely to the size you want without getting pixels.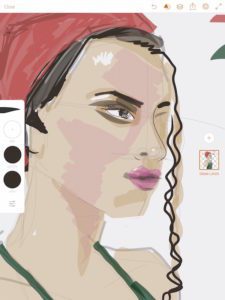 TRY IT FOR YOURSELF: join ABOUT FACES course!
Adobe Photoshop Sketch app (now also Adobe Fresco app)
I loved this one so much! Another of my favorite apps for fashion illustration…..This is the third app that I teach in my about faces course. Adobe Sketch app for fashion illustration is simpler to use—(fewer tools) yet harder to use
It has a lot in common with the Tayasui Sketches app, but it's really so different. It has a lot of different textural brushes to choose from– some similar to Tayasui and some totally unique to Adobe Photoshop Sketch app. That's why it's included in my online course, as well.
My favorite is the acrylic paint brush— it's very thick and 3D looking. It feels and looks gooey and rich, while at the same time you have access to charcoal, pastel, ink brush, crayon, pencil, and so many others. It's the same app I used to create this illustration below of dress by Natcha Baco, an African fashion designer in Paris.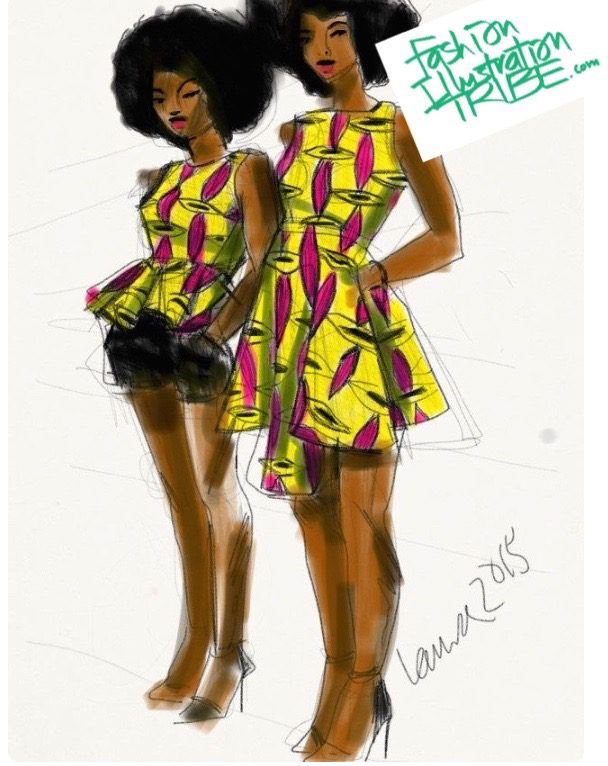 And don't forget, it's always amazing to get the whole kit -and-caboodle. Model drawing, watercolor, color techniques. Learn textures, details, design research and presentation, and work out your own collections! I'll be teaching you the tools I teach in my Parsons classes for 20 years.
Because now, it's your turn!


THIS HAS BEEN OUR MOST POPULAR ARTICLE TO DATE! FOR MORE INFO ON DIGITAL APPS visit these other articles:
3. REPAPER APP. Video example, below!
Since the 2 adobe apps for fashion illustration that I recommended turned into ONE, here is a BEAUTIFUL pencil and pastel app for you to discover , including gorgeous rice papers and timelapse recording:
And oh, yeah, everyone love love loves Procreate app for fashion illustraiton, except me! I mean, it's okay, but doesnt hold a candle to the favorites I've listed in this article. But you can check out my Procreate articles around the site here or schedule some private coaching with mjke! 
Go deep with me, and go deep in finding your voice and honing your craft.
Love, Laura