Sloppy Fashion Sketching
(p.s. all of the images on this post were sketched on iPad using digital painting apps. They are all portraits. Peruse the site to see other samples of my work, make yourself at home with the menu in the header and the search box at top right!)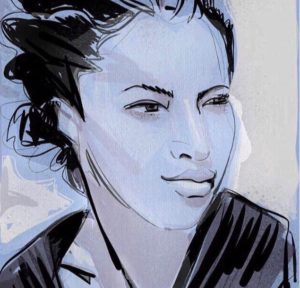 I had a wonderful experience today.
I was accused of sloppy sketching.
BRING IT ON!
I  shared this digital fashion illustration  in a Facebook Ad promoting my ABOUT FACES online course. It's something I did on my IPad.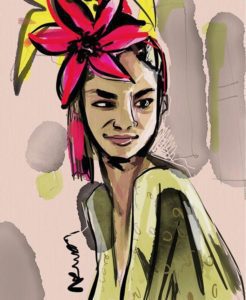 "It looks messy"
was the comment I received. (and then the artist who commented and I went on to have a lively discussion…)
but…
YES,  IT DOES LOOK MESSY!!!

I hope it does.
This comment gave me a great opportunity to tell my story to "the public" since I"m so used to being around people who understand me.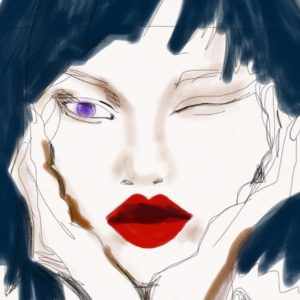 I don't want to be perfect.
I certainly don't want my drawings to be perfect! God, no! I love fine craftsmanship, fine art, fine detail and fine things….
and yet, in my drawing  l like to know that I am CAPABLE of drawing what I see in a smooth beautiful and detailed way if I want to….
(but why would I want to?)

In all of my museum visits and experiences of art in the world, what I love most is
unique ness that comes from the human hand.

And heart, mind, spirit.
I want to see the individual process in art and artifacts.
I feel emotion when I see imperfect things.

And as a teacher???
I hope that that gives my students a feeling of freedom to explore.
Freedom to adventure and try things in a spirit of the unknown, with a sense of playfulness and humor.
FASHION IS FUN.
Art is life.

As a student
this was the single lesson that gave me the best ability , freedom and discovery.
The freedom to "make a mess".
This is where I found my true freedom to create and find my own voice in fashion design, in fashion illustration, in art.
It gave me the freedom to take risks and love all my bumps.
If there's one thing I hope
I can give you , it's that.
Love,
Laura