How to Draw Glitter in Fashion Illustration
Everyone needs a time to draw  glitter in Fashion Illustration. Because even if it's not in your clothes, it should be in the twinkle of your model's eyes!
This  particular model's eyes are closed, but she still sparkles !  In her mood,  her smile and her eye makeup.
She also has long, metallic, fringed foil earrings. So how do I approach sketching glitter in fashion illustrations?
THS IS A DIGITAL FASHION ILLUSTRATION, but the same rules apply for watercolors pencils and markers.
How to draw Glitter, Gold, Metallic, Sequin…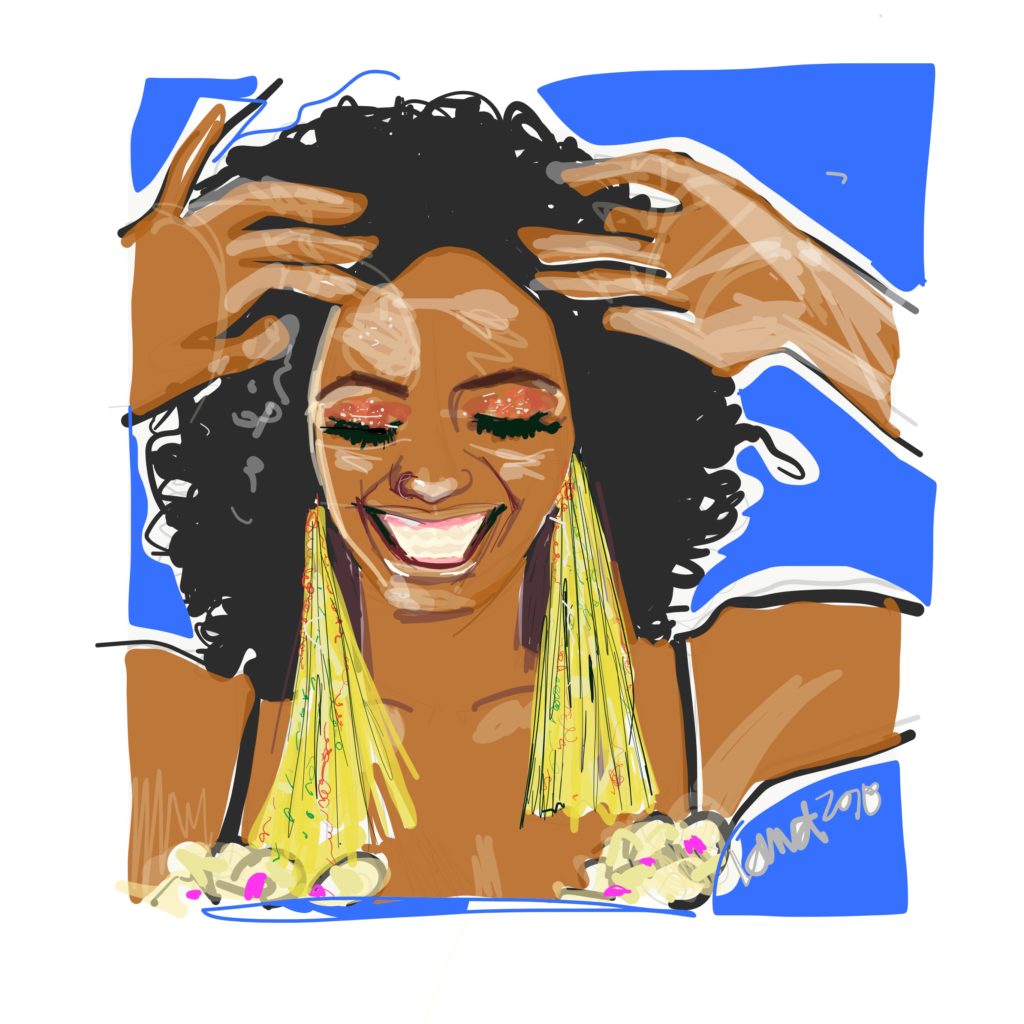 The one most helpful thing I can think of about how to draw glitter in fashion illustration is that we have the difference between illusion and fact.
Usually my Parsons students will run to find a metallic marker, pen, or paint to create a metallic or glittery effect on their artwork
THAT CAN BE ONE OF THE WAYS YOU WORK
but it can be really challenging to 'match metals".
For example, there are so many different shades of metallic, etc. Just buying glitter or silver paint doesn't mean it will look like silver looks. Am I making sense?
metallic and shine are optical effects:
so it isn't necessary that you have METAL or SPARKLES or GLITTER on your paper (though you can if you want) but it;s more important to create the EFFECT of these highly reflective surfaces when drawing glitter in fashion Illustration.
bright –almost white – highlights of high shine (sequins, metallic fabrics, glitter makeup or metallic fringe earrings, above, wil have different shaped textures or highlight patterns. SQUINT to see them more easily.)
deep, dark shadows, almost black.  it's the contrast that creates the effect of high shine. HIGH almost white highlight, with dark-almost black shading, are what create that super high shine contrast of light and dark.
if you are adding highlights last, you'll need an opaque paint, paint tool, or pen (like a jelly pen or acrylic paint, …). you can see how I did that in the fringed earrings, shiny lip gloss, and in the glitter eye makeup.
the higher the contrast between the lights and the darks, the shinier the surface appears
if the surface is a bit matte, like a metallic patin on a matte stretch or leather, the lights and darks will be less extreme. (like in this bodysuit)
 can you pick out the lights, darks and mid tones that create the effect of sequins on my top??

How to draw glitter in fashion illustrations:
It's really all about the high contrast of lights and darks.
Think about that. Squint. Practice.
Another technique I recommend is to work with just a pencil ( a very sensitive, soft one) or black/white/greyscale first.
Make sure and try these exercises on your own:
This way you can get the principle of light and dark down first.
 try rendering metallic, sparkle, or sequin using pencil.  Hold a fabric swatch in your hand or work from a photo of a model in a garment.
remember— a model in a garment is going to be more of a "what does this look like from a distance??" effect.  A swatch in your hand is more of a zoomed-in effect. What do you think will serve you best?
now take it up a notch: use wet media (markers or watercolors, or a digital app that has markers or watercolors in it like Tayasui, Adobe Draw, Procreate, Adobe Sketch or Autodesk Sketchbook Pro.   Lay down a grey base, then add black for your darks and opaque white for your lights. What does it look / feel like?  If you feel the colors are too extreme, you can adjust how opaque they are with a slider.. make them slightly sheer IF NEEDED
advanced: work it in color. Lay a base color, let's say red. Use red plus a lot of black for your dark tones in the sparkle, use the red plus white for the highlights in your glitter or shine.
glitter is a lot of tiny dots, cognitively. But visually, squint first to see the light or dark areas overall. THEN hone in on a few specific sprinkles of glitter here and there to complete the effect. Sequins can be larger,
Here are some more examples
of how to draw glitter in fashion illustration.  THESE ARE DIGITAL FASHION ILLUSTRATIONS from my iPad, but don't worry…. EXACTLY the same rules apply for paper and paint.  In fact, my Soulful Fashion Foundation  fashion design and illustration course program works completely with gouache/ opaque watercolors. 
The reason theseexamples are all digital is because this project was all digital and had tons of glitter examples in it :0)
For contrast, she's wearing large scale glitter eye makeup, and small scale glitter on her earrings.  Her nailpolish is metallic green.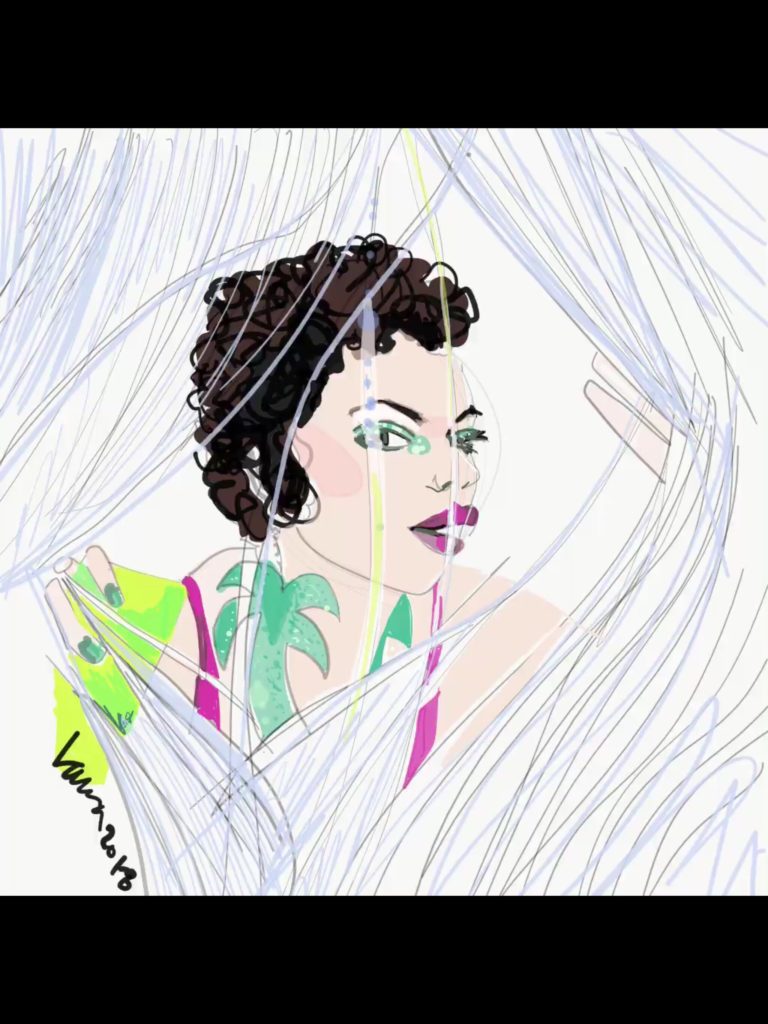 On the other hand, this piece features metallic shorts and "sun rays" on her crown
.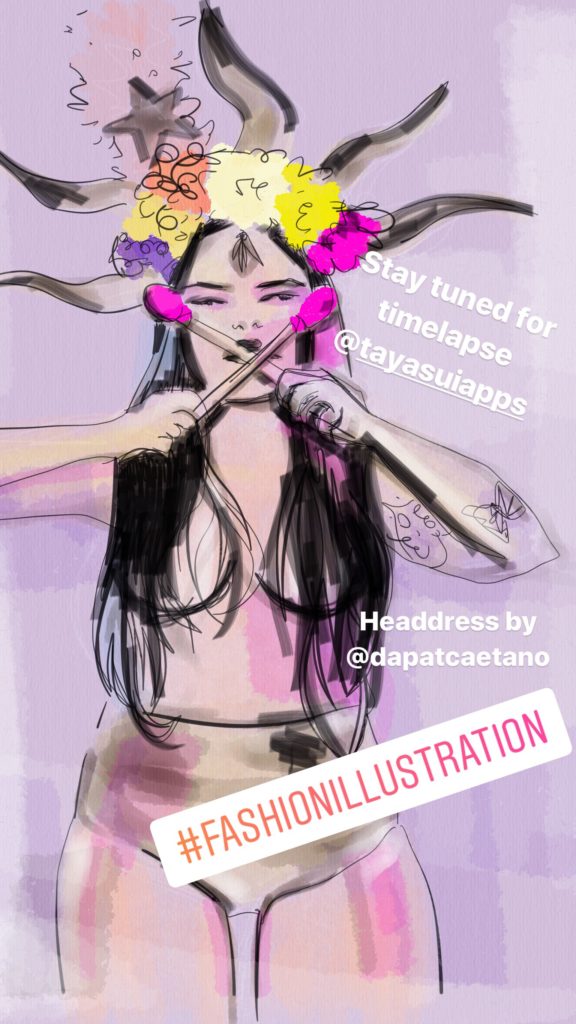 This illustration below features glitter face makeup and shiney lips.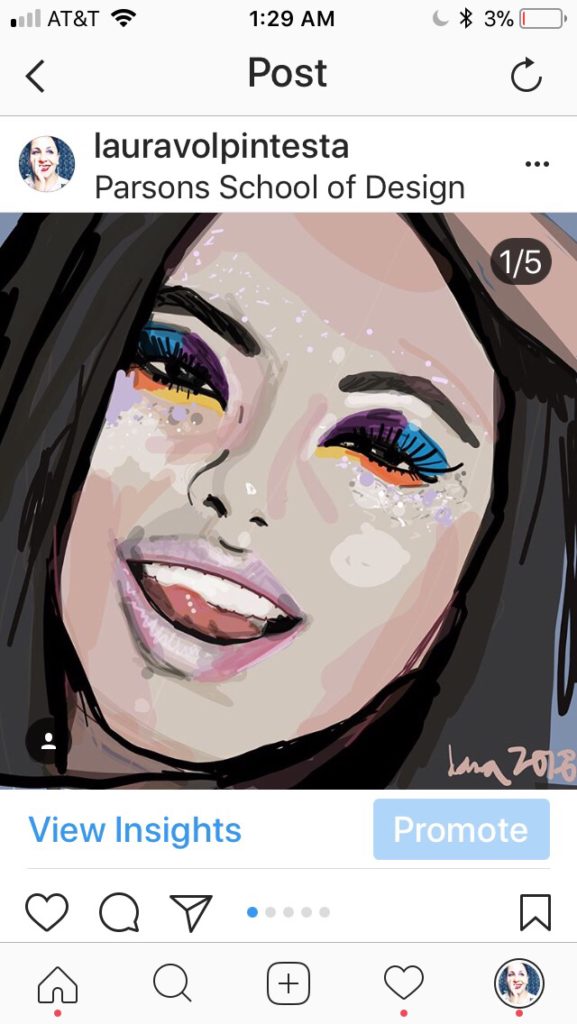 The model below is wearing an iridescent sequined bodysuit with sheer inserts  and feathered shoulders….stay tuned, because that's another topic for the blog. (and Fabric, Form and Flow)
You can learn so much about sketching shiny, sheer, sparkling and special fabrics when you signup for Fabric, Form and Flow  FASHION fashion sketching course.
Also, if you want to learn my top 3 digital apps for fashion illustration, then you DEFINITELY want to sign up for this course.!!
Follow me on instagram to stay in the loop, and don't forget to subscribe on the blog today for your free gifts for fashion and creativiy!
So, are you ready to get creative illustrating and designing?
Let's do this!
Love