Ready for a Sketchbook Fashion Art Challenge?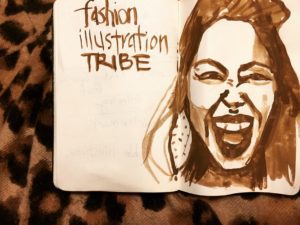 Ready for a sketchbook fashion art challenge on instagram and social media?
#bulletjournalselfiechallenge
(Yeah, I know it's a long hashtag, but with a name like VOLPINTESTA, long is kinda my thing…..lol!)
HERE"S THE LINK TO MY VIDEO/ ARTICLE ON HOW TO PHOTOGRAPH YOUR ART TO SHARE ON SOCIAL MEDIA if you need help with that!
Ready, set, grab your Moleskines, Bullet Journals, Sketchbooks or Digital Sketchbooks (Tayasui Sketches app is my favorite as you know….) and create some sketchbook fashion art….. oh, heck draw on a napkin if you must!!!
NO MATTER WHAT YOUR LEVEL or STYLE!
Use gouache, or watercolor, or ballpoint pen…… or crayons, oil pastels, collage, markers….Microns, Brush pens, pencils..
I used Winsor and Newton Van Dyke Brown gouache with a paintbrush and I sketched from a photo I liked of my self.
Share , search, and use the hashtag #bulletjournalselfiechallenge on instagram, Facebook, twitter….
What's the point?
THE POINT IS TO SHARE YOUR VOICE.  To meet others and see their interpretations. To connect,
and to
MAKE SOMETHING!!!
If you 're like me, you'll probably feel a little anxious, scared or excited if you aren't in the habit of sketching all the time, or sharing.
Once you start in you'll feel something else…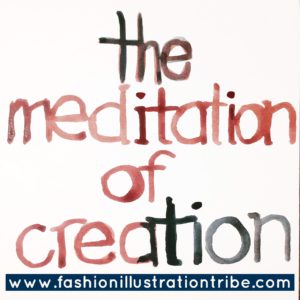 The #meditationofcreation will set in, as you explore, try, try again, adventure, listen, look, experiment, as you
PLAY
I hope you'll participate in any way you can and join in the fun and community.
You can also share and connect in the Fashion Tribalistas Facebook group,
AND LEARN all about sketching heads, hair, faces, and features in my ABOUT FACES online course!
Also check out my DRAWING FACES CHEATSHEET!
For an even more extensive art and design learning experience, get a whole semester:
I look forward to seeing you in the challenge! It's ongoing, never ending, but this weekend Jan 28-29 is the big kickoff.
JUST DO IT:))!
Comment below and let me know I can look out for your #bulletjournalselfiechallenge sketch!
Love always,
Laura