Share art on social media- YOUR ORIGINAL art.
Do you CRINGE when you see what your art looks like when you share it on instagram, Facebook, or twitter?
You don't know how two share art on social media yet… but you can learn!
For my new students to get off on the right foot, here are some great tips on how to photograph your art or fashion illustrations to share art on social media for absolute beginners to intermediate.
Taking a picture of your work and sharing it is something encourage  WHOLE HEARTEDLY! But not upside-down or all blurry! Not if you have a choice…….
There is so much power in sharing your work.  It's a way of inviting feedback, expressing yourself, bringing your community on your journey with you!
STILL, BETTER DONE THAN PERFECT!
is an important motto. I'd rather see you sharing than not sharing.  Don't let perfectionism stop you in your tracks. I'm sure that your voice needs to be heard, I'm just trying to help you enhance it so it's clear.
Today's post  is about how to take your photos of your artwork or fashion illustrations to the next level, because
YOU DESERVE IT. And people need to see it.
When I first started teaching and creating studio art and design courses online in 2008 at Parsons School of Design,  I had to learn a ton of new skills.  I hardy knew how to manage email, much less an online course.
I got a lot of training from the school at that time, and a whole new world opened up to me!
You probably wouldn't be seeing me here and around, otherwise! I want the same for you.
Here are my 6 top tips to share your art on social media.
These are TOOLS, not RULES. That's my motto always!
Check the video, but in a nutshell:
keep your phone/ camera parallel to the paper you are photographing so there is no angled proportion distortion
brighter lighting, will be less blurry
keep the camera's shadow out of the picture
rotate your image before sharing so it isn't sideways
use a clean, neutral background, maybe a white piece of foamcore
avoid bright direct light reflecting shine on your art
ADVANCED TOOLS mentioned in the video
sign, logo your brand  or watermark your work and apps to do that
add or use filters to enhance the visual appeal of your art
sign and date your work
create collages or add text, titles, and banners
plus, don't forget to add hostages and titles to your photos and links back to your own social accounts.
I'm currently using these apps for my posts :
Canva.com, Adobe Spark Post, Adobe Illustrator Draw App, Canva app, Ezy Watermark App.
Also, I invite you to  check out  my Craftsy class, my Freedom Fashion online program and my ABOUT FACES online course for iPad and android digital painting app drawing.
This is an example of how i would share art on social media in the earlier days. Dark, blurry, etc.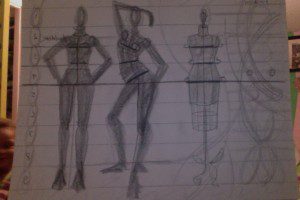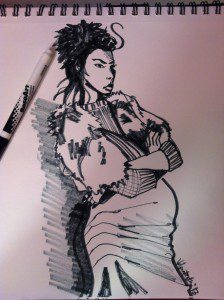 and some of my images now:
Now that i'm experienced sharing photos, i forgot how many skills i now take for granted. If you look at my early blog posts, you'll be horrified by the quality of the images. But I had to start somewhere, just like you!h
In my online courses at Parsons School of Design, Craftsy, and Fashion Illustration Tribe as well as in my FashionTribalistas Facebook group, i can see how much help people need knowing how to photograph and share their artwork whether for social media like instagram or even for an online classroom.
Catch my 6 top tips plus links to helpful apps to "ice the cake"!
CHECK OUT THIS APP FOR CREATING ILLUSTRATIONS IN YOUR IPHONE
Let me know in the comments below how this video helped you, and share with me the biggest mistake you have been making in sharing your artwork!
What's one step you could take to improve your photography of your artwork or fashion illustrations?
Let us know and also feel free to share your instagram handle in the comments, as well as share in the Facebook group!
love always,
Laura