Digital Drawing Faces on iPad, Desktop or Android
pssssst……Catch the super-quick timelapse video right here on my instagram page:
or youtube tutorial at the bottom of this  page!!~It shows the process of drawing a face using an app on the iPad, but applies to paper and pencil as well.
(and don't forget to follow me on insta for daily updates, videos, livestream classes! I post special offers and sales on courses and events there,  paid and free!)
How did I create this digital drawing/ fashion portrait?
I like to share my fashion illustration process with you (click for a video) with the intent that you'll be inspired.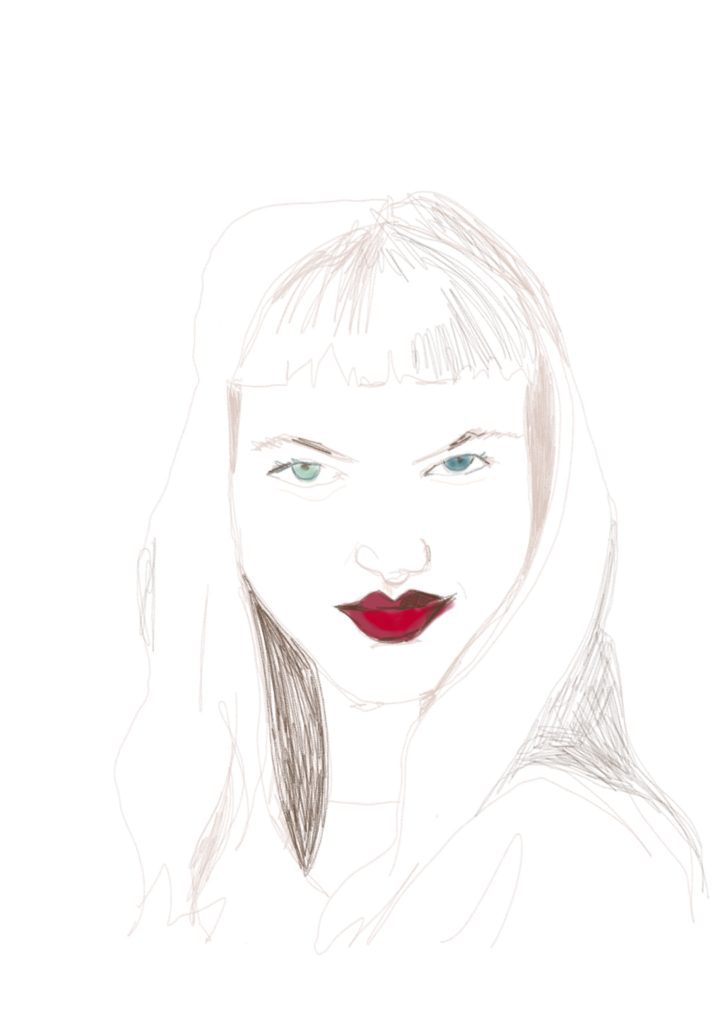 Sometimes it's digital drawing or painting, sometimes watercolors, sometimes markers or collage.
But getting inspired is everything!
INSPIRED create, explore, discover, and share YOUR stories too!! To take some action to dip into your creative hot-tub and relax.
And even better? To share them with me. And with others, ..to ask questions in the comments, share your experiences, and more.
Of faces tells endless stories about people, style, personality…
But drawing faces can be frustrating at first because they are so personal to us.
THERE IS HOPE
I promise because I struggled for a long time and then developed and learned many tools and techniques that made it foolproof and approachable.
One major shift is to realize that faces are just a part of the HEAD. The head has features ON it. We make a mistake if we focus on the face without paying attention to how the hair works on the head.
Another great tip is to see the hair as a shape, rather than a lot of hairs. The pure contour drawing exercise helps with this.
Eyes: they're smaller than you think. Mouth too. (Compared to the whole head).
Notice that at the end of the sketch process, I used a dark background. This helps the background "recede" or fall back. This way the face "pops" or comes forward. My upcoming Color Theory class will explain more about this technique in depth.
(We explore that contour drawing exercise in my model drawing course. 14 myth-breaking explorative exercises: Model Magic Online Course)
It's always the right time
to hone and share your voice in fashion drawing. In art. In anything.
It's always the right time to find your voice because it's always evolving. It's also universal at the same time.  Like fashion.
One of my favorite places to share and discover visual arts and enjoy social media in a place where I can curate my own content feed more or less, is instragram. Are you on there? COME ON OVER.  !
And that link will take you to the time -lapse digital drawingvideo that watches the blank page become the drawing that you see above.
REPAPER APP (FORMERLY Imagink app)
One of the things I love about ISKN's Imagink (NOW REPAPER ) App  Is that you can export to your camera roll a time-lapse video of your drawing process AND control the length of the video, from a few seconds all the way up to two full minutes.
That's a nice option.
Here I used some drawing techniques that you can use yourself to boost your digital drawing practice: digital or paper and pen!!(And for loads more, check out – and sign up today- for my ABOUT FACES online course that teaches faces drawing on digital devide/ iPad exploring a few of my favorite apps).
TAKE A PEEK AND NOTICE
I practiced drawing freehand with continuous contours: that is, line drawing without lifting my pencil or erasing much.  EVEN IF it gets "ugly" working this way, it's also a sure-fire way to get "honest" with what you see and "work it out". Give yourself a break from judgment and just let your pen move on the page.
try the exercise of commiting to a single fine line and just seeing what heppens, wtihout sketching or mapping out the drawing first.
at the end I added some soft tone in only eyes and lips, using the pastel tool. I love the contrast of using super fine line versus areas of flat color.
I love that I could create shadow and shine iin her hair using just fine lines vs. white paper.
the super-clean effect of the digital drawing which is so nice for sharing on social. (DON'T forget to sign your work!)
I hope you enjoyed this digital drawing faces process and I'd love to hear your feedback or questions.
I love drawing them. Also love teaching you how to draw them!
Drawing yourself in a mirror, many many times…..can be a great journey into practicing faces.
HAVE  you tried yet? Share your thoughts / experiences in the comments below!
The good news is that
Drawing faces is so enchanting and expressive that you won't be bored as you hone your craft.
Practicing, exploring, researching faces to sketch from, and inspiring styles and faces to draw from (most inspiring may be people you know and love!) can get REALLY addictive, personal, and pleasurable.
So ….. tell a story today.
A story about a head, a face.
"Cada cabeca e um mundo". Every head is a world.
Enjoy!
Love,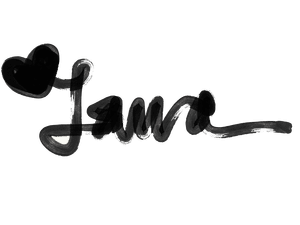 Laura Volpintesta, Founder
Fashion Illustration Tribe
Author, the Language of Fashion Design
Asst. Professor of Fashion Design, Parsons the New School for Design