STUDENT JOURNEY– SHAFIQ
Shafiq was my model drawing and design/ illustration student at Parsons who became a design director at Armani EXchange. Here he is interviewing me and sharing his portfolio and student experience
8 livestream masterclass replays, from research, design, and inspiration boards, to fabrics, to "quick" sketching process in the croquis book, to model drawing, to digital drawing, to fashion illustration, to patternmaking project that is accessible to absolutely everyone. A well-rounded exposure to fashion design and fashion arts. Each masterclass is about an hour and you can do homework for each lesson and share in our private course area.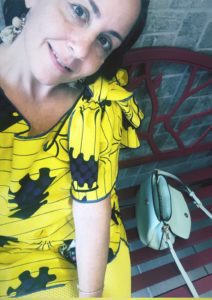 Hi, I'm Laura Volpintesta, coach, author, professor and guide, creator of fashion design online courses in illustration, drawing,  fashion design technical skills, self-expression and self-discovery. SCROLL THROUGH THIS PAGE to visit the course pages, enjoy the free tutorials on the sales pages,  and learn more about each opportunity to learn and grow with me and bring out what is inside you. 
 I'm so glad you are here!
You can email me directly about adding additional coaching to your course info@fashionillustrationtribe.com,
I invite you to browse my website for articles, tutorials and more, but on this page I will list all relevant links for fashion design online courses, programs, and recommend you subscribe for email updates. MOST OF MY SALES PAGES INCLUDE LESSONS ON THE PAGE SO EVEN IF YOU CAN'T JOIN A PROGRAM, YOU CAN START LEARNING NOW!  Anything that is currently available is on this page as well as througout the website.
"Thank you for visiting, and I invite you to take an intentional, magical dive into YOUR journey of creativity, self-discovery, and creation in fashion design."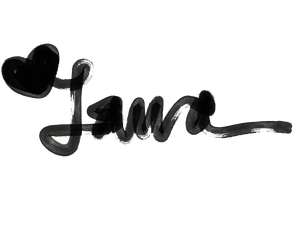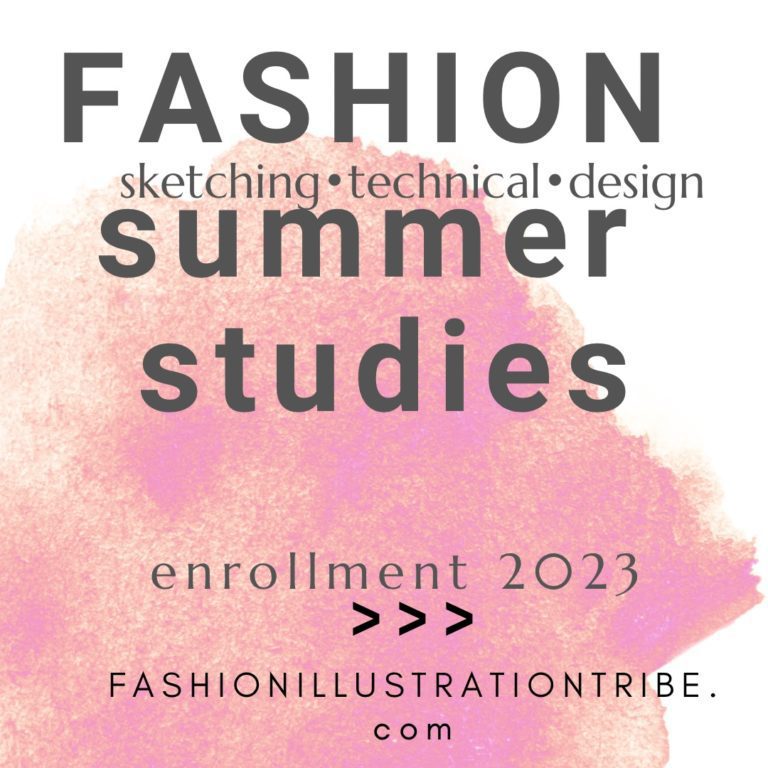 Soulful Fashion Foundation is my signature, semester long deep dive FASHION DESIGN ONLINE COURSE program that gets you to roll up your shirt-sleeves and get to work making, doing, creating, evolving, learning and growing through research, inspiration and fabrics, model drawing and gouache illustration and quick sketching techniques, flat sketching and details drawing, building a croquis book and editing and illustrating your designs.  Based on my decades of teaching at Parsons from model drawing to Portoflio and draping and patternmaking, you'll get all i've got and receive the warm codes of encouragement and safety that make you soar and take the risks it takes to grow and become what you dream.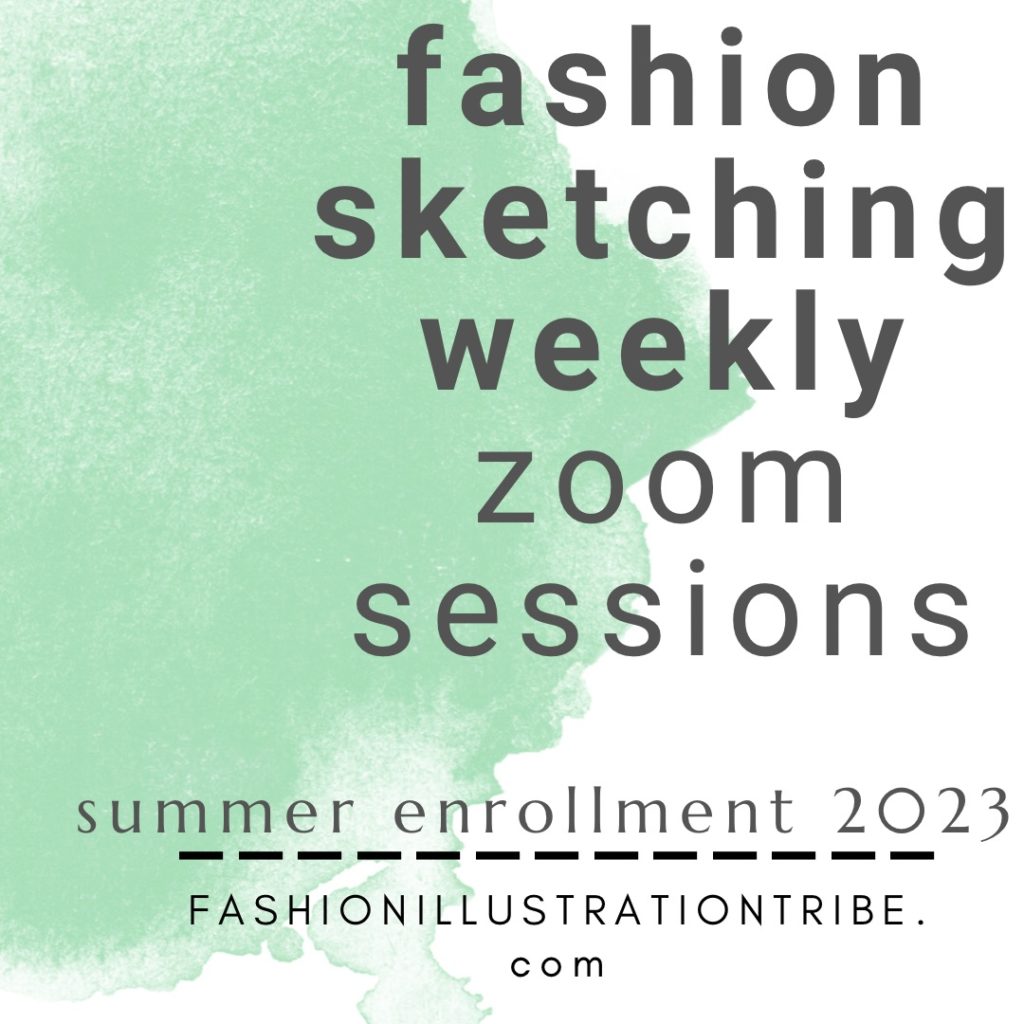 Fashion Sketch group LIVE WEEKLY fashion model drawing classes hosted by Laura, with vibrant jazzy music to fire you up, and feedback, q and A free, active and open, encouraging and upbeat format and timed curated poses to throw you into the flow and frenzy of drawing in real time with your community of peers! No rules except we treat each other like gold! TUESDAYS  2-4 pm eastern
My Craftsy class DESIGNING FASHION FLATS was SUCH A THRILL to film and create with the beautiful team and community at Craftsy.com. This FASHION DESIGN ONLINE course was beautifully filmed and edited in their studios and is utterly clear, cheerful, and informative- giving you the ability to have a design process on paper to plot out your ideas and create endless collections of garment sketches off-the-body with the finer details all drawn in.
FREE GIFT BUNDLE + newsletter updates
Can't enroll in one of my fashion design online courses now? Signup for my Email list today you'll get a free bundle of video, ebook, templates and tools to help you get jump-started creating and expressing your unique ideas. I also offer some low cost bundles and workshops.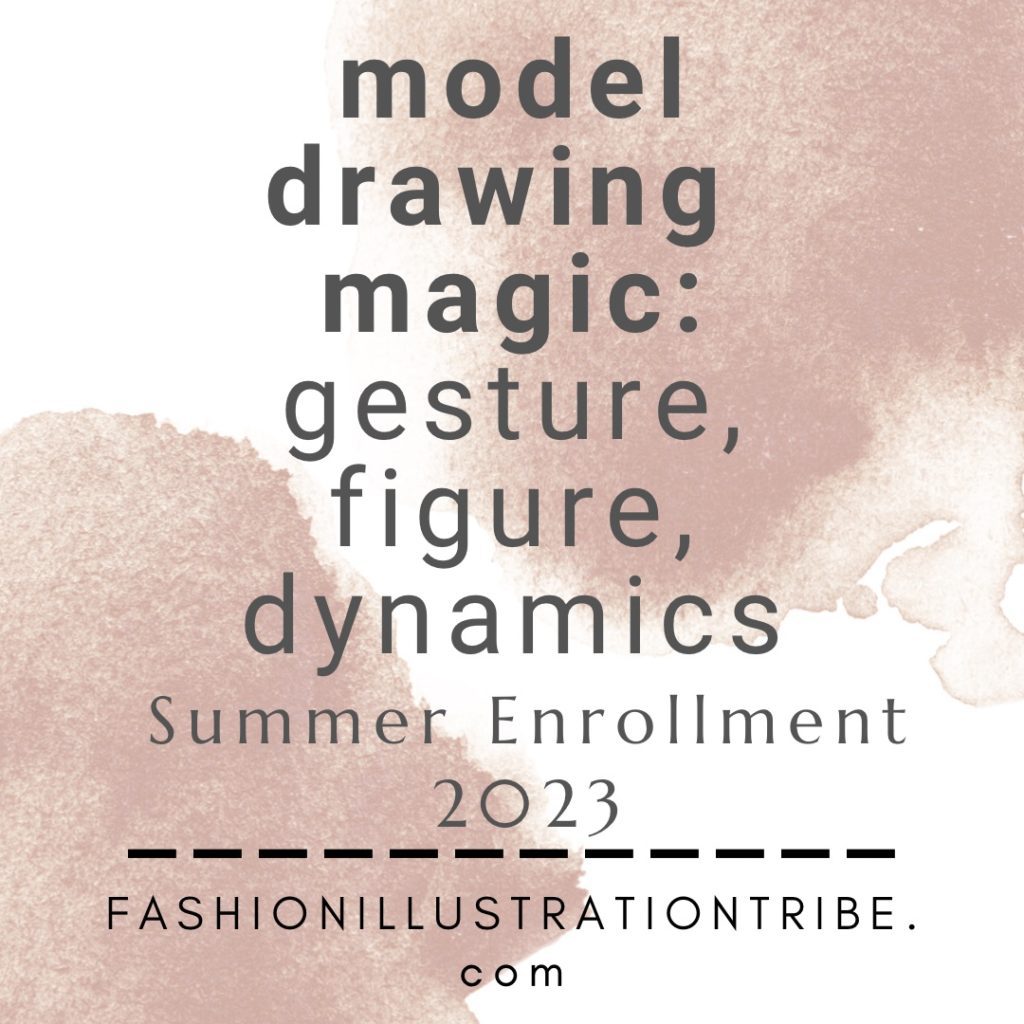 Model Drawing Magic Finally! A fashion model drawing ONLINE program that sets you free. NO distorted body proportions, this method and technique is applicable to absolutely and body types. The techniques are transformative whether you are new or have been drawing for years: designed to be flowy and free, descriptive and dynamic, detailed and dramatic, proportionate and consistent yet raw and alive. So Many essential drawing tools and foundations are practiced in this MODEL DRAWING COURSE which sets the solid foundations for all of your work with me! We'll bust a lot of myths about art and drawing and explore your art supplies more broadly! Learn from inspiration, observation, and experience in a safe and supportive, explorative environment.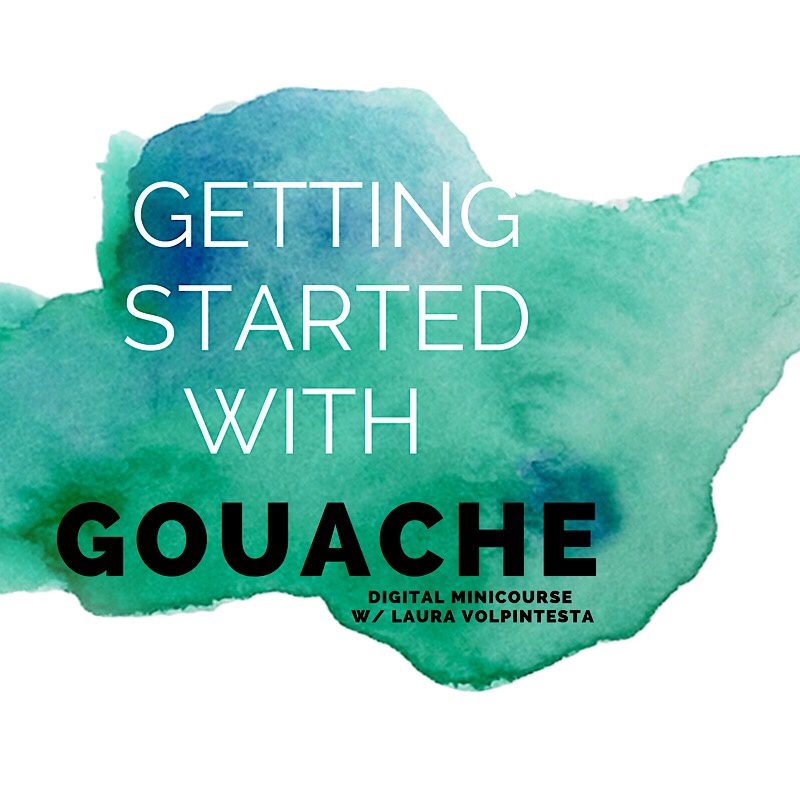 Getting started with gouache– new to gouache? Let's hop to it! You can totally do this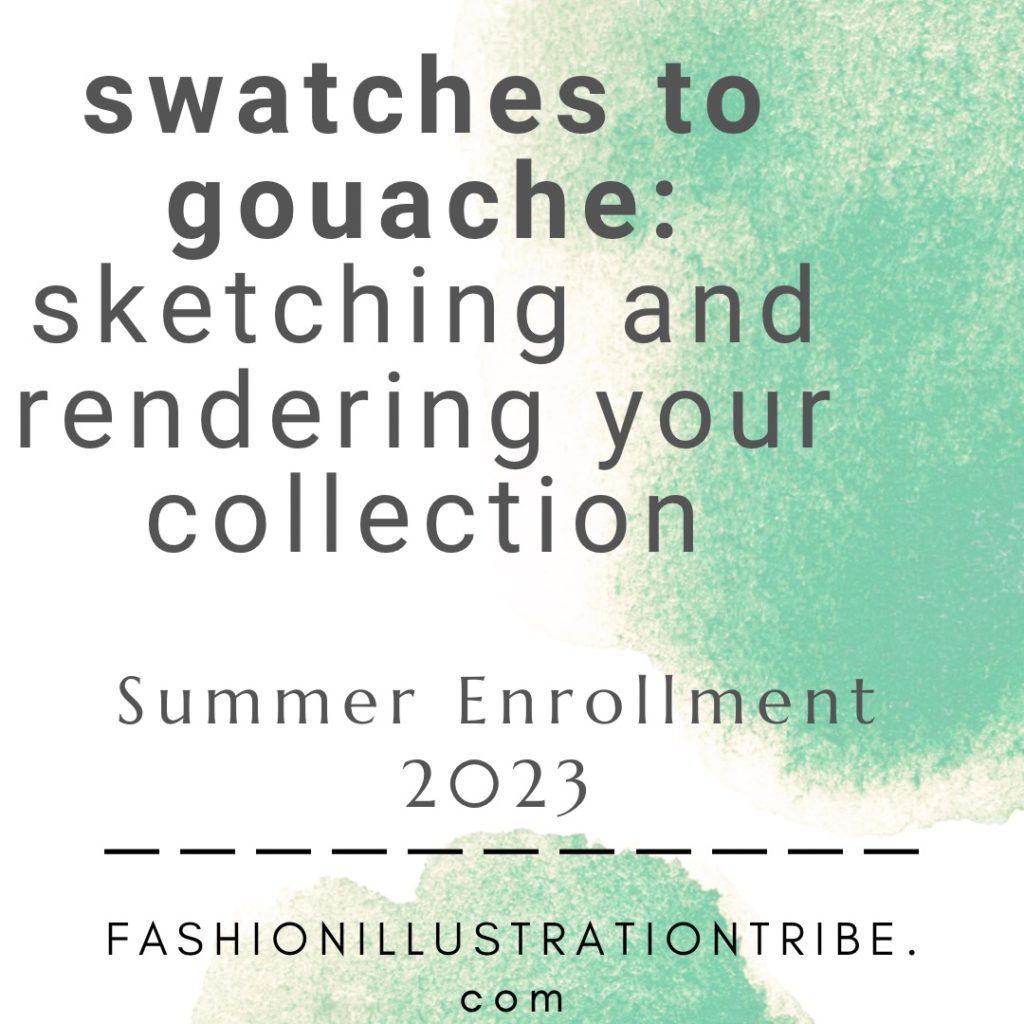 Swatches to Gouache is a fantastic fashion design onilne course program that lays out directly and clearly EXACTLY the process I use again and again to go from "just ideas" to finished, illustrated sketches or original designs with photo research in my fashion design portfolio!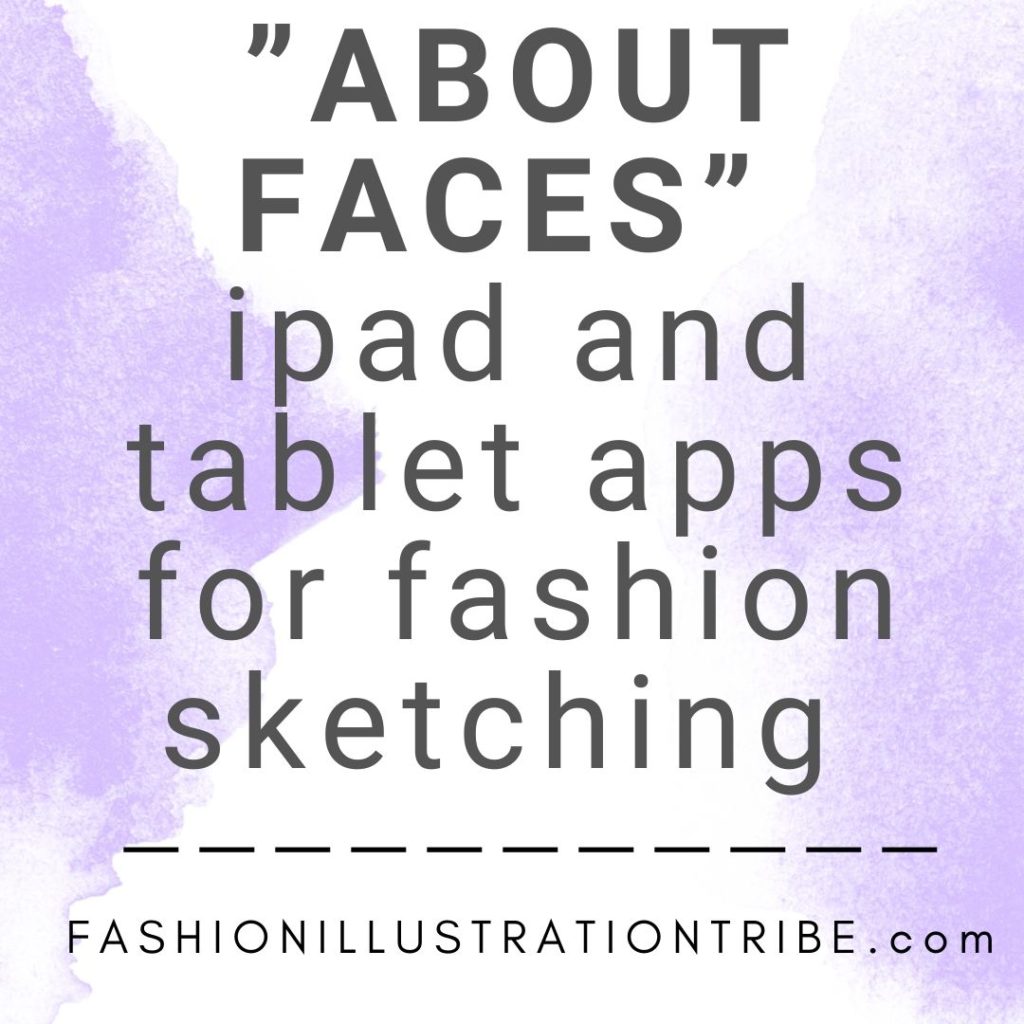 About Faces Online drawing Course- drawing and illustrating using your ipad or digital drawing tablet/ android or even following along in pencil and your own analog tools, we'll go deep into 3 angles of the face to get confidence, fluency, expressiveness, accuracy, and experience!! NOW expanded to include creative croquis sketching techniques, fashion illustration including full figures, all on the ipad. Many new modules and resources have expanded this course into a full-blown fashion illustration and design course for ipad.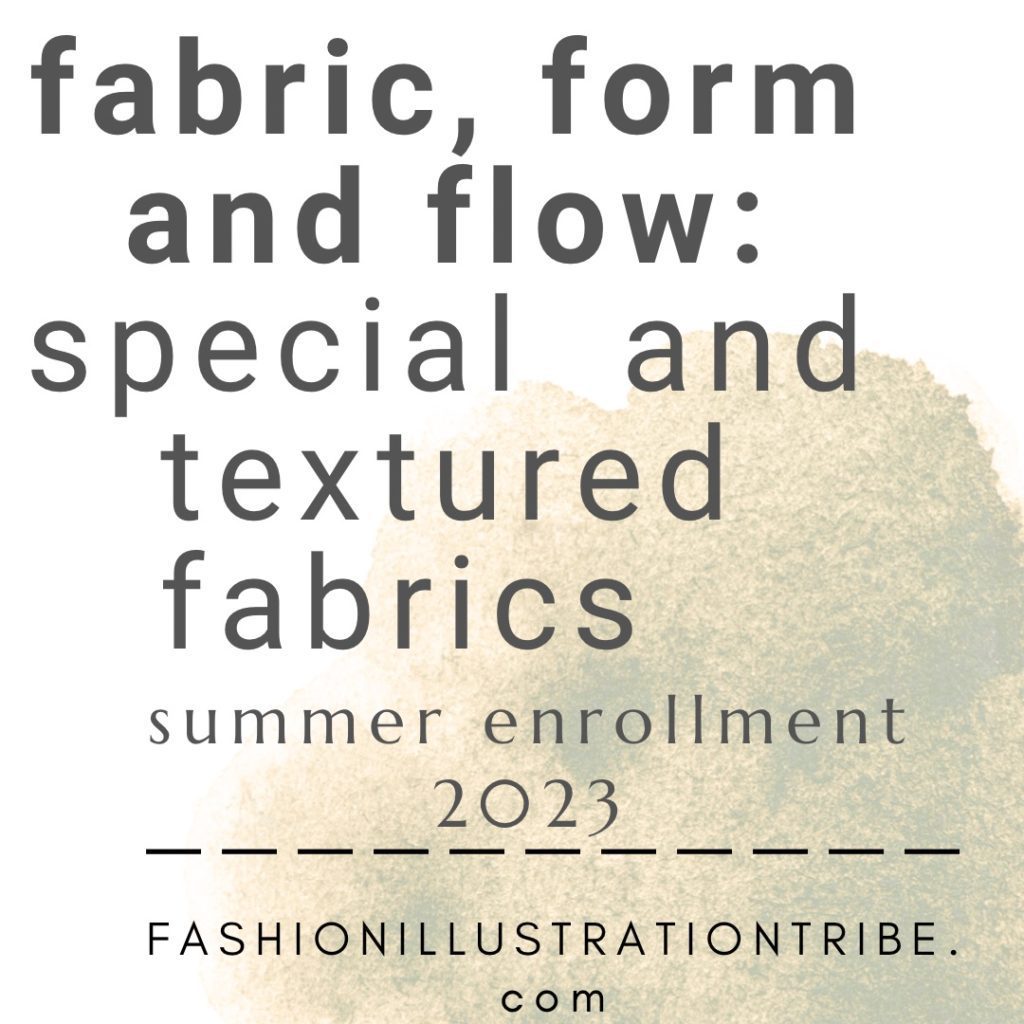 Fabric Form and Flow online fashion design COURSE- I love this creative 8 week intensive course that uses markers, digital and gouache techniques interchangeably to expose you to the possibilities and show you what's universal in sketching from photos and using your new "vocabulary" to start creatively designing your own pieces within the course! It focuses on "special" fabrics, textures and silhouettes so that you can move out of the "every day" and play with drama, extremes, and go outside the humdrum. You'll be supported with feedback, resources, new approaches to drawing, design and illustration that are intended to bring you into an entirely new approach to your illustration and perspective on fashion and design. MAKE YOUR PORTFOLIO HERE from studies, to quick sketches and exercises, to final illustrations and presentation!
What do we wear in the cold climate? Design with outerwear, woven stripes and plaids, sweaters, knits, and thick fabrics and layers! Round out your portfolio by diving deep into cold weather dressing and design some new collections in the process.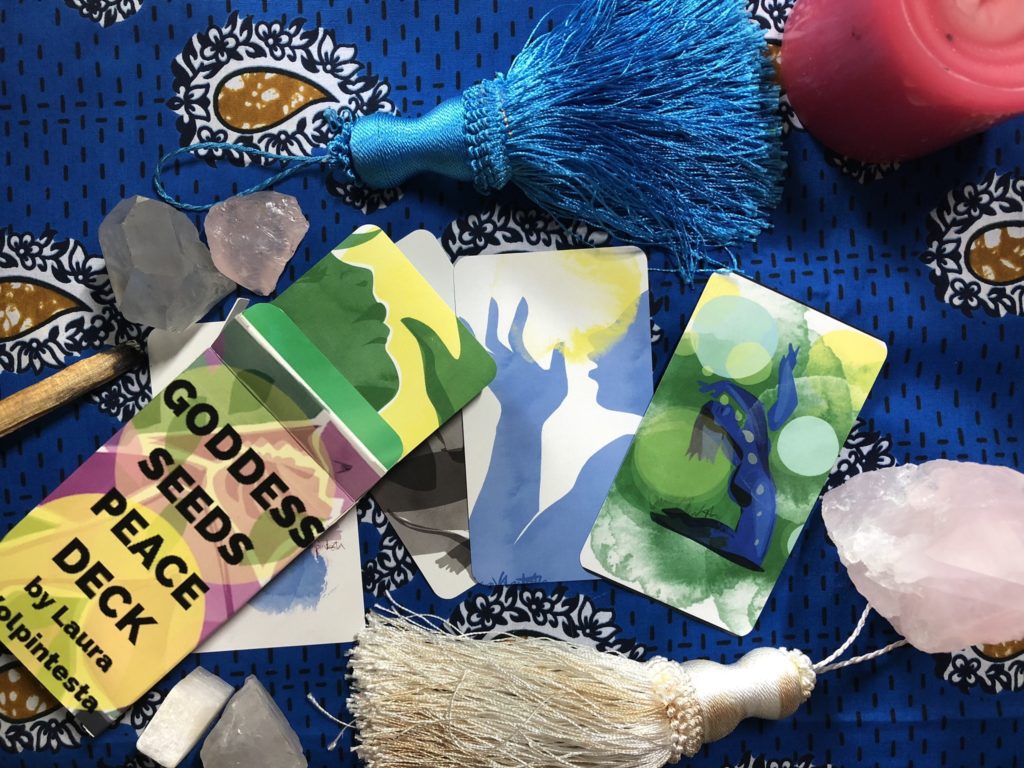 REFLECTION AND INSPIRATION CARDS
My original oracle card decks– FEM-INFINITY, The Goddess Seeds, and the Muse Sings.
also, message me info@fashionillustrationtribe.com to schedule a private reading/ intuitive coaching for your business, relationship or life path/ career using these decks and others! 90 min session and replay video to keep: $444
LOFD online fashion design course mastermind is enrolling NOW! a 6 month meeting with a topic each week from my book, we'll use each Principle of the Language of Fashion Design to hone our eyes and our design ideas as we focus on each design element and watch it spring to life in our awareness and creativity! the topics will include q and a and design prompts and project suggestions to get you creating, you are also invited to share and support each other in our private course area. Replays for life.
https://app.ruzuku.com/courses/74996/about – registration is currently closed but there are free lessons on the sales page until we open doors again!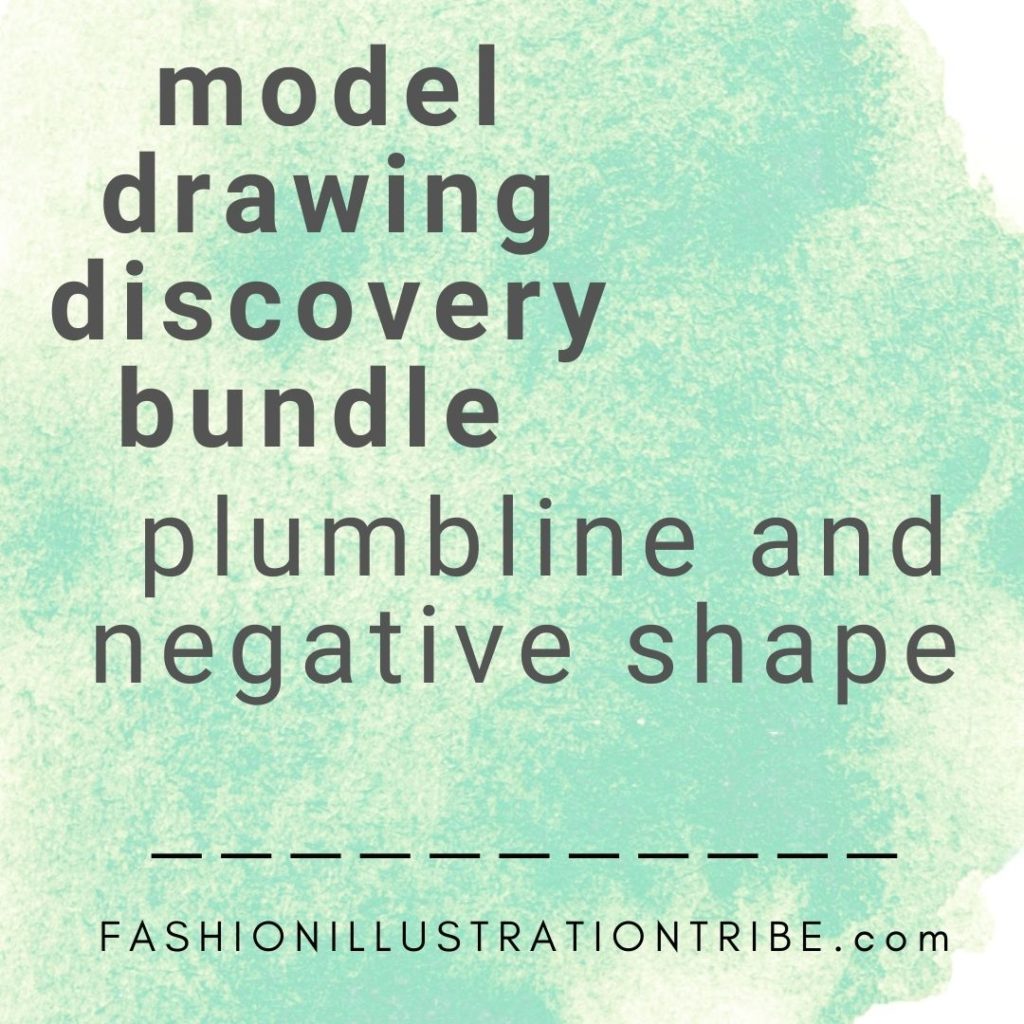 There are different kinds of courses, workshops, bundles and coaching at all different price points. Click around to find your favorite place to be!! the BOOST BUNDLE above is an innovative injection of change and seeing things in a new way to break you out of stale habits and renew the way you see drawing altogether. It's guaranteed to refresh your drawing skill and loosen you up.