Colored pencil fashion illustration
isn't something I always recommend!
>>>>>>>>>>WATCH TODAY'S TUTORIAL VIDEO by clicking the images in the post.
Actually, I discourage using just colored pencils to create fashion sketches because they can be so thin and dry looking.
Everyone knows, I love vibrant, vital, fluid, dynamic effects in fashion illustration!
Today, i was running through this and that on the internet and I stumbled upon a beautiful livestream replay of colored pencil fashion illustration techniques.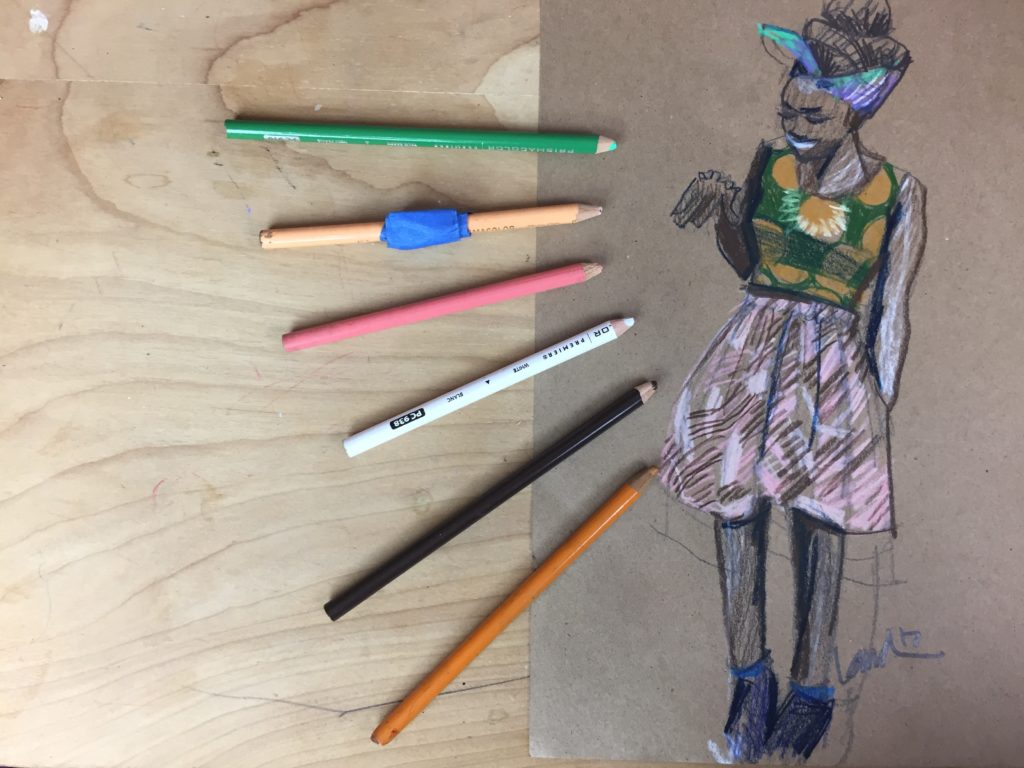 Colored pencil fashion illustration
takes on a whole new life when you use TINTED PAPER!!!
So, that makes today's piece even more exciting for me! I used Bee Paper Company's tinted recycled rough sketch. It has a great gritty texture to it, and because it's so absorbant and loosely pored, I felt more secure using colored pencil on it than wet media. (We'll try that another day, okay? :0)
I know, I know, it's African Print/ Wax print fashion too. MY FAVORITE!  What I love is that the rough, dull, dark paper contrasts so well with the creamy opacity of colored pencil. WAIT !
Correction, it works amazingly with GOOD colored pencils. My go-t0, always, is the Prismacolor Premier Colored Pencil fashion illustration. Sure, they break easily but they also have the richest, lushest pigments and go from dark and opaque to very light and sheer.
Prismacolor colored pencils also blend beautifully!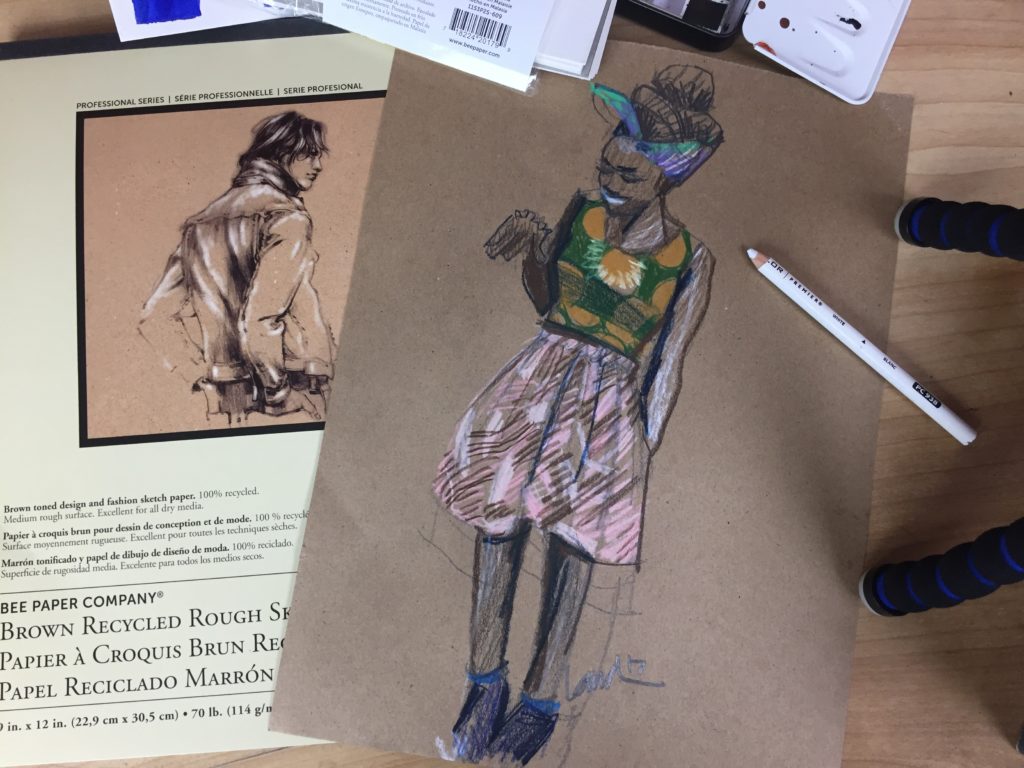 Want more secrets?
I use Prismacolor colored pencils in my gouache illustrations, over flat, dried gouache or watercolor fashion illustrations.  I sometimes use it alone but usually only for sketching flats for design. I do have an example here of flats in Prismacolor Premier pencils.
But I like to use Colored Pencil over color because it's the perfect way to render prints and textures OR to show highlights, shines, iridescence or deep shadows.
(MORE ON ALL OF THAT>>>>INCLUDING ALL OF THOSE ART SUPPLIES>>>IN MY EVENINGWEAR COURSE!!)
This gets funner- and funnier
(welcome to my world!!) because when you go DIGITAL and start using digital painting apps for fashion illustration,
EVERY digital drawing app 
has a pencil tool in it, that you can choose any color in the world for, as well as adjust the thickness of its tip and its opacity!
So now even your digital apps can be used for colored pencil fashion illustration, INCLUDING THE TINTED PAPERS! (see this one)
If you don't have tinted paper OR nice pencils,
grab your smartphone and tryout some art apps and you'll have both for under $4.99.
Here are some colored pencil effects, mixed with watercolor and ink pen.
(I do like to mix things up a bit:0)
ABOUT FACES online course is another AH-MAZING way to learn these apps and really dig your heels in to getting comfortable with them!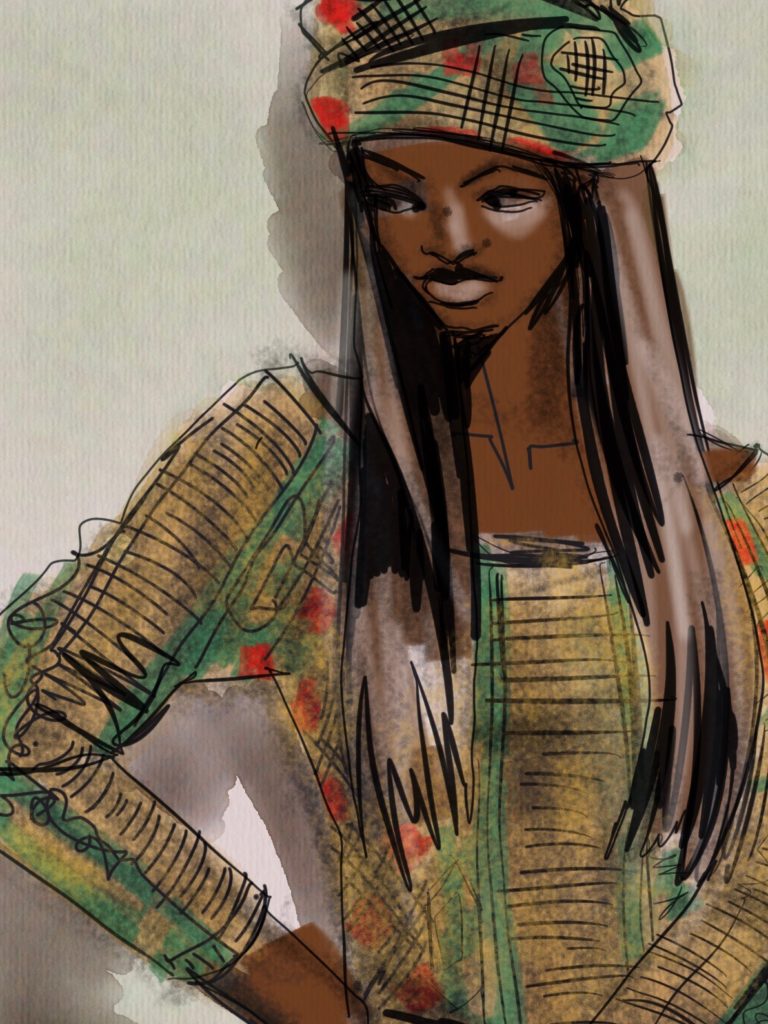 So, however you decide to use them
I hope you'll treat yourself to sensitive, brilliant colored pencils (some can be hard and waxy in a way that makes it hard to get any rich color).
Beware  trying colored pencil fashion illustration with pencils that are so hard that they dent the paper, or so shiny and weakly pigmented that they feel like chapstick.
Even oil pastels will give brilliant brightness, but we never know when we're buying colored pencils until we get them home.
YOU DON'T NEED FIFTY COLORS.
(and good colored pencils can be almost a dollar a piece).
Start with light, medium and dark grey, black and white, and a rainbow. Maybe add a few neutral skin-and-hair-and-makeup type colors, and then remember you can mix and blend everything else.
I absolutley love that you are on this journey, and that I'm a part of it!
NOTHING CAN STOP YOU! #artisyourbirthright.
If you want to get really deep in busting loose, check out my MODEL MAGIC online course. It's incredibly liberating and deepening!
love
Laura