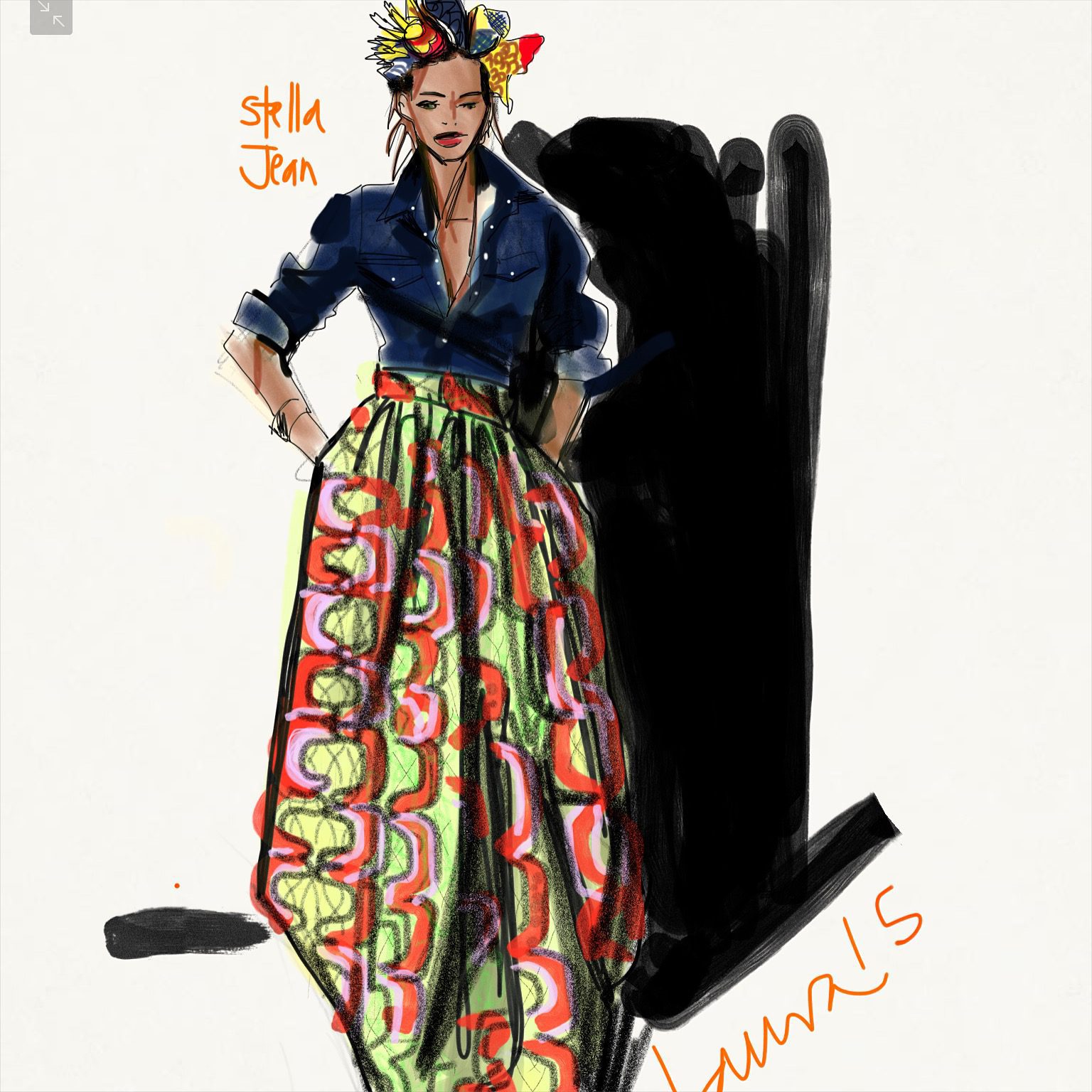 Fashion Illustration on the iPad- Stella Jean Ensemble
Naturally, I adore Stella Jean, an Italian-African fusion designer who uses the ankara/ pagne/ African Print and Dutch Wax Print fabrics that I have loved so much for so long since I landed in Paris in 1992 and fell in love with African food, music, fashion, and culture.
Here I used the Adobe Photoshop Sketches App, (HAS NOW MIGRATED TO ADOBE FRESCO) which I really  LOVE, and I'll share some of my step-by-step process with you.  If you are new to digital sketching or fashion illustration on the iPad, I recommend starting with Tayasui Sketches app, which is even easier to learn on , and just beautiful, before taking on this app which was a little less intuitive at first.
I say that because I found this app difficult to work when I was a total beginner, but after getting comfortable on Tayasui Sketches on my iPad mini , I got very comfortable here on Adobe Photoshop Sketch app. NOTE: now that Adobe Sketch has migrated to ADOBE FRESCO, the interface LOOKS more complex, but I teach it in the same simple terms that I loved the original app for.)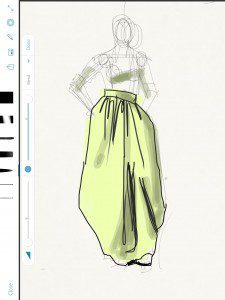 I used the 53paper stylus on an iPad mini. This was in the very beginning of my foray into digital fashion illustration on the iPad.  I would definitely love to have used a larger iPad, but at least you  can really zoom in on the app when you need to move in for fine detail.
Here's a closer look 
at the digital fashion illustration from iPad mini.
See how the smokey, sheer grey tone on the blouse and shirt give dimension to my fashion drawing?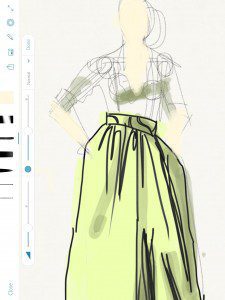 The brush pen tool is very expressive, notice how the digital fashion illustration app give a bold but varied stroke on her blouse an makes such a difference!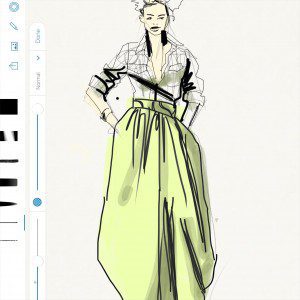 A great technique for any digital fashion drawing is putting elements into the background to "set off' the sketch and frame it. It's so easy to EXPERIMENT with different options in digital fashion drawing on iPad because you can UNDO anything that doesn't look great, then try something else!
and you never ever
have to wait for your paint to dry:0)! So no worries about paint on the background BLEEDING into the model's outfit!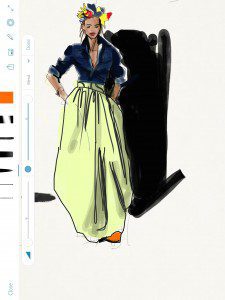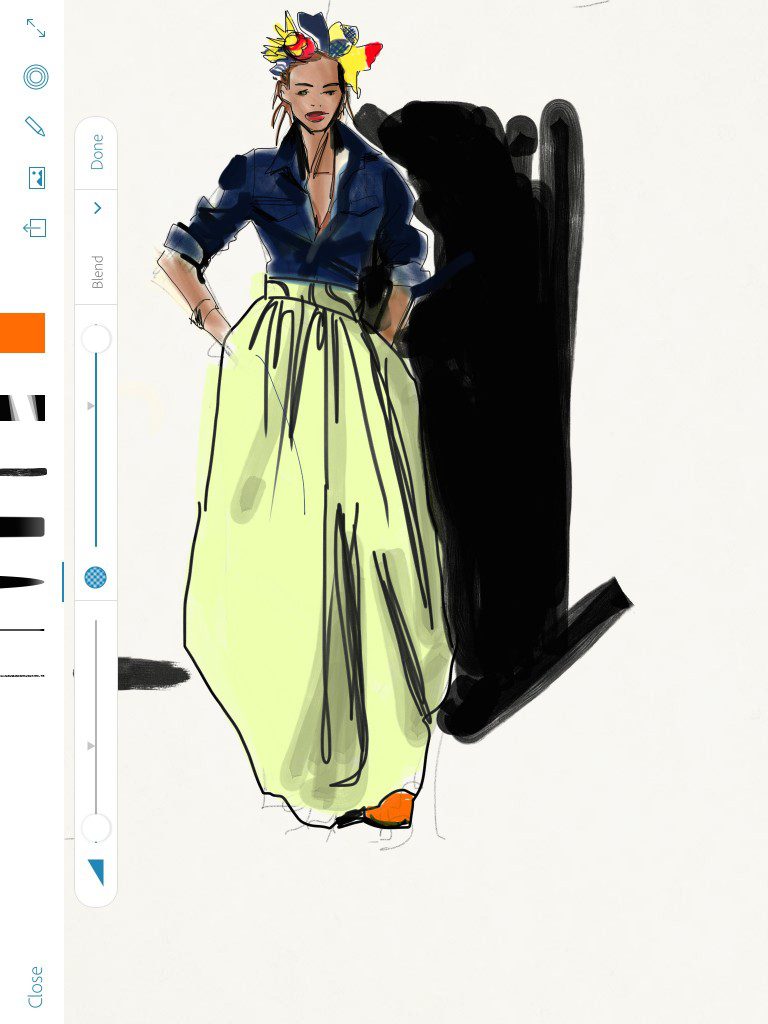 Please, don't forget to sign your beautiful work. Make it part of the composition!!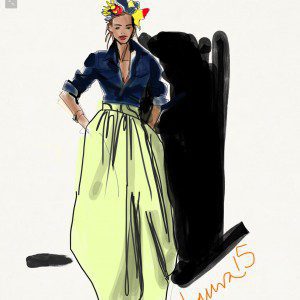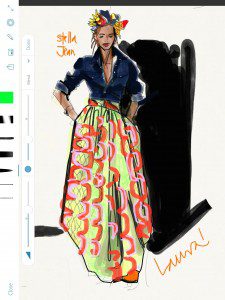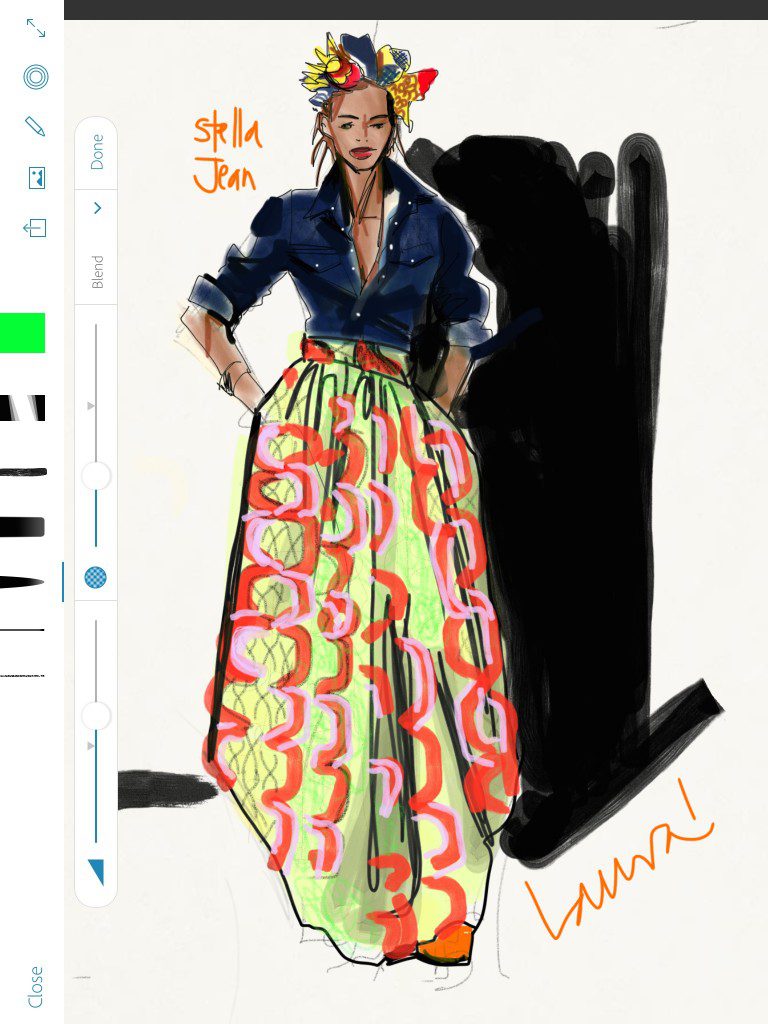 For African prints, I work one color at a time, blocking out the necessary elements. Start wth the boldest, easiest ones to see and map them out on the garment. I sketched from a photo reference so I just drew what I saw, one step at a time!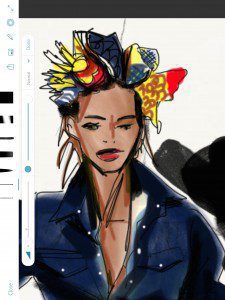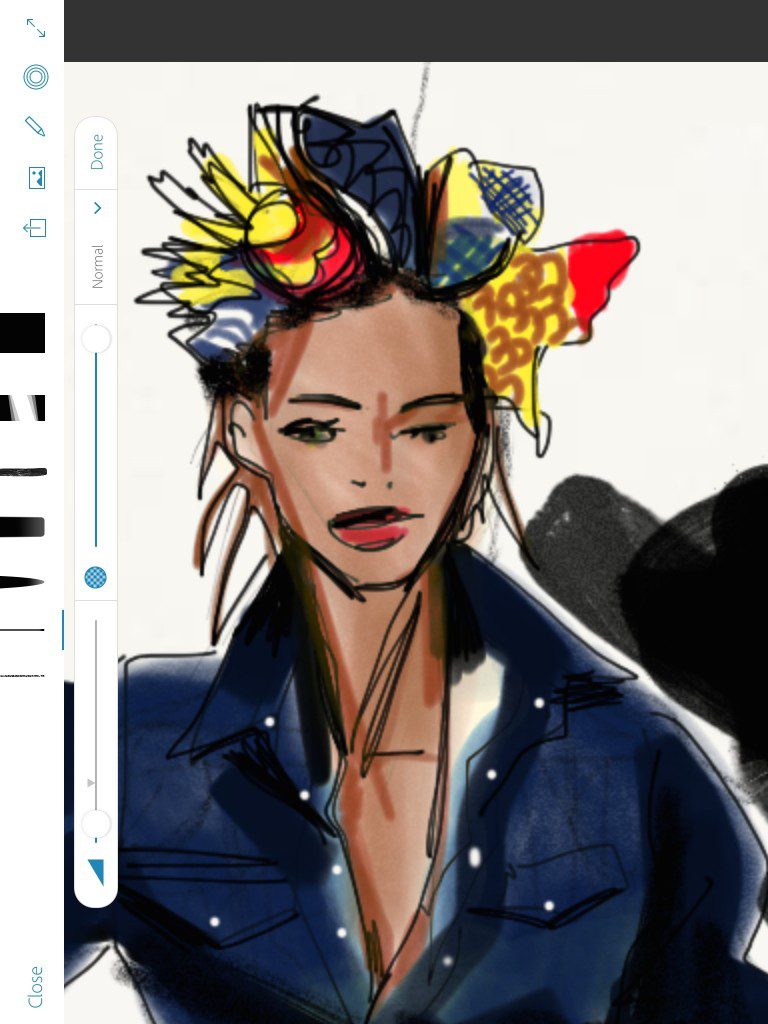 ABOVE the FACE was a terrible challenge because I sketched this digital fashion drawing on iPad before I knew that ZOOM features even existed!!! So I was using a large stylus on a very, very tiny face and had such a difficult time squeezing the features in.
LEARN DIGITAL APPS FOR FASHION ILLUSTRATION AND ART WITH ME AND START TODAY!!!!!