Rendering Special Fabrics: Surface, Weight, and Texture
In celebration of the summer session of FABRIC FORM AND FLOW 8 week journey into textured and reflective fabric rendering enrollment for July 1 start date (closing enrollment doors until next year), I'd like to share some insights into capturing special fabric textures with various media. 
These sketches are from my weekly membership FASHION SKETCH GROUP zoom session last week. FFF is not only about rendering, although the first few weeks are only about that, as the course culminates you'll be using your new research and knowledge to sketch out in full color a whole collection of design sketches around a theme of your choosing.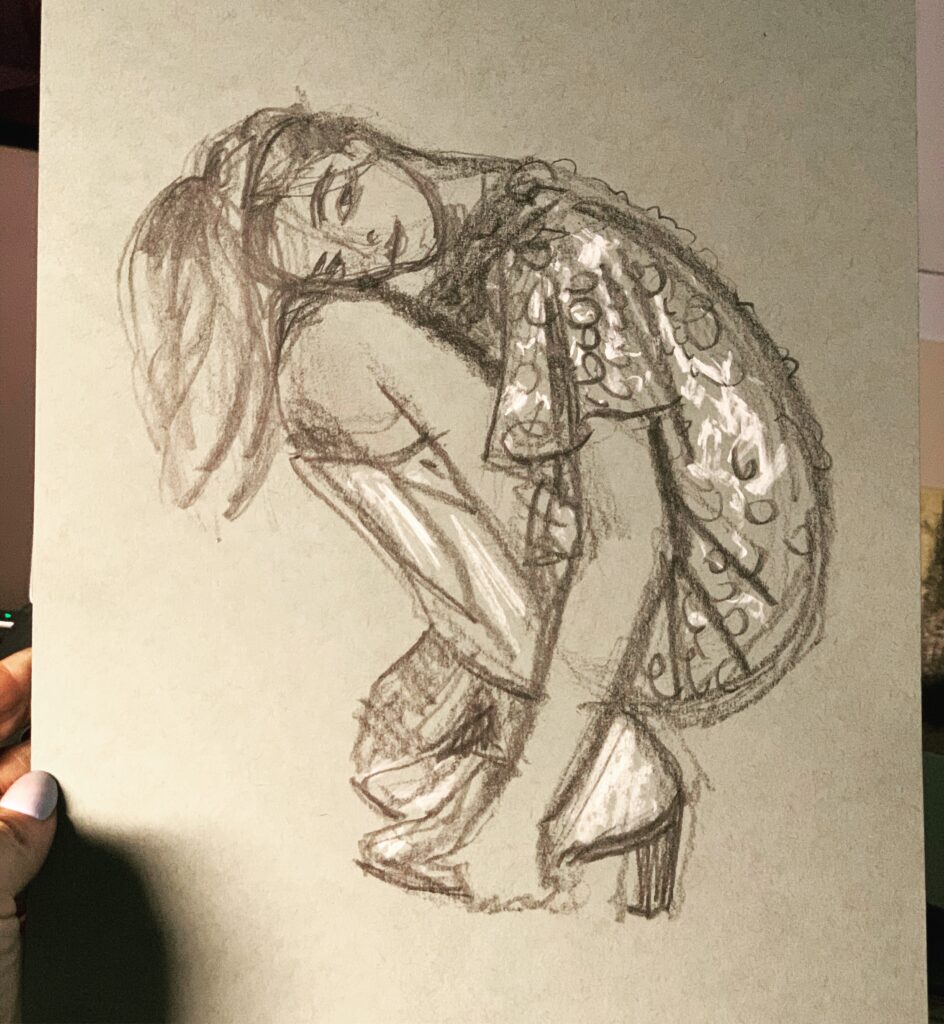 SO LET'S TAKE A LOOK AT SOME POSSIBILITIES in TEXTURED FABRIC RENDERING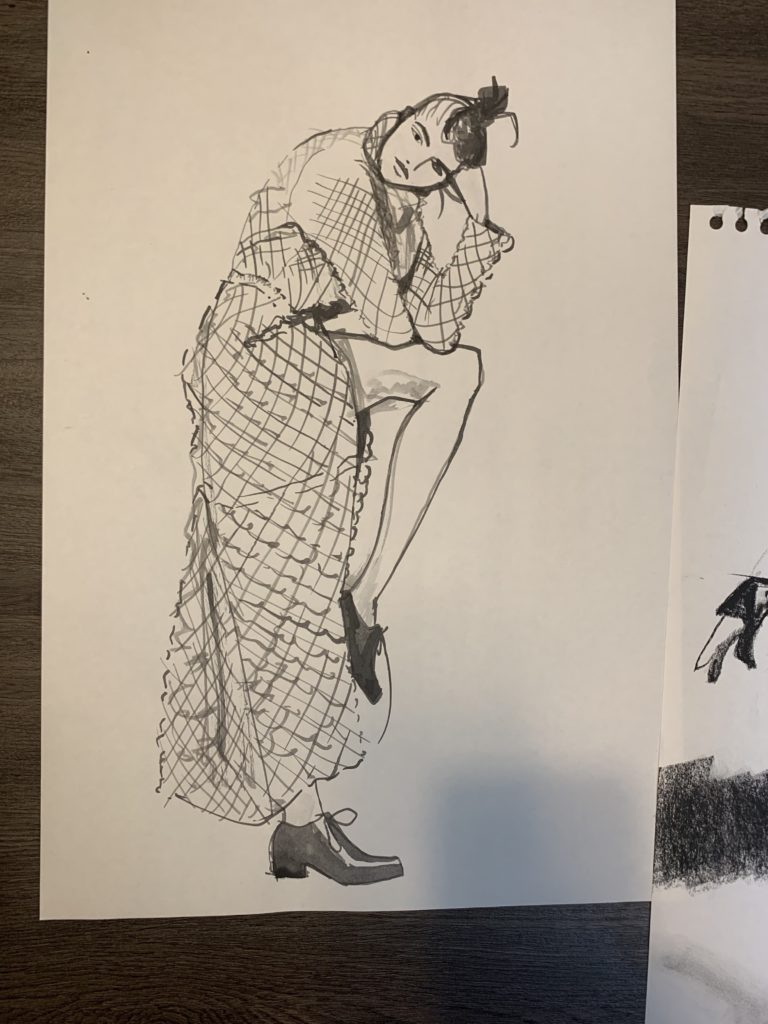 The sketch above renders a few featured textures:
 Let's identify all of them?
Skin smooth

,

hair

,

long smooth strands

(yes they count)…

leather-like

:

shiny and rigid

, 

quilted silk

–

has a thickness, a puffy pattern

and lattice like grid, and

shoe laces

–

flat, opaque strands.
I may be stating the obvious, but
When i become aware and take account, I can play up and feel into DIFFERENCES and accentuate what each one's character is when I render the fabrication..
So I zoomed in on the silhouette and high-shine effect on the shoes (sketching from observation in all of these sketches- not from imagination yet) 
I captured the swirling movements of hair and shoelace strands.

The QUILTING had several characteristics of beauty: the relative

stiffness

of the hem

 the

directional lines  and scale

of the lattice pattern and its visual effect on different areas of the body, 

 
The shadows

cast by each little puff (a rhythmic effect), 

the coverage and s

ense of warmth

surrounding the model, 

the

un-business

of the shoes, t

he

not too thick thickness

of the quilting and

how it bends with the body

bending.
Suddenly, there is this lively "cast of characters" interacting on the page (as a fashion illustration) and on the HUMAN (as fashion design concept)- it's such a wonderful experience! This is what we live for- the joy of fashion illustration.
I map out the body first, so I know WHERE I am putting things, and THEN I lay those things out, one at a time, embracing each one with my love of fashion and design on the paper.
In Fabric, Form, and Flow, CREATIVE DESIGN with fabric rendering emerges AFTER we have internalized and embodied all of these characters by capturing them.
The original illustrations from research portion of the course is a type of meditation  period that warms us up for the process of creative fashion design sketching around these elements! I discuss this more in Fabric Form and Flow, but I'm sure you are already getting ideas and ready to sketch, just like that!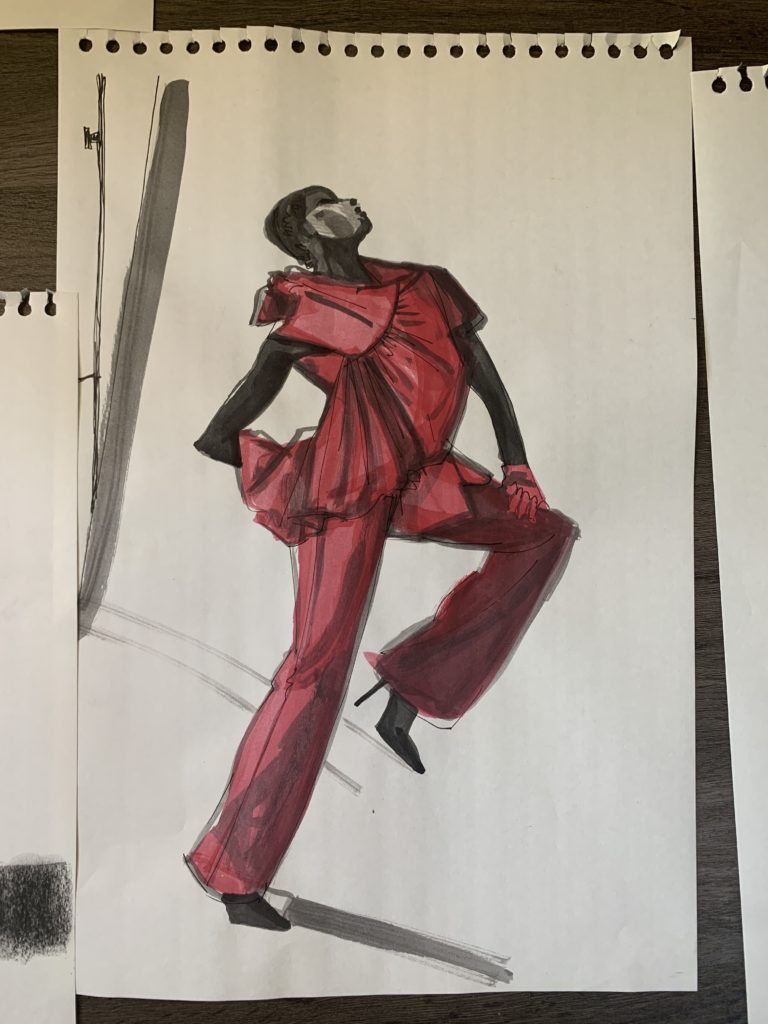 This full-color fabric rendering sketch
is different because the illustrations above and below it are LINE DRAWINGS without color.   So much of the work I do with my clients is with the body. Look at the line drawings as opposed to the red taffeta ensemble above…and FEEL how different it FEELS compared to the line drawings! 
The flat red gouache color filling (well, it was flat before I added shadows) makes a MUCH STRONGER STATEMENT about the QUALITY of the fabric, it's stiffness, its reflective surface, its firmness (as opposed to a stretchy clinginess)  through the way it responds to weight (its drape), the way it bends with the body, and the way it responds to the gathering details, and above all perhaps, its SILHOUETTE.
When I conceived of FABRIC FORM and FLOW, I knew that I wanted the class to focus on these key components:
special fabrics textures (sheer, lace, satin, metallic, feather/fuzzy, leather-like, tulle, sequins, embellishments, etc etc… anything beyond the "every day"
special silhouettes (shapes with "extra" drama (height, width, size, volume, shape, etc)
rendering practice and exercises learning and practicing the language of special fabric surfaces
various media exposures and experiences (gouache, digital, and markers all discussed and experienced) so you can capture the universal language, see what's possible with each,  and also see what tools attract you the most
creative sketching processes that you will put into use right away as you take off designing your own unique group of designs branching out from all your new experience!
warming up, sinking in, and then taking off!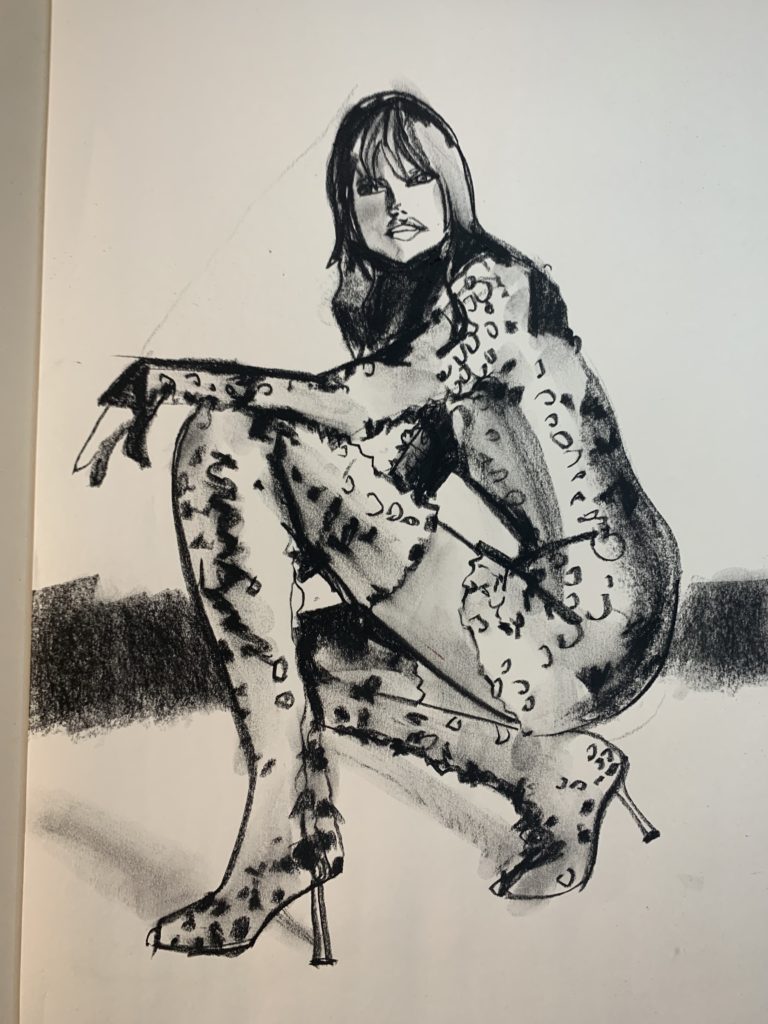 This fashion illustration renders fabric with a strong texture
is purely line drawing from fashion sketch group last week plays with elements of drawing and composition which really "set off" your sketches and frame them in a way that is engaging and easy to understand for the viewer (even if that is only you).
Also, in the above image, notice how much TEXTURE and SHINE are captured by the simple soft conte crayon I used.  
While you are at it, notice how it all blends together, but then  get back into your body and notice that they are actually separate feelings and separate messages within this drawing.  the SHINE is one thing. the TEXTURE is very  much another. 
Okay, NOW that you have identified them as separate,  you can also notice how they can be one. :0)fashion
What special textures and silhouettes would you like to be able render?
When I lived in NYC, I always loved the Halloween parade because I noticed that people waited all year long for one day to experiment and wear that one thing they always wanted to…. to express themselves that one way that they just "couldn't" all year long.
Later, I discovered Brazilian carnaval in its many manifestations throughout the regions of the country and again the same. I became so in love with the flashes of light, color, feathers, embroideries, sequins, crochet, etc etc without end. The DRAMA and the OTHER WORLDLINESS that fashion, costume and adornment offers us. The LIMITLESS CREATIVITY of humans in their creative expression! (My next book is all about this)
THis is what FABRIC FORM AND FLOW speaks to. Even if you are all about couture gowns, that's still exactly what I'm talking about.
Below, oversize paillettes over a minimal, mini skirt and top, rendered in prismacolor pencil, a wash of skintone gouache, and a few strokes of green gouache from sketch sessions. 
Again: see the texture, see the shine, see the silhouette, ….
see them all together, but also separate them and see and feel them them each separately !!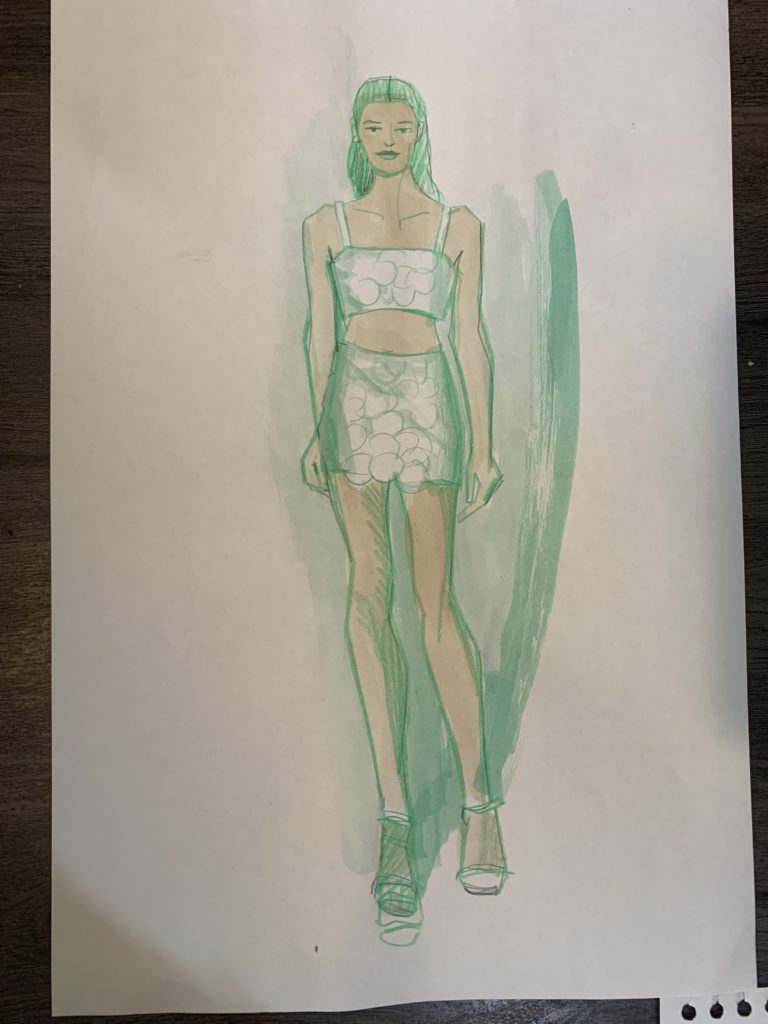 SHEER, SPARKLE, AND SHINE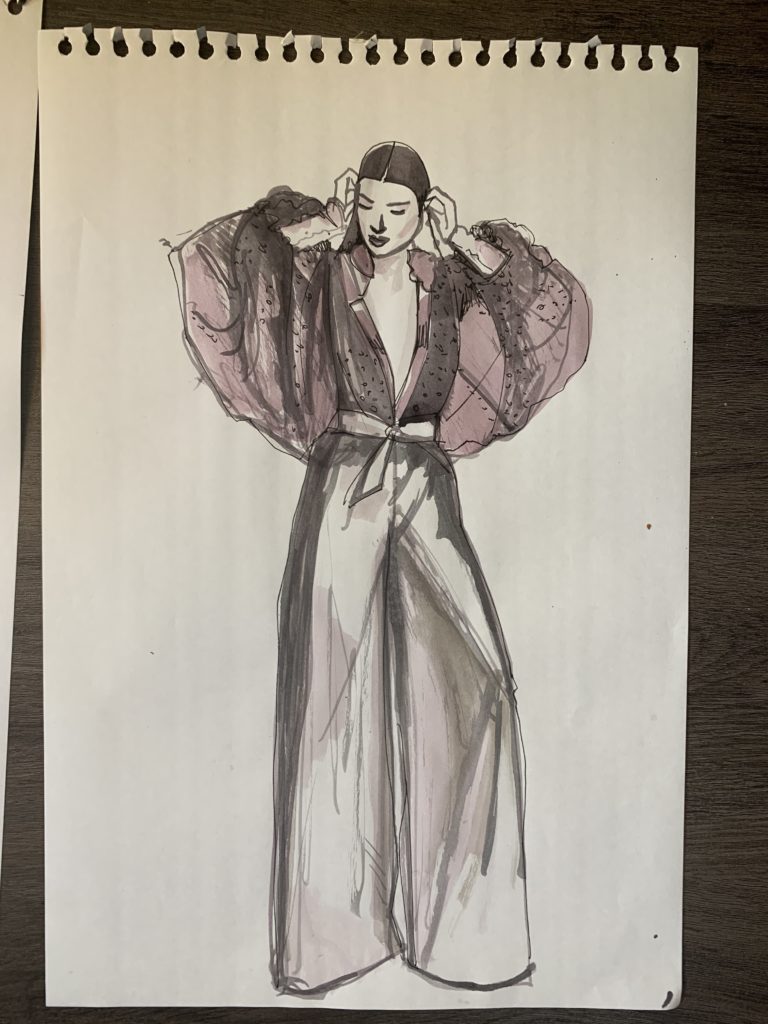 something about these kinds of fabrics transports us in a different way than others. I remember when I was a little girl and wanted to be a ballerina, how enchanted I was by the costumes and confections.
i was equally enthralled with traditional dress and  costumes from around the globe, the many different beautiful and "exotic" ways that people lived, adorned and dressed that were so radically different than life in my sleepy town outside of New York City.
FABRIC FORM AND FLOW is an invitation to dive into all of that "magical " feeling in our imagination and re-ignite those feelings on the deepest level, to experience that joy again.
IF you cant join us for FFF, check out Fashion Drawing BOOST- its a really STRONG way to fine tune your ability to capture silhouettes better than ever before and embody the adventure of capturing fantastical shapes and fashion forms. I 'd love to meet  you inside the course, sharing and asking questions!