Ankara Fashion Illustration…. watch this page because the timelapse video of this illustration will be added in shortly. If you want a better look, zoom in for the details.
and SUBSCRIBE now  to stay informed about fashion design and illustration courses and updates! Free gifts come with your subscription
I created today's fashion illustration last night using Adobe Draw App last night on my iPad Pro. To create a colored background, I just draw a large closed rectangle and then press my finger inside it. You see, that is one of the coolest things about Adobe Draw. Any shape that you draw and close can be auto-filled by pressing.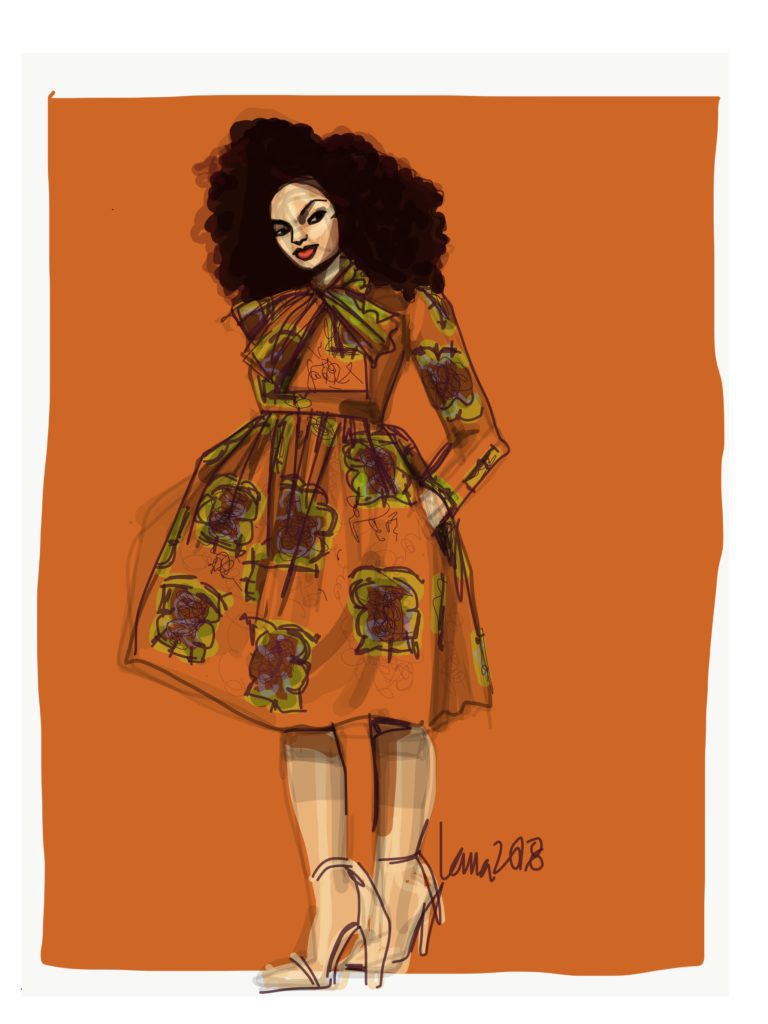 I'm sure so many of you probably already know my background, I tell these stories all the time. PART of my story is that I went to Parsons in Paris in 1992. I thought it would be an amazing experience to be so close to the couture, to experience a different culture and language.
So much happened that year, it was mind-blowing in all of the ways I thought it would be and more.
I learned French, got to know an incredible city, met people from all over the globe.
Also, I sat in at jazz clubs around the city, singing, and saw a lot of jazz greats in concerts, like Abbey Lincoln, Steve Lacey, Archie Shepp, and Joe Henderson.
I even met the amazing African Fashion and sociaety photographer Seydou Keite.
Anyway, I completed my first year of fashion design study their. It was amazing to visit all of the boutiques of Parisian designers and couture houses. Fortunately we also were encouraged to visit and study the avant -garde and Japanese designers as well,
But what was happening on the STREETS of Paris? For me, it was pretty dull. Just jeans and sweaters.
Fortunately, I did find what I was looking for…. and it was in the African Fashion.
Ankara fashion
Is breathtaking.
Maybe people are more used to it now, I don't know. The dress I illustrated today came from Zumi Nigeria's Pinterest Boared.
The print (I think this one is called "tortoise shell") is traditional and I've seen it a zillion times in Paris and NYC. Still, this is not the kind of Ankara fashion that I saw in Paris.
Don't worry, I'll share more of those kinds of looks later (hint-they are more traditional, including amazing sculptural headwraps. They're often more loose fitting too) . I'll also be sharing more this year about how African Ankara Fashion changed my life, my aesthetics, and my eye for design in a hundred ways.
In the meantime, I'll share today's Ankara Fashion Illustration. It's a western -styled dress, gathered waistbanded dirndl skirt, with a neck tie detail.
Below, you'll see different phases of the Ankara Fashion Illustration process, to help you get inspired to create your own original drawings.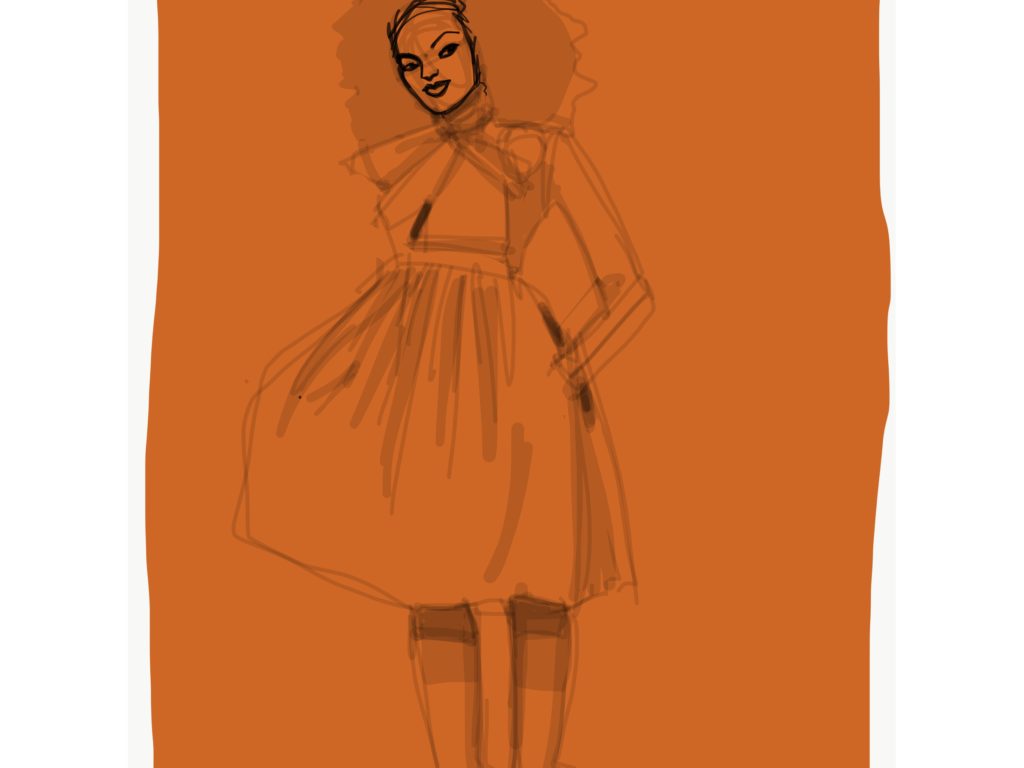 Hey, don't worry– even if you don't work with digital illustrations, you will catch useful tips that you can use for watercolor, markers or inks.
First I lightly and loosely pencil sketched out the pose and proportion.
This way, I can always correct or back-track or fix anything that doesn't feel right before getting detailed.
Don't forget that mapping out major shadows makes major impact on your drawing. Here you can see that I sketched out the neck tie, and skirt gathers, armhole seams, but also shadows in the skirt. Shadows affect the look and feel of your ankara fashion illustration more than you can possibly imagine. Mark my words!!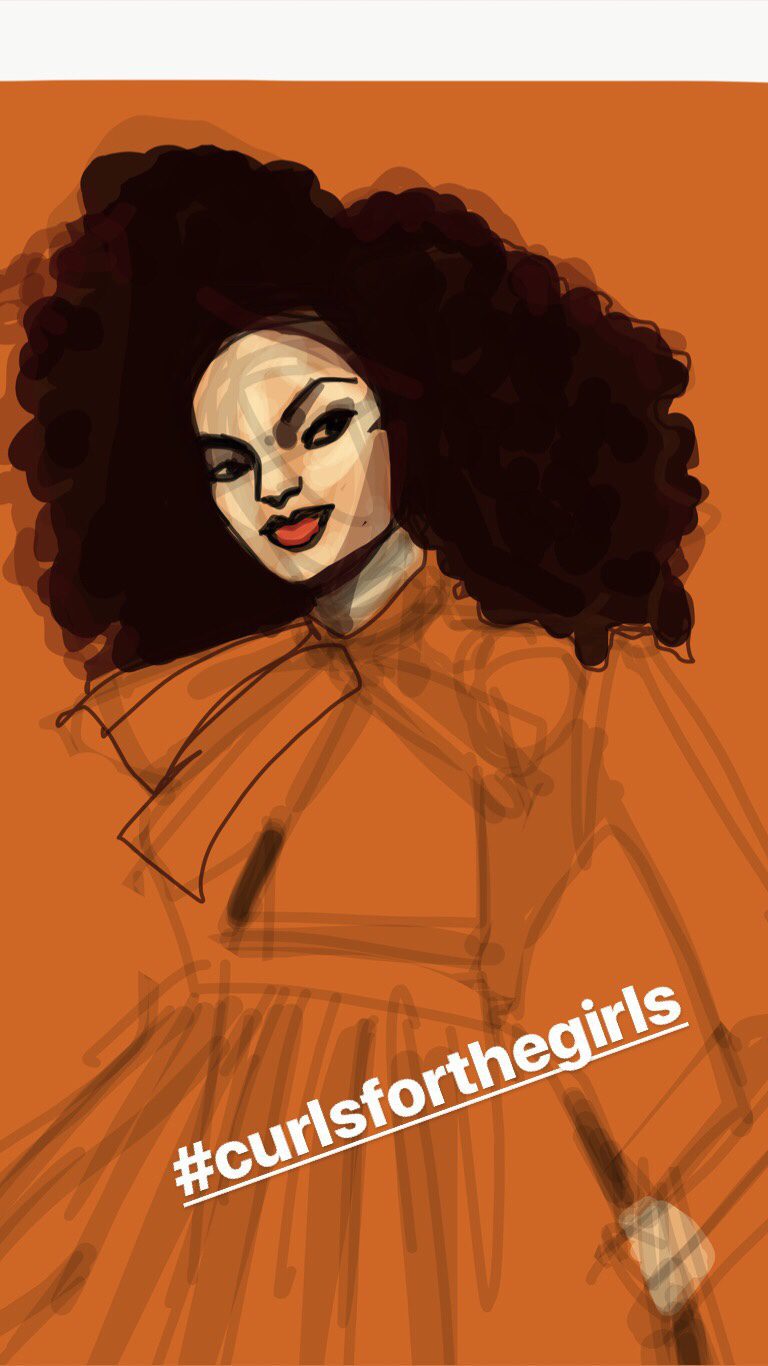 Next, I moved in on the face and hair
Because I almost ALWAYS do skin tone before ANYTHING else. It's not a RULE, it's a TOOL. For me, and for anyone, it's super-helpful to have a "road map" and an approach that you use. It's like a framework that I can apply to any drawing situation that helps me organize my thoughts.
Another great reason
To start with the face is because faces SAY SO MUCH. (So much, in fact , that I created an entire course especially to teach features, heads, and hair on ipad or digital device).
If you can create a face that you love, you're more likely to love the whole illustration. I know that sounds weird, but it's true. It's a psychological thing. :0)
It was SUPER-FUN to capture the shape and texture of her hair.
Was I overwhelmed by the complex African wax print pattern?
OF COURSE I was. In fact, I always am. Before I start.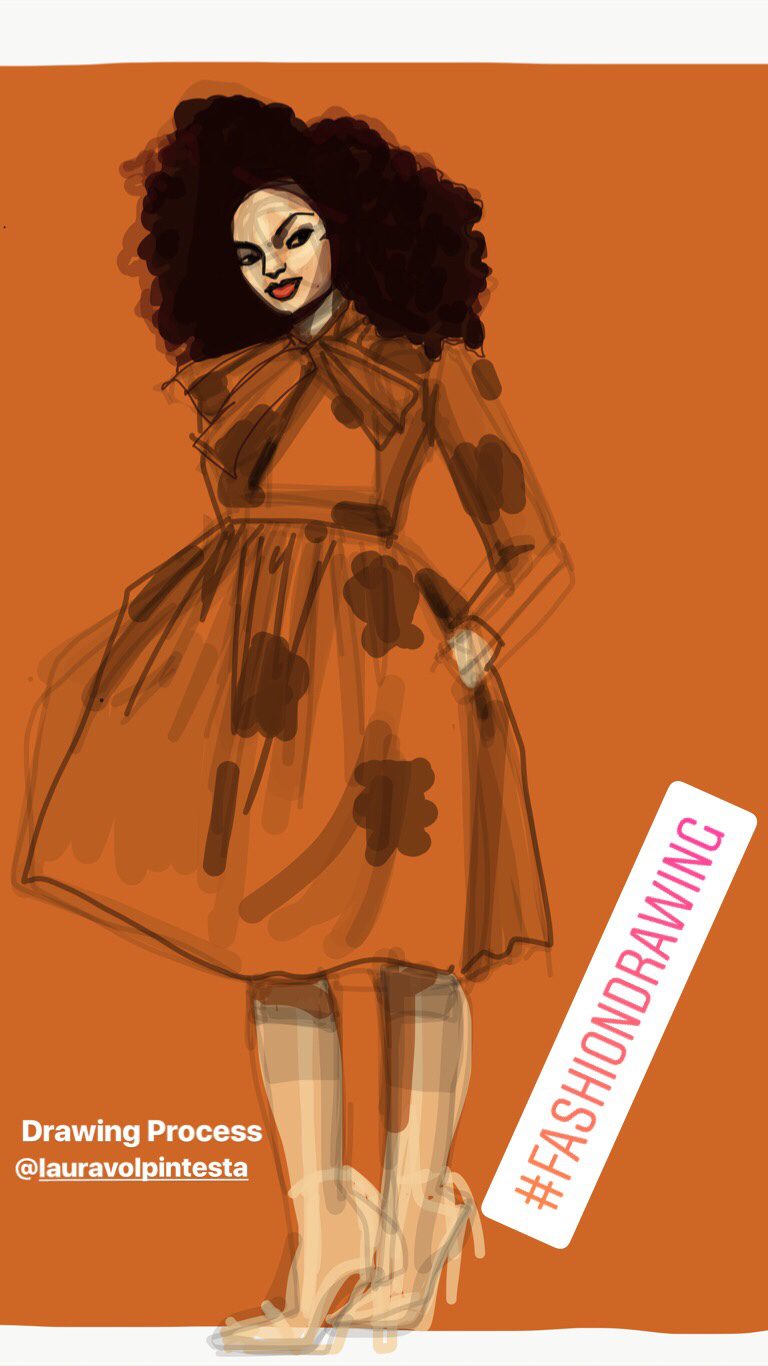 I mean, there is so much going on in there!!But I always quote Ernest Hemingway for saying "say one true thing". Actually, he was talking about writing, but art are arts! Expression is expression! Love is love! And, truth is truth.I looked at the photograph and started looking for the larget motifs. Where were they? How large were they? What color were they? What did the edges of them look like?
Are so full of details and stimulation. Don't worry, take it one step at a time. ONce you plot out those largest motifs (and believe me, African prints, wax print fabrics, and imi wax fabrics usually have HUGE motifs.)Did I mention to lay down the base color of your fabric? I always do that, but today my background matched my dress so it wasn't really something I had to think about.Finally, I picked out the most prominent colors and elements of the print and laid them down, one at a time.That means of the green gets laid down, then all of the blue, then all of the red.That's my system!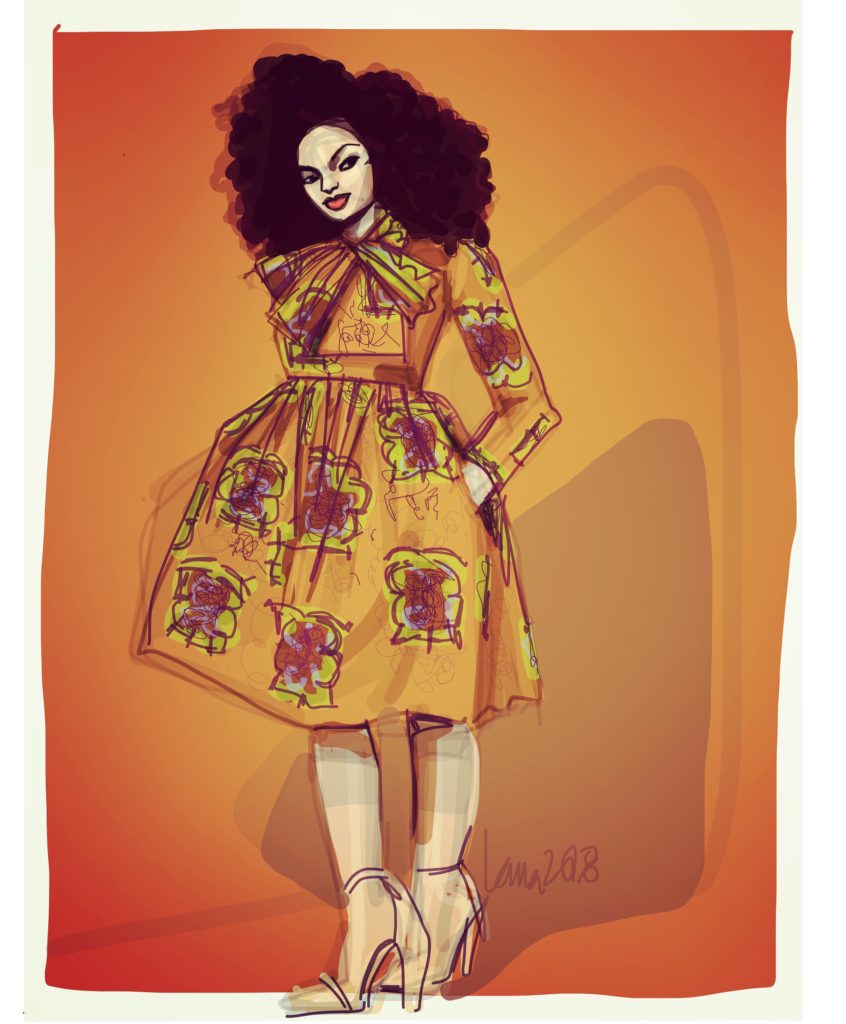 Here is the original ankara fashion
Photo that I drew from.I love photography that inspires me, and I love how it evolves in my drawings to include my voice and point of view.I Hope you'lll be inspired to do the same!Love,
LauraPs I lost my Apple Pencil this week, so I had to use my 53 pencil which I thought I hated. Well, what do you know… it went alright! Apple pencil is much slipperier, and 53 pencil stylus is very sticky so it takes more muscle to move fast. 53 pencil also has a larger, clunkier tip.
I'm also including an example of the illustration without a filter on it… the image at the top has an instagram filter on it that I thought gave a cool after-effect.
folow me at https://instagram.com/lauravolpintesta