PIGMENT MARKERS are one of my favorite discoveries of last year.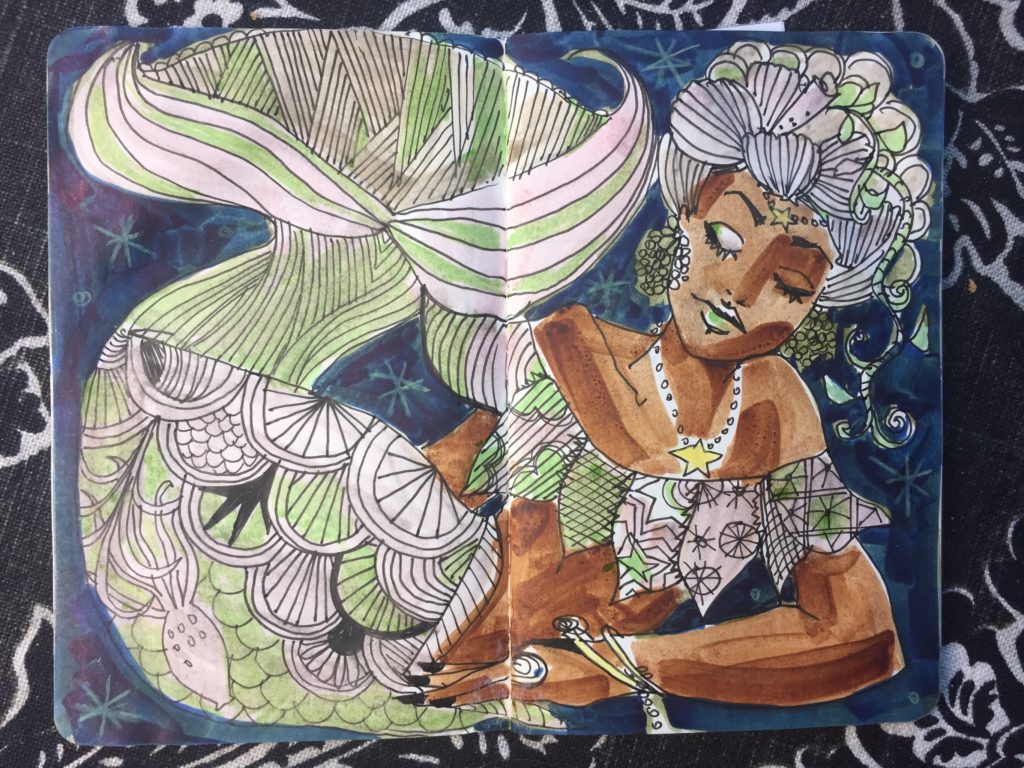 When I was hired by Lord and Taylor to do live fashion illustrations in their stores, they sent me a sample of the branded paper they wanted me to use.
(I love live fashion drawing and doing live, in-store evens, Especially because the models are REAL PEOPLE.
Not Prada models.
Real people tell stories. Not designers' stories, but PEOPLES' Stores. Stories of real women, an endlessly fascinating subject).
"OH NO" I thought, when I saw the paper they sent me. Think and flimsy.
" I CAN'T POSSIBLY USE MY GOUACHE ON THIS!!"
I asked if I could sketch digitally. … No.
I had had a begun a little love affair with markers on the side when I realized that my iPad art apps had markers in them because THOSE markers never dried up and came in EVERY COLOR AND TIP!
So I went on the hunt for real art markers.
I've always been anti-marker.
They smell toxic
The packaging is wasteful
They're always dried up when I need them most
They bleed through regular paper
They don't mix the way paint does
They look very flat, especially on think, sheer "marker paper"
Chartpack used to be my favortie marker, when I had to use them, because they were wet and had a dramatic tip shape. But they stink to high heaven.
Prismacolors are equally stinky, but drier and have two tips. COPICS? Every one was talking about them. A huge improvement, they are alcohol based, smell less, and are even REFILLABLE! They have a chisel tip, but it's hard as a rock, (too hard for me) and the other end is a lovely brush tip.
I even tried Winsor and Newton's Watercolor Markers (the only one i've mentioned that is actually not waterproof) I only bought one of them.
It had a brush tip.
And,
Then I discovered Pigment Markers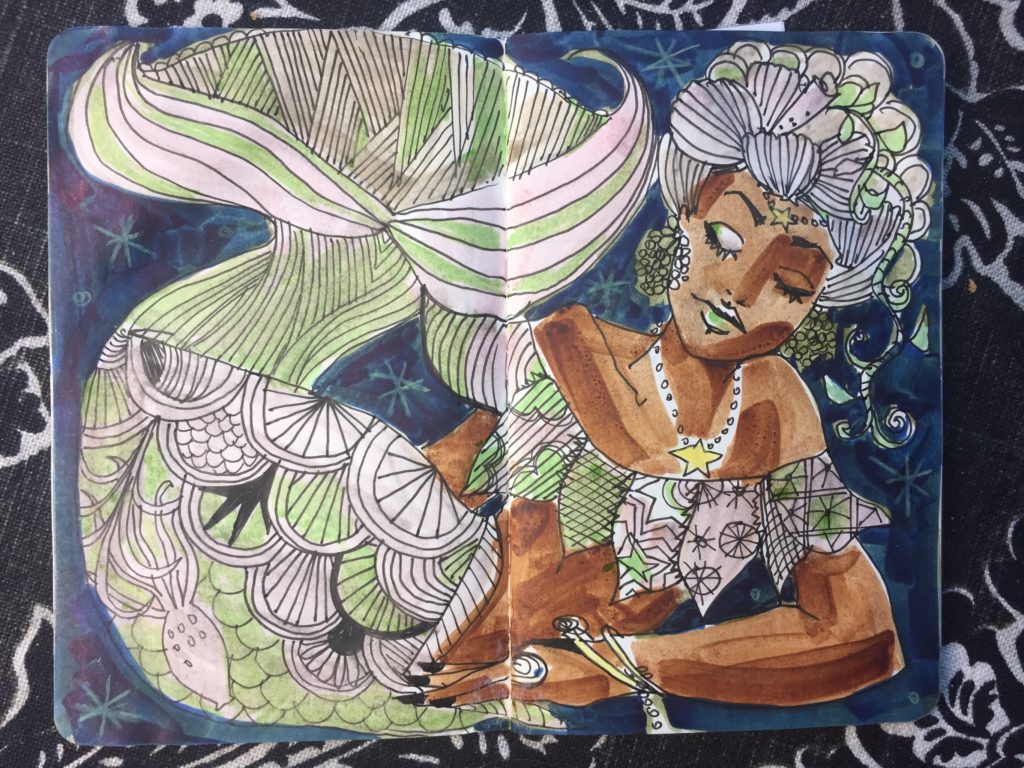 Particularly, check out the deep blue background. And the brown skin.
This is regular paper in a bullet journal (a Moleskine), not special marker paper (though that works well too). I told you it's think and slightly sheer and too brigh-white for me most of the time….
BUT THESE PIGMENT MARKERS?!
They are rich, uneven, organic feeling on the paper, Pigment rich. I felt like I was painting with fine paints.
I finally wasn't working with flat, think, lifeless color.
The chisel tip (one end) was soft and uneven feeling which I love.
The fine tip…. I never use those :0) I like everything to feel like a big, fat paintbrush :0)
One complaint about pigment markers
It's really unfortunate that the Winsor and Newton Pigment markers have a cap that BARELY fits over the chisel tip, so that every time you replace the cap, you risk DESTROYING your tip.
WHICH I DID>
So that is something they REALLY need to fix.
But other than that, I totally recommend them for their rich, lushness. Really, the ink is almost sticky, like liquid chocolate.
My biggest tip of all
Is which colors to buy…..because markers are EXPENSIVE!!!!!!!
Ask yourself first:
Why are you using markers? What properties do you need? Do they need to be waterproof or bleed-through-proof?
I used pigment markers specifically for live, on-site fashion illustration because they were portable, fast-drying and not too wet for thin paper and didn't bleed.
Pigemnt markers will be great for creating print designs, surface patterns, fine art (the quality is that good) and fashion illustrations.
BUT THE TIP IS THIS
If you are on a budget, go to your fancy brands and buy up:
a few skin tones
range of greys ( a light, a medium, a dark)
black
waterproof fine lines micron or PITT pen in black ( you can see my mermaid above has fine line black pen in her. Those lines are waterproof and won't budge. YAY)
waterproof brush pen, black. PITT is a good one.
THAT's the most important. Other colors can be mixed and layered and "faked" with cheaper marker substitutes (WARNING different marker "TYPES" interact differently with other kinds of markers. Play and experiment to discover the magic. Some types will bleed over other types, others won't)
Fun bullet journal/ Moleskine/ sketchbook tip:
sketching over the crease!