Fashion Drawing with Markers
Everyone asks me about  markers, markers, markers for fashion illustration!
I don't usually teach fashion drawing with markers.
I'm not a HUGE fan….
They're smelly, toxic, dry  up when you need them, and are thin and flat.
Paint is color customizable, rich, organic in feel, applied with a brush to textural papers (I'm definitely exaggerating both sides of this argument so that I can sway you over to my side :0D)
Any medium that gets you excited is GOOD!!!
And every medium has its value because, each different brush, paint, paper, pen, digital tool, drawing exercise, technique, mood, etc, brings out a different side of YOU and your range of expression.
And the more you can explore that, the better!!!
Fashion Drawing with markers is usually done on marker paper. Marker paper is smooth, thin, and rather sheer, and usually bright white. The great thing about that is the trace-thru-ability, and the fact that Marker/ layout paper almost resists the markers: they DON'T BLEED THROUGH, and last many hours longer because the paper doesn't such up all of the liquid and pigment.  Thus, colors are lighter, thinner, and markers don't dry up as fast.
And my favorite way to use markers is to use the chisel-tip now is in the digital apps I use. You can check out my digital sketching videos on vimeo and youtube or here on the blog to see the chunky, chemical and waste-free infinite marker colors you can use right in your iPad or tablet!!!
Here, for #INKTOBER 2015, I sketched this beautiful dress by a designer named Selly Raby Kane who I found, I believe, on Pinterest. I love her cutouts, and her use of African Prints/ Wax prints/ ankara.  I chose this one because the cutouts and the seaming that "interrupts" the round, regular motifs.
And I used regular sketch paper, a Prismacolor marker with a chisel tip (Chartpak's AD markers are my fave of this type: bolder and wetter) and a roller ball pen I'll specify below.
First, instead of loosely sketching out the drawing in light lines of pen or pencil, I went straight in with a single, committed line. This is a tool we practice in all of my classes online and at Parsons. You definitely want to have it in your bag of tricks, even if you don't use it all of the time.
So here it is.
I worked purely in "contour lines" and then cross-hatched a bit to get the form of things. Chunks of shadow add movement (when they are diagonal).  I added tone to the hair, and shaded the upper lip.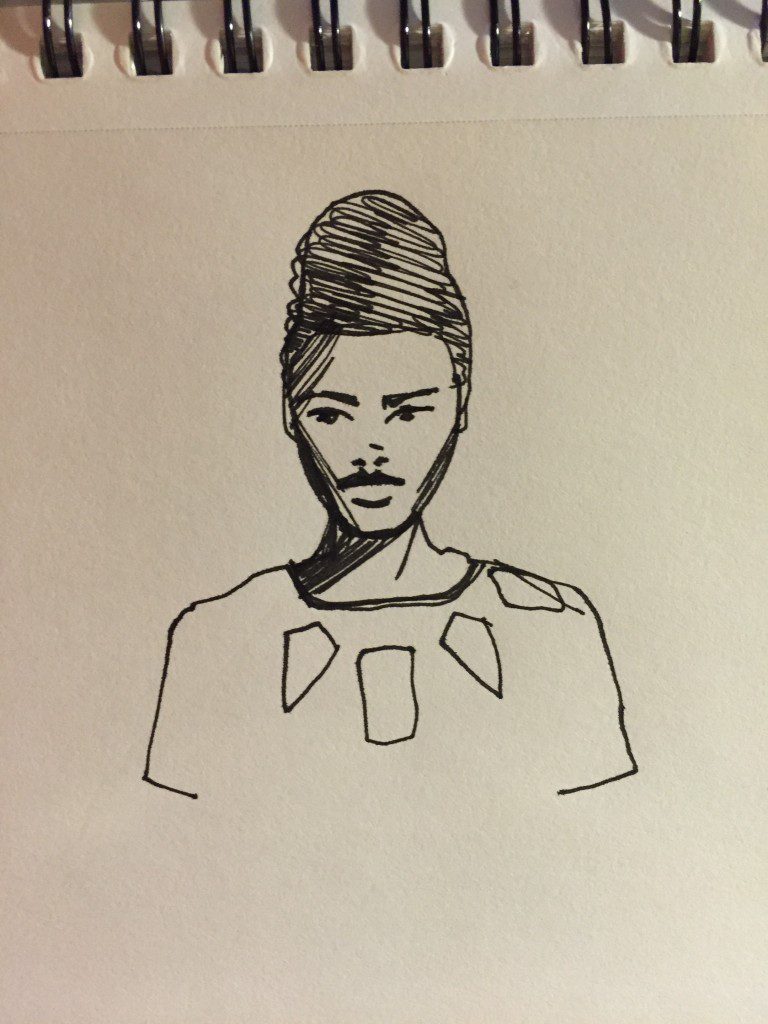 I added even more tone to the skin to reflect the model's beautiful dark skin, and to make the cheekbone look shinier in contrast. This also "separated" the dress from the body….. making it look more distinct, one from the other.
I decided where the cutouts would be, and gave them a dark lined edge to show that they were standing off of the body… a shadowed edge, around the hem and the neckline.
People still ask if they are cutouts or big stones, so I need to find a way to clarify that more still. If they were colored with a skin tone ( I could still add that), it would be obvious. For #Inktober, I wanted to keep everything Black and White, ink!.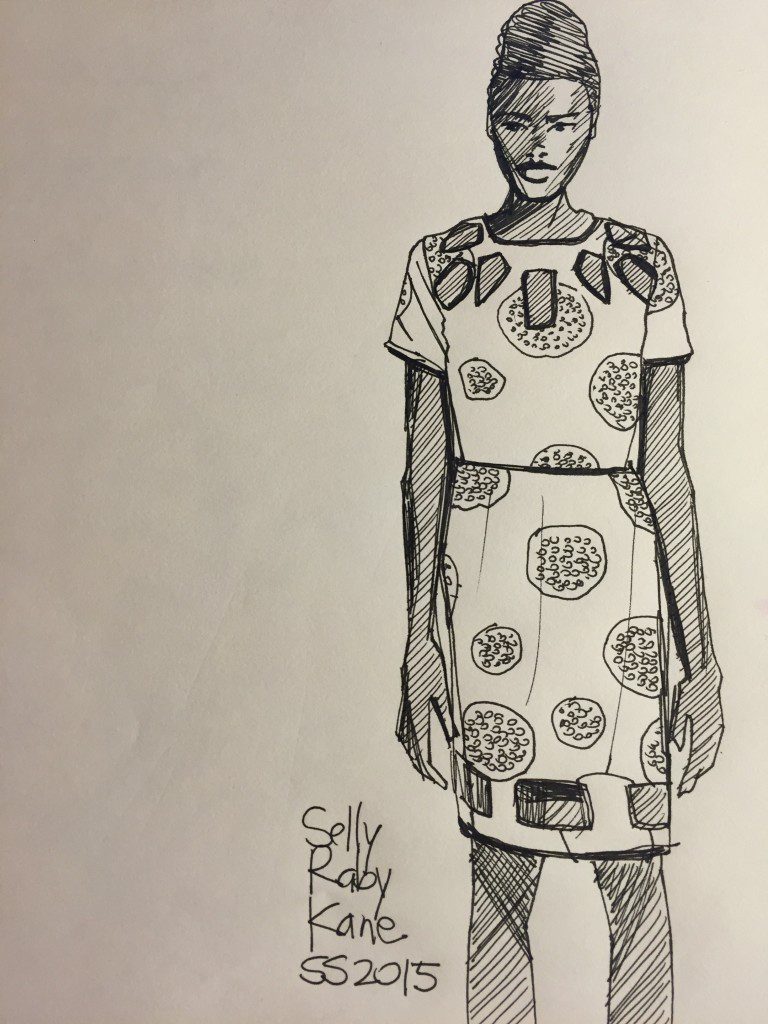 Whenever I do fashion drawing with markers, I will use a sharp black line to control the softness of the sheer tone. Colored pencils can be a nice addition too, but I didn't use them here.  I used the Uniball Vision–a roller-ball, waterproof pen that tI used for all of the lines you see in this drawing. I always keep it in my kit (and it's in the kit that my online students use, too).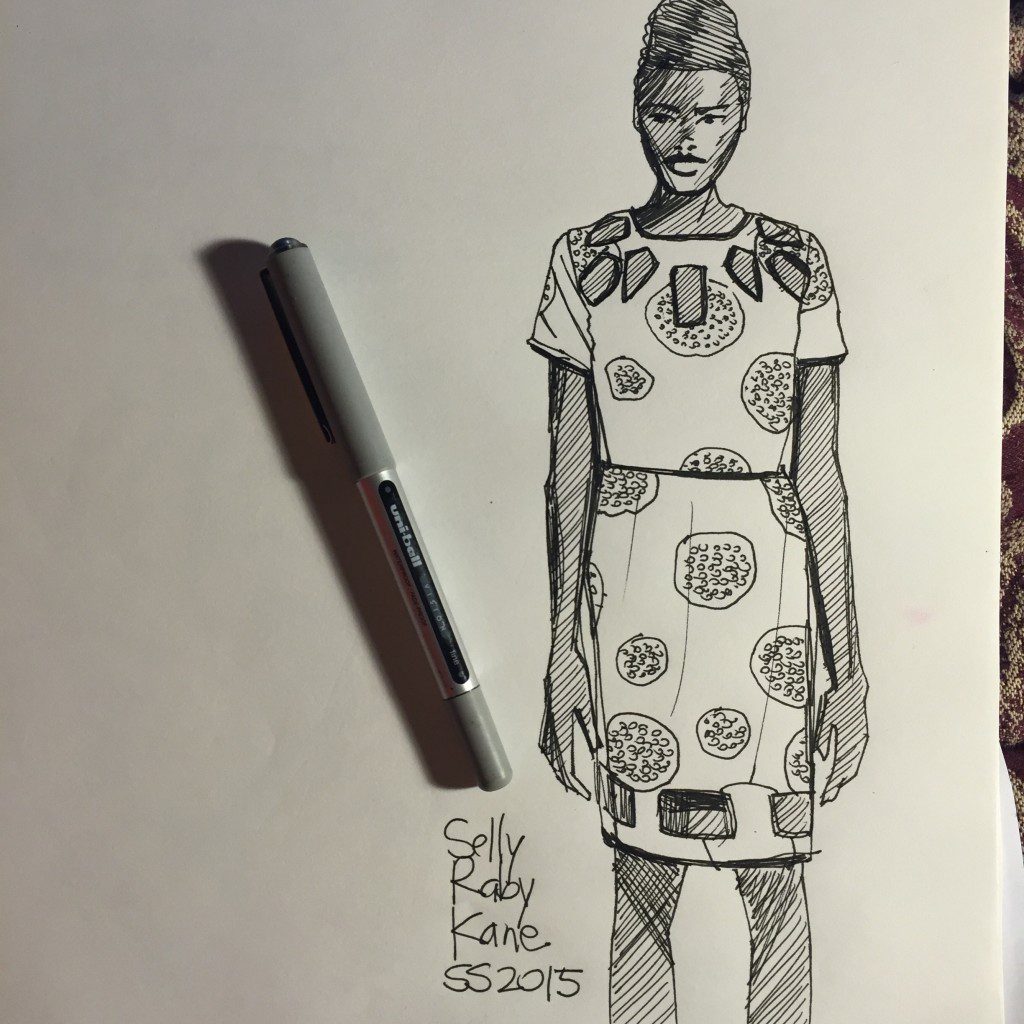 Finally, I used a flat layer of grey from a Chisel tipped art marker. I added a bit more to place a shadow under the bust, in the arm"pit" area, and for slightly shading the legs and hair.
The point is to have variety in the tone, if it is all one tone, it looks "flat". (which can be a great effect, too…when you want it). Here I wanted drama, from black, to medium tone, to white.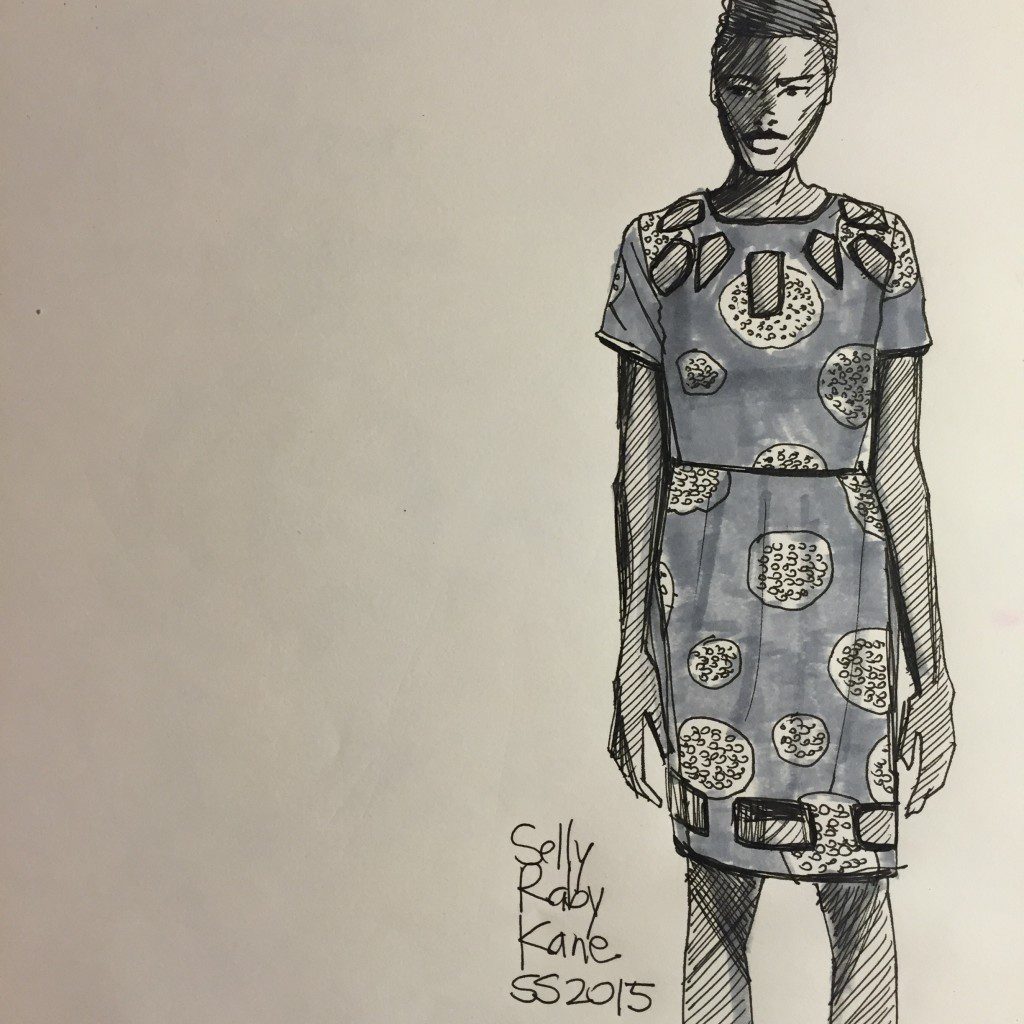 I have to go find the original picture of that dress. Look her up!! Selly Raby Kane is a very interesting designer and this is her latest collection. I'd love to share it.
Please comment below if you have any questions or comments, or suggestions of your own!
Feel free to share and don't forget to subscribe- and get your free gift!