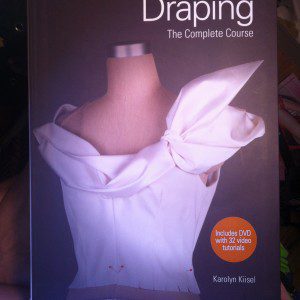 I eagerly unwrapped my review copy of the newly released Draping, the Complete Course by Karolyn Kiisel on Laurence King Publishing, a few months ago.
(Hang in here, the juiciest part is at the end 🙂
It sure shows how many years have passed since I taught sophomore draping at Parsons in New York, 1997-2001… when you really had only your teacher to learn from.  This book is so elegant, with gorgeous full-color photos, an instructional DVD, nothing like the books we used back then. I totally would recommend it to anyone and  think it is an awesome peek into garment construction from the "unfinished" and "process" perspectives rather than just by observing finished garments, which sometimes aim to "hide" the construction exactly when we are trying to zoom in on it and train our eye to see, name, and draw its details. (One of the main goals of my private online fashion design courses).
So whether you are draping or not, it is a must-have resource.
It starts each chapter with an example from historical and/or ethnic design, the "roots" of fashion, which I LOVE.   (It's the anthropologist wanna be in me).  So it relates these "standard" techniques to their beginnings which reminds us that these techniques COME from a LOGICAL and natural source, and haven't been pulled out of thin air. This approach stresses evolution and simplicity at the inception of fashion techniques.  I think that's so important, so the learner doesn't assume that creating these techniques isn't out of their own reach.
First each drape tells you which muslin size pieces you need, with a technical drawing/flat beside it (at left), and a series of photos and steps for draping, pinning, slashing, cutting to create the shapes (right)on the fashion figure/ dressmaker's mannequin:
(Don't worry, it's step-by-step from the beginning.)
It also gives a nice look into the truing and pattern making process (below left), where the draped components of the garment are laid flat on the table and smoothed, corrected, and perfected to create finished pattern pieces for the sample (below right).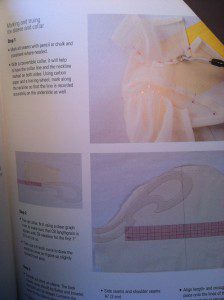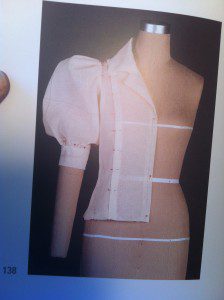 In order to really get the maximum benefits of a course or book like this, you will need a real dressmaker's mannequin, or dress form, which you can pin into to apply style tapes and anchor the muslin panels into place.  These can be quite expensive, but if you are going to drape traditionally, there is no substitute! Also, they rotate and move up and down so that you are always working at eye and hand level and comfortably. Add muslin, pins, good scissors, iron, ruler,style tape, and inspired curiosity :0).
BUT REMEMBER: this is a tradition and a technique of fashion design. IT IS NOT THE ONLY WAY to create fashion garments. YOU CAN LEARN SO MUCH from traditional draping techniques, but you can find your own methods and create your own craft or "language" for creating garments and pieces.  ("Language"-That's what Isabel Toledo calls  your unique approach that you develop as a designer- I learned that while I was researching more about her for my book.)
********On to what I call the juicy part:
I loved stumbling upon this page, because it really re-iterates something I really go out of my way to punctuate in the FASHION DISCUSSION and my teaching.
It's about the fashion figure proportions we are accustomed to seeing in fashion illustration, fashion photography, runway shows, and what I call "on the street"– the beautiful people we see every day.
So first we see the fashion figure/ model on the runway in the blouse we are going to drape (left):
Then we see the final drape (above right) on the mannequin, with this disclaimer (see photo below):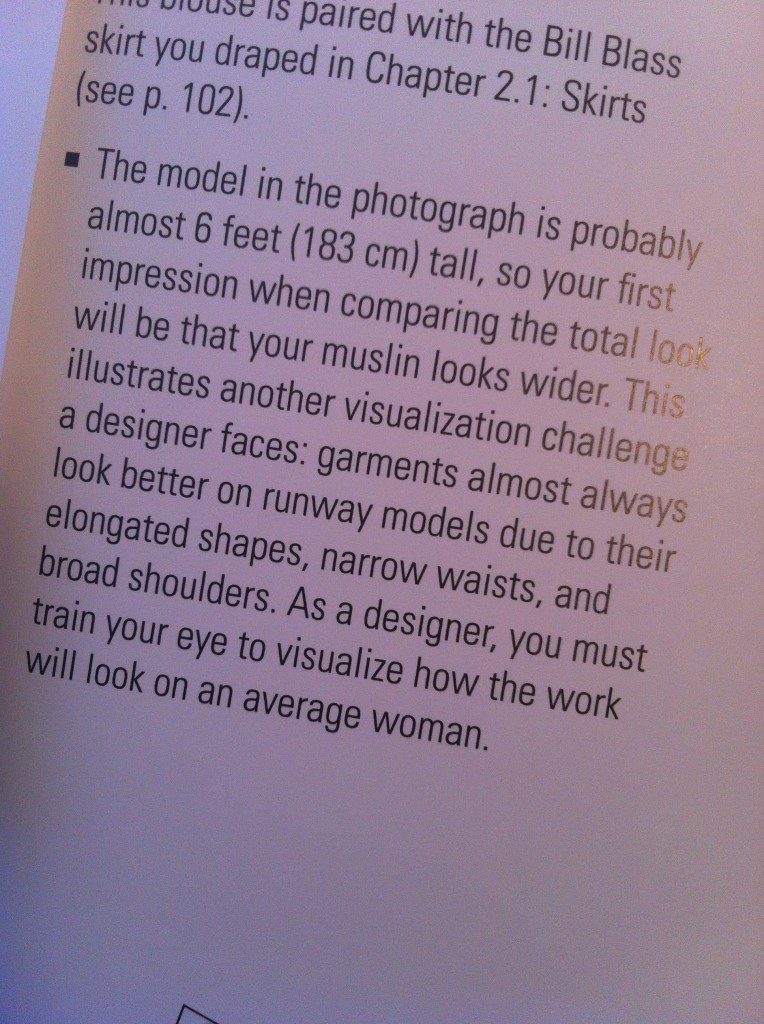 Now, I am not pointing this out as a judgment about the author or the book at all, I think it's just beautiful that it's stated right here in black and white, and that Ms. Kiisel took the time and attention to address!!:
"the challenge a designer faces…. garments almost always look better on runway models due to their elongated shapes,……" etc….

"your first impression will be that your muslin (drape) looks wider……."
The fact is, your muslin IS wider!!!! If this is what we are aiming for, then why don't the mannequins get skinnier? (Not that I'm advocating that. I'm just saying, there's this HUGE disconnect between illustration, fashion figure, sketch, mannequin, model, and customer.
Tall and skinny people have just as many rights as any others, but why would they dominate fashion imagery? Who's calling the shots there?  Thank goodness we can create and disseminate our own images now, and access images that challenge the narrow-minded magazines. I love INSTAGRAM for this.
It's up to each of us, especially with small designers on the rise, and small production, and micro businesses … to make our own choices.  IF YOU WANT A CHALLENGE, ….challenge that ASSUMPTION that longer looks better…. Says who? Are you sure you agree?
My favorite part of this: Humans are totally visually brainwashable.  You can quote me on that too.
"Humans are totally visually brainwashable"- Laura Volpintesta
Haha! But the funny and beautiful part is, we/they are.  So let's use that power.   Because fashion's "Elongation" doesn't serve me at all.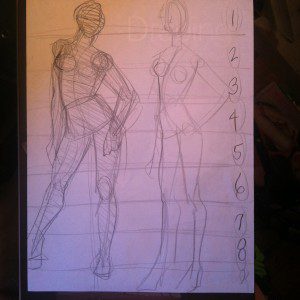 "9heads" or "10 heads", whatever you wish, but you still have choices in the widths all along the way. PLEASE always remember that you have choices.  
Always.
Consider that whatever you draw or sketch in design development or illustration will hopefully translate into reality just as beautifully as it did on paper.
I hope you enjoy the book!
(You will enjoy even if you are not a beginner, but if you are not a beginner, check out Shingo Sato's TR Cutting workshops on Facebook!! Or live in person if you can get to one…he's a technical master, but his joyful and kind presence bring it all together in a unique way. I had the wonderful fortune to attend a two day TR CUTTING workshop last month and I can't say enough good things about it. Look up on FB to get a taste of the magic happening THERE!)
Love,
Laura
ps and don't forget about my book :0) too… you could order both at once on Amazon!
and for anyone who registers for the Soulful Fashion Foundation Immersion program, I'm including my book and another title I worked on for Rockport with the course tuition……(click for details).