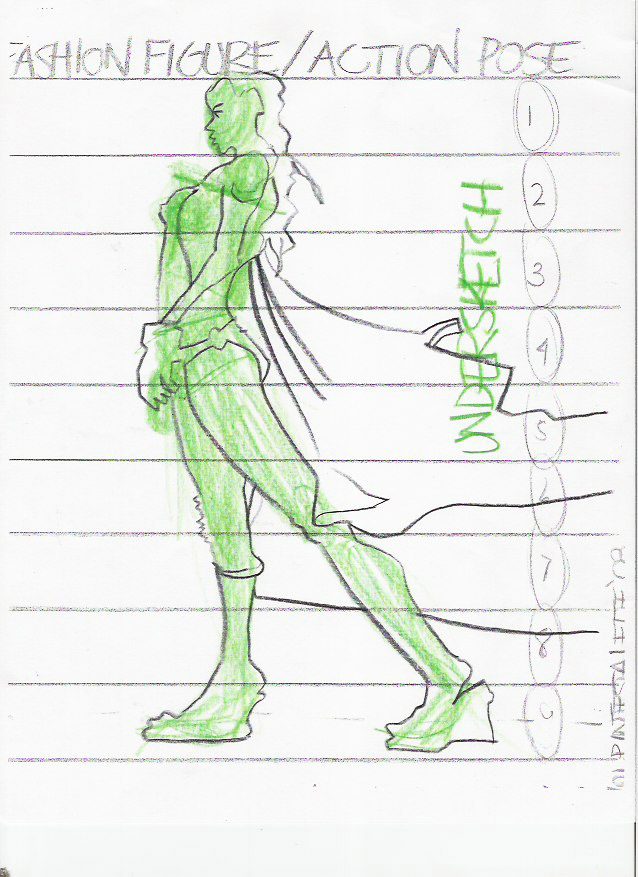 "8 heads", "9 heads?" "10 heads, 12 heads? "( Length of the body in relation to the length of the head use traditionally to guage fashion bodies). But length  of a heaad also has a ration relationship to width of the body.
So an 8 head figure can be realistic or not, varying  depending how wide you work it. Ethical fashion is beautiful fashion.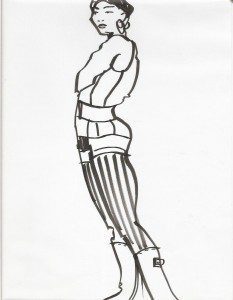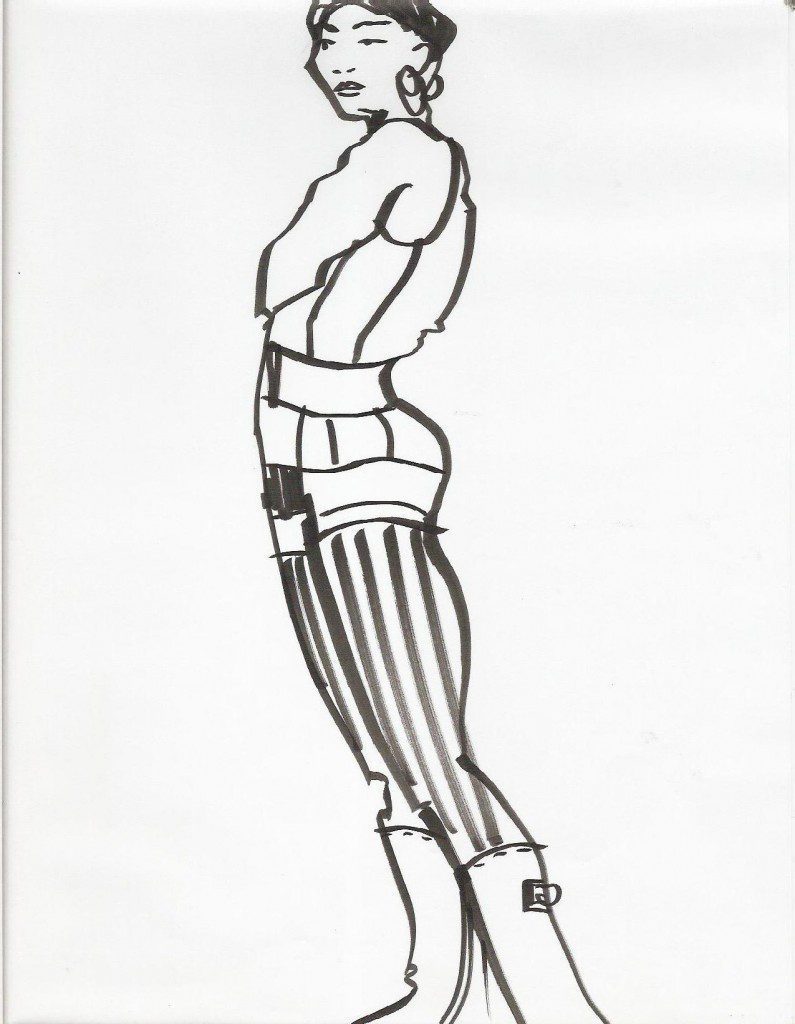 So, fashion proportion gods, what's UP?
I don't know, my. Well, I DO know:
And I have to break it to you up front, I don't believe in "fashion proportions".
Not only don't I "believe" in them,I cringe at them.
IN and out of my teaching at Parsons School of Fashion for 20 plus years, I insist on re-visiting the "standards" being taught of fashion proportions. That's ethical fashion.
I had the honor of speaking at an ethical fashion event on this topic: Fashion Filter
The "standard from' being taught and accepted  in fashion sketching, designing and models mus become part of our sustainability conversation in Fashion. (Along with garment production, textile production, trade policies, ethics, and lifecycle maintenance of garments.)
ETHICAL FASHION, baby!!!
Oh, YES!
FASHION FOR US? FASHION BY US!
(my above sketches from SPFW A/W 2014 do not use exaggerated proportions. You can get deep into Model Drawing for fashion using "regular" and "plus size models" in my mind-blowing MODEL MAGIC online course, by the way.
why shouldn't you distort your bodies into super long and skinny?
because it isn't nice!
ILLUSTRATORS NOTE: when shadows are added to "wide" drawings, they become quite narrow in appearance anyway. If you start with a super skinny fashion model drawing and THEN shade, watch OUT!….they get overly thin looking.
Also, it's hard to fit garment details like vertical seams, collars, and pockets all  into the design sketch if the torso is overly narrow).
I spent four years at Parsons School of Design learning fashion.  The first year, called a Foundation year, was only fine arts and art history.  And our Life Drawing classes, 6 hour nude model drawing studios, featured real human models.  We drew them as we saw them, adding our emotions or techniques into the mix to tell a story. Just like fashion illustrators do.
Then I started studying Fashion Design and Illustration.
So there were all of these standards and proportional charts and things, and suddenly the models start looking really weird.  T
he only thing is, the weirder they looked, the more "acceptable" they were by my teachers.  It was the"fashion " idiom.
Now, I look back on piles of work I did when I was in school with beautiful design concepts, most of which I don't want to share anymore.  I'm embarassed  because they are so distorted, thin, and "elongated"…that's the word we used.
"Exaggeration" was another euphemism.  Well I've seen millions of beautiful women in my life ( actually I think they all are) and none of them were elongations nor exaggerations. Let's explore drawing THEM with style.
They were all real and true, living and breathing, carrying beautiful energy and imagination.
Women of style ARE HUMANS, RIGHT?
We ARE DESIGNERS, right?
DESIGNING CLOTHES, right?
If we were designing cars,
or chairs, or tables, or stuffed animals, or packages, or dishes, or musical instruments, or ANYTHING in the world, we would draw them as proportionally accurately as possible under ANY circumstances.
WHY on Earth would/should/could fashion proportions be any different in fashion drawing? This is a top concern in ethical fashion that effects all of the ways that women become disconnected within the fashion system.
These photos from a Brazilian modeling agency's campaign (STAR MODELS) show the direct relationship between sketch and reality using Photoshop: Sketch on the left, corresponding human on the right.
Scary, right?  But its true that if you draw that way, then there's your literal translation.
You can do a million things to make your drawings look better, and your design concepts more exciting and emotional, beautiful, textural, elegant, moody, evocative….
Adding two feet's length to their legs and pulling every ounce of body fat off of the bones isn't the first one that comes to mind!
When I researched my book The Language of Fashion Design over the past year, there were thousands of pictures from designers (and I'm talking LIVE RUNWAY PHOTOS, not even illustrations) that I refused to print just because the models were SO frighteningly thin. (Paris especially).
Now I'm not saying that there aren't tall or thin women and they need fashion designed for them just as much as anyone. They can be very healthy people, too.
My own 14 year old daughter is a string bean, genetics from her dad's side of the family.
But to default to ridiculously long legs is what I call a "cheap route" to getting your sketch to "say fashion" instead of developing your art skills.
This is no attack, no judgment.
I just don't want to see anyone fooling themselves for as long as I did, please!
I will help anyone for FREE if they are willing to send me a sketch and I will help you rein in your fashion proportions into something beautiful and viable.
And I promise that in SOULFULFASHiON FOUNDATION IMMERSION design and drawing program, you won't be misguided.
It will be my pleasure!! Email me at info@fashionillustrationtribe.com.
My opt-in gift for signing up for this site gives you access to my free course that helps you use real, true proportions to create your fashion drawings.
Please help me, as I have noticed at  that the trend continues, but I am no longer capable of encouraging students who are stretching models excessively!
It's just not necessary to do this to have a rich and sophisticated, beautiful and fashionable portfolio!
Women have enough to contend with out there!!!
And I see hundreds of beautiful women EVERY DAY on the street, so I am not worried at all about the future of fashion if illustration proportion trends change, finally. I think we've been stuck here since Twiggy and never made it back!!
So please, subscribe to my site  to learn how to build a proportionate body that is realistic in my free STEP ONE MASTERCLASS —how wide the body parts are within that length is OUR RESPONSIBILITY to create a harmonious fashion proportion that we can be proud of. Or sign up for my coached comprehensive program to rework your style.  Even 6 1/2 heads is way more realistic, and believe me, those women are BEAUTIFUL!
Please, ethical fashionistas, tribalistas, visionistas,  let's move forward!
I'll be right there with you to help your work look AMAZING!!!!
PLEASE CHIME IN THE DISCUSSION BELOW! How do you feel about fashion images, what new ground would you like to see broken in the new millennium?
Love always,
Laura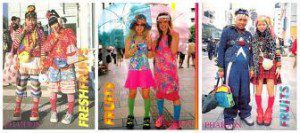 Fruits/Fresh fruits Harajuku street fashion books by Phaidon always remind me how awesomely fashionable it is to be in the proportion you are in, all the time.  Platform shoes or not!!!