Digital Watercolor Technique?
Digital watercolor technique???   Watercolors aren't digital!!!!!!!
Digital devices can't even get wet!!!!!
I worked with gouache for decades before I tried digital apps for fashion illustration on my iPad.
To start, I downloaded a few recommended apps on my iPad mini and played with them.
My favorite approach to digital painting, digital drawing, or digital fashion illustration is to apply what I GUESS I'D CALL;
"digital watercolor technique".
(below is just one example but there are so many on this site!!!)
I'll explain… (scroll down)
Because I'm a fashion illustrator
(and designer),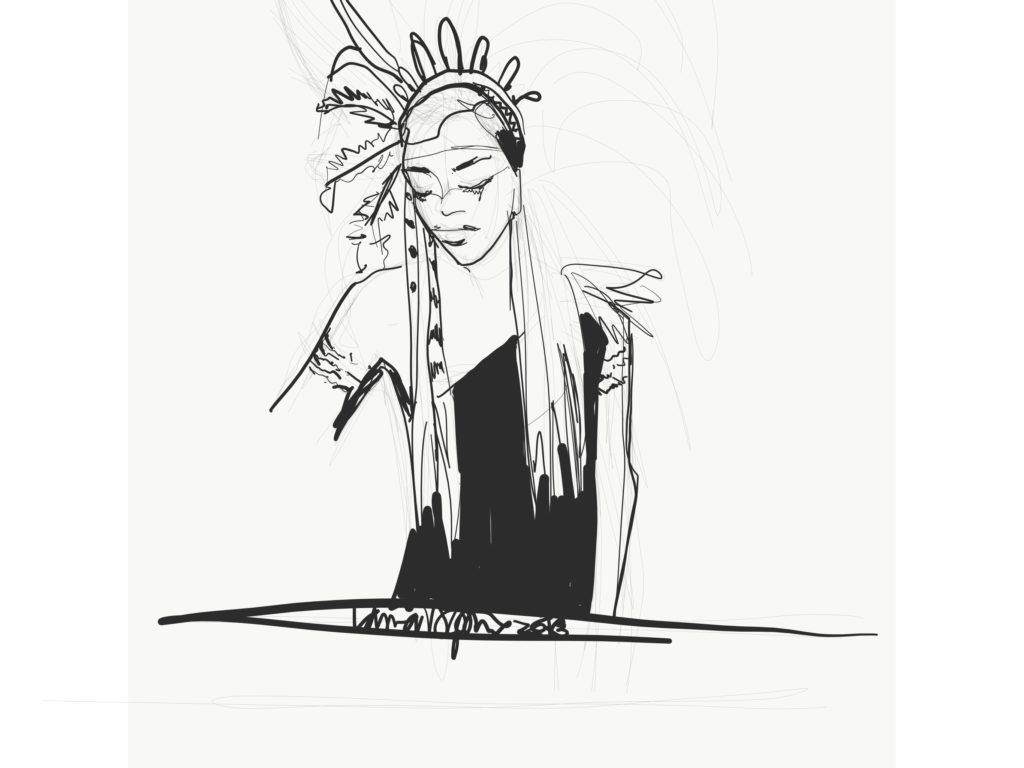 I almost always start with a line drawing.
in digital drawing or painting, as well as analog drawing or painting, I USUALLY start wtih light, soft line.
Look at the line drawing above. BEHIND the bold, black lines are very fine, grey ones.
THIS IS MY TECHNIQUE when I want to "map out" or "plan", "feel out" my drawing. I call it the "undersketch" and use it a LOT when I paint.
I was drawing from a photo reference here, so I used that photo to plan out my drawing.
A fine, grey line
(or a sheer, black line– can't remember right now) is my replacement for a sheer, gritty pencil.
Adobe Illustrator Draw App, which is a VECTOR DRAWING app,so it can't technically "imitate" watercolors or pencils with all their gradations.
but I created a
vector digital watercolor technique
by striving to use exactly the same approach that I use to analog watercolors or gouache to make the digital fashion illustration!
HOW? (scroll down past pic) Let's do this!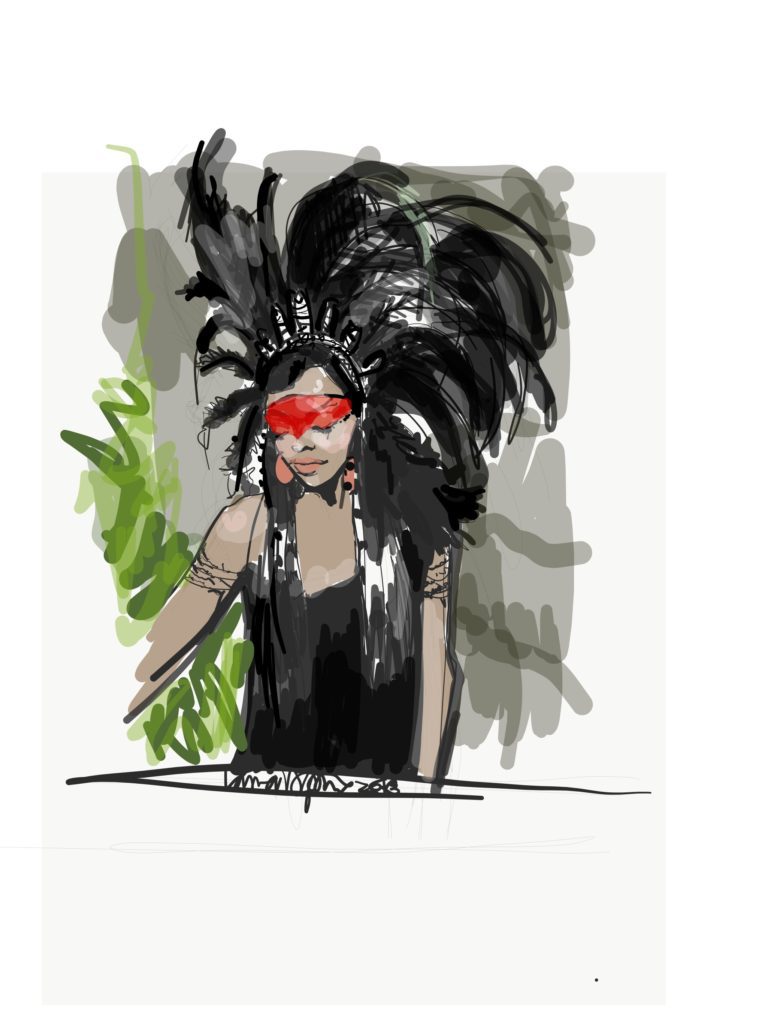 So, above you can see the finished digital watercolor tecnhnique fashion illustration with colors,  I was sketching from Carnaval 2018 in Brazil. This carnaval headdress is from Recife , Pernambuco in the Northeast of Brazil (Nordeste) and features traditional indigenous Brazilian facepaint.
Even though the finished piece is in color, but below you can see the mid-step that is just black and white.
COLOR IS SO DISTRACTING
to the mind and eye when you're learning, that I decided having the black and white step would be so helpful.
Now, here's the juice for digital watercolor technique:
(if you want a true imitation of watercolor, try Tayasui Sketches or Adobe Photoshop Sketch app, they have tools that aren't vector based so they actually bleed and flow like watercolor. Automatically, with all of the gradations.) ADOBE SKETCH APP is in this little sample. below I used a GINORMOUS watercolor brush and a single stroke for that.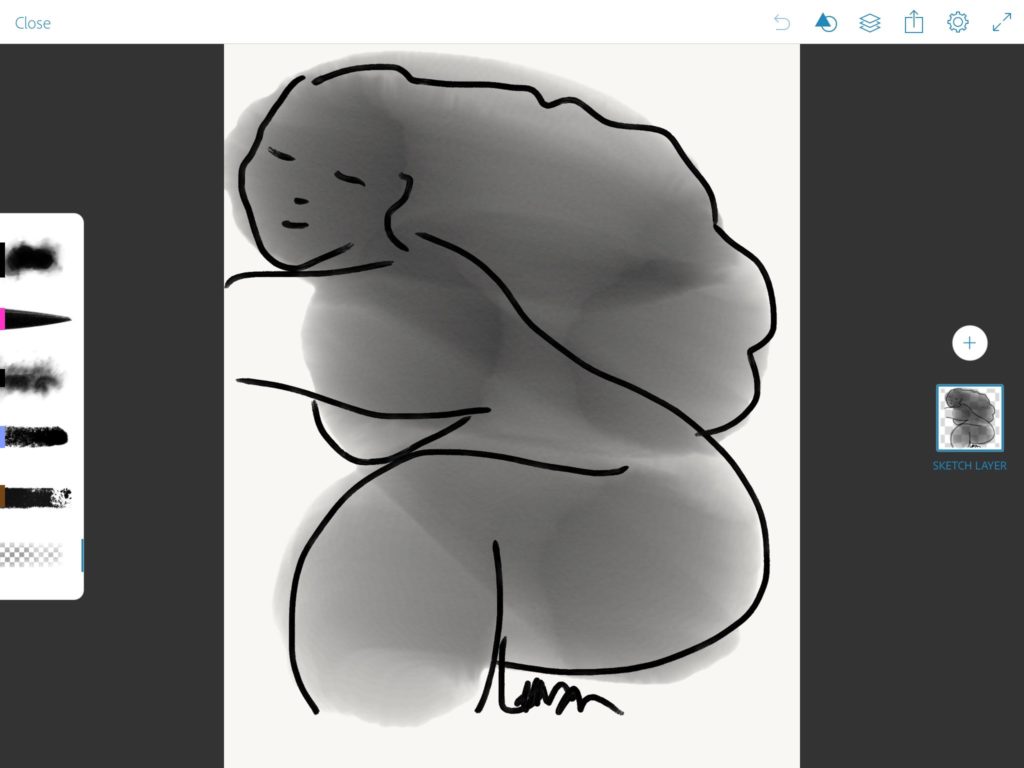 But we love a challenge, right?
So let's use Adobe Draw, which forces us to CREATE a watercolor feel from our own creativity.
Digital Watercolor TECHNIQUE:
AFTER lightly sketching /mapping out major shapes and lines,,,,,
…get bold with a darker line. I love the neutrality of black or sheer balck lines agains my color palette for clearn, crisp definition…
...squint your eyes when you look at photo (if you're working from a photo) to see the major lights and darks…
..choose one color. In this case, (she had on black clothing and black feather headdress, so black.)
block out large sheer shapes with tone. This represents your "watered down watercolor"…. it's the digital watercolor technique for a WASH
in Adobe Draw App, any enclosed shape can be pressed on with your finger or stylus to automatically fill the shape with flat color!
every time you lift your finger or stylus, it creates a "new" layer of color, so color will get darker when you sketch sheer color over sheer color. (DOES THAT MAKE SENSE TO YOU?)  you can see that in action at the top left portion of the feathers.
block out major light and dark shapes
the EDGES OF YOUR SHAPES create texture, so that's why the pointed tips of the feathers or some of the fuzzy lines or edges are important to render feathers
HIGHLIGHTS: use eraser tool or leave some areas white for highlights. Another approach is to choose a light, opaque or almost opaque color for highlights and layer them on. (These were shiny feathers in some places!)

the biggest secret I have
especially in Adobe Draw app for digital watercolor technique is
to use only one tool, the simple pen tool. (it's the first one at the top of the 5 tools toolbar in the app- see image below that shows tools. It's the pink one)
you'll find the key  to creating gouache or watercolor effects is to PLAY WITH THAT SLIDER THAT CONTROLS OPACITY in the app. Sliding from opaque to semi-opaque to sheer lets you control the SATURATION of your color: how much "paper is showing through" You can also control the size and color of the line. All of those tools are pink, below.
make sure you ask yourself  much "line " is showing through your color". Is it what you want? Do you want more or less?
amazingly, if you create a shape and color it in, you can  pull the lines up on top of the "painted " colored areas IF YOU WANT by using LAYERS (at the right of the screen. they are draggable to reorder. SUPER COOL)
one more digital watercolor technique tip
that I share for analog watercolors as well for fashion illustration is that if you KNOW that your watercolor (particlarly gouache) is rather opaque or "creamy", then you know your UNDERDRAWING lines can be quite black and still show through a bit.
however, if your plan is to use VERY SHEER paint, then I recommend working with a more sheer or light drawing pencil or pen so that your lines don't overpower… unless you want them to!
I HOPE YOU ENJOYED THESE TIPS!
Please ask questions, share, give me feedback, I love to hear from YOU!
love
Laura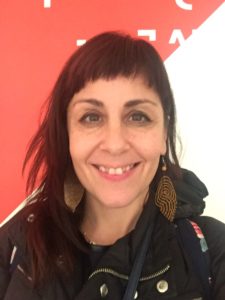 If you'd like to dive deepr into REAL, analog gouache and  watercolor techniques try my EVENINGWEAR course or FREEDOM FASHION DESIGN PROGRAM. If enrollment is closed currently, make sure you subscribe to get updates when enrollment opens once or twice a year!