MY LOVES!!! LET'S TALK about the role of CONTOURS in FASHION ILLUSTRATION TECHNIQUES!
…..Edges, curves, textures, and lines. "Contours" are turning, winding edges.
CONTOURS are something I refer to A LOT. Once you get into discussing visual arts and drawings, it is a vital word. Specifically, CONTOUR refers to outlines, and edges. For fashion design sketching, most obviously,that can result in a silhouette that defines the look or feeling of the whole ensemble.
BUT THERE'S MORE. CONTOURS CARRY TEXTURE.
This week, I'm going right to the point with a quick reminder (or introduction to) something that I find myself repeating ALL OF THE TIME about those contours, so I think it will be useful for you. Read on!
Here are the fabric swatches for this swimwear group from my swimwear design class ( you can click here for info about that class, and here for my youtube video more information about how to get some great swimwear fabric swatches at a good price) :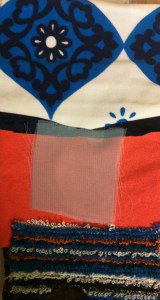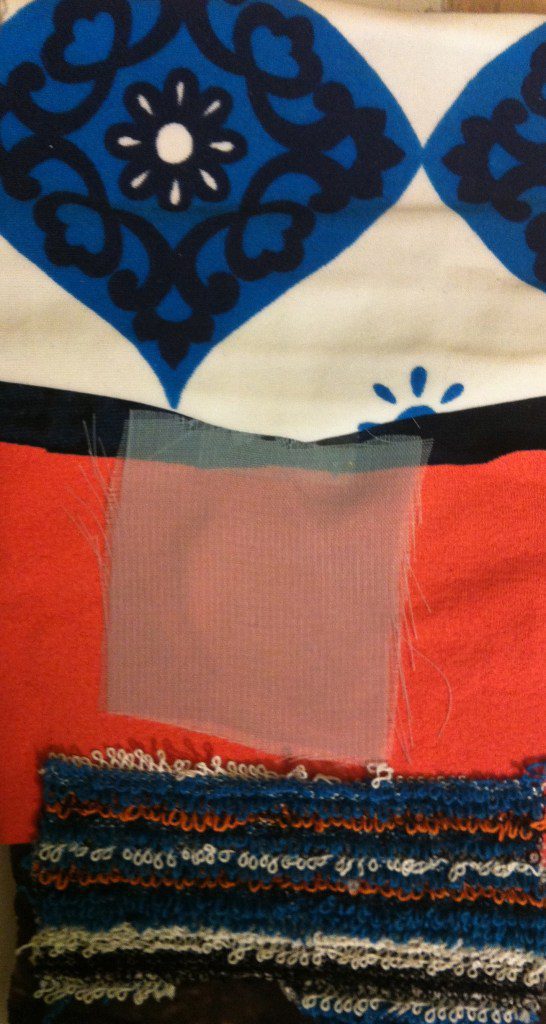 And here is the detail that I'd like to discuss with you today from some of the sketches for that class: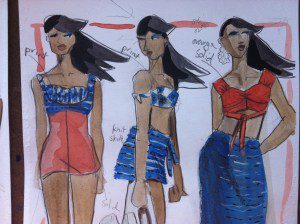 And here is the "zoom in " version. Look at the skirt of the girl in the center. It is the same fabric as the skirt on the right, but it is illustrated differently. I'll explain below the photo: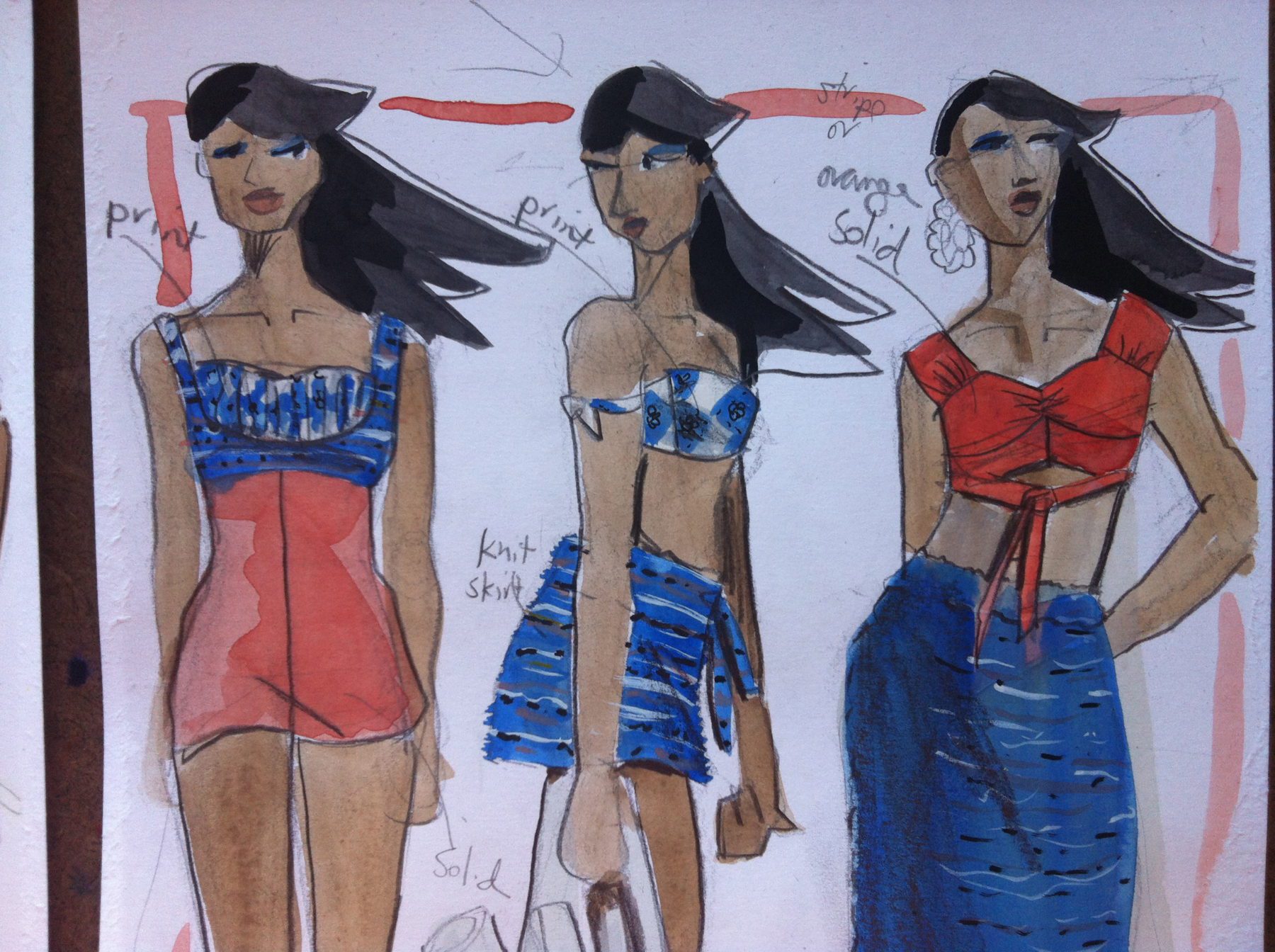 NOTE: These were "hybrid" sketches: they were done on illustration paper for superior quality renderings, (as opposed to sketchbook paper which is thinner and smoother), but I hadn't sketched out any preliminary ideas, so the group was coming out of nowhere but my head, which I usually do in sketch book. I say: sketch first, then illustrate based on discoveries you made in the sketching process.
If you look closely at the skirt in the center illustration, you can see that I painted the whole skirt using a base tone of blue, taken from the horizontal striped terry-cloth knit fabric at the bottom of my fabric swatch board. As usual, I filled the garment shape with a flat shape of the base tone, blue. (It could have been orange or black or white… all of those colors are appearing pretty equally in that striped fabric in uneven stripes). I chose blue so I could work the other colors easily on top of it.
In the sketch of the skirt, notice I used my pointed brush (click here for my youtube video about the brush to use) to drag some of the wet paint out into sharp little bumps (at the left hip, for example) . I didn't do that for all of the terry pieces, but I tried it there and I love it. It's definitely the effect I want for that fabric because it plays up the unique texture.
"WHENEVER YOU HAVE A TEXTURED FABRIC, YOU WILL TEND TO FOCUS ON THE FACE OF THE FABRIC TO RENDER THAT TEXTURE. BUT SINGLE MOST OVERLOOKED INDICATOR OF TEXTURE IN YOUR FABRICS IS IN THE CONTOUR OF THE GARMENT! PICK UP THAT FABRIC AND PAY VERY CLOSE ATTENTION TO HOW IT BEHAVES AT A CURVED OR FOLDED EDGE!!! " -Laura
So the little peaks of blue jutting out around the edges of that skirt are a great way to play up what we know about the texture of the terry cloth fabric. I used a black felt tip pen (click here for my blog post about the BEST PENS for this stuff!!) for the black stripes, a slightly dry-brushed white gouache for the horizontal stripes, and gouache for the orange (I could have used quality colored pencils or pastel pencils for that, too.)
Using the paint and brush to create the contour is one way. It's the most direct way. The shape of the skirt and its edges are one and the same in this case. Think about this concept as you explore lines and shapes in your drawings:
"LINES ARE WHERE EDGES MEET. THERE IS NO "LINE" PER-SE. THE LINE IS WHERE ONE SOLID THING MEETS ANOTHER, WHETHER IT'S A STRAND OF THREAD OR AN ELEPHANT IN FRONT OF A WALL, A SHAPE MEETS A SHAPE AND THE EDGES WHERE THE SHAPES MEET ARE A LINE. THIS IS……. IMPORTANT TO REALIZE. OUR CULTURE'S EMPHASIS ON WRITING WITH LINES CAN OFTEN RESULT IN OVER-USE OF LINE FOR EXPRESSING VISUAL INFORMATION" – Laura
Look at the models' hair (straight/ wavy) or CURLY or this case a smooth texture. Here, I used a totally different approach. I could have left here hair shape alone letting the edges of the painted shape be the edges of the hair (the technique I used for the skirt), but I chose to create some drama by using my pencil to create NEW contours, outside of the hair color shape. I intentionally "drew" a contour line that most often didn't touch the edges of the hair shape. This calls attention to the drawn line and the "white space" can sometimes be interpreted as shine, other times I use this technique just to "jazz it up" and "show off" the expressive quality of pure line, SEPARATE from the shape it represents or refers to.
While on the subject of pencil contours, notice that sometimes the lines are thick and dark, and sometimes I use lines that are lighter or absent (look at garments and limbs/body). This is called LINE QUALITY, and we'll talk about that a lot here. KEEPING LINE QUALITY VARIED and not just one weight gives tons of dimension to your drawing and reduces the feeling of "flatness" in your image (even coloring books, you'll notice, vary their line weights /thicknesses most of the time, to keep it more interesting and to prioritize for the viewer. More on that soon)
I know… this can be very abstract, intellectual, cerebral, dry way of looking at things. But it also isn't, either. It's actually terribly exciting, to me, and that's why I'm sharing it with you. :0)
When I started studying art and design at Parsons in the early 90s, I had a radical experience of having my "eyes opened" by my teachers and assignments, in a way that was so wonderful and amazing that to this day, I get so excited just thinking about it. It is one of my deepest desires to pass this experience on to others so that they can experience the same shift, the same A-HA!!!! of joy, curiosity and wonder that echoes on and on, day after day, throughout my life experience.
PLEASE let me know if this was interesting or helpful, or if you have questions. This site was made to be a party. (A positive one) so please, bring your positivity and jump right into the comments below!
And, my model drawing and swimwear design and illustration class is open for registration at this time, if you want to check it out. It's 8 modules but you can pace yourself over the year without a rush. The class community is a-synchronous (not time-sensitive), all members can check into the classroom, discussions and community at any time and give feedback, and answer questions absolutely whenever they feel like it. You can take time to view, respond, read, and breathe. And that includes me, of course. So your schedule is always RIGHT ON TIME :0), all the TIME!
Love always,
Laura

I gave a book talk at Byrd's Books in Bethel this week that celebrated the Russian translation of the Language of Fashion Design: 26 Principles Every Fashion Designer Should Know on Rockport. (News from publisher: Chinese, Spanish and French editions are already in the works!!!)
Creating content for my LEVEL TWO Fashion Foundation Immersion which is still several weeks into the Pilot run for launch in early 2015 to the public (you can also hop on now if you can't wait :0). EXCITING! Level two takes all of the sketching and color illustration, plus research skills from Semester One and gets you actively sketching and designing fashion collections around different specific themes that round out your vocabulary of styles and fabrics, while getting to know your unique design voice more and more every step of the way!