A few things to remember for sure when you're learning drawing, fashion design, or fashion illustration:
love yourself where you are at here, now (beginning a new skill may feel overwhelming)
think often about where you want to go…. not in despair, but in the joy of imagining the feelings and images of when you "get there"
have a great dream, and also appreciate the wonder and beauty of the dream of TODAY There's always so much to appreciate.
love the adventurous journey that brings you toward your dream.
accept that there will be ups and downs along your path– that's your "GPS" guiding you and telling you where to go and how. Ups and down help you become your own best friend and get to know, love and embrace yourself as never before.
in doing, you come closer and closer to you goal!
but you get to love yourself where you are at...you'll get where you need to be in PERFECT TIME
the journey is the most amazing lesson and gift in itself
we are all students….and teachers
(I reminding myself too, here, every day)…
To enroll in a free beginner masterclass, just subscribe for email updates from Fashion Illustration TRIBE to begin a free journey first.
TODAY< I'm inviting you join my "boost" course called "Everything but the Girl" for a real GAME CHANGER in your drawing practice. Check it out here.
It's a seemingly simple yet disarming fashion illustration course with exercises for you to try, and then demonstrated it for you in in the course.
It's hosted inside Ruzuku, an online course platform so you can share your drawings and see fashion drawings from others in the class, and have conversations there, if you so choose.
(and I just love that part!)
…It gives you the flavor of my online fashion illustration courses online for design.
Because It involves the kinds of provocative exercises that take you away entirely from the way you've been approaching fashion drawing and even the way you've been SEEING. It creates embodied experience by having you use different tools and materials to feel into new ways of moving, too.
Isn't it time to break loose from the limited range of expression you've had and bring more raw truth and dynamic expression into your fashion design illustration? Of course it is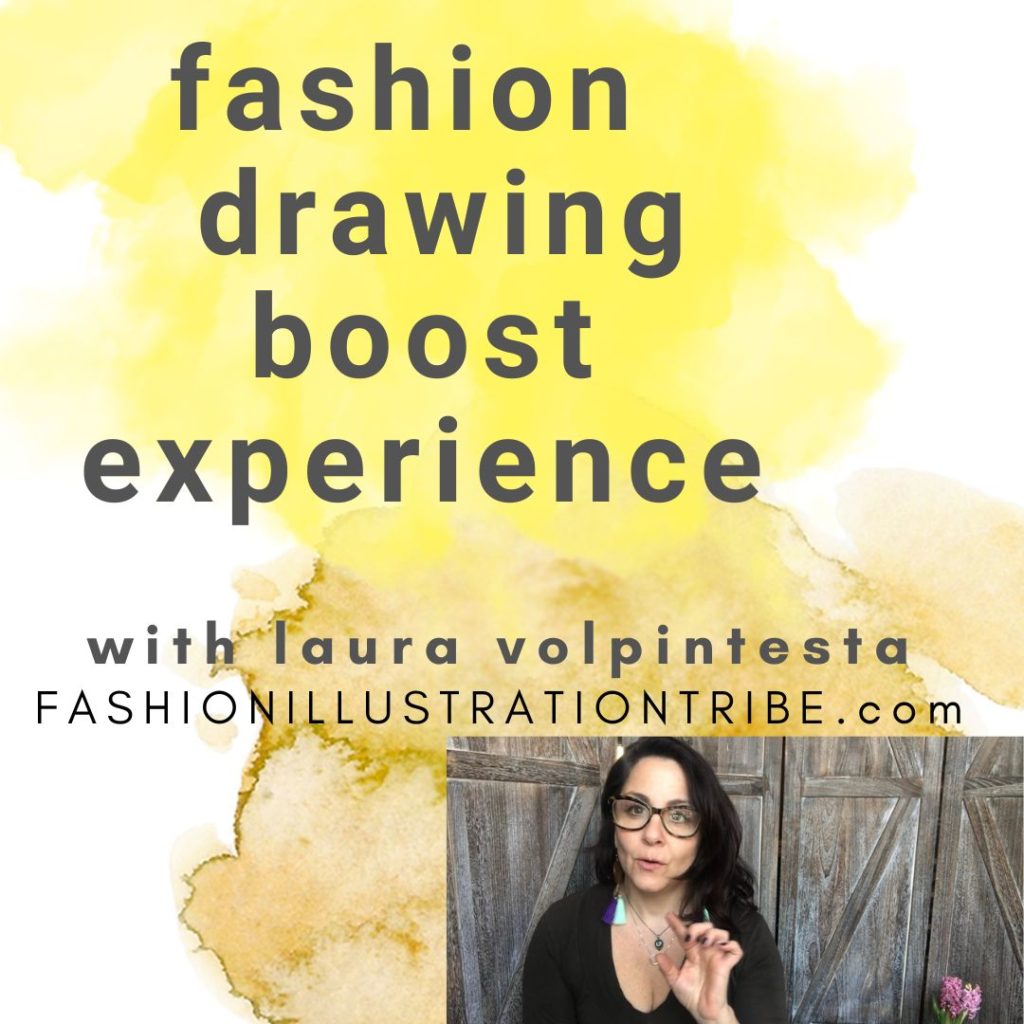 My premium online courses take a similar format, only we have about an hour of videos each week plus assignment exercises and design projects each week, with lots of feedback and attention as you need it.  At the price of a single college credit, you get a deep experience of my college level content and 25 years experience teaching at a leading fashion institution in NYC.  Plus my sheer love of creativity and helping bring out the BEST in you!
This gives you a taste of the course format. And there are some segments still to come.
Above all, have fun!   The beauty will follow those good feelings. Turn up some good tunes!
love,
Laura