Templates are great for  Fashion Flats!
Maybe you aren't familiar with using a croquis to create your fashion flats. (see some below)
Well, it isn't that complicated.  If you have a body or garment "template", that simply means that you have a body or shape that you can use as a foundation to create all of your original sketches.
That way, your fashion flats will all be consistently scaled!
So it's really handy not to have to start entirely from scratch every time. You can create your own template, find one online that you like,  subscribe for the free templates and ebook, or try the ones I included here on this page..
I know, it's sounds dull, but when you go really deep with flat sketching: details, proportions, stitching, closures, pockets, etc etc….. You will  be so surprised to see that it becomes an INCREDIBLY creative format for fashion design thinking!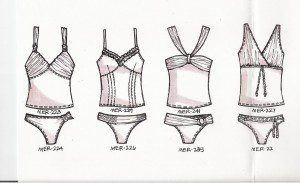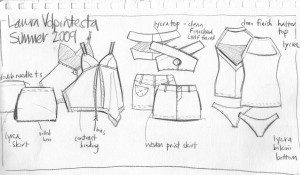 Above, you see this informal line sheet for a mini-collection features fashion flat sketches, front and back, for each garment. I did those  with a black Prismacolor Pencil and you can tell. Doesn't it look very different than the lineup above it, done with ink pens?.
What they have in common is that they  were all sketched over one fashion sketch template/ croquis body (more on this page)
So, each garment was drawn for exactly the same figure.
This way, when viewed, it is easy to see clearly how the garments can be layered and mixed with precise proportions. (Imagine if the skirt was drawn large, and the top was drawn small, how hard it would be to understand the design and concept.)
You see,  proportion is relative size. That's important for fashion flats and fashion sketching!
Because you want to clarify How each part relates in size to the others, as they come together to create one unified shape?
I know it seems like a lot at first,
but it becomes your stomping ground once you apply yourself to "befriending" what fashion flats are really all about.
Week 3 of my FASHION DESIGN EXPERIENCE course includes a workbook for flat sketching that teaches step by step techniques and examples along with templates to get you started sketching right away, and tutorials!!
(Actually, you can start taking that course TODAY and get a new video and resource every week for 8 weeks.)
And you know what? It's my single most affordable offering of the year.
Or check out my whole intensive FREEDOM FASHION semester course! It's in the header menu. We'll go deep into flats there so you can include them in your line sheets and portfolio layouts.
I love to create my own croquis templates
and then lay a sheet of paper over them to create new fashion flats OR illustrations.
Even though I usually use posed figures for illustrations and not posed for flats, that isn't a rule.
In today's video, I use a really cool app called Pret-a-Template that is tricky in some ways, but really cool in other ways.
One thing you will especially like is that it comes with a lot of croquis for fashion flats templates that you can choose from. Children's, men's, plus size,  maternity, baby, shoe, bag, etc…..
How fun is that? Then you can add color and pattern.  It's a great way to get creative on the go!