It's one of the very first questions, always, how to draw sheer fabrics???
There are variables. Some fabrics are VERY SHEER. Some fabrics are BARELY sheer.
What I love about teaching and learning fashion design and illustration is that there are thousand-million-bajillion possibilites. Buy you can always learn a framework that is "digestible" and memorizable that you can ALWAYS apply to any situation.
So, today's VIDEO
narrows it down into FOUR SIMPLE STEPS how to drawa sheer fabrics while this blog post will give a few extra behind-the scenes tips.
Below, see an illustration I did of  of an ensemble by Juliana Beltrao . She's an amazing carnaval accessories and costume designer in Brazil.
In the finished fashion illustration you'll see that she has a colorful bird's nest crown. How earth goddess can you get????
PLUS, the bodysuit has sheer mesh inserts that are asymmetrically shaped. SEE? And Fishnet stockings.
So how do I create the sheer black?
 Scroll down for tips and steps!

Now, how to draw sheer fabrics:
Here is one exampe of how to draw sheer fabrics. But I'll post a few more examples below for you to analyze how I did it and reference.
Although in all of today's examples, I used Adobe Draw App on my iPad Pro (also works on iphone, Android, Ipad mini, etc. it's a $5 app that pays for itself over and over)…
YOU DO NOT HAVE TO WORK DIGITALLY TO USE THIS TECHNIQUE, it's the same process for watercolors or gouache or markers.
THE STEPS FOR DRAWING SHEER FABRICS
1. Sketch your illustration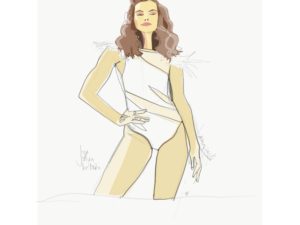 If you're new to illustration, SUBSCRIBE for the free resources and gifts to get you on your way.
2. add your skintone choice, Full strength. Also, if you have layers of clothing, paint any of your garments full strength. But DILUTE YOUR SKIN TONE AND CLOTHING COLORS when they are going to fall BEHIND or UNDER a sheer fabric.
If you look above, you'll see that the sheer inserts in the bodysuit are DILUTED SKINTONE– they are "watered down", less opaque, or less saturated than the skintone everywhere else, because they are "behind" a sheer fabric
3. Below, see the sheer grey (diluted black) tone laid over the sheer or watered down skin color. This way, the skin "peeks through" but is also covered with a sheer color. (In this case, sheer black).
STRATEGIC TIP: the MORE SHEER the sheer fabric is going to be, the LESS you dilute the skintone and use it more full-strength.

The LESS SHEER the sheer fabric is, the MORE you dilute the skintone so that very little of it will peek through.

THIS IS actually LOGICAL…once you wrap your head around it!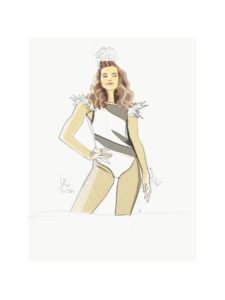 3. Fill in the rest of your sheer fabrics (the non-sheer ones). Keep scrolling down because I'm going to share a few more examples.
This featured a sequin, glitter fabric and feathered shoulders. SO COOL.
Remember,, As you look at the examples below, notice and ask yourself: HOW SHEER is the sheer fabric, and how do you know?What visual clues tell you that? Did I use very strong skintone or very "watered down" skin tone? Whether using paint or digital painting, you don't need to mix a new color: just add water to your existing skintone or decrease the opacity slider on digital to make it more sheer.

SHADING TIP: to add shading to your sheer fabric, add layers of itself over itself: just like the fabric. To shade skin, I always add a touch of black to my gouache if painting, grey marker overlay if markering. In digital drawing I just slide the color a little towards black.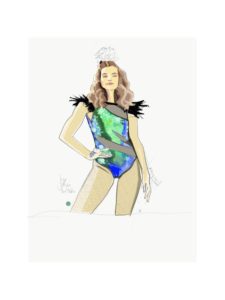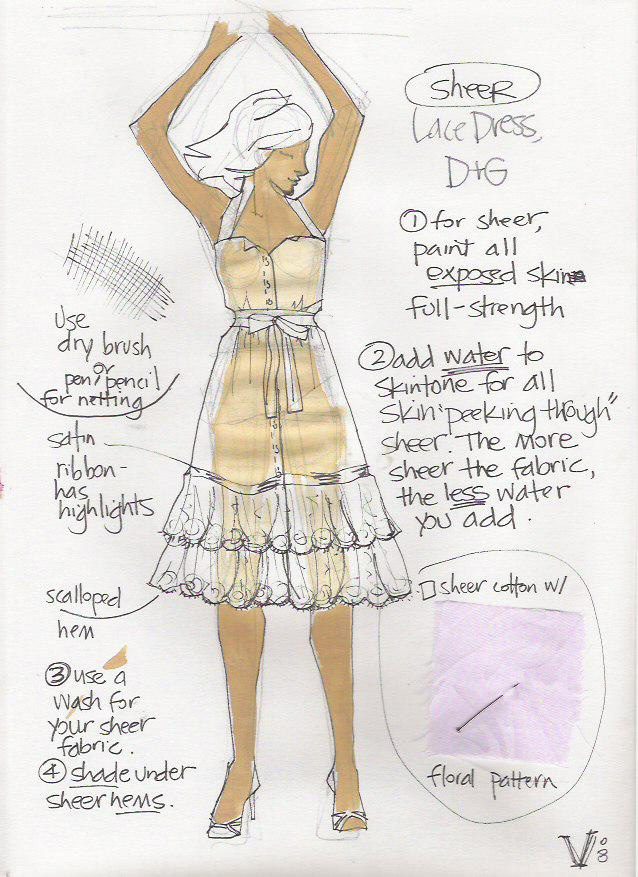 Here, I sketched a sheer cape.
Notice: how the horizon line  and background show through the cape.
Notice how the right side of the cape looks black because it's full of overlapping folds. The other side looks sheer because she's holding it open. The edge is a gold binding. Cool! (More on metallic in other posts)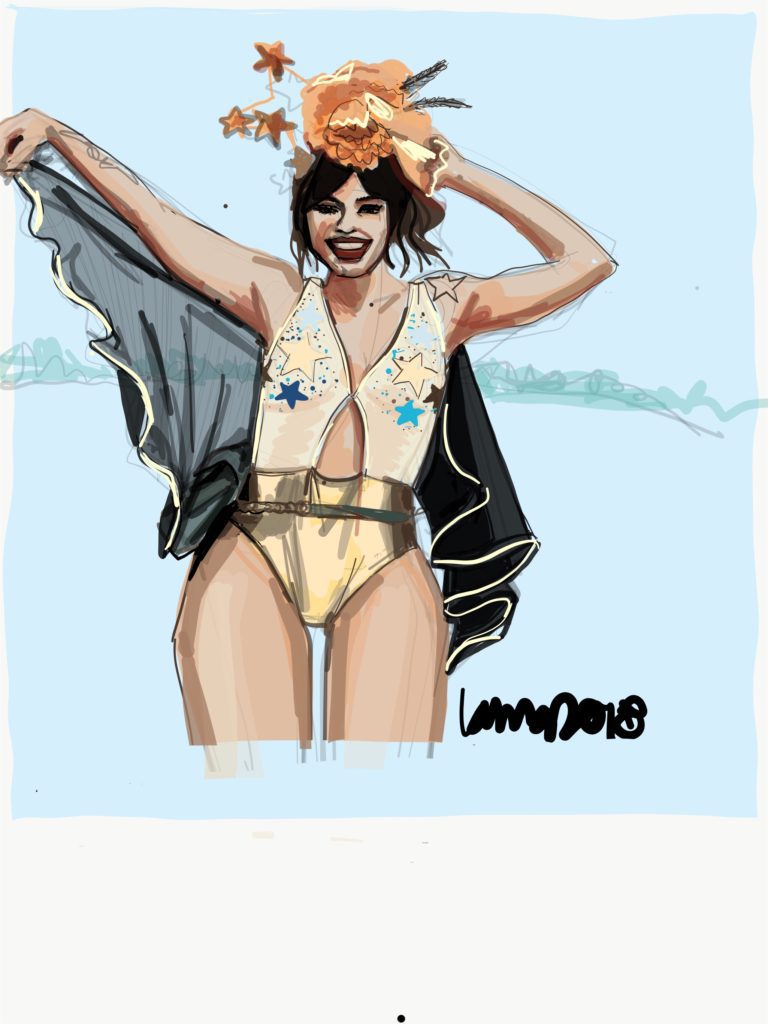 Here, you can see how to draw sheer that isn't black. THe model below is wearing a nude colored, sheer, loose t-shirt with shiny screen print or applique on it, over a red boy-short bikini. Can you see the outline and shape of the tshirt? Meanwhile, the model ABOVE is wearing a nude top also, but it's barely sheer at all. You can see a hint of her skintone showing through it, and large stars give her privacy that's opaque
.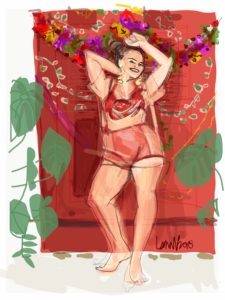 In the illustration below, the example how to draw sheer fabrics is black again.
It's amazing how the star shaped appliques "float " over the body, and the loose sheer t -shirt again is layered over a high waisted bikini. Only THIS time , the undergarments are PATTERNED !!!
Notice the places where the sheer shirt become opaque because there are folds or double layers, and also notice the areas where the skintone is NOT covered by sheer fabric, and othe areas where it IS.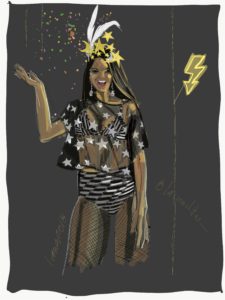 I hope you got excited about to draw sheer fabrics.
Of course, I hope you learned something here. This is my joy to see the spark ignited in you! I Hope you'll share with us in the Facebook Group, and I hope you'll let me know what kinds of videos, illustrations, and webinars you're benefitting from!
It's my joy to bring new designers and fashion creatives into the fullness of their skill and expression without squashing their spirit. I'm here to guide you to the fullness of why you loved fashion in the first place.
Guides you through design, sketching, and illustration of sparkles, sequins, sheer, lace, satin, (faux)leather and (faux ) fur, feathers, and other SPECIAL fabrics. FREEDOM FASHION is a different option, all -inclusive which includes the core fashion foundation program and a whole suite of supported courses for those who are super serious about immersing themselves in design study with a 25+ years Parsons Fashion faculty and author.. me :0)
Let me know what you want to know!
Love, Laura