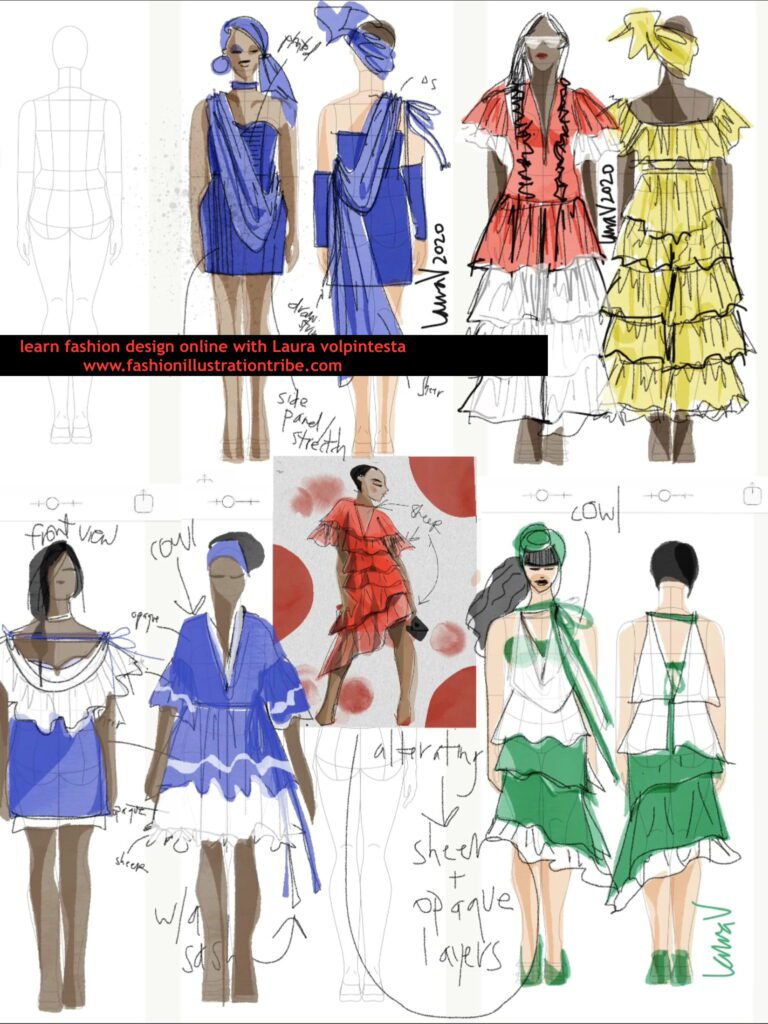 All of the images you see in this digital fashion sketchbook
are extracted from the Module 6 video from Fabric, Form and Flow Eveningwear Sketching course. 
It's a hybrid kind of a course with hour long tutorials, homework and assignments based on "eveningwear" which I use to describe "SPECIAL FABRICS" (sheer, sparkle, fuzz, shine, metallic, sequin, satin,  leather-look, taffetta, charmeuse, etc. etc….)) and "special silhouettes".  
Digital drawing using the Tayasui app for android, ipad or computer is used for some of the modules, design and art markers for others, and gouache and pencils for yet others.
Because I believe that when you are studying shine, shadow, and texture, seeing it achieved on all kinds of media actually helps you understand the principles that "make it work" even better!  Regardless of what kind of media you use.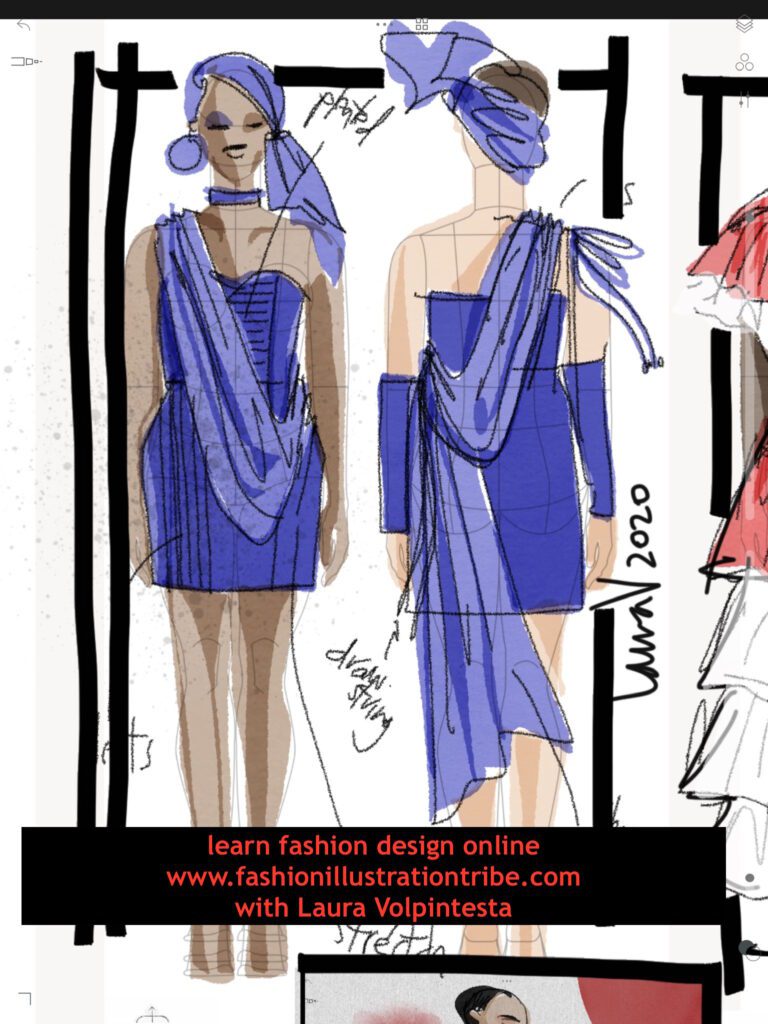 A course like my online program Fabric, Form and Flow: Eveningwear sketching  
introduces you to the idea (and that's my point) that there are MANY approaches and formats to fashion design sketching, and also to fashion illustration!
It's my hope that you get the comfort of peering over my shoulder and listening to my creative thought process so that you can see how it all rolls out when I work ….
this gives you the insights to affirm and evolve your own processes that work best for you!
You'll know right away what ways "work best" and feel best for you.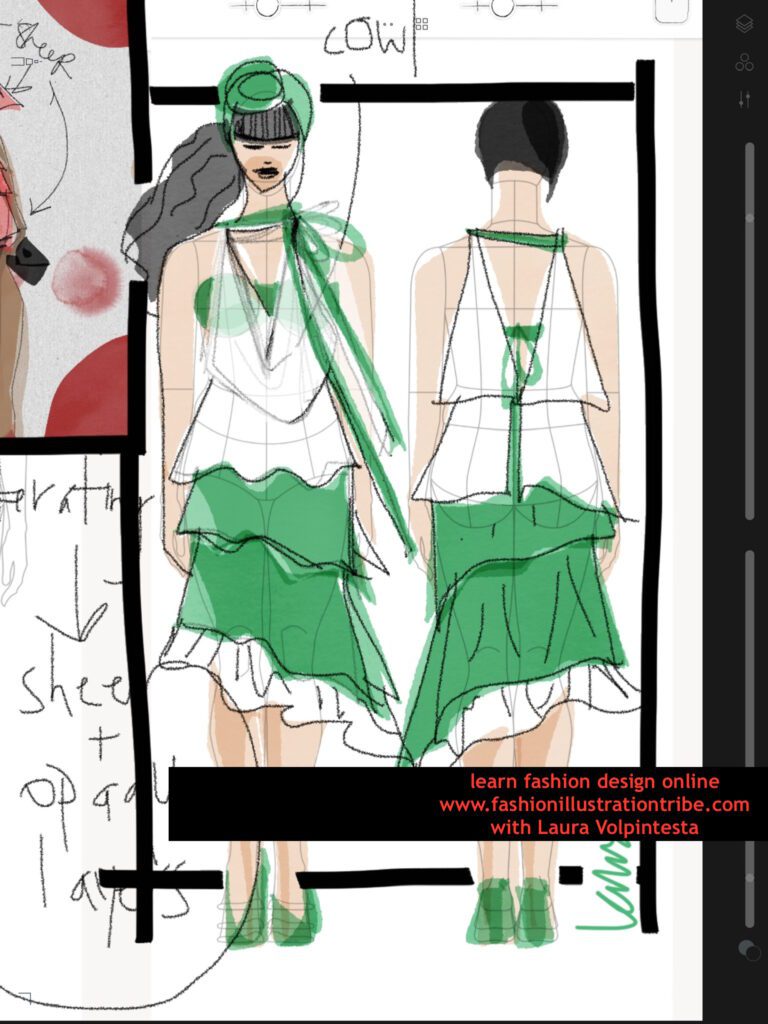 Posed figures versus "STATIC figures"
Front, Back, and Side Views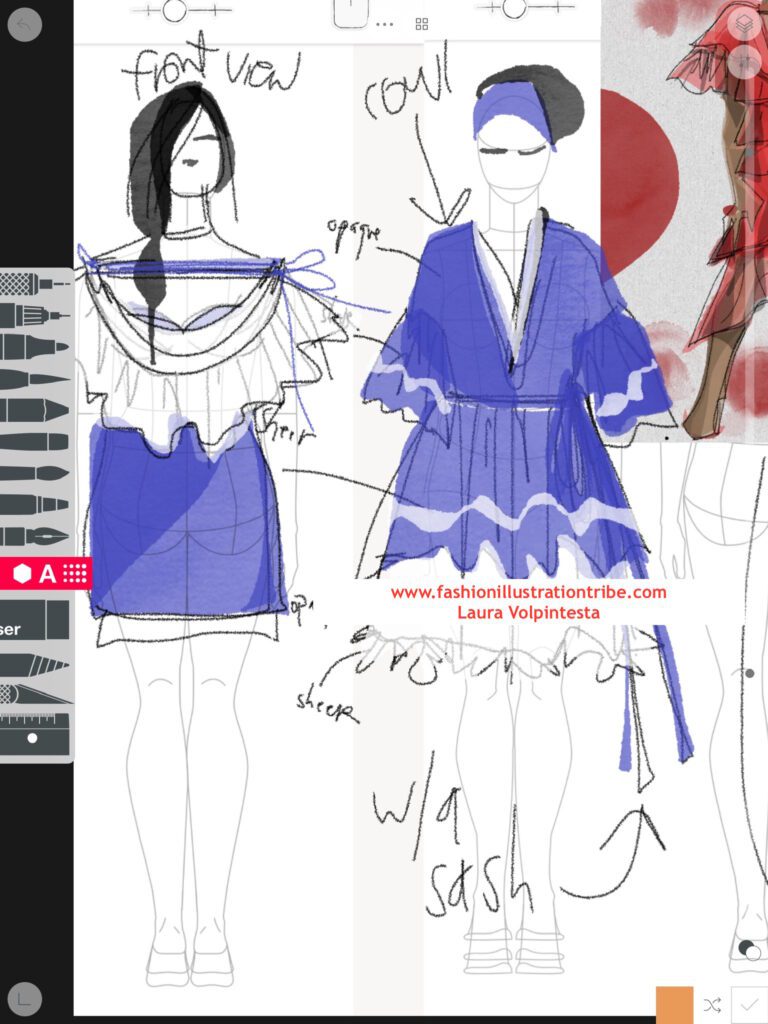 Digital Fashion Sketchbooks
 are super portable, bright and clean, versatile, and give you that beautiful possiblity of trying out colors or strokes and then undoing them when you don't like them…
for many, this is a healing experience that softens the feeling of "making a mistake" or "ruining a sketch" (which are feelings that all of my courses try to soften and soothe so that you can get into the playful flow state that brings out the best of our imagination.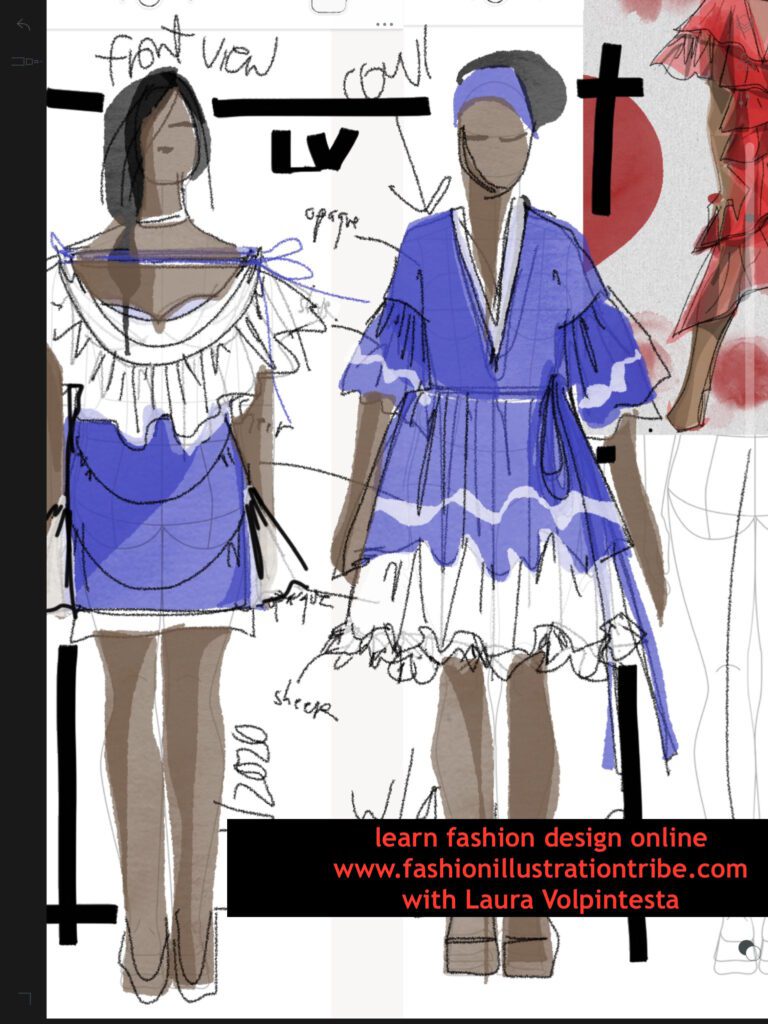 Posed Digital Fashion Sketchbook
I'll be uploading another post soon where I take the image below and sketch it creatively from a model pose…… I included this fashion illustration/ fashion design sketch below because it was the sketch and concept that went on to inspire the whole group of sketches you see today.
Surely I'd love to go on and on with sketches for this group!
I usually sketch 3-5 times as many outfits or ideas as I actually need so that I have the looseness and freedom to warm up my ideas.
I also like to be able to keep what I love, and toss the rest.
I hope these insights served you. Let me know how it's going, and join me over in Fabric,  Form and Flow to deliberately up your sketching and designing game in an encouraging environment online!
Love, Laura