Have you been hearing a lot about Copic Markers for Fashion?
I sure have! Copic Markers for fashion is such a trend right now!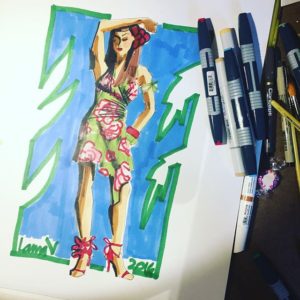 I swore I wouldn't get into something that costs $6-7  per Copic marker, especially because I"m not a big fan of marker art. I always used to feel the result is so sheer and flat……and that doesn't have to be true.
There is no doubt that gouache or watercolor is cheaper, even if you pay $10 dollars a tube, it will last so much longer. BUT if time is money, then markers can foot the bill sometimes!
So, if you're a marker fan or marker-curious and signed up for the waitlist, I'd like to share some resources with you! (And some fun music I love the informality of Periscope).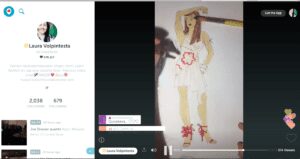 I had to learn to use Copic markers for fashion (and other markers) when I started doing live fashion sketching events at Lord and Taylor stores and private parties and retail events.  Markers are portable, quick drying, and versatile for hi-speed work!
Wow, with all of the artists and illustrators I follow on instagram, Copic markers for fashion sketching and all KINDS of art just has been a tremendous buzz and trend. Everybody seems to want them. I was curious, so I started by purchasing some skin tones, greys, and black (the most important to start with). I got less expensive markers for other details, and worked Prismacolor colored pencils into my techniques.
You can hear me discuss this in this video that was live streamed this week on Periscope.tv/Lvolpintesta, my channel.
You can scroll head in the replay to the 30 minute mark to get the demonstration, and if you watch the full hour instead, you'll hear me chat about art supplies with the livestream viewers.
That means that on Periscope or Twitter, if you look for the #LDCC or ARTBLOCK hashtag, you'll get to see and chat with different artists live-streaming from their studios! Feel free to join the group if you decide you'd like to be participating artist! All levels are welcome in this very supportive community.
(They do music blocks too and once my music stream went viral and got 35,000 views from all over the world! I am NOT kidding!)
I live streamed this Saturday using markers and here is the link to the livestream.  Scroll ahead to the 30 minute mark in the video to get right down to business :))
https://www.periscope.tv/LVolpintesta/1djxXEqlRrXKZ? for copy and paste
It was a spontaneous sketch, not from a photo, and I'll talk with you through the process.
The first half of the one hour stream is mostly discussing art supplies.
The one thing that is really interesting about Copic Markers for fashion is that they have a very crisp, hard chisel tip on one end, and a rubbery/soft brush tip on the other end. I TOTALLY prefer the brush tip and how soft it feels on the paper.  I like chisel markers to be softer and in that case I lean towards using the chisel tip marker tool in fashion illustration from an app like Tayasui Sketches Pro or Adobe Photoshop Sketch App. Both are available for Android or IOS and I have on online course devoted to that called ABOUT FACES.  Check it out by clicking the "ONLINE COURSES" in the menu in the header! Windsor and Newton Pigment Markers or Chartpak I-D markers (Charpak more toxic) have wetter, softer chisel tips for more organic feeling fashion illustration.
to take my markers online course when it launches! Waitlisters get advance bonuses and early bird pricing offers. (click the image below to sign up to the waitlist for free)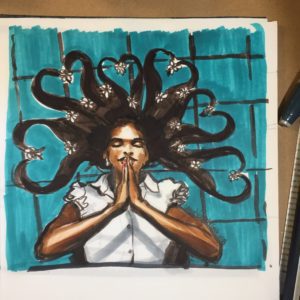 Remember to SCROLL AHEAD TO 30 minutes  in the replay video (its easy to scroll) and you can get right to the building of this sketch with me!
You can also share your results in my Fashion Tribalistas Facebook group!
I hope you enjoy it and let me know what you think/ ask questions!
Love, Laura