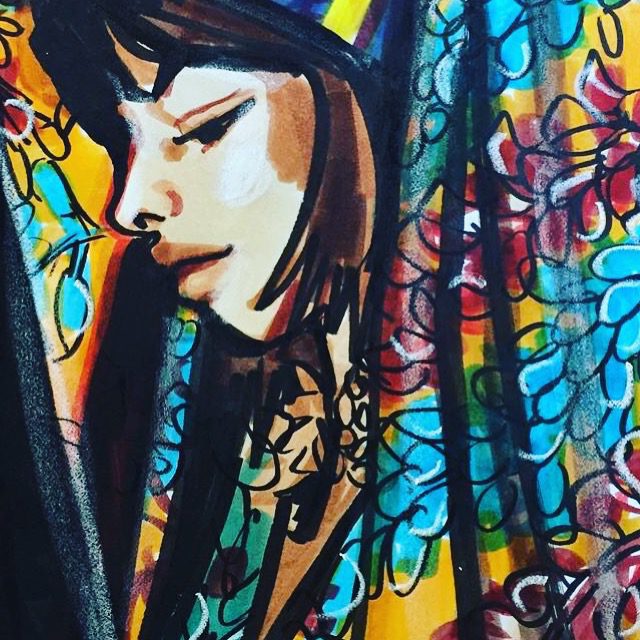 Are you curious about (or terrified by the idea of) marker sketching for fashion illustration, design croquis or otherwise?
Are you overhwhelmed by the types, tips (of markers), brands, inks and other choices?  
THERE ARE SO MANY KINDS of Art Markers, Design Markers. Art markers available for fashion design sketching.  Alcohol markers. Watercolor Markers.  Brush tip, chisel tip, waterPROOF pens and markers, pigment markers, permanent markers, India ink, water soluble, washable, etc, etc, etc?????????    The Chartkpak ID pens,  Prismacolor Markers and pens,  Copic Markers? Tombo2 Markers, Pitt Pens and Microns, Sharpies and Blender markers?  EVEN DIGITAL MARKERS???  "Off brand and designer markers? Fine line, broad tip, chisel tip, cone tip, dual tip
 GOOD LORD!!!! HELLLLLLLLLP!!!!!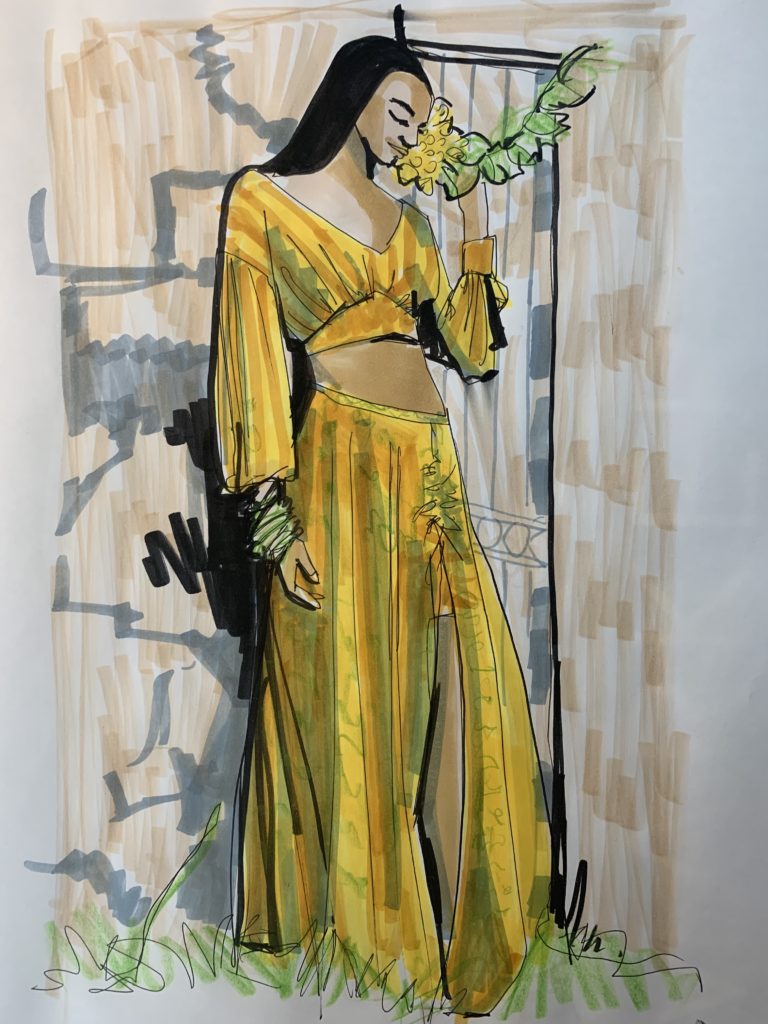 Fashion illustration by Laura Volpintesta using art markers
It can be  overwhelming! BUT IT CAN ALSO BE SO MUCH FUN to take on these questions one by one and start to play and explore within the realm of expression yoursel f through fashion sketching with (all kinds of ) markers.
And then there's marker PAPER? Regular paper? Bleed through? How many art markers can I afford to start? Do I have to spend a fortune? (the answer is NO. You can, but you don't have to).
The first time I had to do a job with markers,(fashion sketching live at Lord and Taylor), I saw that the investment on a set of markers  was going to cost me more than I was going to get paid (several hundred dollars)  So I got creative, mixing up expensive with inexpensive supplies. I was truly curious to experiene the difference in qualities and effects to find the where I really needed to spend money and where I was just wasting it.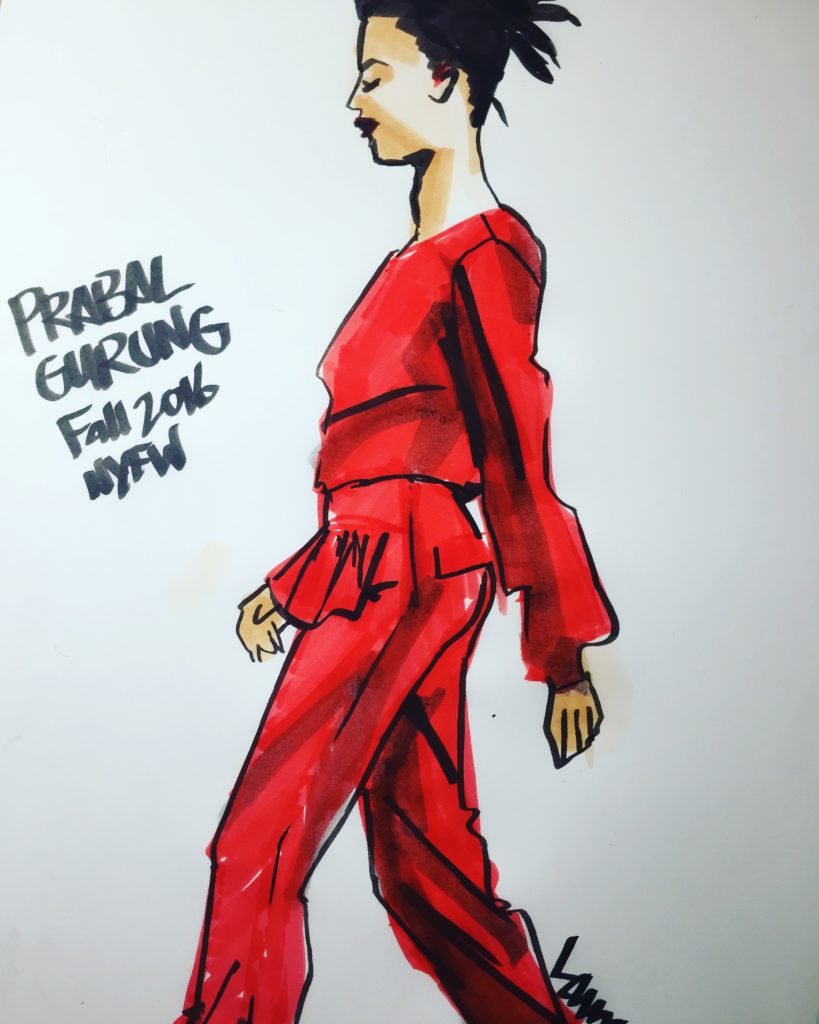 fashion illustrator Laura Volpintesta, Fashion sketch of a runway look by Prabal Gurung
Or maybe you already tried and you just HATE markers– that was me.
I felt marker fashion sketches were to0 sheer, too flat,  too thick, too smelly, plastic and wasteful, And I felt like they would dry up so expectedly. I felt, many are  toxic, un "color-mixable"……oh, I could go on.
Then, I started doing some digital drawing on the iPad, finding that the chisel tipped marker and brush tipped black pen became two of my favorite tools.
Which, in turn, also let me back to bring markers into my life, physically.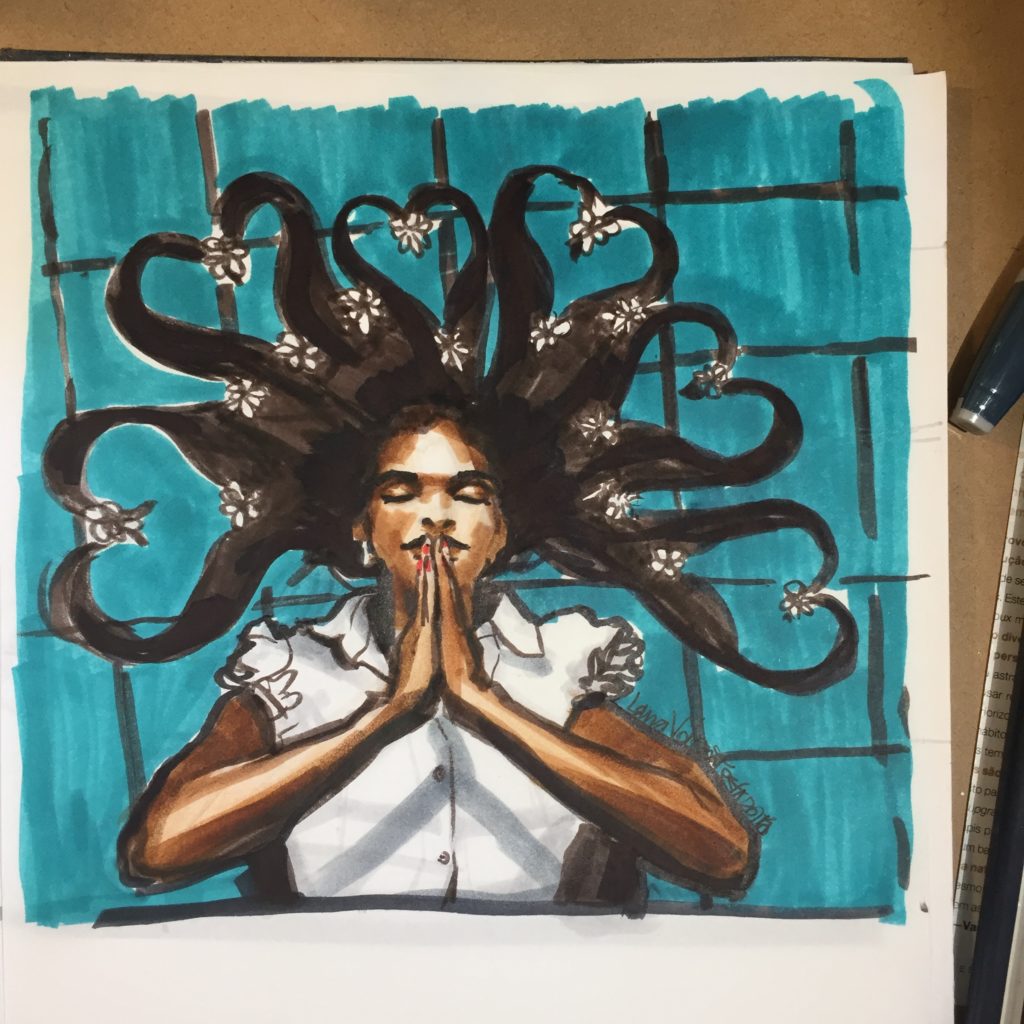 (my ABOUT FACES online course takes you through digital painting apps while learning and practicing faces as well as how to do DIGITAL MARKERS. My Fabric Form and Flow eveningwear /special fabrics design and fashion illustration course has a whole module devoted to markers techniques for capturing shiny textures)
THEN I had an experience where I HAD TO USE MARKER sketch for live fashion events at Lord and Taylor because I needed something that dries REALLY FAST!
and then it all started to unfold (I figured, I can' do good work with them unless I love them! So I made myself fall in love. It was easy).
pardon the 30 year old rubber cement stains on the image below: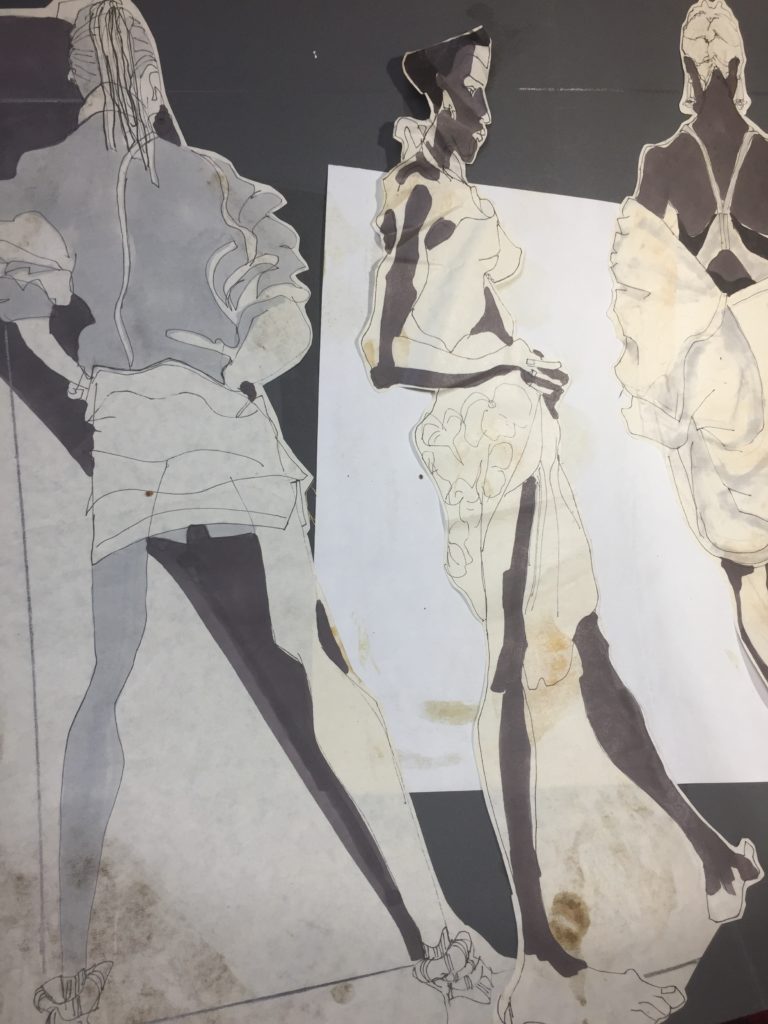 Now I absolutely love marker sketching!!!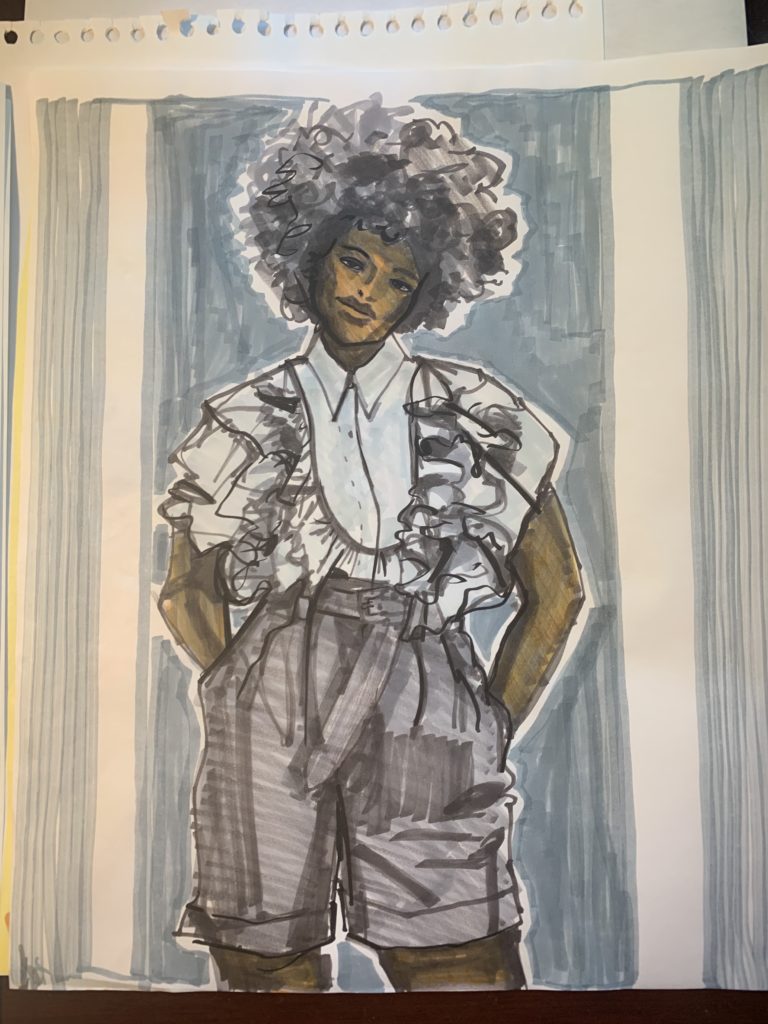 JOIN THE WAITLIST NOW to get the pre-party goodies and help me shape this class with your suggestions!
My online course in this link takes you to the waitlist for Markers Magic which  comes with a series of videos and tutorials, a mini course) will show you the ins and outs and all my discoveries through videos and examples.
Join our waitlist community to get the first chance to sign up and the deepest discount for waitlisters only!