Patternmaking Fashion Online Course goes LIVE!
Are you ready to crack open the mysteries?
Are you eager to get clear on fashion design fundamentals?
Have you always wanted to take design into your own hands and create unique things?
Do you feel like there's something you don't know that you need to know to move forward in fashion?

I'm Laura Volpintesta, a fashion designer who's been teaching at Parsons School of Design since 1997 in both draping, construction and sewing as well as Illustration, model drawing, portfolio and concept development on campus.
I'm a Craftsy instructor and also create Parsons' very  first online fashion studio course! I'm so happy to add to my offerings a new Patternmaking Fashion Online course inspired by my history teaching and making patterns (I first taught 6 hour fashion pattern making, draping, sewing studio courses at Parsons School of Design in 1997- now.)  Patternmaking was actually the very first course I ever taught.
I love to share all of the secrets that have been shared with me…. with women everywhere who want to empower themselves on their own schedule and affordably …. but with great content that goes deep, not just surface!
Fashion Illustration Tribe comes from my dream to create fashion courses like the university ones but make them available to creatives everywhere. I'm also a single mom who wants to be close to home, like maybe you are too!
My goal is to connect and inspire and create with you, so that I can feel proud to be in fashion.
I used to be embarrassed to be a fashion designer because it can be a cruel industry.
The belief that learning fashion in a woman-centered and kind creative and professional environment is going to create fashion's ethical and sustainable future led me to build this online school.
My background includes many design houses throughout NYC, in swim, leather, maternity, juniors, mens, childrenswear and plus-size fashion.
I love to share my wide range of experience. This Patternmaking Fashion Online course is created for the home studio or for those moving toward the industry, with heart.
GOAL: make makers happy!!!!!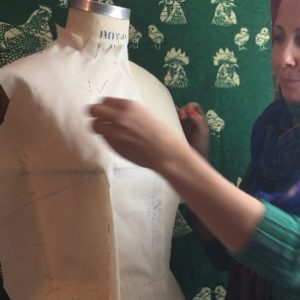 Patternmaking Fashion Online Course:
In this class we will start from square one. >> signup here
I want you to have access to the tools and key language to create original fashion patterns for any size and understand the underlying concept.
we'll cover the straight grain and bias, darted bodice and skirt and sleeve fitted slopers.
get you hooked up with the right supplies, patternmaking book, and resources.
then start moving the darts…. and / or interpreting them as gathers, flares, or pleats.
learn to understand seam allowances and notches.
mark the important notches and landmarks
create curves and lines with confidence.
discuss how to create drafts for pockets, plackets, cuffs and waistbands.
draft and test some collars, yokes and plackets.
practice and learn rules for  curving facings and necklines, armholes.

draft your own to your measures or work out a design sketch into pattern. / or draft a pattern inspired by a fashion photo you found, or draft a pattern from a garment you own.
In the final weeks is where you get more creative and get a one-on-one 30 minute skype session with ME, Laura Volpintesta.
Our community is private and cozy.
You can ask questions, give and get feedback, even upload photos or videos to the discussion areas.
And I can't wait to meet you.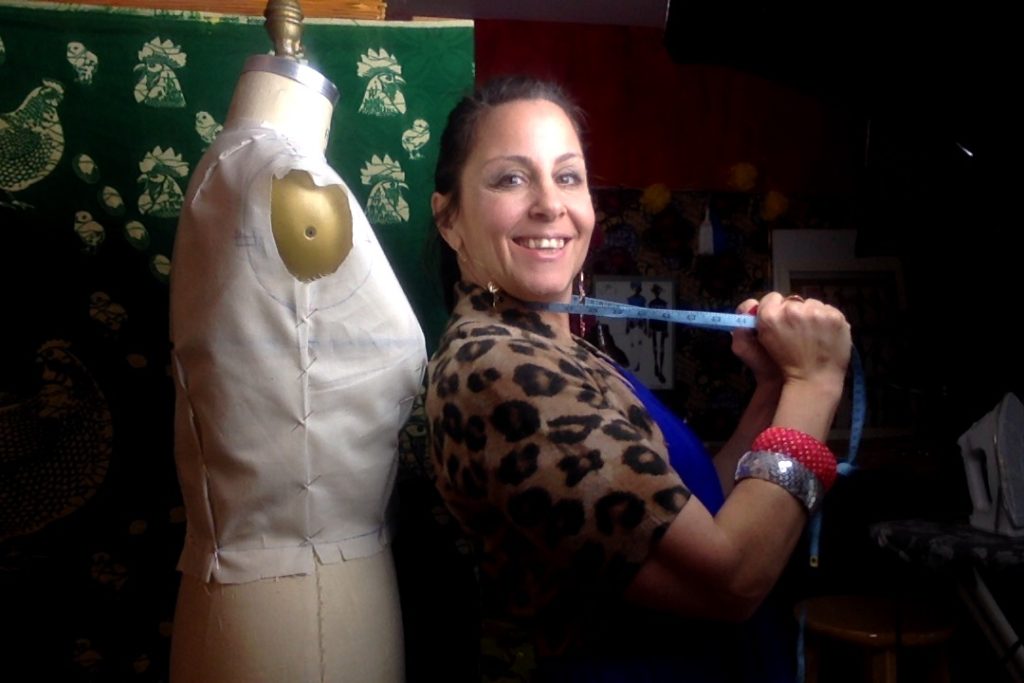 QUESTIONS?
Please email info@fashionillustrationtribe.com with any questions or concerns you may have?
Daily you can find me on https://instagram.com/LauraVolpintesta
EVERY WEEK INCLUDES
90 mins of videos- instruction of techniques and theories to be creative and techy!.
Resource links.
Real life examples of garments using the techniques.
Pattern drafts explained and demonstrated to you
Exercises/Practice/ Assignments
Discussion areas.
Information and Inspiration!
Research suggestions for design.
Cozy creative community
CLASSES GO LIVE April 1 but you can join as long as there is room and go at your own pace. SIGNUP HERE
FAQ:
I"m in a different time zone. Do I have to show up at a certain hour?
NO, you don't have to show up at a certain appointed hour, unless you schedule a SKYPE appointment with Laura.
Your lessons will "drip out" weekly. Every week is about 90 minutes of videos. Week one is the "heaviest" as we get started.
Do I have to finish everything in 8 weeks?
No.  You keep lifetime access to your lessons and videos to watch again and again.  You should schedule your SKYPE SESSION with Laura within the 8 weeks.
Do I need to sew, own a mannequin, or need a lot of space and equipment?
No. I will SHOW you some things on a mannequin, but with just a pattern wheel, rulers, your mini slopers and copy paper (plus a mechanical pencils, scissors, and tape)…. you can follow and complete all of the exercises.
Comment below if you have questions or email me! You can also signup here.
WHAT BACKGROUND DO I NEED?
Obviously there is a different learning curve if you are an absolute newbie. Some sewing experience helps even if you don't sew in the class, beause it helps you understand how garment pieces are joined together to make fashion,  but it IS NOT ESSENTIAL.you gotta start somewhere!!
I'm an Illustrator…why would I want to study patternmaking?
Understanding fashion design technically gives you a lot more detail and awareness for drawing and discussing great design.
What if I want to do menswear, childrenswear, or plus -size or one of a kind fashions? What if I want to do bags and accessories?
Patternmaking is so awesome and while this class is intensive and works around womenswear, it will give you the confidence and foundation to be able to draft and understand for any category– that is the purpose of learning these fundamentals!