What are "fashion drawing proportions" all about?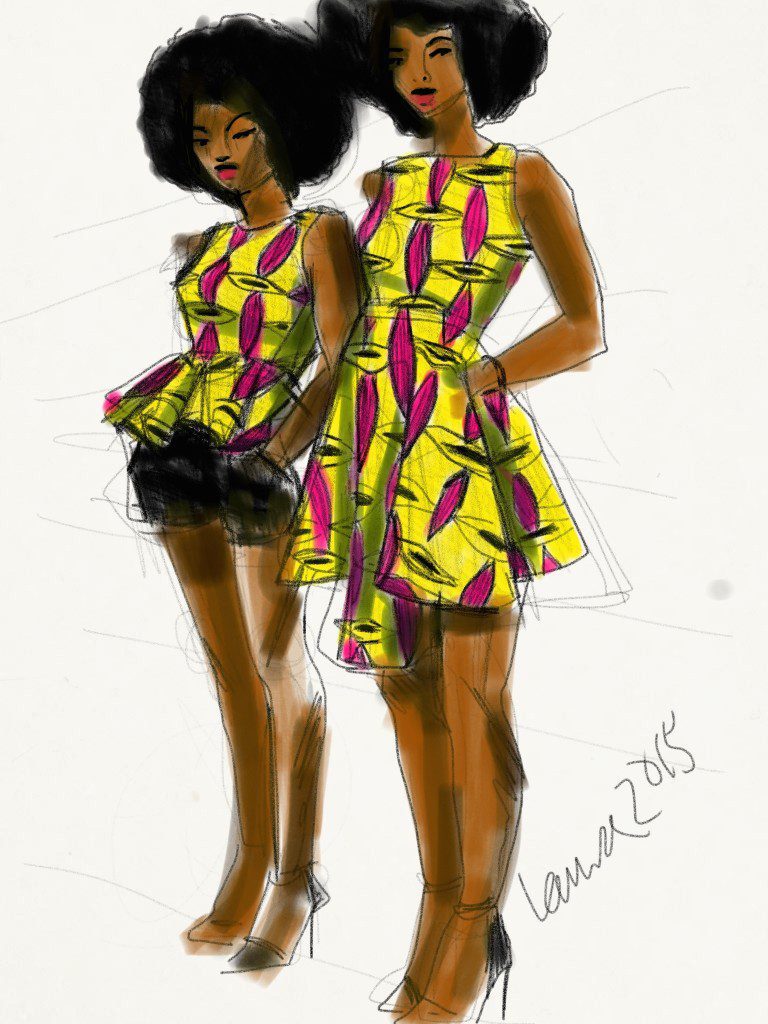 What does it mean to master proporstions for fashion drawing? 
A lot of people, especially in the old days when i was a student, believed there were rules about how much you had to lie about what a woman's body can look to be learning "fashion sketch proportions". This was your stamp of legitimacy. Extremely long, extremely lean. Inhumanely, unhumanly so.
Crazy, right?
But really, proportion simply means that we compare the size (width, length) of parts of something (fashion or otherwise) to other parts of that thing so that we can draw it accurately. Proportion is a very handy tool for any artist.
IN "FASHION" sketch proportions, it's really IMPORTANT THAT  you can represent the body/figure for any collection of design sketches with a consistent proportion. 
It's also important that your Fashion Sketch Proportions relate to the dress form you are building your garments on, and/or your ideal client/ customer/ model for the collection or pieces you are designing!
You need to be able to reproduce all of the clothing sketches on THE SAME BODY, for that group.  I have an incredible course on how to do that, including a file of models to start sketching from right away!  THERE ARE FREE TUTORIALS ON THE SALES PAGE and also, if you subscribe to my email list there is an instructional viddo to teach you how to work with proportion in your sketches. When you gain some control (practice) over creating bodies with the shape and size of the intended client, you are good as gold!
Knowing how to get a handle on proportion MAKES YOUR LIFE EASIER and more fun!
So as a tool for fashion sketching, using proportion could mean that you compare the width of the hips or shoulders to the length of the forearm or distance from waist to crotch, in order to draw that relationship accurately and exert some control over the size of all of the parts working together harmoniously and realistically..
A good understanding of how to be consistent with your proportions makes it easy to customize the body for any situation.
I use  the paper laid out with 8 or 9heads can make drawing easier, since the landmark length proportions are always there and then you can adjust them as needed.
So much of what we do in my Soulful Fashion Foundations Immersion program   focuses on anatomy, art skills, and getting a handle on Fashion sketch PROPORTIONS so that you never have to struggle with drawing a consistent, realistic, beautiful model to your own taste and style. and style.Fashion Proportions: WHY does it matter?
The fashion model or client, designer's mannequin, and fashion designer's sketch all need to work together (with the patternmaker/ draper, technical designer fitter, samplemakers, production and tech team) to make a design come to life!  IF that's your goal.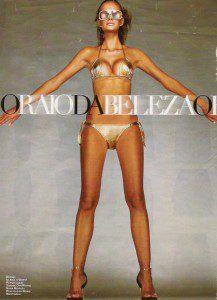 One head's length from top of head to chin, from chin to bust, from bust to waist, from waist to hip, give a realistic guideline to link the mannequin's body to the sketched model, to the patternmaker, and to my own body. These fashion proportions really work!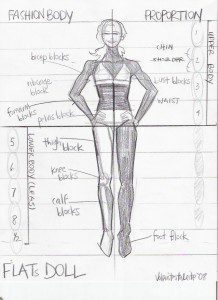 I'm sharing a few images here to reiterate and drive home that relationship between the model, the dress form, and the sketch for fashion sketch proportions.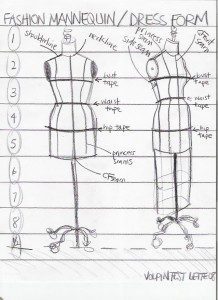 THIS CONCEPT IS NOT LIMITED TO A SINGLE BODY TYPE! It is focused toward THE BODY TYPE AND SIZE that you are designing for, PERIOD! Length proportions can work wtih any width proportions needed.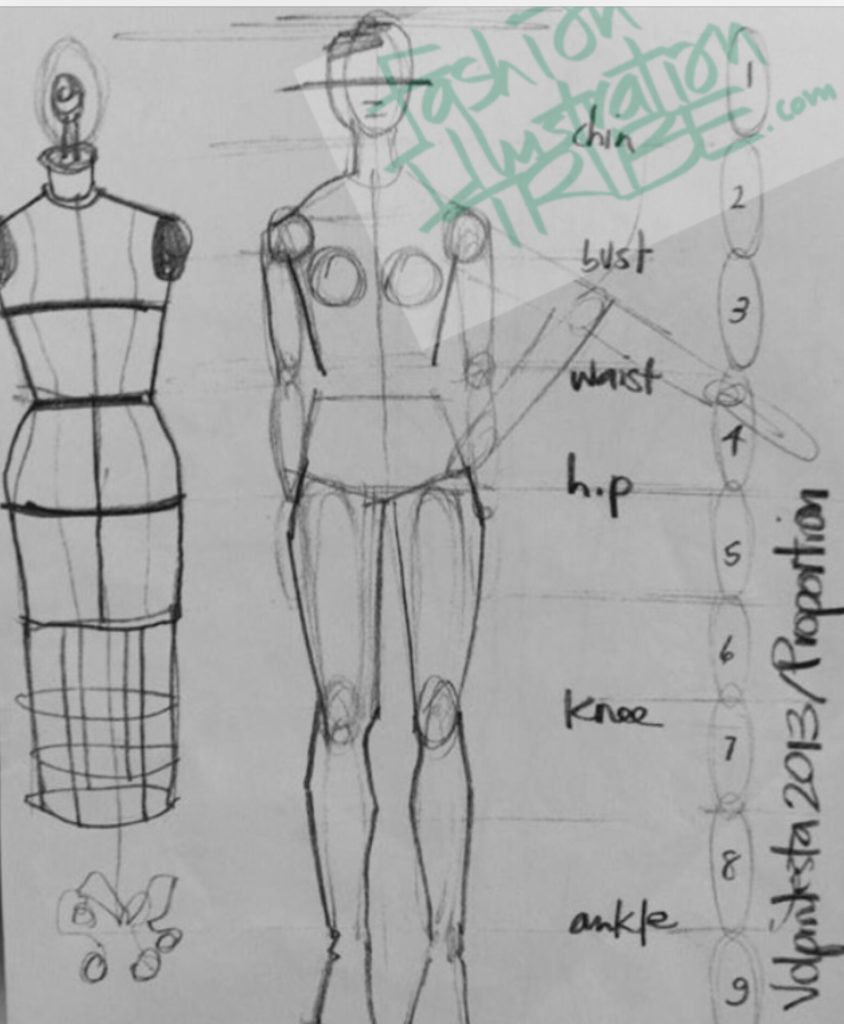 Every body is different with it's variations and it's desired fit and silhouette. Your job is to design for YOUR WOMAN your customer, your style , aesthetic and design philosophy!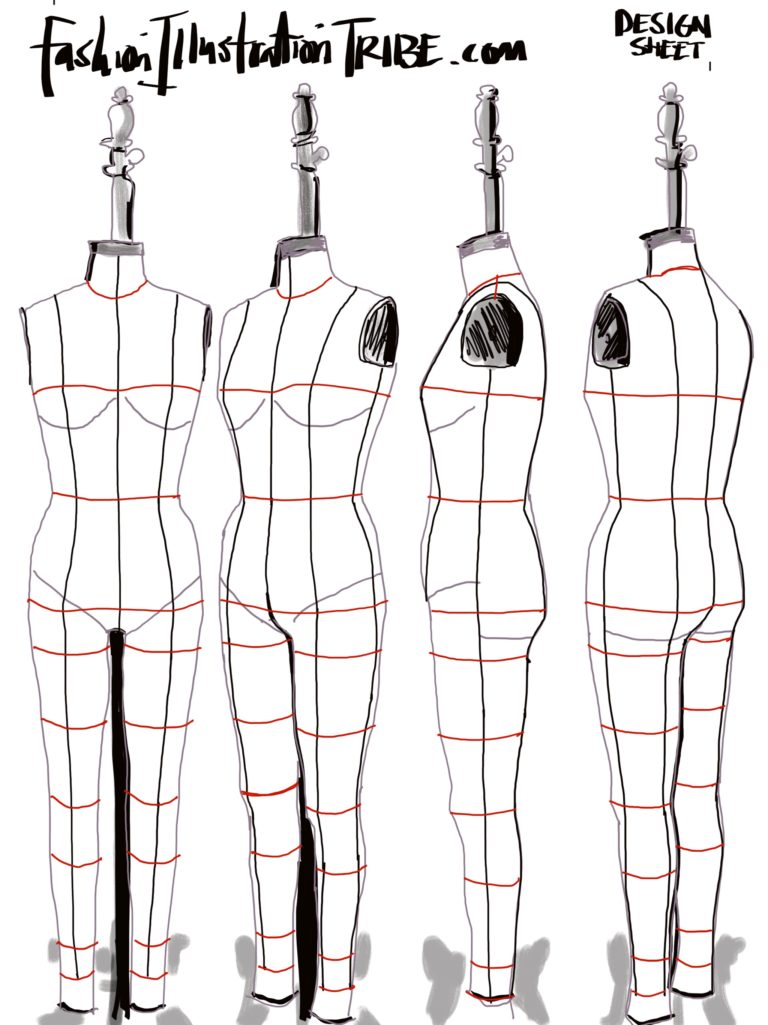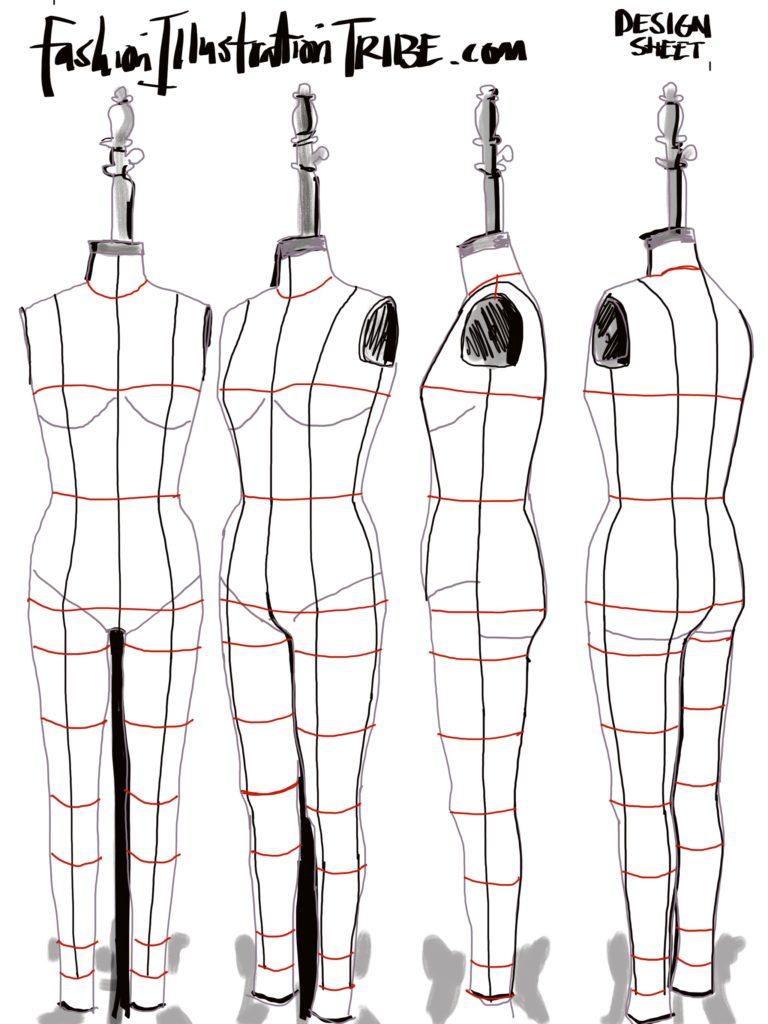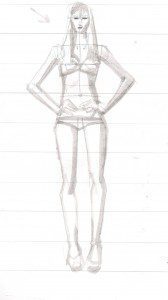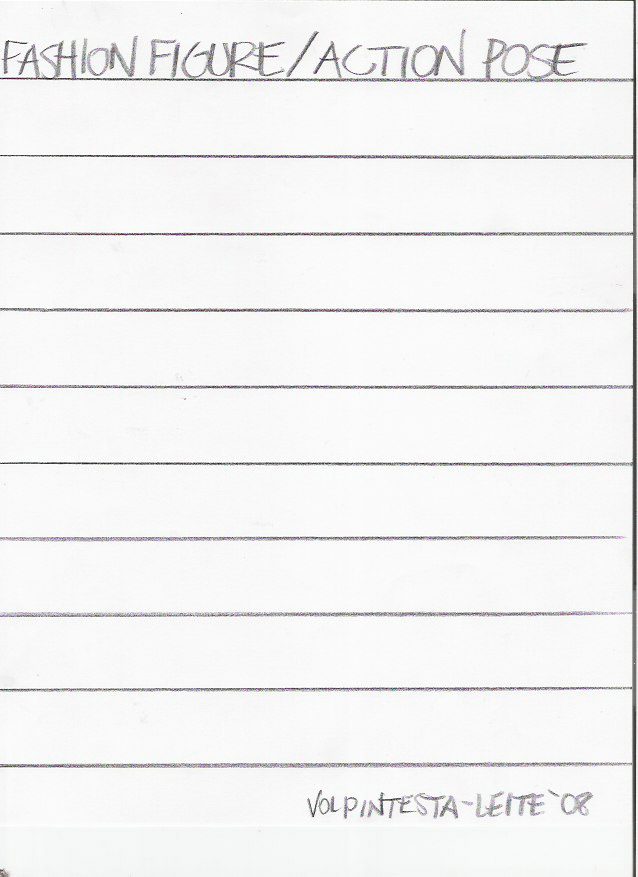 Taking a moment to compare the relationships of the size of parts of any whole (read that twice) is an incredibly useful and liberating tool for all arts!
It's objective and accurate, and tells the truth visually and quickly. How important, particularly in design.
Proportion is a tool helps us to draw what we see.
This frees us up to embellish that truth in any way that tells the story that we are trying to tell. The 8 heads fashion proportion can be manipulated to be very realistic and healthy or distorted, emaciated, or exaggerated.
When you have worked with it enough, you will know whether you are distorting or working with an actual female form that exists for your client and satisfies your artistic vision, which should improve women's lives, not oppress.
I believe that fashion functions to empower , support, and celebrate women, not work against them!!!
Once you familiarize yourself with a "standard" rule (rather, TOOL)  of  fashion sketch proportion lengths and widths, it is easy to customize it for your client, whether men's, womens, teens.
For different body types, you can adjust: a fuller bustline will hit lower, wide shoulders will be wider, narrow or wider hips are all adjustments from a basic rule.
Plus size, maternity, petite, you can create any body image using the same technique .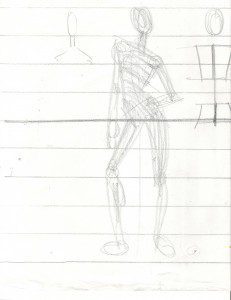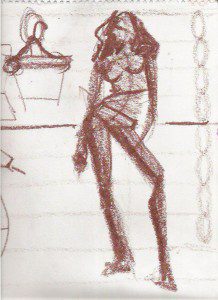 One thing you may want to do before you start fashion sketching is collect head-to-toe images of models you love…. in clothes you love.., or (ideally in leotards or swimwear), with poses you love.  
My MODEL DRAWING MAGIC program includes a vast, curated library/ vault of posed figures in leotards and fashion garments to sketch from. Make sure these images are head-to-toe images (like the one I included in this post in the bronze bikini), and that they aren't the red-carpet kind that have been photographed from above so that the model's head looks huge and the body and legs compressed (PROPORTION NIGHTMARE DUE TO PERSPECTIVE!!!).  Good fashion photos are taken from straight on or below. I have a small file of fashion model poses and figures here on the site , including plus size figures, that you can start sketching from right away!!! Just click on the image to enlarge it, then start drawing! 
Or sketch from my Pinterest board of models and poses, it's an excellent resource! 
FASHION SKETCH GROUP is my weekly online zoom live fashion sketching community experience with music, gorgeous images, comeraderie and a playful, adventurous spirit.
You can also check out my Plus Size fashion pinterest board to find a figure you want to sketch from!