How about Creative Fashion Sketching in Instagram Stories?
Let's party, shall we????? Start creative fashion sketching in Instagram Stories today.
(In honor of my eveningwear online class "Fabric and Flow", …)
Let's create party dresses! I've got more tools for you, read on!
(for background information about the exact tools I use to create a post like the ones below for Creative Fashion Sketching in Instagram Stories, visit this POST all about Instagram Stories TOOLS)
This is something you can do in your iPad, Iphone, or touch phone/ tablet!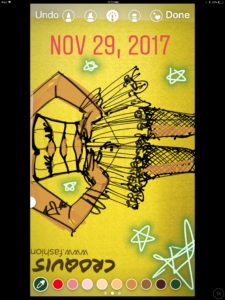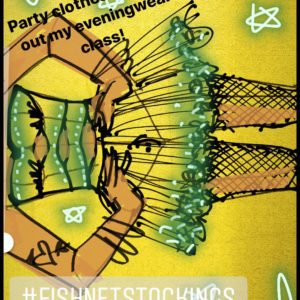 Below, i've included one of the fashion design croquis templates for fashion sketching that you get when you subscribe here at FashionIllustrationTribe..com.
It's in the "100 Fashion Design Inspiration Prompts" ebook. 
And you can screen shot it in your phone today as -is, and pull it right up into your instagram stories today to start designing any kind of design ideas!
In fact,
All of the sketches in today's blog post were sketched USING the same croquis fashion design template!
Can you tell?
When I started to discover and explore the art tools and digital painting tools inside of Instagram Stories, hum!
I realized I could do creative fashion sketching in instagram stories.  I've beenfalling in love with freehand sketching with the digital drawing and painting tools inside various art apps. Now i realized Instagram stories has a pretty wide set of tools for improvisation on the fly.
How cool is that?
See, it was holiday time
AND I had just launched my Form and Flow: my Eveningwear Fashion Design and Sketching online course.
So then I thought: let's have a challenge!
I took a photo of the fashion croquis figure template ( the ebook includes plus size templates too. For more templates, check here) and uploaded it my Instagram story so I could sketch straight on top of it.. I called it "decorating the me " instead of "decorating the tree". #decoratingtheme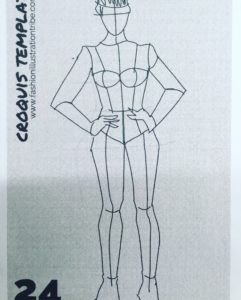 Creative fashion sketching in instagram stories is easy
Once you are familiar with the tools and have the fashion croquis in your story.
Then I decided to start dressing that doll. Unfortunately, i didn't save all of them (and some were lost).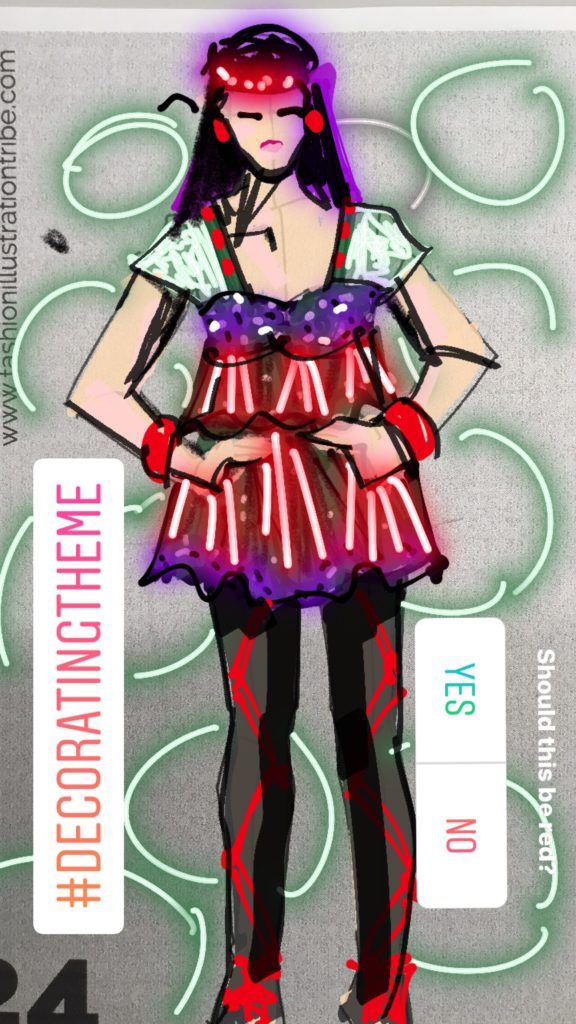 But here are some that I saved! NOTICE HOW I sketched right over the croquis template. Can you tell?
You see that's how a template can be fun.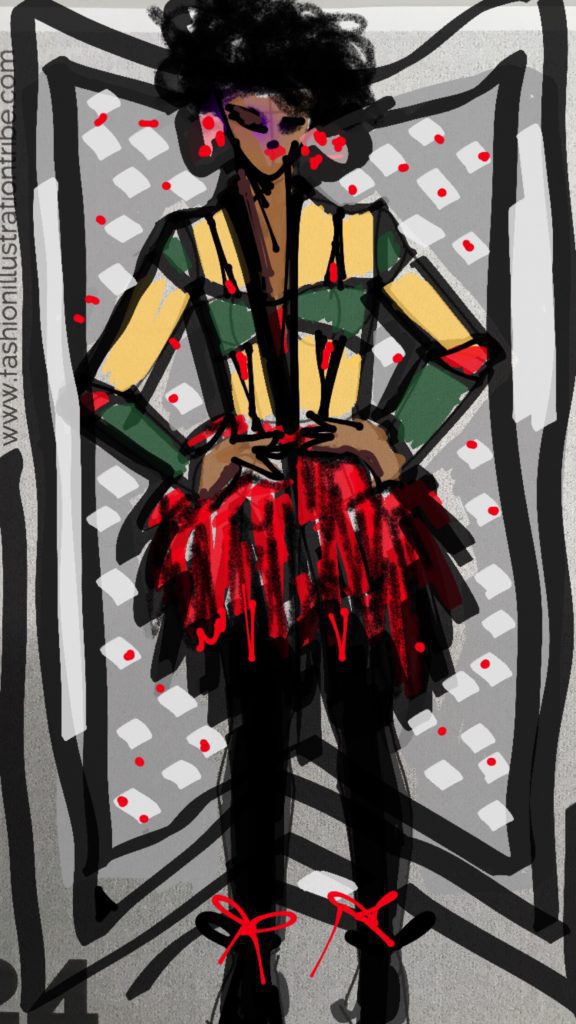 Since body is already there you just design or draw over it. It's a great way to stop worrying for a minute about Fashion Model Drawing and just focus on the clothes and effects.
Here's another one I came up with while playing in the app: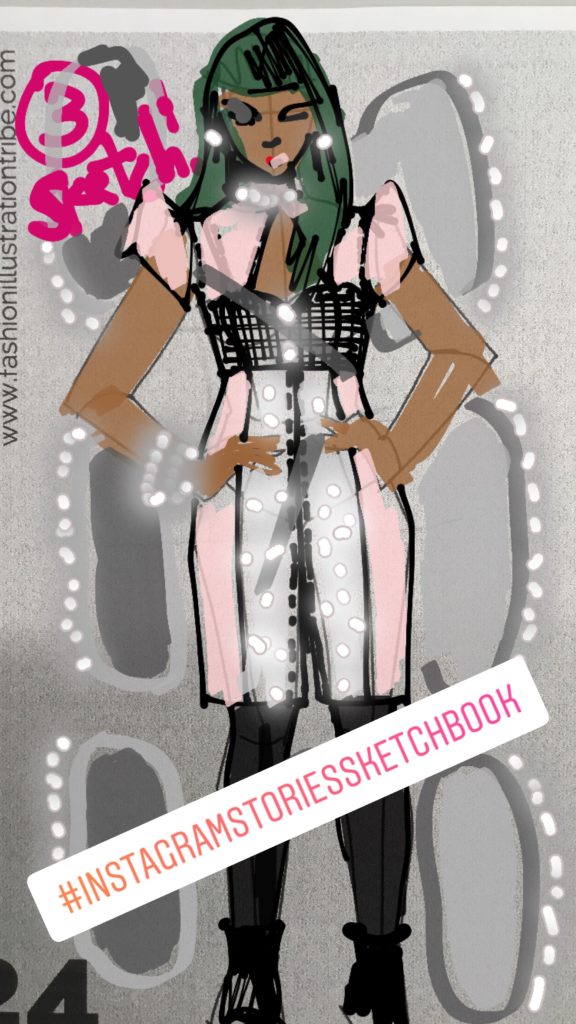 Notice I was also able to add a poll and a hashtag sticker. It was really fun! Adding hashtags makes the post visible to more people. It also makes it searchable within communities or topics.
I can't wait to see what creative ideas
you will come up with!
Don't worry: you can play around and delete or screen shot your work if you're feeling shy.
But don't be shy, we're here to play and express… please share your work, and tag me!! :0)
MAKE SURE YOU CHECK OUT THIS POST to get familiar with all fo the art/ digital painting tools!
If this is your first digital fashion drawing
you may find that you want to learn a real art app for an even wider range of tools. You can do that right here in my course and in various articles around the blog and on my youtube channel: LauraVolpintesta
ON the day I created these, I was also able to livestream a video demonstration of my technique into my story as well. Make sure you follow me on instagram so we can stay connected. You can catch future livestreams on there! It's my favorite place to be and connect on social media.
I hope you'll enjoy the sparkle
of this experience!  Just go freely and explore shapes, or get all serious-ish about designing some party dresses.
If it helps, for creative fashion design I  recommend:
First work with the shape of the clothes or outline using the pen tool
Pick a skin tone for the face and limbs, add tone
Then add a hairstyle shape, color in
Color in the clothes
Add patterns or prints
Add seamlines or stitchlines
Play with creating a great background
Finally, I took advantage of the sparkle/ electric tool for high shine and sequin feeling.
Review the tools here.
Creative Fashion sketching in Instagram Stories
Is so fun! I really enjoyed taking these "simple" digital painting tools and then stretching them as far as I could to improvise.
THere is nothing quite so fun as creating designs and fashions in the moment for the sheer fun of it.
Also notice how adding a background really contributes to the drama of each sketch.
(So does the additions of stickers, labels or text)
have fun with different layouts to make a composition of the page that feels dynamic to YOU.
Or balanced,
Or serene,.
Whatever that mood is that YOU want to express today in YOUR instagram stories.
Guess what?
You don't have to share you experiments unless you want to so just go and play around!
And if you DO post them, please tag me @lauravopintesta or use the hashtag #instagramstoriessketchbook or #decoratingtheme.
I would be so thrilled to see what you are coming up with since we all have such unique styles.
PLease , share your voice, your point of view, your hunor, your style with me.
Comment below if you think you'll participate or have any questions!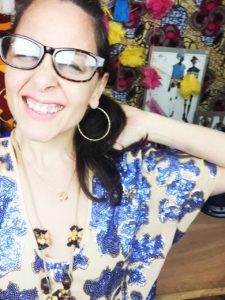 Love, Laura