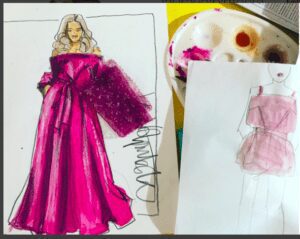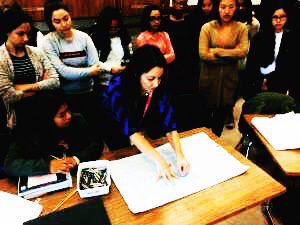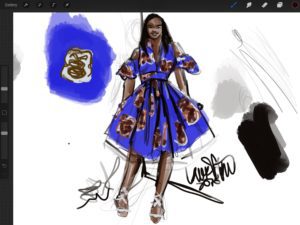 In my 20 years teaching  fashion design and fashion illustration, I always found two distinct  kinds of fashion students.
There are the  ones who like to design ready-to-wear, or street clothes, athletic, outerwear, weekend wear, casual, "ladies-who-lunch", whatever….
AND THERE ARE THOSE WHO LOVE EVENINGWEAR!
Bridal, red-carpet, evening gowns, or even club-clothes…… single pieces or separates, but the important thing is that these clothes are EXTRA SPECIAL.
They usually are shiny, or textured, or beaded, or feature extra-interesting fabric embellishments or trims, or very sculpted shapes. They are usually as interesting for the back as they are from the front. Stuff like that!
MY EVENINGWEAR DESIGN ILLUSTRATION COURSE gives you 5 hours of instruction, lessons, plus creative projects and exercises..
You can sign up TODAY and get started! Click below OR visit the COURSES tab in my header to see my other course offerings!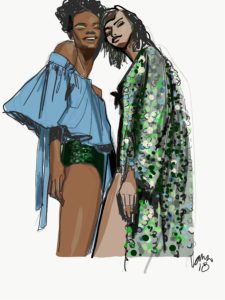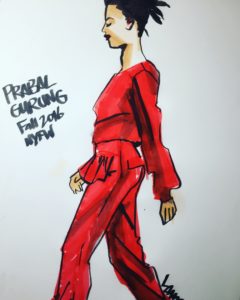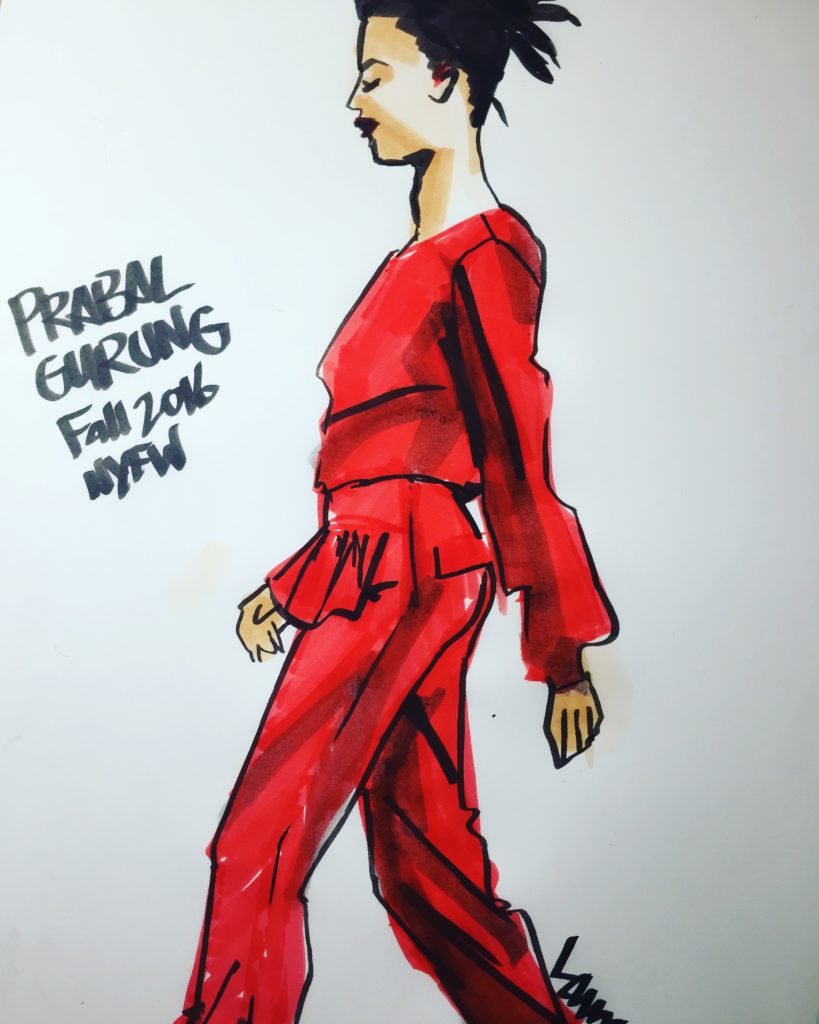 It's called "Form and Flow", and as usual, it isn't a course that is purely about illustration.
Yes, it focuses on art supplies ( both digital ones and analog ones like markers, paint), because Fabric Rendering was the point of creating it.
We focus on illustration, drama, details.
But you'll also get to explore your own designs and techniques in the adventurous spirit that Fashion Tribalistas have!
In my Eveningwear Design and Illustration course, you'll walk with me through my biggest tips to using tools from watercolor, to iPad/andoird apps, and markers, to understand the "universal truths" about capturing textures and fabrics.
How do you show shine and bling?
What makes fur or velvet come to life on paper?
What tips can use to bring fabric types, silhouettes, gathers and pleats to life on paper?
Yep, all of that.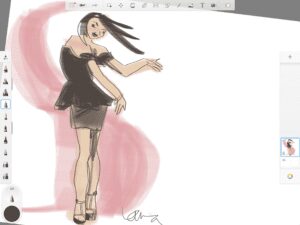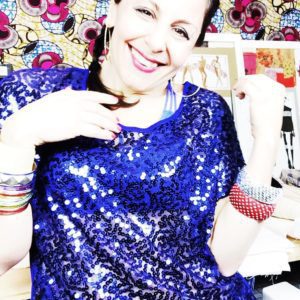 What if you could "get inside my head" and studio and learn what strategies I use to approach different shapes, textures, colors and designs?
And then got to apply those strategies yourself to YOUR practice and come up with some fresh design sketches????
You can also ask questions and share your sketches in the private course group.
Remember that all levels, styles, body types, and points of view are encouraged and welcome here.
You can sign up here for limited time discount- ($777 value) for lifetime access and 4 weeks of support access to me :0) while you complete each video and assignment.  Here are some samples of my evening wear sketches: THE ONES we do in the class aren't here…. I want to surprise you. Satin, fur, feathers, velvet, taffeta, …….
Digital: (iPAD/ ANDROID APPS FOR DRAWING)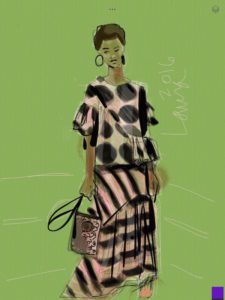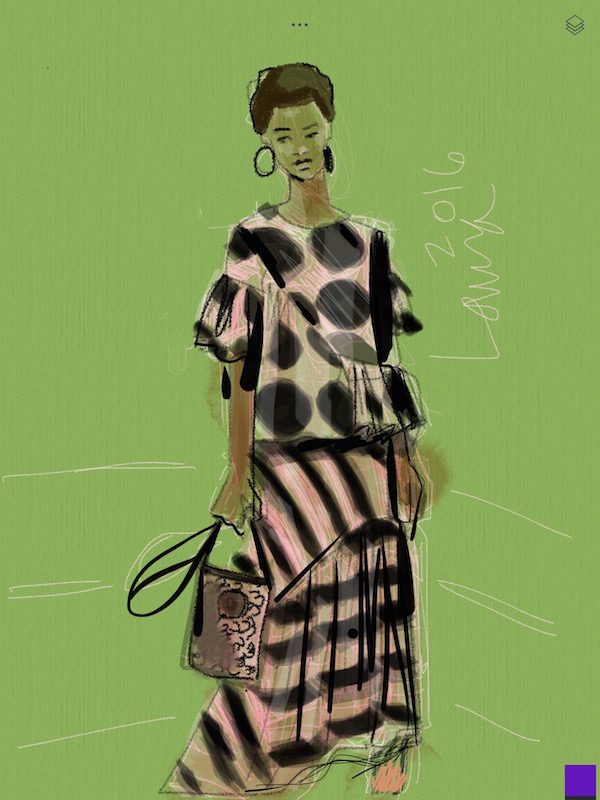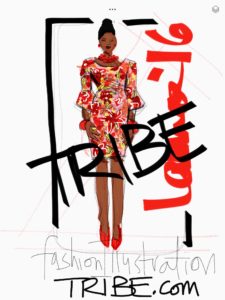 FASHION ILLUSTRATION USING  MARKER TECHNIQUES AND TIPS: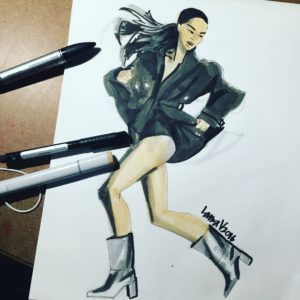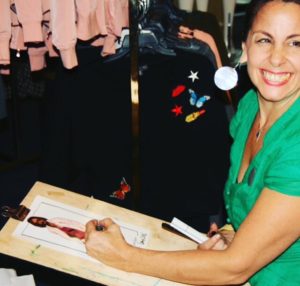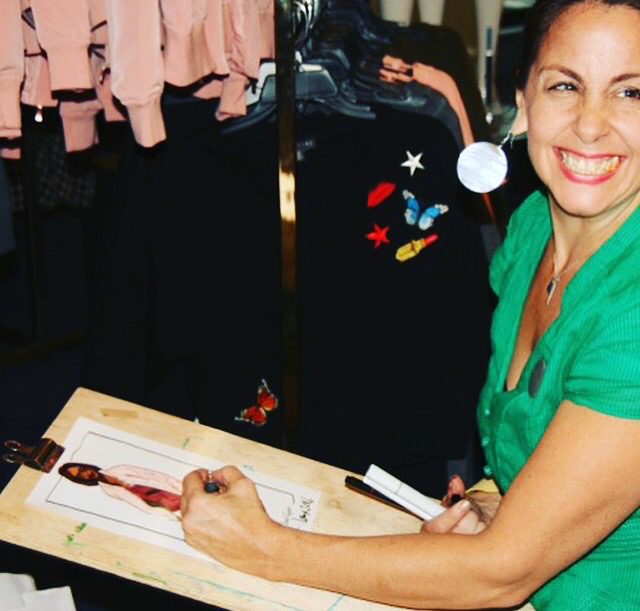 You'll learn my techniques to create FASHION ILLUSTRATION AND DESIGN IN GOUACHE AND WATERCOLOR: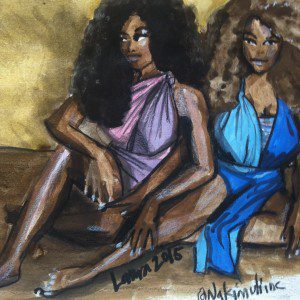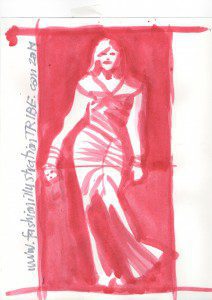 (CROQUIS DEVELOPMENT SKETCHES)
and exploration versus final illustrations, to work out your original ideas.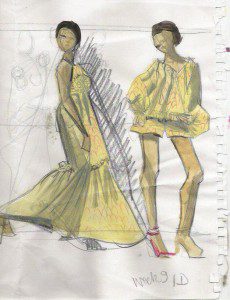 Remember that this evening wear module is a part of my COMPLETE program that takes you from beginner model drawing to designing swimwear, summer collection, winter and evening wear collections to build your portfolio.
All of my courses are inspired by my students for 20 years at Parsons School of Design in NYC where I'm an assistant professor of Fashion and creator of their very first online fashion studio course!
Let's get down to business and pleasure! Sign up today!
see you there,
Laura