Choosing Fashion Fabrics for Design Collections
(VIDEO lesson enclosed)

Above, a fabric board inspiring a design collection before sketching. Every designer has their own aesthetic, voice and style. I tend to lean towards colors, textures and prints that are vivid , but your own sensibility could be radically different. ..
What I know for sure after working with thousands of students is that each one of us has our unique sensibility of colors and fabrics . I love discovering this unique voice in each designer and student and helping to draw it out into the world!
Below, see results of design sketching using these fabrics.
finished illustrated designs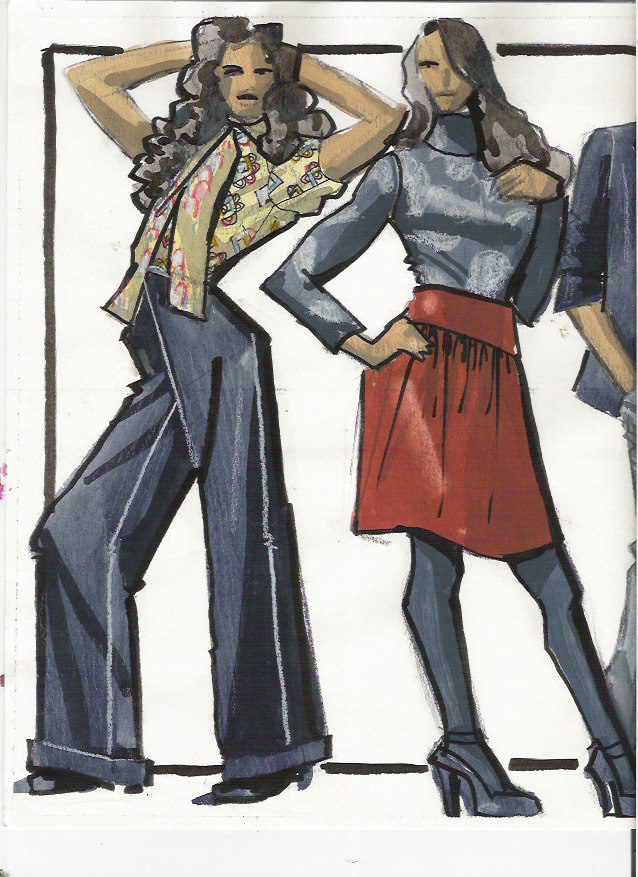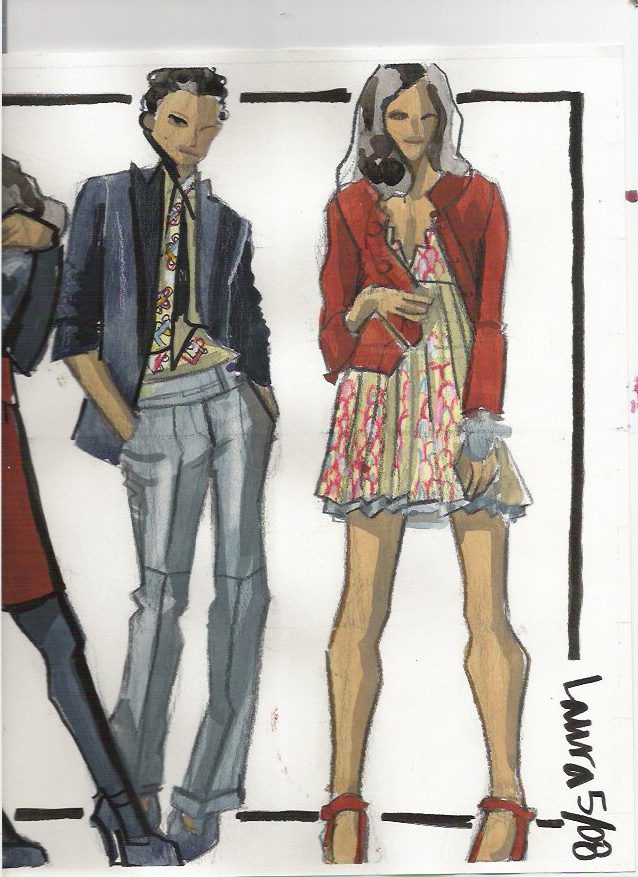 croquis/ quick sketches
Below, a torn page from a croquis book/ sketchbook working with the exact prints and colors from that fabric board, beginning to feel into themes, fabrics and colors to take shape from the initial fabric swatches based on their feel, their drape, and of course, their color and pattern.

Fabric boards including fashion images (these two belowshow just one, but you can add many) bring together clues and focus around silhouettes, lifestyle, location or add information about the customer to the sketching process.)
fabric boards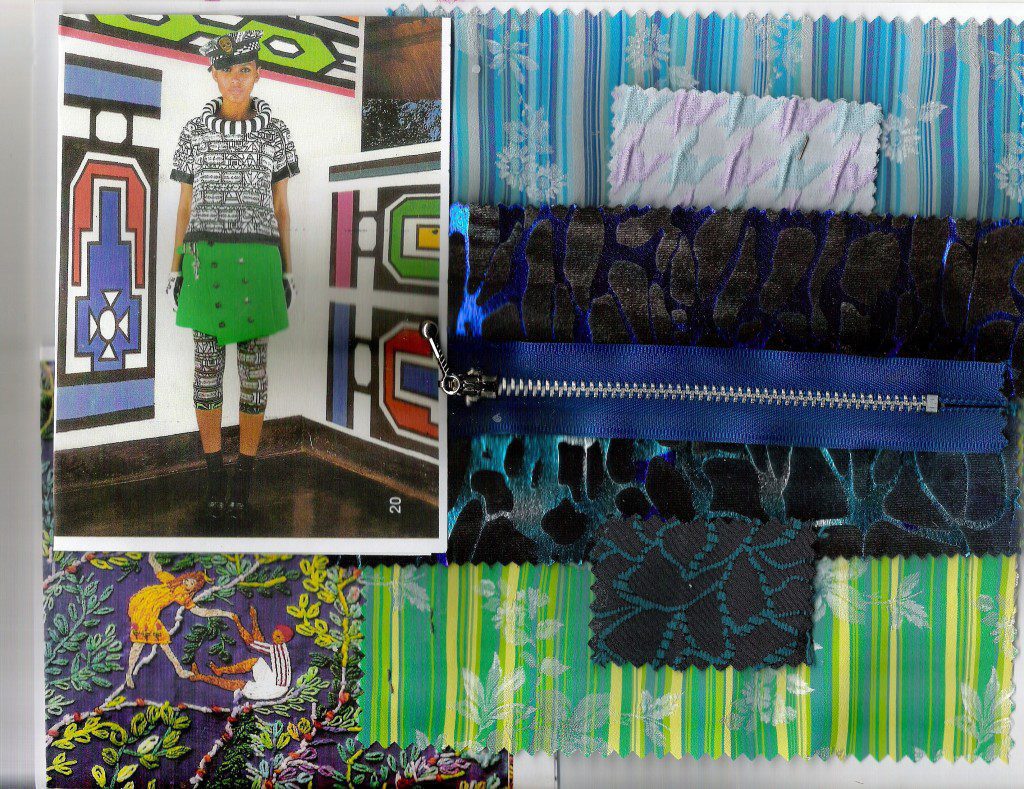 Another board including fashion clothing plus swatches: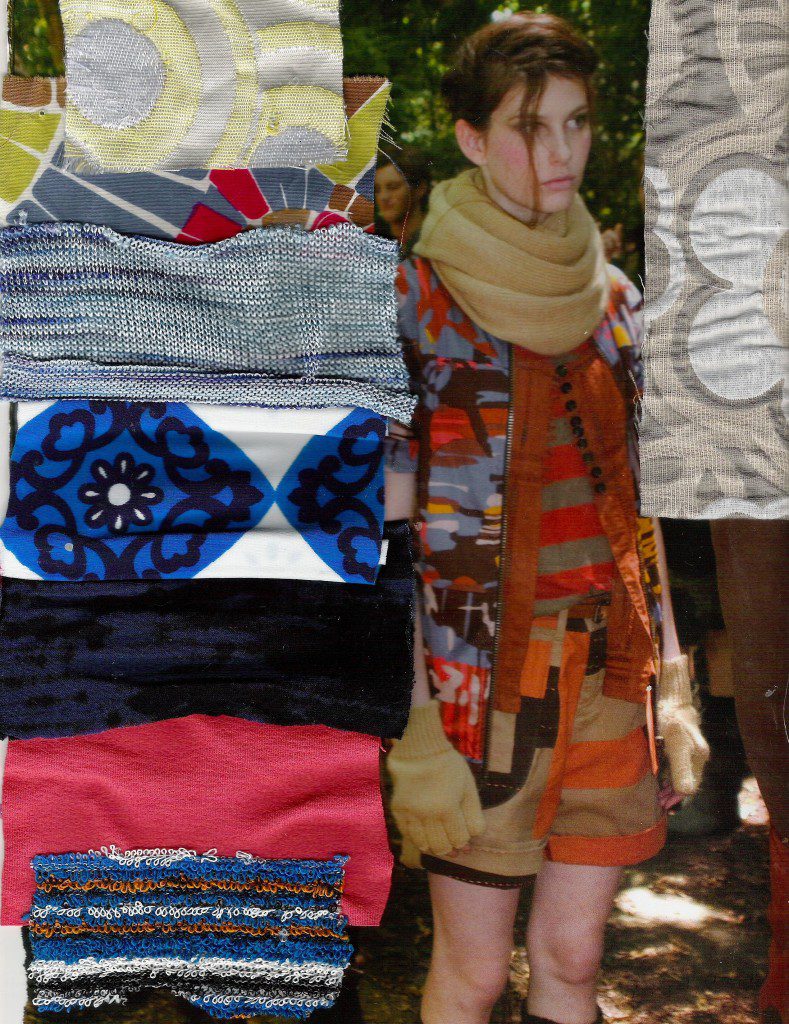 Collecting fabric swatches is a fantastic, and important way to build your knowledge of fabric names and qualities, and also to hone your sense of what appeals to your design vision and which fabrics feel irrelevant to you. Even my students age 11 or so- it's so obvious that we have our own tast and are drawn to cetain styles. IT'S NATURAL BORN within each artist individual!
video tutorial/ lecture:
This vlog tutorial/lecture on Fashion Fabrics takes you to the next step from my last post where we prepared a group of fashion croquis in our sketchbook in order to develop a unique concept group of dresses. We traced the garments onto figures that we developed in earlier vidoes. And if you reference this pinterest board of mine, it is full of fashion model images that you can sketch from to create your own figures for designing on. I also have a Plus size collection of poses!
ps……..You can learn ALL ABOUT THIS in SWATCHES TO GOUACHE online course! (get started FREE with MORE tutorials on that sales page) Design and sketch your own collectons in gouache and get guidance and feedback from me step -by-step- and uncover your unique style through the process!
Here's what you'll learn in today's free video lesson:
my preferred method for presenting fabric swatches as an individual fabric board
how fabric choice figures in to your design process
how I chose fabrics for this particular fashion concept group
a brief textiles intro that describes some textile terms: jacquard, lurex, stretch, jersey, iridescent, pastel, chiffon, print, taffeta
fashion fabric selection:
Remember, I urge you again, ALWAYS SELECT YOUR FABRICS FIRST before you delve deep into sketching.!!! Your fabric is your raw material….there is no collection of clothes, in fact there are no clothes at all, without fabrics to make them in!
click on the fabric board thumbnails below to see them in detail and texture.
This group includes rayons and cottons, lightweight for summer. including an EnglishWax print at the bottom of the board. I like these kinds of rhythmic, geometric patterns and African prints, bold yet neutral at the same time: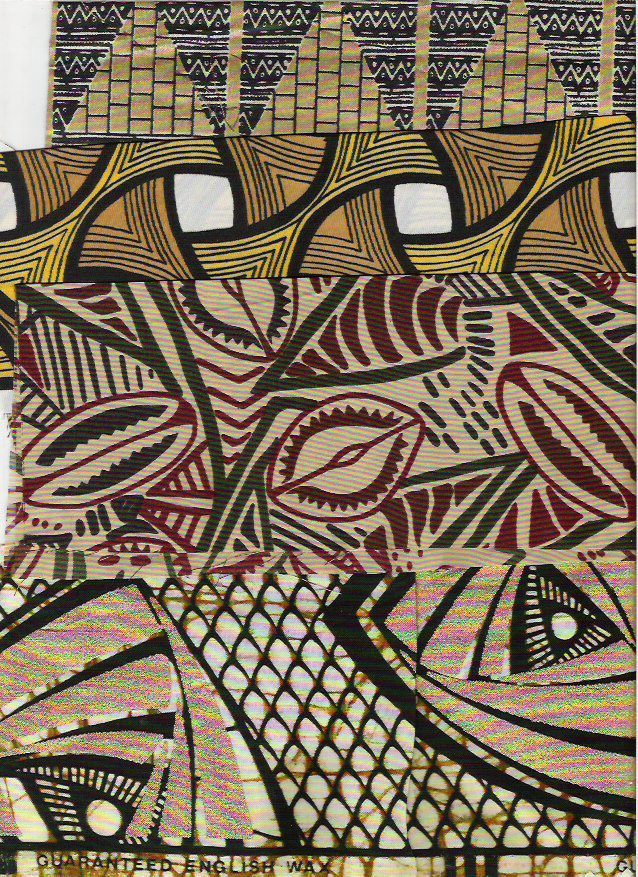 This selection below also includes African print, plus a double sided leather featuring a leopard print on both sides which adds to the design possiblities! I'll include some of my sketches below that.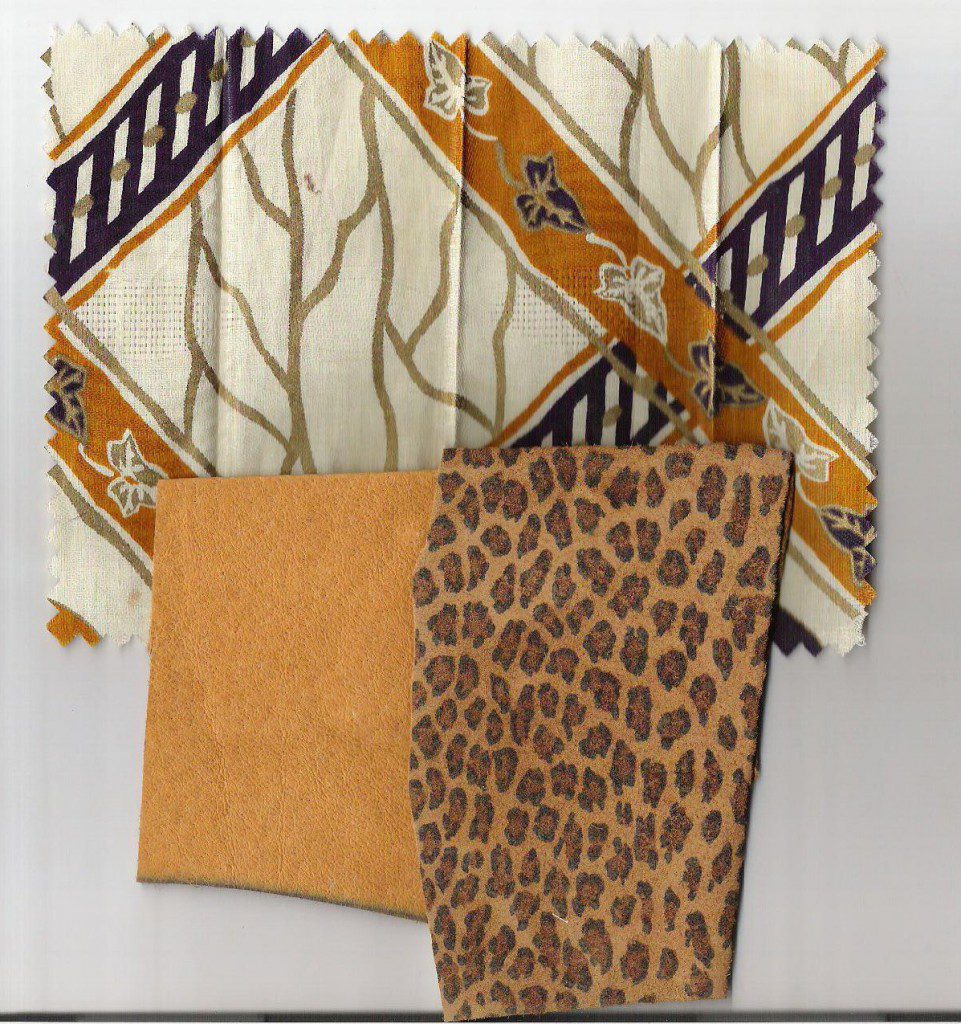 quick gouache sketches using the fabric :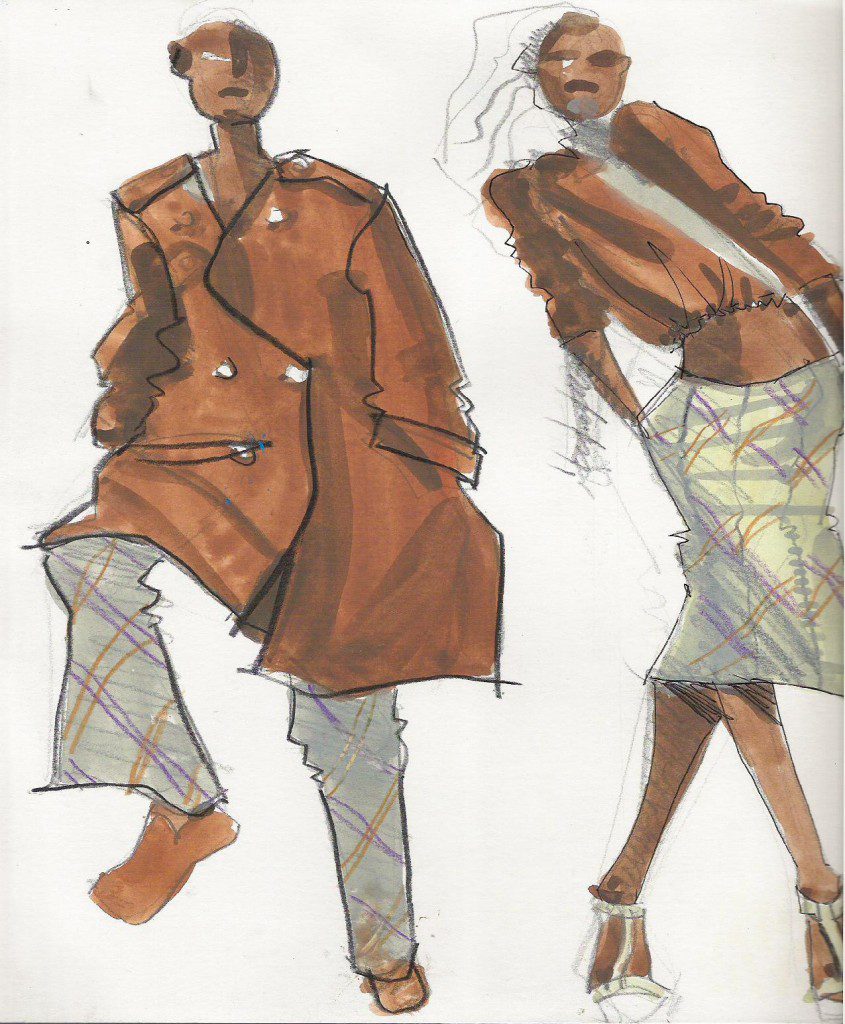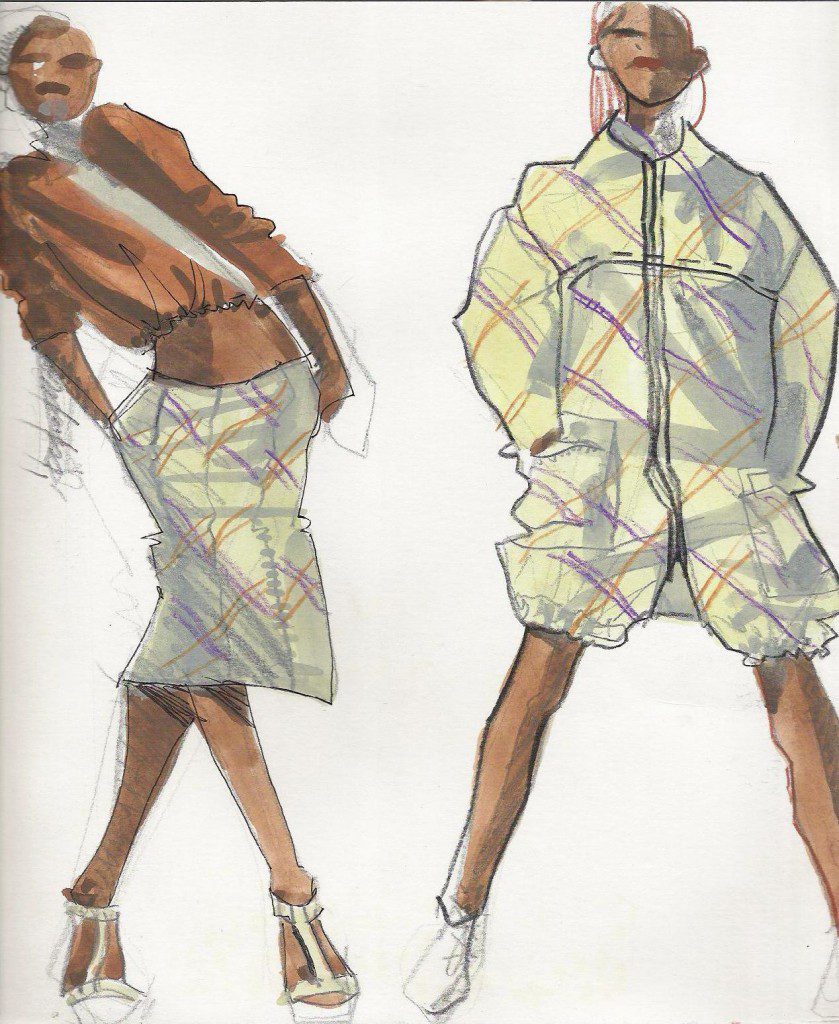 Another fabric concept group using leather, African prints, wax prints, bazin, lurex weave, metallic embossed cotton woven and metallic printed nylon lycra…..: (illustration below the swatch board)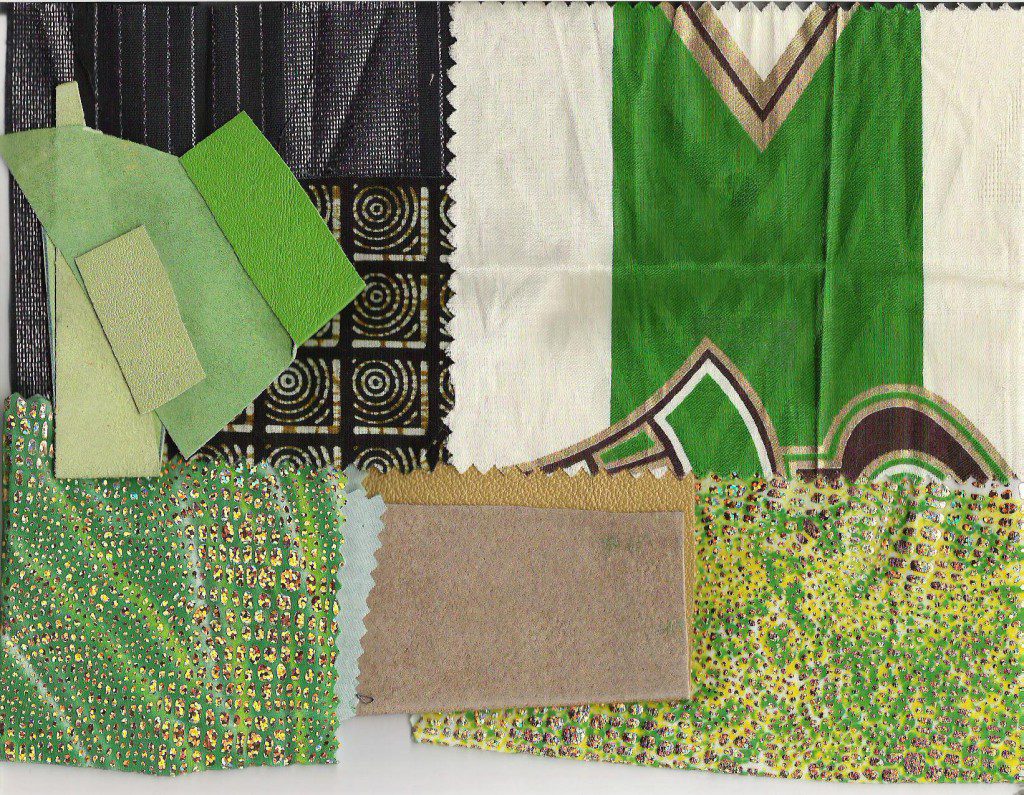 rendering prints
to get a feel for the patterns and colors playing into different pieces, silhouettes and shapes. HAVE FUN WITH IT! Play, enjoy yourself as you explore and feel into your ideas and expressions. THIS IS THE POINT!
Here is another fabric group: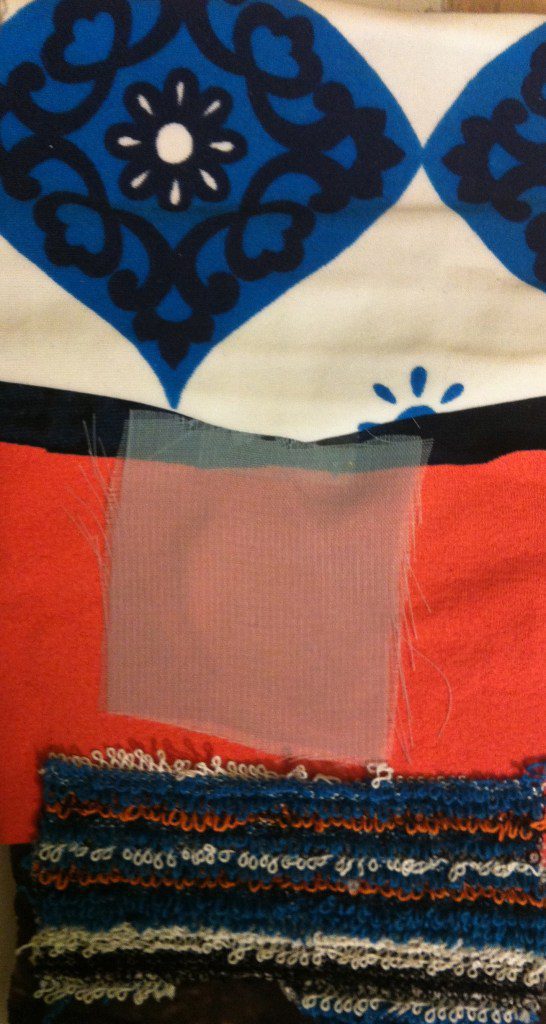 Plus gouache fashion sketches using those same fabrics: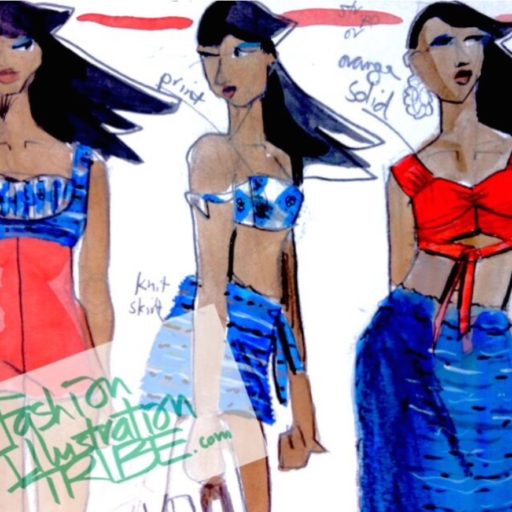 patterned fabric colorways
below you'll see examples of prints and other patterns in different "COLORWAYS". This is when a single pattern gets different color palettes "plugged into" each part of a print, either the same palette moved into different color positions, OR different colors altogether.
***I WANT YOU TO NOTICE HOW RADICALLY DIFFERENT EACH SWATCH LOOKS AND FEELS EVEN THOUGH THE ACTUAL PRINT IS THE SAME PATTERN ONLY WITH DIFFERENT COLORS PLACED INTO THE SHAPES*** it's quite fascinating. (This is something we discuss more in depth in my upcoming COLOR AND DESIGN THEORY course.)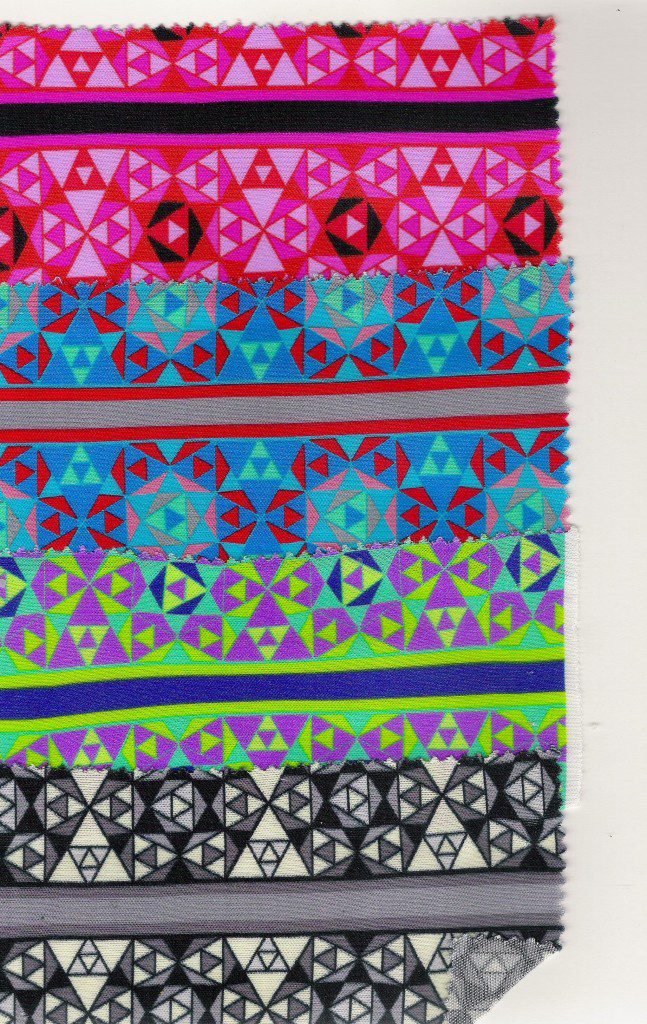 woven pattern colorways
In this example below, it's the same situation where the same pattern is getting filled with different colors for different effects. However instead of being a printed silk knit like the example ABOVE, this fabric swatch group below is shows WOVEN patterns. Amazing, right? Instead of printing onto flat fabric, each yarn in the weave is a different color in a complex process.
when choosing your fashion fabrics and colors:
Select and present your fashion fabrics at the beginning of any book-style presentation like a fashion portfolio so that your audience knows exactly what you are working with when viewing your group. (Don't place your fabrics on the last page of a portfolio story or lookbook. Set the fabric before the viewer FIRST).
Remember to consider various intentional fabric weights/qualities in your fashion design fabric selections. For example: is there a weight appropriate for a pant? A different weight better for a shirt? For under layers? Or for outerwear? For pairing with other garments for a particular season? A particular fabric weight for suiting, for dresses?
building a swatch collection
*****TIP: Collect as many swatches of fabric as you can from as many sources as you can, so that you can access and touch a range of textures and qualities and pair them up in different combinations to discover your personal taste and style. FABRSCRAP.ORG swatch packs are my recommendation for starting to develop this relationship with fabrics in your hand. Other ways to learn fabric are shopping stores and reading the labels, fabric store swatching or buying pieces of fabrics you love, and collecting vintage sample garments and studying the fabric.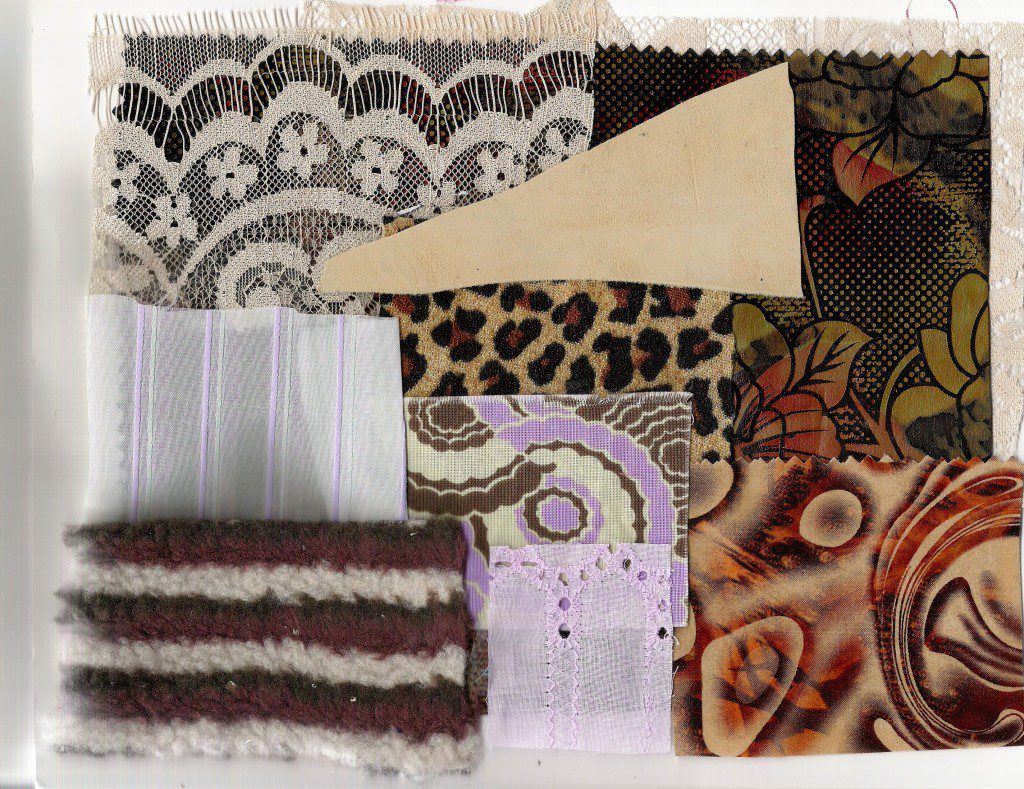 fabric cost and quality
Cost or quality considerations are important in fashion design. Is it a "cheap", "economical", "luxurious" or "fine" fabric— is it a natural or synthetic? How is it cleaned or cared for, how durable or functional is it, and is it sustainably produced or recycled/recyclable? All of these considerations speak about your brand. Remember that all fabrics come from somewhere and end up somewhere…. I recommend learning as much as possible about the origins and destinations of the materials we create, use and dispose of. REGENERATIVE FARMING and systems are KEY!
More vlogs are on the way in this series, so stay tuned by subscribing for email updates for more FREE tutorials, tips, and tricks!
Don't forget that my course packages offer introductory or intensive comprehensive fashion portfolio development from the ground up!
Please share with your fashion community if you find these helpful and interesting! I'd love to know how this article supported you!
LOVE,