(6 minute video below of my current favorite fashion illustration app!!)
Gouache and pencils make up my classic, favorite fashion illustration tools. Adobe Draw app for fashion illustration mimics these pretty beautifully, as you 'll see in today's video.
Get the full download of my ABOUT FACES online course to learn 3 apps and 3 angles of the face AT YOUR PACE with lifetime access starting today!
Now, what do you do if you are on the run? What do you do if you need to resize images to large printed hi-res vector images? How about if you have toddlers or cats or a small space, but want to paint and create anytime, anywhere? What if your photos of your illustrations look dark and cloudy, but you want to share on social media with clarity and brilliance? WHAT IF YOU CAN'T STOP DRAWING AND CAN'T LIVE WITHOUT IT?
Then you use a fashion illustration app.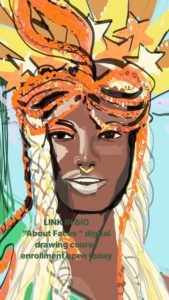 Who's looking for an app I know so many of you are, and if you aren't you should be!
No, you don't "have to go digital". You don't "have to" do anything!
But wow, I was someone who really resisted and didn't like digital art. Because I am so in love with all things hand-hewn and earthy, digital art gave me a flat cold feeling in my gut that I couldn't deny.
Yes, I still think that live models and natural analog art supplies like graphite and gouache are irreplaceable by any fashion illustration app. Why? They are such physical, deep experiences that involve your entire body and mind in the experience.
BUT once you've made those discoveries there, it's so THRILLING to transfer them onto your ipad.
Just watch, as it opens up a whole new dimension and world for you. You know it's true. And if you don't know it's true, you are about to find out!!!

using new art supplies
always, always ALWAYS opens up new possiblities. It gets you out of your ruts and helps you find new edges of your expressive possibilities.
In all of my Parsons Fashion and private online courses from digital drawing to model drawing and design illustration, I always take students through different media. It's for this reason.
When fashion creatives go searching for a fashion illustration app, they may find something like Pret A Template. This is a cool app that has croquis templates that you can sketch on, but it really doesn't have a nice sketching ability as far as the tools go.
While no fashion illustration app teaches you to DRAW (that I know of), you want an app that can give you what your traditional supplies gave you and more.
So among several top apps that I love, today I offer you the ADOBE DRAW experience.
gouache and pencilsmean creamy, expressive, brilliant color
In today's video, I'll show you how I mimic the effects of gouache and pencils using Adobe Draw App in my iPad Pro. I also know that this wonderful app works just as well in iPad Mini which is where I made all of my first adventures into the world of digital fashion illustration app.
I'll show you how to select a colored background, and how I create shadow, highlight, and base tones in a bonus minute at the end on color selection.
ABOUT FACES online course covers all of this in more depth!

If you still fill like Adobe Draw is too smooth and neat to use for you fashion illustrations…
Don't worry, I'm a virgo Earth sign, so I understand.
You can get gritty textured colored papers and bleedy, runny watercolors, crumbly colored pencils and more in Tayasui Sketches app so you can try them out too! Just remember that Tayasui doesn't print as large because it's not a vector image app.
Also check out ISKN's imagink app for lush rice papers (but no watercolor tool- only pastel)
or Adobe Photoshop sketch app.
a fashion illustration app
Should mimic your favorite art supplies. Bonuses? you can generate timelapse videos of your process. You can "erase" what you've painted if there's something you don't like. YOu can work with layers…. colors are easy to mix! Guess what else? your pencils and paints never run out…. and take up no space at all. It's actually very economical and environmental. You have access to every color, and the fashion illustration app itself is $5!!! (with a free Adobe ID account).
needs to fit you like a dress, like a shoe. It also needs to fit the situtation you're using it for. So experiment if you need to so you can use the right fashion illustration app for your needs at any time!
love always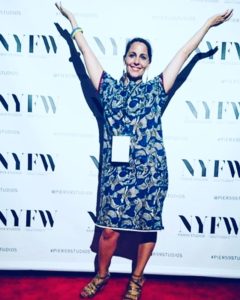 |about laura volpintesta booklet PRINT|
Laura Volpintesta, founder and course creator, fashion educator, author and Assistant Professor of Fashion Design at Parsons the New Schoool for Design
COURSES and PROGRAMS
Model Magic model drawing online course
About Faces online digital drawing with fashion illustraiton apps online course
FREEDOM FASHION all inclusive suite-fashion illustration and design program and academy
Patternmaking Demystified online course