Fashion Designing:Creative Process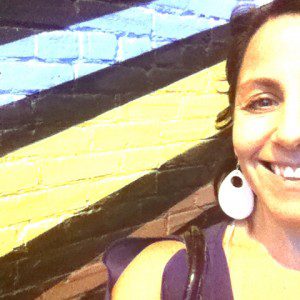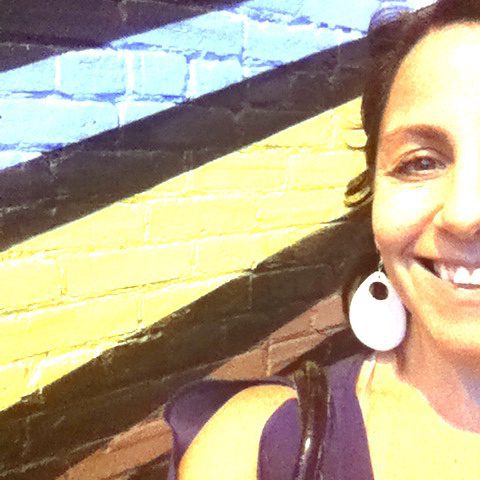 Hey TRIBE, How are you doing?
Here's some more vlog material from the series where I'm developing a capsule collection of dresses from this group of swatches: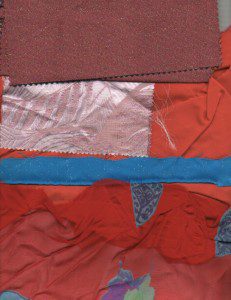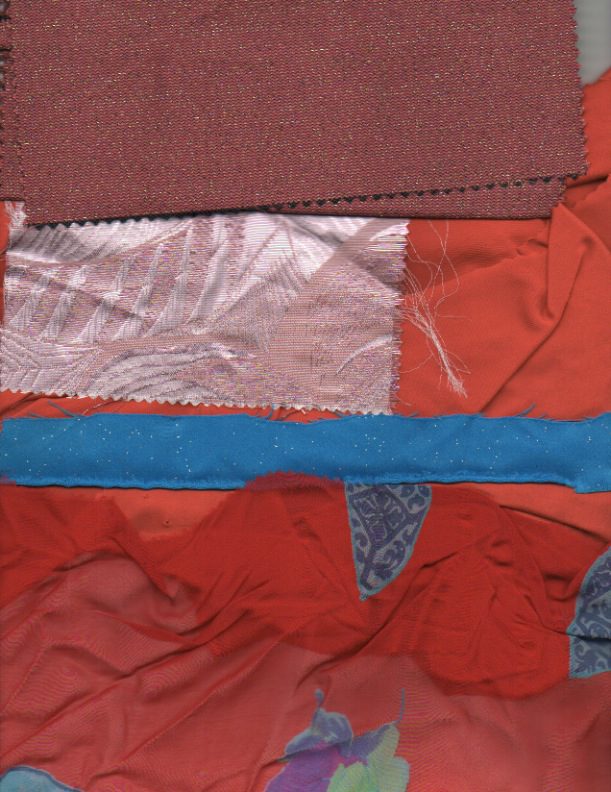 I gave myself the challenge of Fashion Designing with COLOR BLOCKING this collection: meaning, I decided to use a number of fabrics in different colors and textures to combine onto single garments.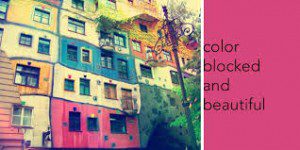 Color blocking can also happen when you layer fabrics of different patterns and colors, but in this case I'm color blocking within a single garment. This way, seamlines separate colors and the garment is "chopped up" into individual regions of color or print.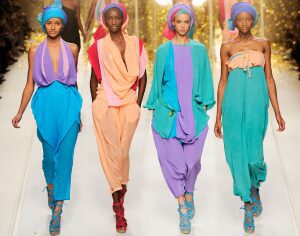 (I wish I knew who this designer was, but there was no caption for it. I love the models too!)
So, I call this post "gettin' real" because in the next two videos below you will watch me fashion designing- see my  croquis group go from blank to fully colored (thought not fully rendered), and while the demonstration is technical, what you'll find is what you'll always find in my demonstrations: a lot of insight and talking about my process, the questions I ask myself during the fashion design process, how I make choices and try out ideas, and how humbling and real that whole process can be.
See, I didn't plan ahead when I made the video. The designs weren't even existent in my mind yet. They happened, live, on the page, while I filmed it for you.
And I love them!
Of course, when I reach the "finish line" with any group that i've edited and rendered up, I'm usually just feeling so excited and satisfied by the process and the results.
Especially in that moment when you remember that everything you created was NOT THERE before, and voilà,  now it is!
That never ceases to amaze me.
Fashion designing on the page is one step.
Getting garments made, from a single sample to perhaps a getting a quantity produced, is a whole OTHER process.
My Masterclasses focus primarily on the creative process, though they are loaded with fully practical and technical tools based on my experience and love for the technical side of things.
I will continue to blog through this video series, adding textural renderings to the fashion croquis group and other finishing details that I'll tell you about later, so I hope you'll SUBSCRIBE  to stay updated to everything!  This is the place to be. As you watch my design process unwind  here on Fashion Illustration Tribe.com, my hope is not that you will be just like me but that by watching and listening to my process, you will be able to find your own voice in there, and I know you will.
In my Masterclass Self-Study course or Coaching Program (16+weeks), as well as here in all of these FREE resources and tutorials, I am to do exactly that: give you the skills and framework for designing, giving you a visual and verbal vocabulary for fashion design, while pouring your own voice out into your work and seeing just how that feels…… and following it, refining it, redefining it……
It's really a truly amazing journey.   I'll be so happy to walk it with you, because I know  you have it in you!
IF YOU DIDN'T, YOU WOULDN"T EVEN BE HERE!!!!!
I love you!
I hope you enjoy!
Laura