Fashion Illustration Art Supplies!!!
Grab your fashion illustration art supplies! Time to illustrate! It's a new day…. one more opportunity to share your wonderfulness with everyone you come in contact with.  Share your sunshine…giving is receiving. Let's go get sketching.
Today's reminder is: TURN UP SOME GOOD TUNES WHEN YOU DRAW!!!!
In my 20 years teaching at Parsons School of Design in NYC, I only used gouache, pencils, ink pens and oil pastels in my fashion design and illustration/ fashion model drawing classes.
I've opened up in the past few years to markers and digital art, but always with the goal of capturing the same richness that gouache creates. There's a QUALITY and richness to it.
My  Utrecht art supply cart for my fashion design and illustration classes  can be accessed at this link for mail order.  The cart is adjustable- you can add or subtract items from the list. It may be an interesting read for you.
There are lots of different levels of prices and supplies for fashion illustration art supplies.  You can go to the Utrecht Cart here or to the other link for smaller paper, to pick and choose what you want to use.
Basically you should get Woodless Graphite, a set of Prismacolor Color Pencils, Gouache or Opaque Watercolors, a round, pointed watercolor brush size 8 for general use, and sketch paper.  Bristol is for "finished" work and takes the wet media better.  That's your basic set and you can tick off what you want on the supply cart. Ah, and don't forget a roll of 1″ masking tape.
but I've listed specifics in the art supply link at Utrecht.
I also love transparent 2×18 inch rulers for making proportion grids, you can find them at Utrecht, Staples, Blick, Micheals, and art, design,craft,  and drafting supply shops. They are clear with a red grid all over them. They are in the kit too.
Whenever I can, I will recommend more affordable options as well as top-of-the-line options for fashion Illustration supplies and tools.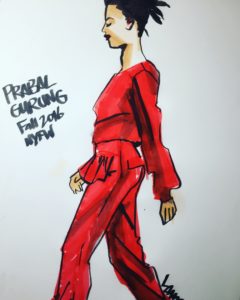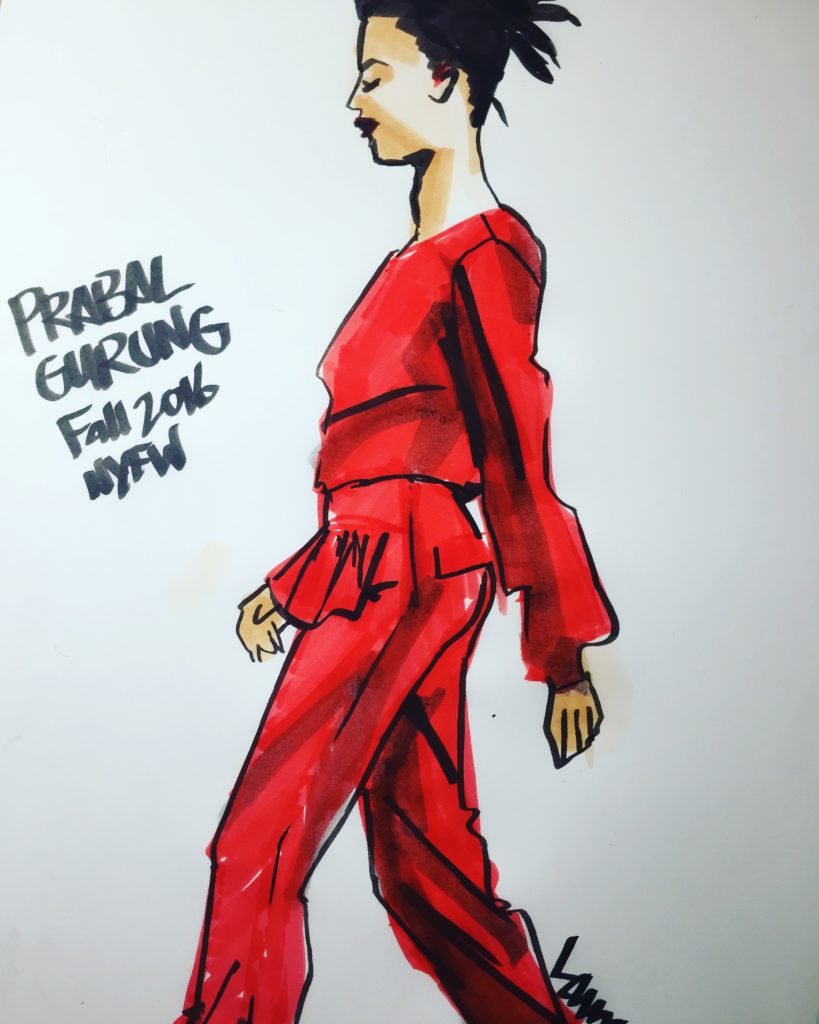 Watercolor markers are water-soluble- that means if they get wet, they smudge, smear and bleed. Sometimes we want that, and of course, sometimes we don't! Tombow is a beautiful quality "dual tip"marker with a brush tip on one end that goes from thick to fine.
Colors can smear and blend into each other if you try to layer colors with watercolor markers. Artist's Loft from Michaels makes an off-price version of Tombow's famous dual tip marker. Other popular watercolor markers are Crayola (not so bad!!) and various other brands.
Water PROOF markers , on the other hand, don't bleed and can be layered without any smudging or smearing. Some are more toxic and some are just alcohol based like COPIC. Do your research for toxic chemicals and avoid them!  Waterproof artist and design markers can be pricey- I often use a mix of watersoluble , affordable and design markers all in one sketch to extend the range of my color choices in an affordable way.
What really makes the difference is the paper you use!
Marker paper will make your markers last much longer because it doesn't absorb so much, nor bleed through.
Waterproof felt tip black ink is great for line work , also. Like Microns, Pitt Pens, etc. If you paint over them later, they won't bleed!
Final markers note is that you can use them to render prints textures and shadows too, of course. Explore the differencts between chisel-tipped markers,, fine tipped, and brush tipped markers. Each will bring out a different side of you!
There are zillions of articles on my website here about my favorite and not-so-favorite digital apps for fashion illustration on the ipad, tablet, and computer. Some are streamlined, some are very complex . Some look slick, some look organic and natural.
Tayasui sketches Pro, Autodesk Sketchbook Pro, Procreate, Adobe Fresco, repaper app, Pret-a-template, Adobe apps and Clo3D are all  very creative and capable applications for fashion illustration and fashion design! 


Gouache/ Designer Gouache: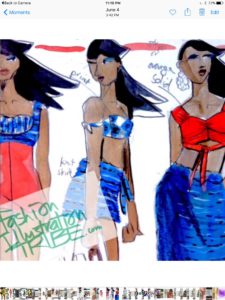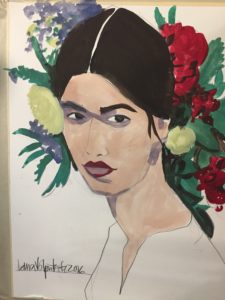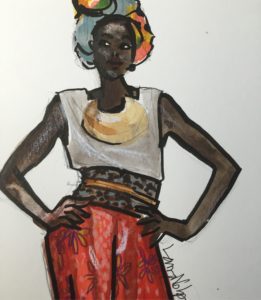 Prismacolor Colored Pencils:


Ebony Pencil:


Tempera Paint, Ebony pencil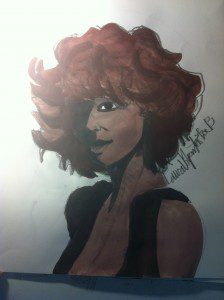 The images you saw above, I'll have you know, I illustrated using great paper (though it's Drawing paper, not recommended for painting). Sometimes I use the lesser quality paper so that I know I can afford to just "throw it away" if i don't like it.   Sometimes super-pricey fashion art supplies make me freeze up!!!
About digital FASHION ILLUSTRATION ART SUPPLIES…
it's really important, I believe, to sketch in pencils and experiment with watercolors, markers, paint, any chance you get. Even if you decide to go digital someday, you've got to have the tactile feeling of paper and pigment internalized so you can really keep the textures in your work.
But you HAVE TO KNOW that there are apps in your phone and iPad now (or tablet) that carry a FULL range of papers, ink pens, brush tip and chisel tip markers, crayons, colored pencils, acrylic paints, watercolors and more… it's AMAZING! No waste, no toxicity…. just fun and loads options. I teach you all my favorites in my ABOUT FACES online course.
I just remembered something I ALWAYS tell my students:
"If you aren't comfortable while you're creating/drawing fashion models, they can't POSSIBLY look comfortable in your drawing"-Laura Volpintesta
Yes, it's true.  You have to set up a drawing or painting workspace or position that is absolutely comfortable and ergonomic for you.
(I'll talk more about that in my ONLINE INTENSIVE course as well).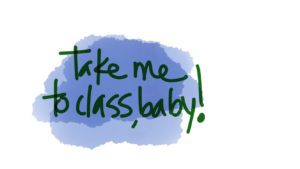 Ironically, being more relaxed (this is true for everyone) makes it come out great, and then I don't have to throw it out, after all :0) haha!
Skin uses white, red, blue, yellow and some black too depending. It's a process of mixing till you like it. Red gives the healthy complexion. Blue "cools it down". Yellow and white give a basic skin vibe.  Mix, mix, mix till you like.
Enjoy enjoy…. I love you all so much!!! I'm so GLAD YOU"RE here!
Comment below and share the goodness with your friends!
WHAT'S WORKING FOR YOU??? WHAT ARE YOUR HURDLES?
i'd love to help.
xo, Laura