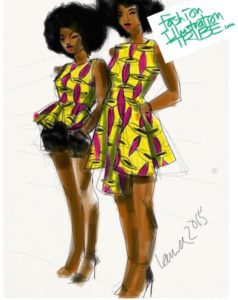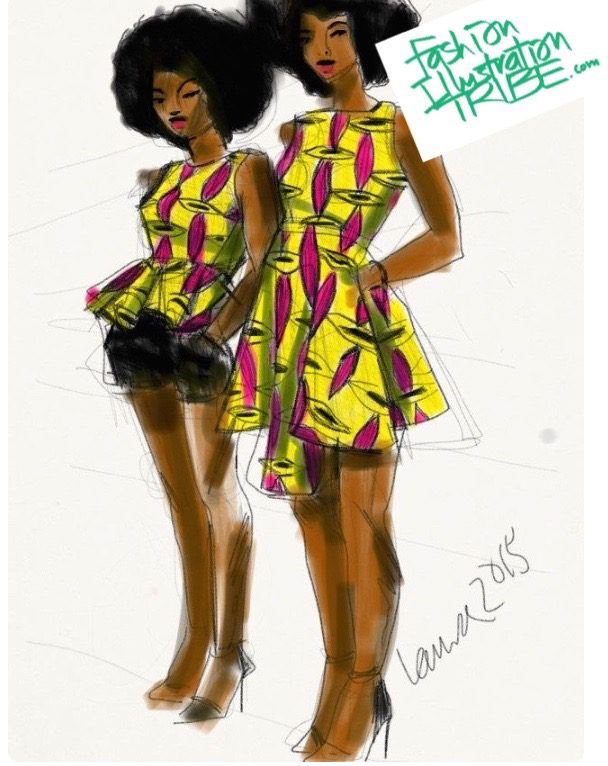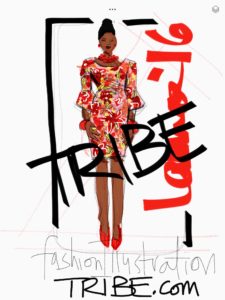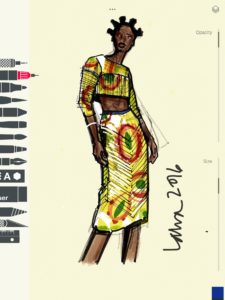 African Print Fashion Sketching can be the ultimate challenge.
The samples I'm sharing on this page are all iPad sketched on my iPad mini using Tayasui Sketches app (which is also available on Google Play).
But the videos at the bottom of this page show my process with pencils and watercolor… I teach both!
(SCROLL DOWN FOR full VIDEOS)
It's got to be a labor of love.
And that's fine, I'd say love is the perfect starting point for anything and everything we do.
I fell in love with African Fabrics, English and Dutch Wax Prints, and African fashion in 1992 when I studied at Parsons Paris for one amazing year.
Yes, I studied the couture. And the Japanese Avant-garde. But African Fashion stole the show.
The loose, airy silhouettes. The full figures. The combinations of colors so new and different that I was "seeing colors I had never seen in my life". And I really hadn't! Huge motifs. Head wraps, braids, so many sculptural aspects.
AND THE PRINTS!!!
You will find a lot of African Print Fashion Sketching In my archives and social media.
Today I'm going got shares some of my process with you while I sketch from a swatch of a Vlisco PRINT.
I'll also share some other samples of my work.
The fact is, with prints, there is never a solid rule how you have to approach it. Depending whether you use markers, computers, digital painting or gouache/ watercolors and colored pencils, there are so many options and approaches.
What I'd love to share with you today is the visual process: so I"m including some time-lapse, high-speed videos which show the blank sheet of paper turn into a group of original designs by moi.
I designed them live during a livestream on my Periscope.tv/Lvolpintesta daily show! 12pm EST every weekday.
I hope you'll come by and ask questions, or check out my amazing FREEDOM FASHION SEMESTER online course to learn it all for yourself so YOU can start creating too! Or take it a step further and get coaching with your course.
Let's connect! There's so much magic to be made!…Let's share your vision by developing your skills and ideas.