As with just about everything in fashion, there are lots of different end-uses and forms for the term "digital fashion sketch".
Probably, you'e heard the term and don't know what's what! I'm going to discuss the ones I can help you with right now and give you resources to learn inexpensively and immediately to create your own digital fashion sketches.
I'm a "freehand" illustrator who decided "why not learn the basics of fashion drawing on Adobe Illustrator?"
I am brushing up right now on my digital fashion tech sketch skills by learning with the best:
— my colleague and friend Dinna Soliman created THEFASHIONPROFESSOR.COM online program to teach Adobe Illustrator to create digital fashion sketches from step one to advanced.  She's an F.I.T. professor and professional who really knows her stuff about the topic because she works with it all the time!
First, Adobe Illustrator is used widely throughout the fashion industry (which is why I'm studying it now- every studio seems to be requiring it) to create fashion flat sketches or technical drawings.
Dinna has a great resource that is just $3:
The FashionPictureDictionary app is free in the iOS App Store  or Google Play and is loaded with Adobe Illustrator digital fashion sketches and definitions of silhouettes and details for fashion. Take a peek at the app and see what I mean by clicking the image!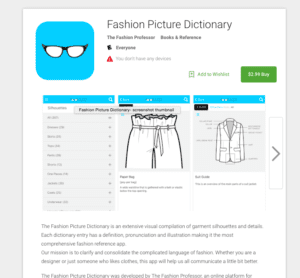 or visit their instagram page for more examples of what you can do with the Fashion Professor and Adobe Illustrator!
is subscription based, super affordable, and teaches you Adobe Illustrator for fashion design step-by-step so you can have this valuable skill IN YOUR POCKET.
So far, I do my fashion flat sketches by hand using Sharpies, Micron Pens, and Pencils, but more and more companies are working only with Adobe Illustrator now, so these are great skills to have! (and I would certainly back that up with building strong hand-sketching skills).
So, the image above shows advanced sketching techniques, but don't worry!! You can start with the basic t-shirt and she'll walk you through it. You can start as low as $20/month and access all of the lessons.  Click the image below to visit the Fashion Professor homepage and learn more. You'll also learn to build your verbal vocabulary around fashion, not just the sketching technique, which is always a benefit!
On the other hand, here are swimwear designs I did for Target, fashion flat sketching by hand.
You can learn hand sketching techniques for fashion flats in my Craftsy class "Designing with Fashion Flats". This class is $40 and often on sale for half off, if you keep your eyes open :0) Working this skill in tandem with Adobe Illustrator is a great combination.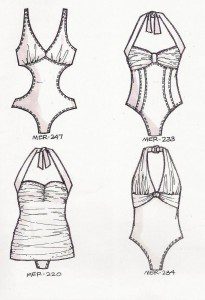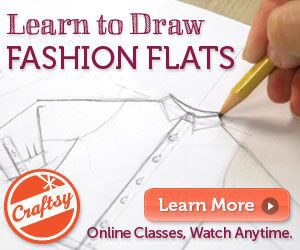 I offer a digital fashion sketch class as well, but it's totally different than the Adobe Illustrator course. It uses Adobe and other $5apps  on your iPad or tablet to sketch freehand using digital art supplies.
Here are some examples of digital fashion sketching for fashion illustration using iPad or Tablet:
So from top to bottom below I used
Tayasui Sketches Pro app, Adobe Illustrator Draw app, and Adobe Illustrator Sketch app.
You can learn these apps with me in my ABOUT FACES online course ! Check it out!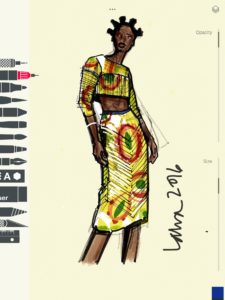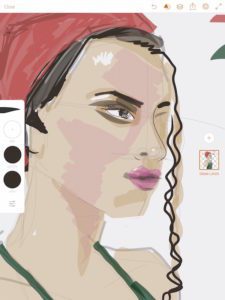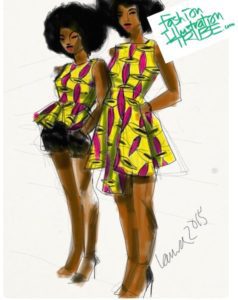 Until we meet again, I hope you enjoy having all of these affordable resources to access education. Develop your career, professional, or creative skills!
Love
Laura