the Fringes of Fashion Illustration
Just two weeks ago I wrote a blog post about movement. When I was done, I couldn't stop thinking about fringe!!! 
At the same time, I'm tickled to think how MOVEMENT, FRINGE, and DRAWING are all words with double meanings that mean a lot to me.  
I love the FRINGES of fashion (the edges off of the beaten path, the voices less heard…… Fashion Illustration Tribe is a MOVEMENT…. a movement to take the best of the roots of fashion design education and creation, to express ourselves as WE ENVISION OURSELVES AND OUR WORLD and not how someone else tells us to. A movement to create fashion without hurting anyone, from a place of joy and affirmation. 
While I watch (horrified) the university leave manual analog art behind, I maintain that the pleasure in fashion creation is a physical act and not just something we do sitting at a computer. We want to touch, manipulate fabric, feel it, and, (back to movement) MOVEMENT  in our bodies and our lives. 
And DRAWING?? – our drawing ultimately draws out what is within us. Drawing is a voice. Like writing, speaking, or dancing, DRAWING is a voice too. It brings out what is within us, our hearts and souls.
And so, let's go!!!
The Easiest way to draw fashion fringe:
In the digital fashion illustration above, I layered pink over red and literally just used long opaque lines to draw fringe. Because I used a wide brush/ wide stroke, this was effective. But when using a pencil or something, it can just look like spaghetti so we will discuss your options on this page.   What I would point out to you about that sketch is to note how the pose has an "s-curve" to it- notice how full of angles and diagonals it is! AND YET, notice how awesomely the fringe contrasts with that by falling straight down with gravity regardless of what she is doing with her body. This behavior of the fringe tells us about the fringe's weight, etc. 
This sketch above this text  happened rather quickly during Fashion Sketch Group, my weekly zoom session hosted online. (enrollment is ongoing and open while there are spaces).  
What I can say about this fashion sketch in contrast to the previous one is the BUOYANCY of the furry fringe– it's erratic, voluminous, sort of unpredicatable, while the fringe above had a silky and smooth weight to it.
In this sort of an arrangement, the rows of furry frings are parallel to each other, and also parallel to the hem of the sleeve, dress, and also parallel to the cross grain of the fabric.   I kept the lines soft and gritty to reflect the fuzzy fur that was not smooth nor shiny.  I made an effort to capture the FREQUENCY and CHARACTER of the EDGES (contours) of the fringe, both at the hemline of the fringe, and at the outside edges of the fringe (where it juts out from the silhouette of the dress).
It seems obvious that this fringe would "stick out" no matter what her pose was. Fashion Illustration is all about telling the story about the person and the fabrics….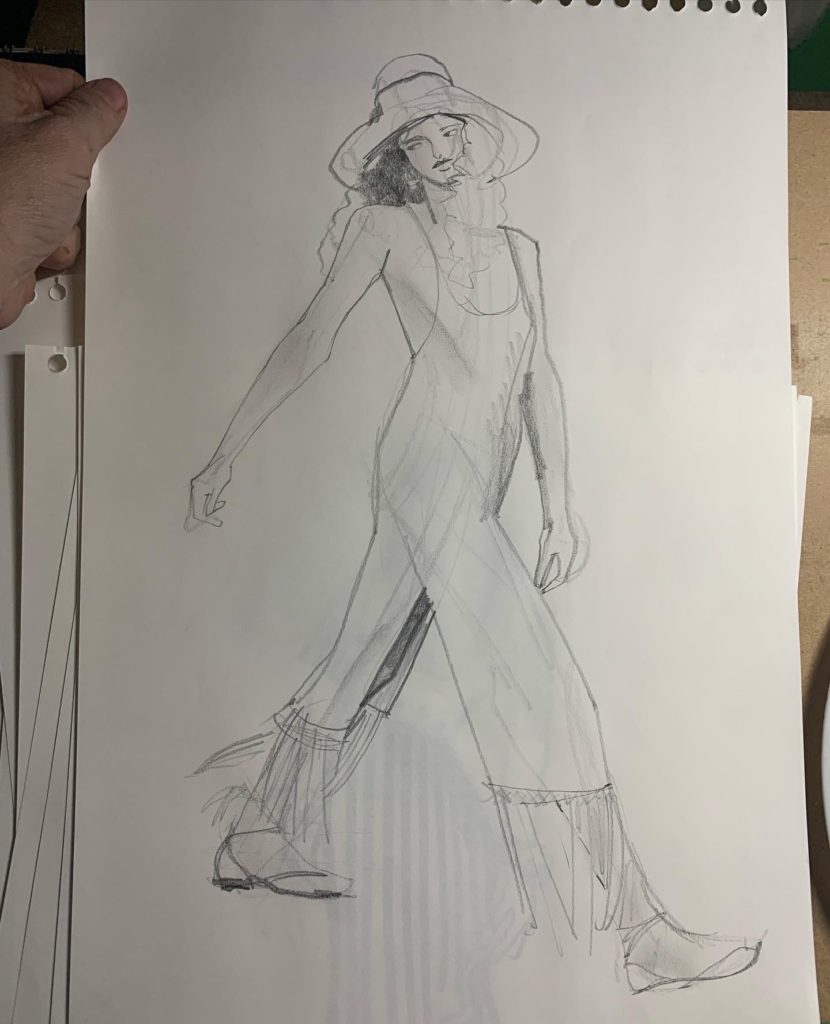 Here's another quick pose- pencil-sketch from the live model drawing class I host every week.   I used a smudge for the shading and left the pencil crisp in other areas.  The fringe in this dress was applied to the hem and was braided into a trim that could be cut and applied. So I drew the band of the trim, showing how wide it was, and then indicated the length and directional movement I saw in the photo I was sketching from. 
The "kicker" is that bit of fringe that is swinging out behind her. It creates so much  movement and personality in the drawing! Meanwhile, in contrast,  the fringe in the front of the pose just lays flat agains her skin of her calf. Similar to the first fringe in this post, this one is silky, thin, and flat, responding heavily to gravity.
Different Fringe TYPES in fashion design
One common type of fringe style is the "linguini" type- long, flat with square tips. THIS IS SO IMPORTANT TO REALIZE that  you can capture those squares and how awesome it is to communicate it! See how I did that? I emphasized it by drawing corners and tips.
The base of the fringe is basically parallel to the place where the fringe is applied. it's so cool in this STRAIGHT dress that the fringe is applied in DIAGONAL  lines across the body.
She appears to stand still, but we just KNOW that she is moving– in mid twist, perhaps, for the fringe to be flying out and radiating from around her like that. HOW EXCITING!
I get the feeling that it's a rib-knit dress with flat-knit fringe. What a beautiful concept.  Notice how I dug in with ultra dark lines and shadows in places to show that the fringe was so far away from the body or dress behind it.
Beaded Fringe and Ornaments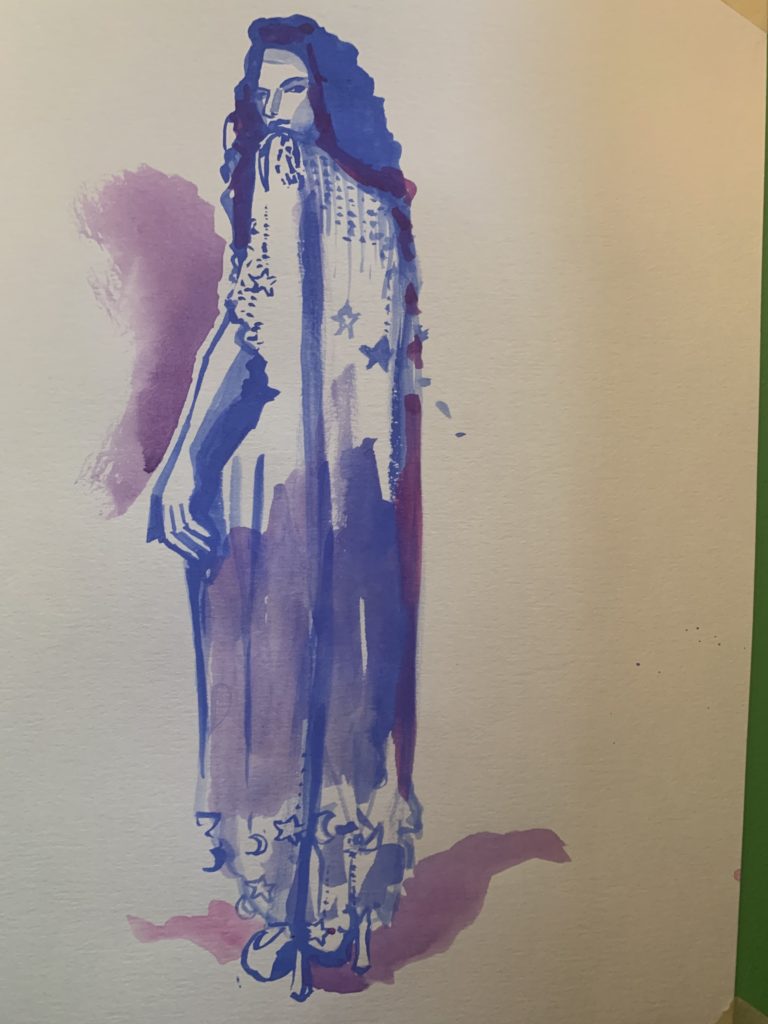 This fashion illustration, also from Fashion Sketch Group Session, features gouache media only, on Bristol board. I created it only using two colors, which is always an interesting exercise, depending on the colors you choose. The pink and blue tube gouache created a purple and I played with all three.
You'll notice I used solid, flat areas of opaque color (hair), solid, opaque lines (contours, shoes, fingers, face, beads, etc…) and areas of fluid, diluted wash (shadows on the floor, shadows on the skin, and to show the silk of the robe).  Usually for a beaded fringe I'll draw the edges of the beads (see below), but for this illustration above,  you can see that I used the tip of my brush to capture each bead (more or less) and to sketch the moon-and-stars ornaments at the tips of some of the fringes.
The Atomosphere of Fringe!
This piece, I can't remember if I was drawing fringe or fine pleats. I love that the side swoops up into a shirt-tail shape. If it was a fringe, I think I rushed through the sketch because the fringe doesn't have any dark shadows or corners  clearly expressing without a doubt, the character of fringe, as the vertical lines are all stuck together and no strands are flying free. The color blocking and variety of textures on this carnaval-esque piece is so delightful though. Also done during a Fashion Sketch Group live Zoom session. Join us weekly! 
Journaling and meditation:
As usual, I'm going to bring you into your body and your imagination. 
Close your eyes. (clothes your eyes? lol).
Take a deep breath. Exhale. 
Again.
Now….
Think about fringe. Where does it take you? What do you think of ? How DO YOU FEEL??? What do you hear, see? WHAT do you feel?
Examples: When I think of fringe, I think of music. I think of movement and dance. I hear beads clicking together, or a "whoosh" sound. Somehow fringe for me goes with gems, beads, sparkle, sequins, and shine.
I 'm also brought back to the late 80s when fringed leather was a back-to-school trend and I got a fringed leather vest that fit over my jeans jacket and felt I was on top of the world! I think of fringe and tassels from so many different cultures!
For me fringe means celebration, means "extra", means special, means "folk", ancient traditions
Love,