Fashion and Costume Sketching on iPad
While today I'm here to talk about model drawing, figure drawing and my course enrollment opening today, I'm going to show you how Model Drawing is the foundation of Fashion and Costume sketching on the iPad or anywhere else.
Tayasui Sketches app, as you all probably know by now, is my absolute favorite art app for fashion and costume sketching on iPad or any digital tablet and is also available to use on the desktop.
Natural Art Textures
I love this app because it beautifully mimics gouache and pencils (as well as brush pens, markers, airbrush, colored pencils, and other analog art supplies that I regularly use to create quality, textural, fashion sketches.
Whether for final illustrations or the development of creative ideas through costume sketching/ fashion sketching/ croquis, this app feels natural, dynamic, and has tools that are easy to access and control so that I can focus on ideas and creativity and not wrangling with a complicated art app
Fashion Sketching with Pencil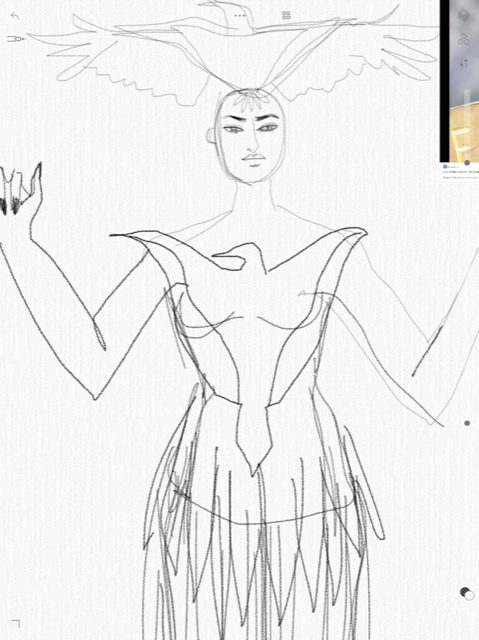 As you see above, even when I work digitally, pencil is my foundation for fashion sketches. I can choose a beautifully textured paper that feels artisan and rough, and then a black pencil that is soft enough for me to "feel out" the figure and basic silhouette as ideas start to flow.
Notice that when fashion and costume sketching with pencil, I can increase the opacity and darkness of my pencil lines as I become more sure of my strokes, but i start with a gentle, light soft line when I am still "warming up" to my ideas.
Also- whether I'm sketching in my fashion design croquis book or in my costume design concept book, I can add inspiration photos to the page. This applies to my digital fashion sketchbook pages as well as to my paper and paint analog croquis book!
I use double stick tape to add images and fabric swatches to my analog sketchbook, but for digital I just import a photo or photos from my camera roll into the page I'm doing my fashion and costume sketching on for easy reference all the time.
Reference images and fabric swatches feed my fashion and costume sketching process by providing constant clues to colors and motifs that I want to source from.
Classic Fashion and Costume Sketching with Gouache
below, see the beautiful, rich and fluid textures of the gouache tool as hair, skin, and fabric in Tayasui Sketches app when I use it for fashion and costume sketching. It perfectly mimics a traditional fashion designer's sketchbook with gouache, so I feel perfectly at home with the warmth and velvet color.
I can constantly adjust the opacity or sheerness of my gouache tool so that I can create shadows and sheer fabrics at a moments notice.
When you watch today's timelapse video on this page, you'll get a peek at the difference in dimension and layers that shadows add to fashion and costume sketching.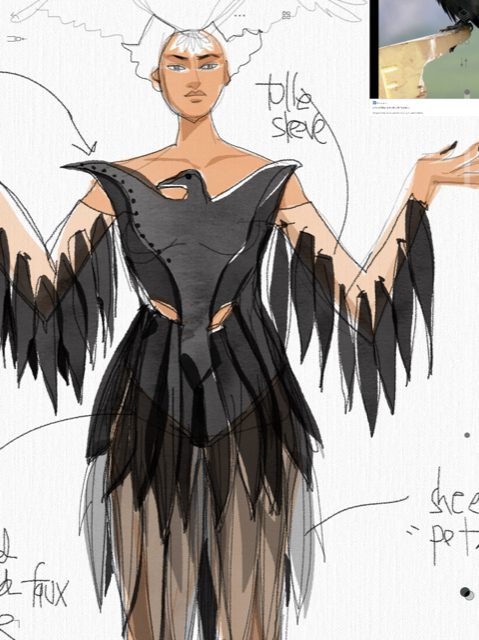 Presentation of
fashion and costume sketches
Below, and above. notice the possibilities of presentation for the fashion and costume sketching process (adding notes to the drawings and inspiration images, etc)… versus the options of a final fashion design or costume illustration presentation such as frames, background colors, highlights and makeup concepts, accessories, and more!
The concept prompt for this fashion / costume sketch was a black bird.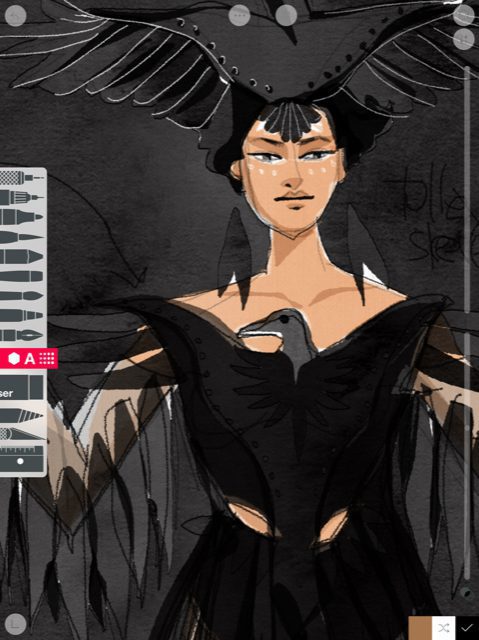 Easy tools
take a moment to look at these two sketches and you can see how clear and easy to access all of your fashion and costume sketching tools are in this beautiful Tayasui Sketches app. I created this sketch in about half an hour using my bare finger on an iPad Pro.
Finished creative fashion design sketch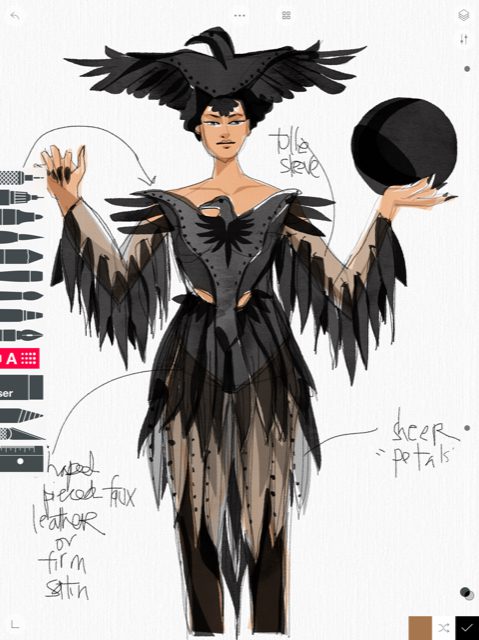 and voila!!
I hope you enjoy a peek into what's possible when you dedicate time into development and deep-diving into tools, skills and joys that are accessible to you as your birthright!
You CAN learn and the possibilities are ENDLESS
Model Drawing Magic is my Model Drawing Transformation online course to change how you look at art supplies, model and figure drawing, art itself, and YOUR self.
learn more here.
The prerecorded video modules drip out weekly for four months so you can integrate each lesson, and we have a private course area for questions, sharing, feedback and support!!
i can't wait to meet you there!
Love
Laura
ps You can also learn more about fashion illustration and design sketching on a digital device here or eveningwear sketching and design here using various media, analog and digital, to give you an exposure to different workflows and experiences!.