Here are 10 reasons to learn Fashion Design Terms:
I'm happy to share this exciting chapter with you on my journey building my fashion program every year to serve you better at Fashion Illustration Tribe!
What happened? After being invited to teach Patternmaking at Parsons in NYC after YEARS teaching only fashion  illustration and design,/ fashion portfolio and fashion model drawing (I don't distort the female proportions, I promise, for "fashion illustration"),
….  I had a wonderful awakening !
You see, I had taught draping, hand and machine sewing, and Patternmaking in their  BFA program  (6-hour classes for 30 weeks each!) back in the late 90s,, then sort of "put that to sleep" while I went deep into other things l loved like teaching portfolio, recording some Brazilian jazz albums, and raising up my kids.
BUT I ALWAYS LOVED that physical crafting and analytical part as much as the wild, passionate, creative side of visual design.
I believe that's because Ihad a truly incredible teacher when I was a student at Parsons who kicked my butt so hard into gear with her endless demonstrations of couture techniques.
She was brilliant.  I still can't believe how much I learned from her back in the day. Her name was Maria Laveris. She also mentored me when I became a new professor back in 1997.
Why was she amazing? She taught me that I had magic in my hands, and how to use it.
Now I truly want to pass this magic on to as many people as I possibly can. It's amazing to me how many tips and techniques the world of fashion holds and that when you KNOW, you can create ANYTHING you want.
THAT, my friend, is MAGIC.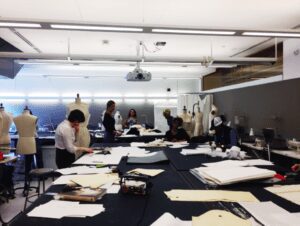 So…. why do you want to know fashion design terms? Who needs them ? What are the terms? What would this fashion LANGUAGE give you?
If you are a fashion blogger who writes about clothes and wants to be able to talk about the amazing things that are actually going in in great fashion design, you need good fashion language.
Maybe you are writing a book or marketing copy for fashion designers,  or work in a museum and want to be able to describe in detail what you are looking at and describe it in fashion design terms.
Perhaps you are a sewist, maker, dressmaker or tailor, or you make your own clothes and sell them or are looking to design a line and work with production and a design team.
and why wouldn't  you love to deepen your fashion studies and want to show what you know not only in your sketches and concepts but also in the way you speak about fashion?
Isn't it delightful to immerse yourself in fashion and design?
Without the cost and commute to a major city? On your schedule and from home?
to learn this language. In my Fashion Patternmaking online course, you will learn fashion design terms from the ground up so you can
get exposed to them one by one
see them being used in contest
start using fashion design terms yourself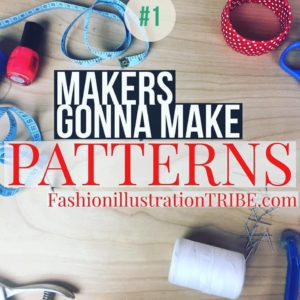 Because becoming a fashion "nerd" is totally thrilling. If you are a historian, costume designer, fashion designer, or just a deep fan of great fashion design. And it's inevitable if you are one of those people! lol
I wanted to make sure that my Fashion Illustration and Design Students had access to a great foundation that empowers them to design more deeply and include great details into their sketches. Fashion Illustration Tribe is not about a superficial experience. I want to take you deeply where you want to go in fashion!
I created this course with about 16 hours of video and a private community, access to me, projects, demonstrations, and a super textbook, so that you can confidently talk about and creatively imagine what is possible when you know how fashion works! As you watch the videos, EVEN IF YOU NEVER PLAN TO MAKE A PATTERN SOMEDAY, you start to understand the inner workings of garment design.
Why do you want to build your fashion vocabuary? Usually, technically, and verbally?
Because once you start studying, you will start to see garments and be able to break down what is happening in that design. Plus, you'll  be able to discuss it.
And as you watch your videos, which you have lifetime access to,  you'll be constantly downloading a deeper understanding that makes you want to start sketching frantically as the ideas flow.  Each concept hatches new ideas in your fashion-brain!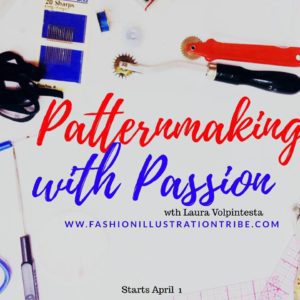 The 10 kinds of fashion design terms include:
the measurements words you use to measure a client and create a fashion design pattern and garment. "Waist circumference" and "bust depth", "neck drop", etc.
the tools you need to have on hand in your workshop to create fashion patterns and designs,. Pattern tracing wheel and muslin, etc.
color , fiber, texture, textile and design terms (not used as much in the pattern making class)
fashion fabric draping terms. Lengthgrain, bias, grain line, selvedge…
patternmaking terms you use to create clothes: notches, gathers, flares, pleats
classic terms you use to describe standard silhouettes . "Trumpet Flare", "Peter Pan Collar" "Gored Skirt" and "Fitted Bodice", the "Dolman Sleeve", etc. There are so many terms and it's thrilling to know what they all are so you can analyze them, talk about them, and create your own variations!.
technical language you need to discuss fashion design details like "pocket flaps", "plackets", "yokes".
the measurements you use to spec fashion garments for the industry or for private record-keeping. ()"Center front length", "Pocket flap LXW", "Sleeve Length from CB")
locations on the body or garment intersections. "Center front neckline", "side seam at waist", "side panel bust" help you to be specific about areas of the garment when you discuss them
Action terms for creating through draping, sewing, drafting. "Pinning", "clipping", "rotating," "ease"'
Please, comment below and let me know what kinds of language YOU feel you need.
As always.. ASK ME ANYTHING!!
I love to interact with you and share resources.