How I use Adobe Apps for Fashion Art and Illustration
Adobe Apps have completely sucked me into their magic powers!. **** Originally I sketched this with Adobe Draw app, but since I wrote this, it's become Adobe Fresco. It's a  BIG change, but I can help you transition.  Adobe Fresco app includes the same exact toos, in a different arrangement.
To be really clear before we start, Adobe Appss/ Adobe Fresco are for FREEHAND SKETCHING on your digital device. Not clicking and dragging points on bezier curves, you won't have to worry about any of that. 
Yes, it's VECTOR drawing so you can create fashion art on transparent ground if you want, and you can blow the images up infinitely in size without pixelation.
I'll share the timelapse video of this Adobe App in action in this post.
FREEHAND FASHION SKETCHES
You can work this way on iPad, iPad Pro or mini, or Android or touch phone.
Of the top 3 apps I recommend for fashion illustration, Adobe Illustrator Draw is the simplest and yet was the  HARDEST for me to use in the beginning.
I sometimes struggle with the decision whether to recommend it because I always go on and on about how much I love TEXTURE.
–Gritty, natural texture in apps that mimics analog art suppplies, watercolor, and pencils.
Adobe Illustrator Draw App/ Adobe Fresco Vector brushes-  aren't like that!
What sets Adobe Apps apart for fashion vector art?
Though I always considered Adobe App Vector Brushes unforgivingly  smooth, slick, and clean,
(Clean smoothness usually makes me freeze up in a way because it makes me feel like I have to be perfect.)
(a recipe for disaster!)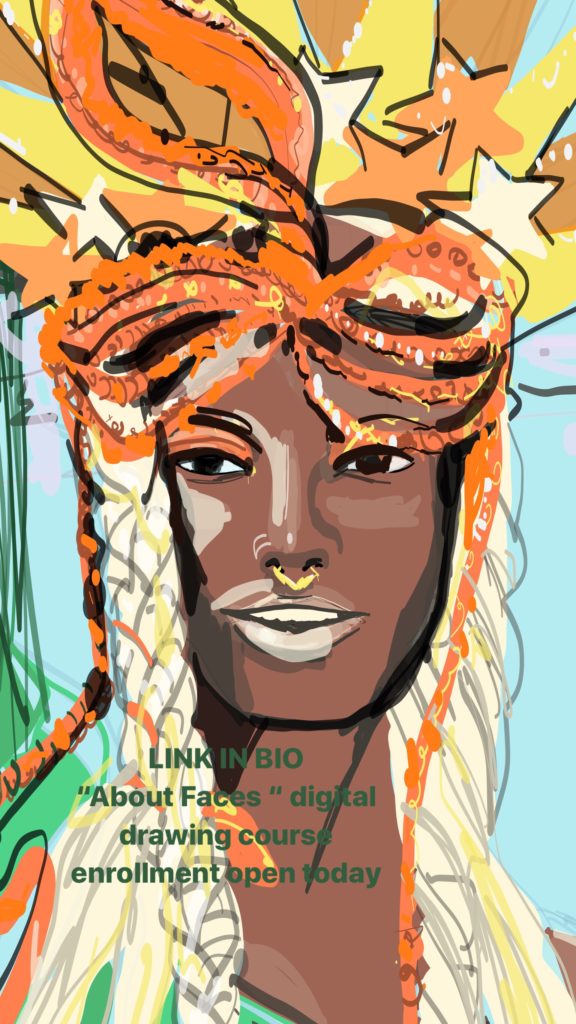 In spite of myself, Adobe Illustrator Draw app / Adobe FRESCO app WON when I started sketching Brazilian Carnaval in Salvador, Bahia, Recife, Pernambuco, and Rio de Janeiro, Rio, Brasil in 2019
…because the color quality is OFF THE HOOK!
Does adobe have access to superior colors somehow? What it lacks in inherent TEXTURES, it makes up for in color.
I definitely feel like each digital drawing and digital painting app I use for fashion illustration has its own unique "color feeling". Like a unique paint palette- just like when you buy a set of paints it somewhat determines how your colors will look in what you paint.
This is just as true for brands of paint or especially collections or paintboxes: each paintbox has its own color "tone".
The colors you choose and how you mix them is YOUR voice, but it's still influenced by the brand or collection that you work with. 
IF YOU LOVE COLOR YOU'LL LOVE USING THE VECTOR BRUSH for fashion art like I did here.
MAIN WAYS I USED Adobe Illustrator Draw app for this Fashion Illustration:
There IS NO PENCIL. So I use a sheer black or sheer dark grey to do all of my plotting/ planning of my sketch.
I do the planning sketch on a layer

so that if I want to, I can delete or move cover that layer later with opaque colors.

Here you can see my "pencil" effect

on the radiant headdress/crown

You can see the use of opaque color

on her orange portion of the headdress, her hair, her green leotard, and the fine lines of the fringe on her sleeve.

Notice how the shine and shadow on her face were created using SHEER colo

r on a large sized "brush"

Notice how I used a blacker , medium "brush "

for depth and bright, crisp edges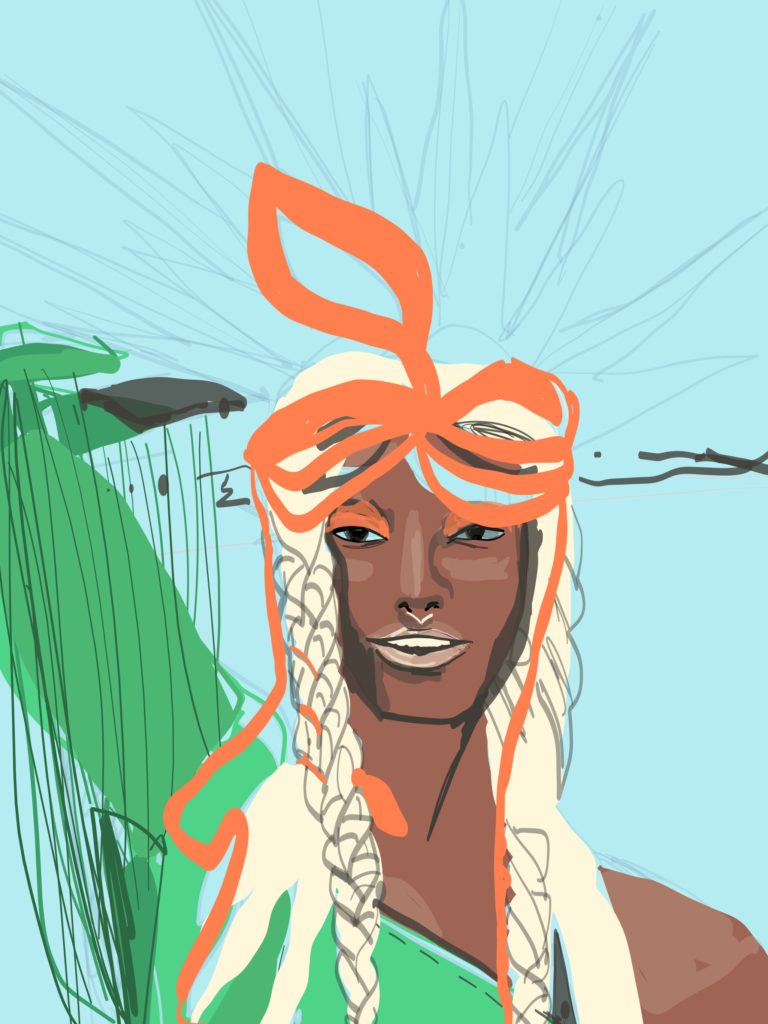 7. Light and dark tones in tiny points  create sequin and sparkle effects in this fashion illustation .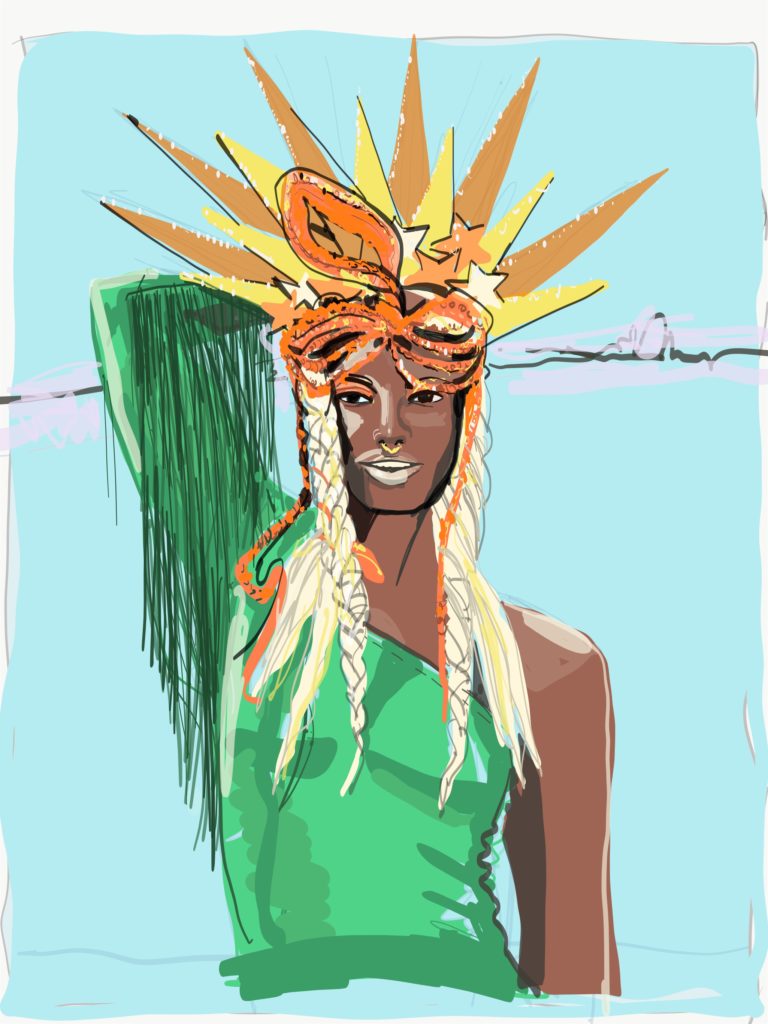 8. colors are even brighter here when I applied an available filter in instagram for fun. Hey, follow me for daily updates and inspiration?
9. Adobe Illustrator Draw App has one very cool feature that I use a TON. When you draw any closed shape, (the triangles around her head for example), then hold your finger or stylus down in the middle of the shape, it will fill that whole shape with color. If the shape has any opening in its outside edges though, it won't work until you close them.
10. I use that tool I just mentioned above to create the solid colored background.
11. Finally, because of layers mobility, I could actually add the background color LAST by creating a humongous blue rectangle and then dragging it to the bottom layer.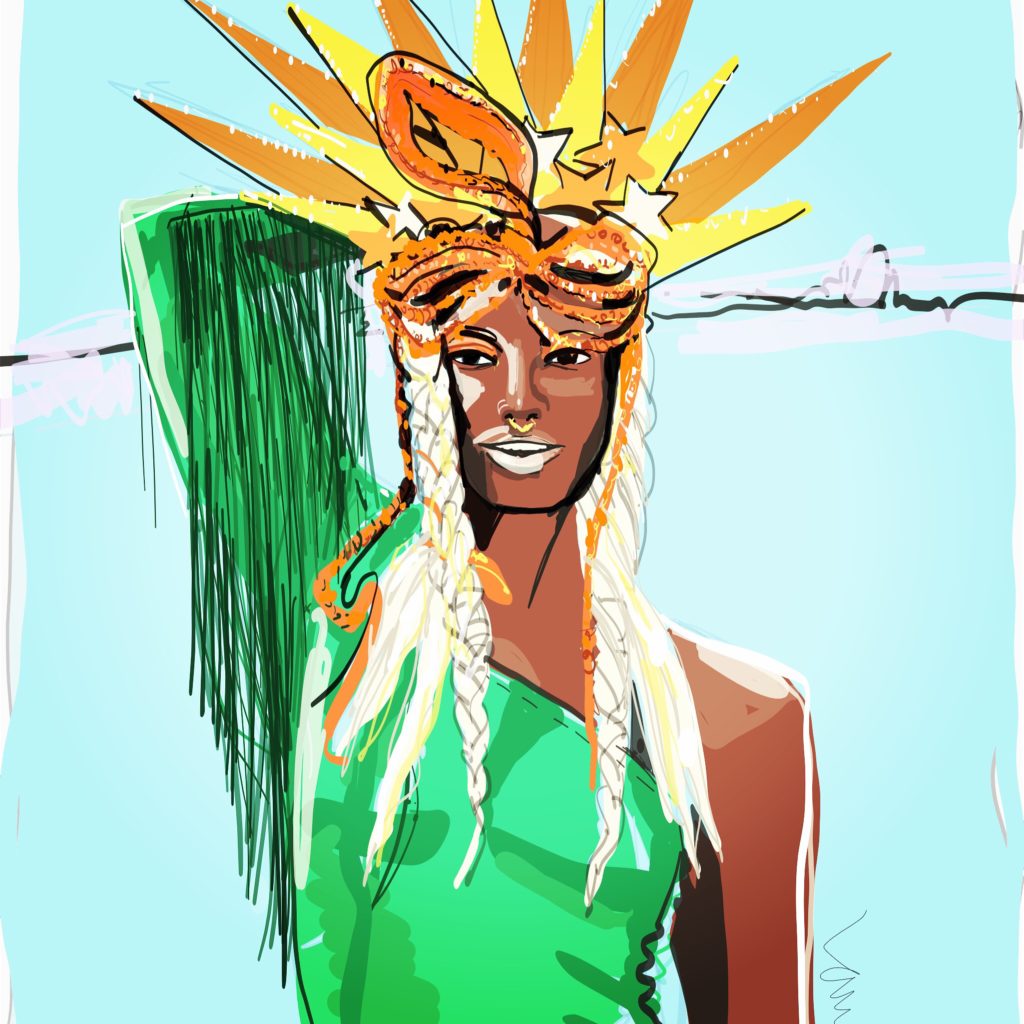 Adobe Illustrator Draw App for Fashion Illustration
is extremely versatile and the colors make my mouth WATER!!!  Especially when I'm doing fashion sketches for Carnaval in Brazil, where the colors are so primary, bold, intense, vibrant, and sun-soaked.
I don't want to sacrifice ANY OF THAT DELICIOUS VITAL and LIFE-GIVING COLOR!!!
it reminds me of a lyric of a song by Caetano Veloso called "O Leaozinho".
In the song he says:
"meu coração é o sol, pai de toda cor"….
"MY HEART IS THE SUN, FATHER/ MOTHER OF ALL COLORS"…………….
i hope you love exploring digital fashion illustration with Adobe Illustrator Draw app and many others.
Sign up if there are still spaces, you can study with me in ABOUT FACES digital fashion illustration online course.
LOVE and CREATIVITY,
Laura