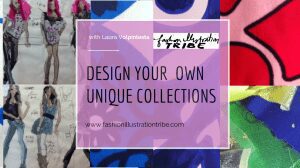 Fashion Illustration: Presentation
WHAT'S IT ALL FOR?– depends on the project.
Hopefully, all of your fashion design drawing presentations are guided by love to serve the greater good. But every project you do has a particular and unique angle.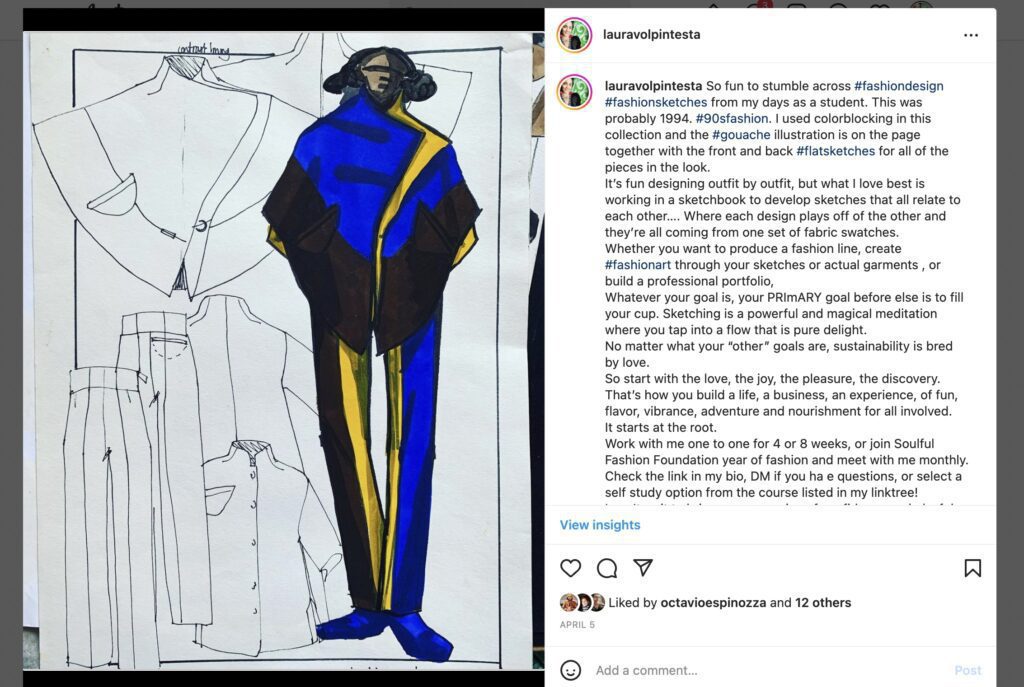 SO, What is the purpose of the project you are working on?
Clarify this purpose and intention of any fashion design drawing or presentation before starting in on it.
Is it to inspire? To communicate feeling and mood?
Is it to communicate specific technical information above all else?
is it to tell a story? Present information? Is it about texture and fabrics, color, style, is it about YOU as the designer or is it about the woman and HER world and her lifestyle"
Is it formal or informal, personal and private or public presentation?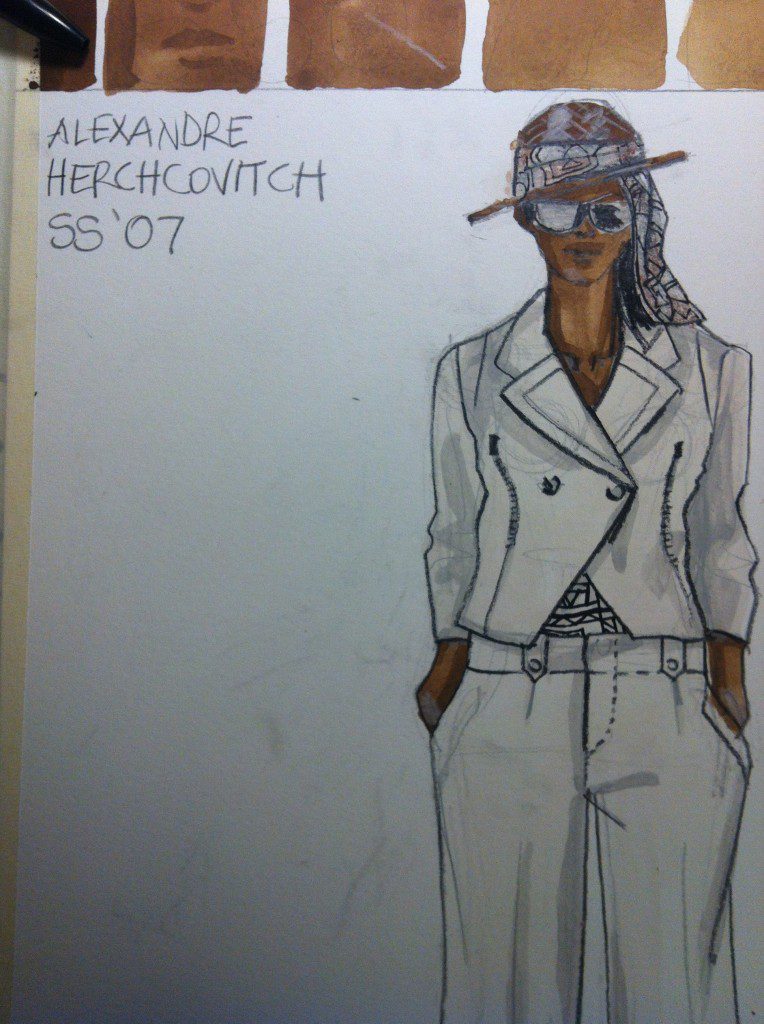 Whether you're here on my site learning on to sketch a fashion collection, costume design, figure draw, technical draw, illustrate fashion, or learn about art supplies, or techniques….
There isn't a single answer about how to present your work. IT'S ALWAYS TAILORED TO THE WHERE YOU ARE SHARING IT AND WHY. There isn't a single answer to a question about how to approach a drawing or painting, just remember that you are COMMUNICATING. What, and to whom, and why?
PURPOSE
What makes the difference is the PURPOSE of your fashion illustration presentation
If it's just for you, you can really do anything you want at all.
FOR FASHION design projects, IT'S REALLY IMPORTANT to distinguish before you start a piece, what is the purpose of this particular technical drawing, sketch, illustration, croquis, presentation?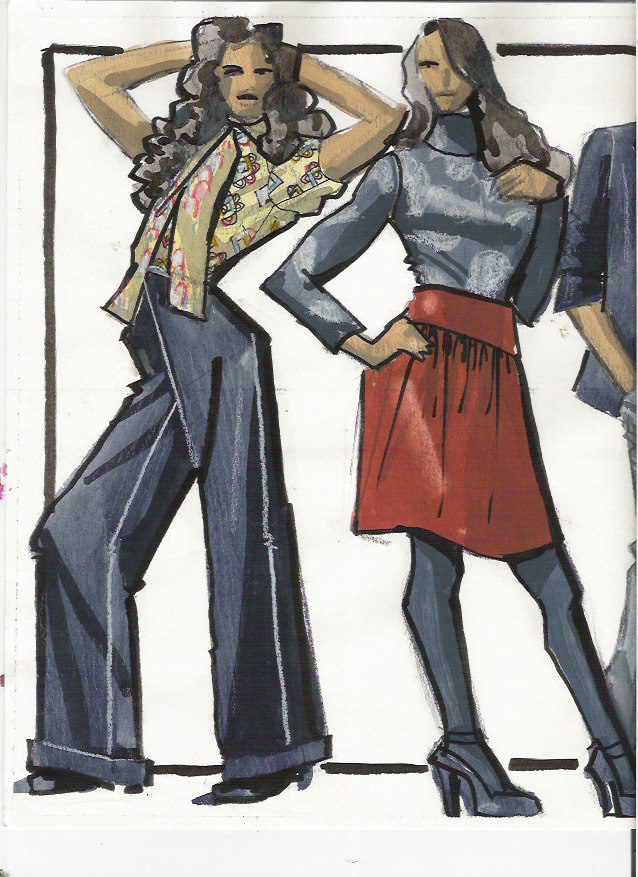 MOOD
Are you going for pure mood, feeling, inspiration, creation? Go for it! Color, texture, pure emotion, pushing the edges. Let the spirit guide you! That's FASHION ILLUSTRATION. New ideas can be born in there… shapes, proportions, colors, explored and expanded. Use markers, gouache, colored pencils, expressive soft pencils and brush pens, watercolors and textures papers all contribute to a quality and mood that is compelling.
TECHNICAL detail
Or is it technical? Informational? Purely technical drawings at times may be a bit proportionally or aesthetically off, but the purpose is to show every detail. So every detail needs to be in there as first priority. And they have to fit into the garment. So don't draw it to narrowly or they won't fit! : Closures. Collars, vents, plackets, buttons, zippers. Pleats, gathers, flares, ruffles, darts, tucks. Embroidery, logo. Smocking, elastic. Be explicit and get it all in there.
FLATS
This can range from a black and white technical drawing from a factory to full colored digital or gouache/ watercolor illustrations that carry lots of mood, shadow, texture and proportion but also include clearly indicated details on the garments and express their proportions. Fashion DESIGN ILLUSTRATION shows the "story", the look, the feel, while also showing the technical details of the garments, i.e.: the DESIGN of the garment.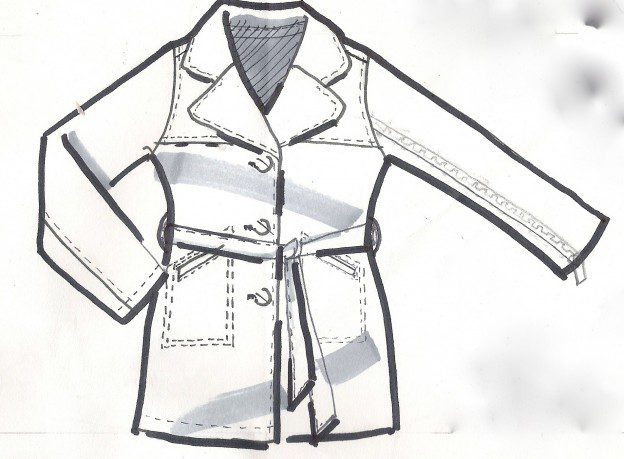 PORTFOLIOS:
Ideally, your presentation will provide the illustrations, the flats (technical, black and white drawings) along with fabric swatches to give a well rounded story. It should highlight all of your strengths and sides of your personality and approach. (we build all of these skills in depth in Soulful Fashion Foundation Immersion)
SKETCHBOOKS:
Turn up your favorite music, remind yourself how you came to this medium in the first place. Throw down some strokes on the page.
We need lots of inspired work out here! Your sketchbook, to me, after working with hundres of fashion design students, — is your most valuable asset. Not only is it where you feel the most free, honest, playful, dreamy and adventurous, but it's also where you show how you think, conceive, and develop ideas. Your fashion sketchbook/ croquis book says so much about you and how you approach and solve problems, and what your core values and aesthetic are. And this isn't something you "go out of your way " to do… it's a natural result of your time spend immersed in creating and working out fashion design concepts.
Please meet and share your gifts, however "large " or "small " you may deem them, there are no levels of value when sharing your truth. Truth is the highest value. What do you know, how do you look at the world, design, life, aesthetics, culture, people, clothing? What matters to you?
thus,…
CONSCIOUSNESS
And you know I'm always going to take it another level deeper: OUR FUNDAMENTAL PURPOSE should always be in our consciousness.  What is the purpose of your work on the highest level? Where is the love? Who does it serve? How does it help? How is it sustainable?  Is it a win-win-win situation? How can you take it one step closer to conscious production methods, distribution, chemical processing or disposal? Are they lasting garments? Is the imagery supportive of women as well as the production? Can you take steps to make it more so?  Can you use closures that aren't plastic? Can you use minimally processed fibers that last or that break down easily into the ecosystem? Do they Use innovative technologies for printing, dying, constructing, pattern-cutting (like zero-waste) or recycled or repurposed components?  Can you create stories that uplift, educate, unite, and bring joy to the world?
….and by the way,….
YES, YOU CAN!!!!!
For more info about my Online Fashion Courses, please check the COURSES and PRORAMS tab in the header menu! I'd love to meet and work with you to realize your dreams.
LOVE
Laura