African Print Fashion Illustration…..
As a long- time lover of all things African: food, music, dance, art, fashion, FABRIC…….. I thought I'd create a post just to share some of my favorite illustrations I've done lately incorporating "African prints". Scroll down for more designs and designers below the larger images.  If you are interested in learning illustration and model drawing, please remember to subscribe and you'll get a free gift to start learning right away with your subscription!

African prints, Ankara, Wax prints, Super Wax, Dutch Wax, English Wax, Veritable Imi-Wax, etc etc etc….. African fabrics for the Afro-American market, Dutch Prints for the African Market, Chinese Prints for the African market… there is no end to the complex story surrounding the fabrics involved in what is loosely called "African" fashion or African fabric.
Here are some things that struck me and enchanted me early on in "African" fabrics and fashions, and still do to this day:
colors that vibrate next to each other. It gave me the feeling of "seeing colors I had never seen before". Which, in fact, I hadn't, because colors are perceived differently based on which colors they are placed next to. In our "culture" these colors are considered "clashing", so I had never seen them. In fact, they follow their own rules of harmony and produce a high vibration, energy and contrast!
light or dense, crisp and pure cotton fabrics. Great for airy, paper-like folds and volumes silhouettes
prints that are as dark on the "wrong side" as on the right side
beautiful irregularities– from hand – waxed or tie-dyed and hand dyed surface patterns to block-printed, batiked and crinkled-wax backgrounds, "UNEVENNESS" and lack of harsh perfection result in slightly overlapping edges and organic, personal forms that show signs of the  hand that made them
motifs  you may not be used to seeing in fabric: like fans, faces, chickens, eyes, sugar can, exotic birds, ………
LARGE motifs and panels, so much larger than you may have ever seen before.
beautiful selvedge edges that show the brand name and create a decorative edging on the garment or fabric edge, not to be hidden.
So, do your homework, ask around, look around, and discover this rich and wide, creative and vibrant tradition in it's many interpretations. I will be continuing to share more and more resources related to this topic this year, such as books on the topic, Pinterest boards, instagram accounts to tune into, and TECHNIQUES FOR ILLUSTRATING THEM!!!
Don't forget to subscribe to stay posted of news and events, and to check back here for blog posts and check out the archive too! For example, you can see a lot of these illustrations broken down into step-by-step in my past articles.
Thanks for stopping by and learning more about African Fashion, African Fabrics, and Fashion Illustration!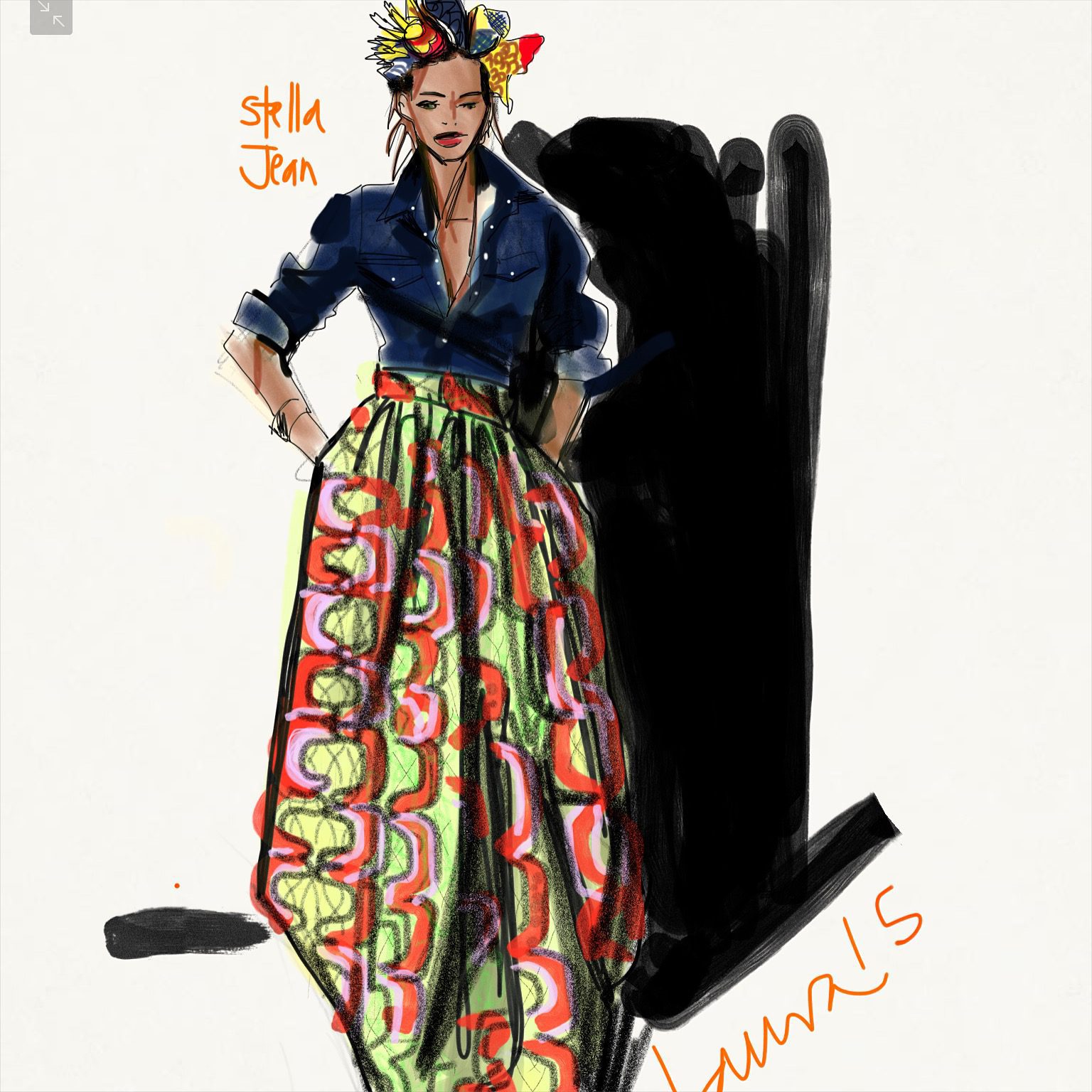 Here is a digital illustration I did of a look by Italian- Haitian designer Stella Jean using my iPad.
.See the process in pictures and learn more  here: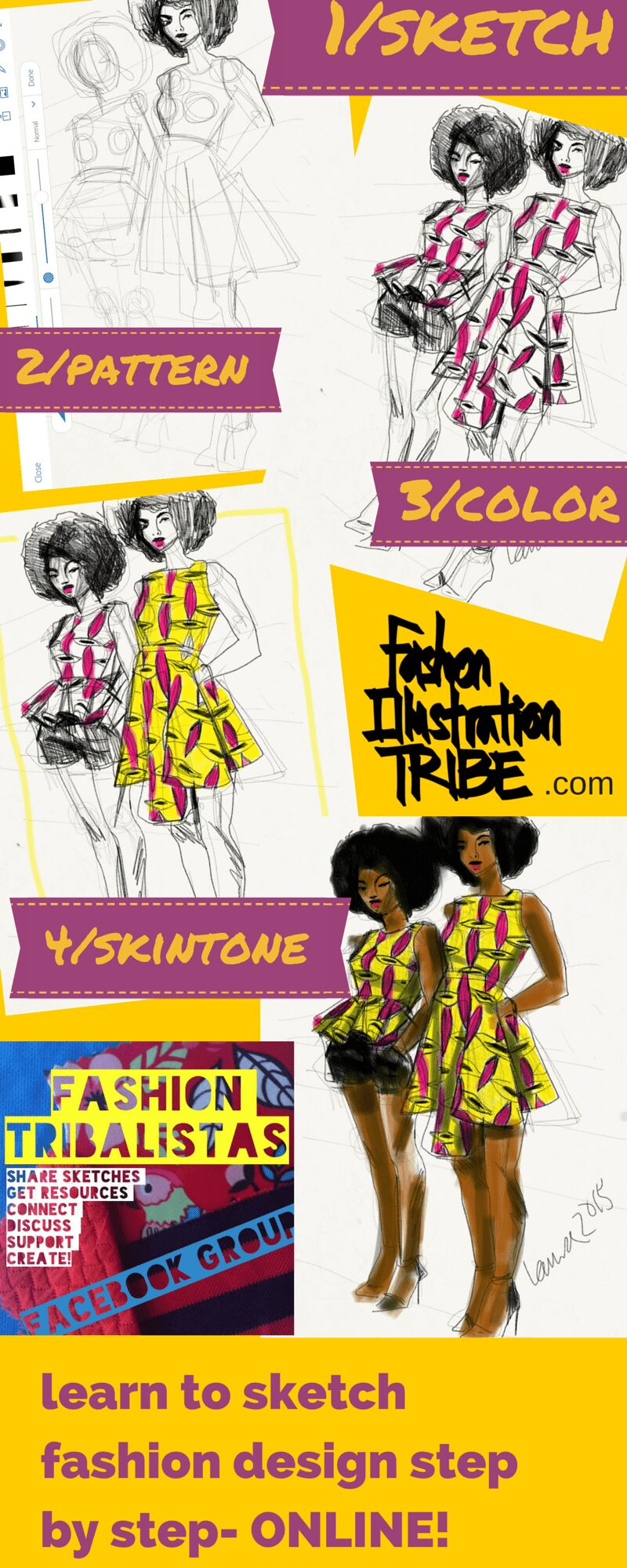 This duo I illustrated digitally too. These two beautiful looks, flared at the waist in a beautiful cotton print, are by one of my favorite designers: Natacha Baco of Paris. I love the way she uses cut-outs in her pieces. Check out the link! also, Click the photo below to learn more on my blog about the sketch.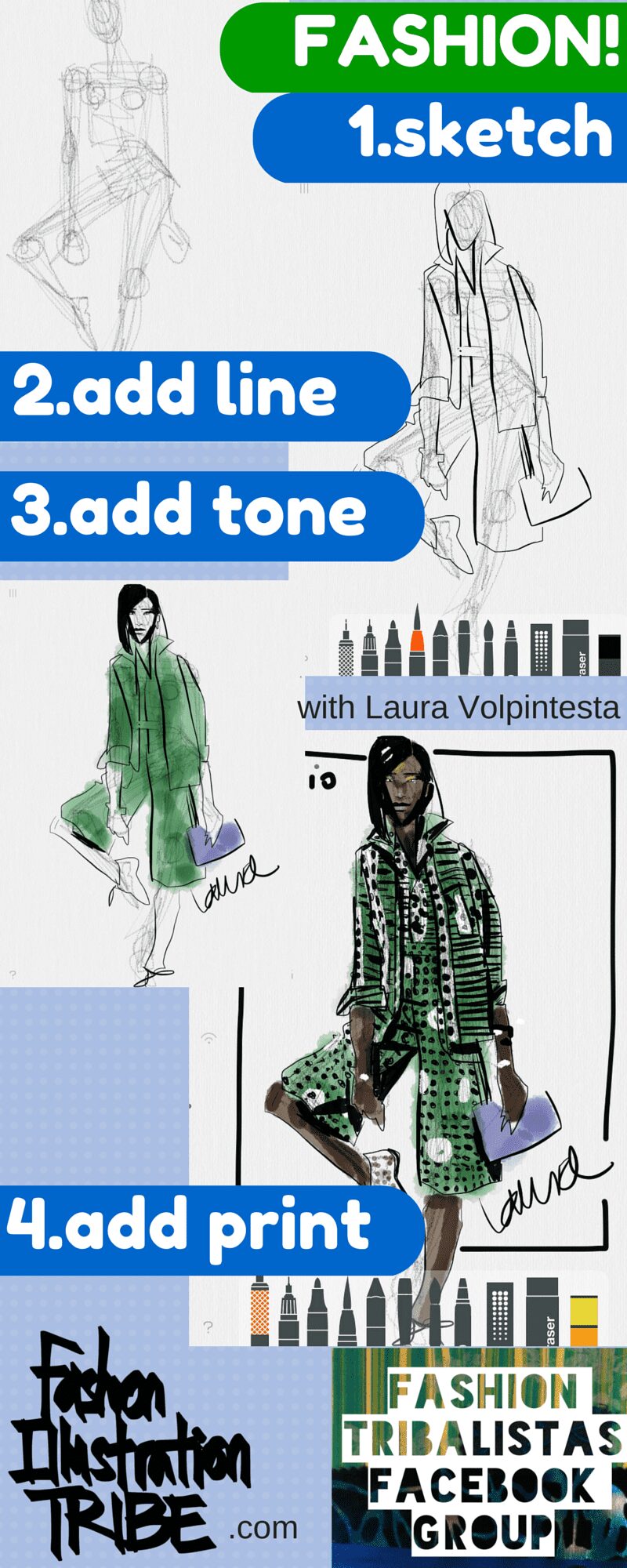 This look is also digital (I HAVE LOTS OF HAND DRAWN WORK TOO, SCROLL DOWN ;0) it's by Studio Oneeightynine or Studio 189. This fabric is handmade in Ghana. I illustrated this because I loved it and was happy they shared it on their social media channels! It's the first illustration I ever did on my iPad.
This fabric is actually an ikat technique woven fabric, and the designer of the dress is Kachi Designs, I love her stuff! That's why I illustrated this piece!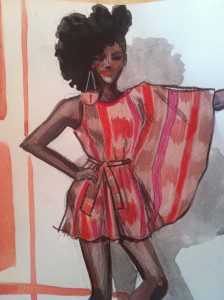 This illustration is sketched in ink-pens. See the African Print edging along the hem of the skirt in a wide band. This fantastic designer designs for a full range of sizes. check out Brooklyn designer, African inspired- Nakimuli!!!!! She's amazing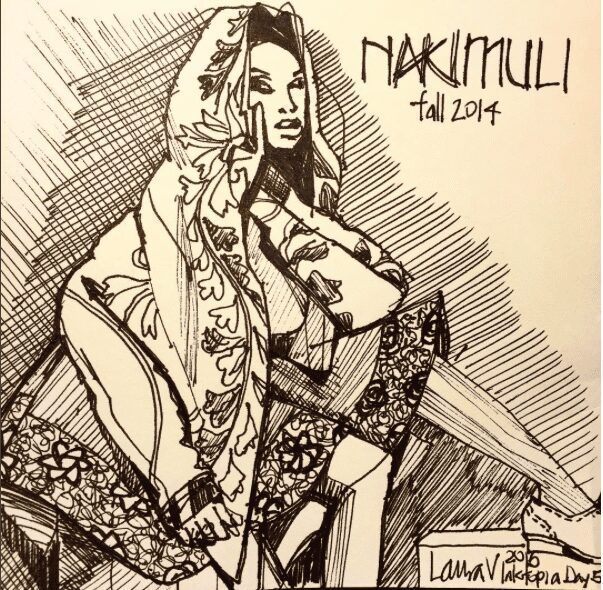 This next illustration I did with ink pens and a grey artist marker features cutouts around the neckline in this very cool print dress by the designer  Selly Raby Kane. Check her out!!!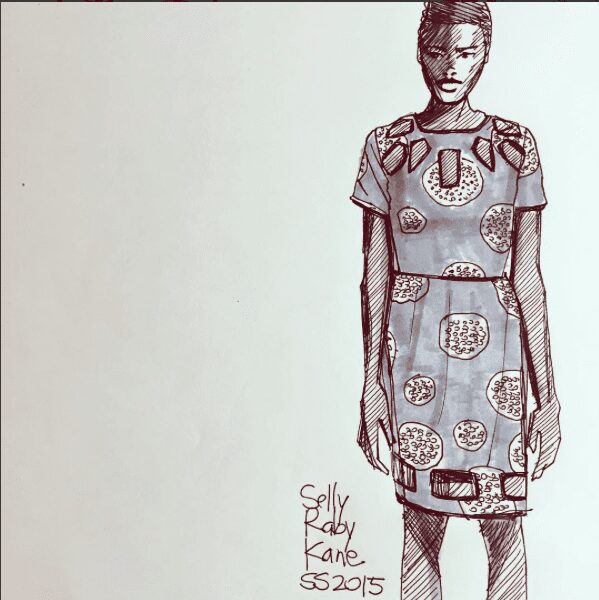 These next looks are from AFW African fashion weeks around the world… I found the images but not the designers' names. PLEASE let me know if you know the designers' names!!! I will edit and update!!!
A woven pleated bikini: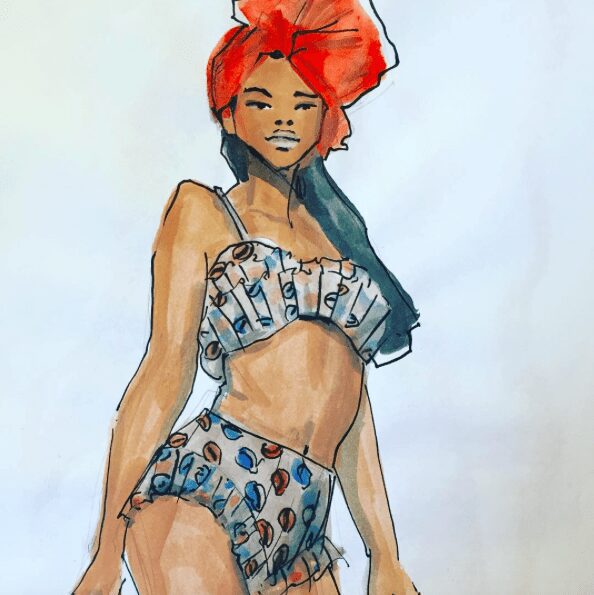 A Vlisco print ensemble of my own design and illustration that I sketched in class during a demonstration in my Parsons NYC Fashion design class.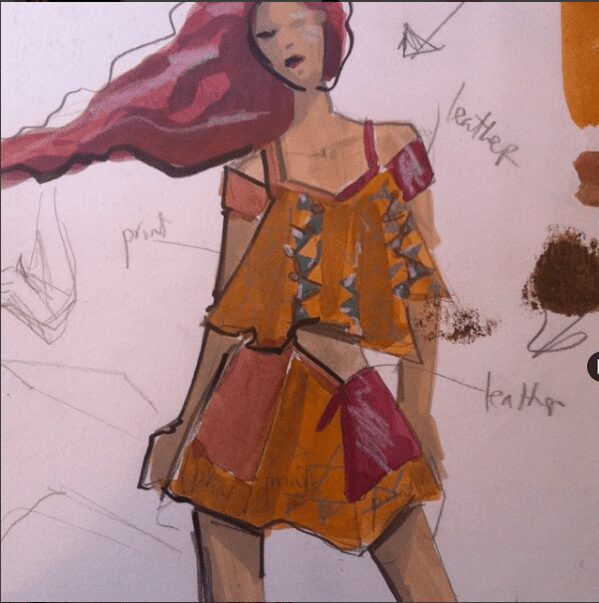 I illustrated this piece by a designer I found on Pinterest but don't know who designed it, it was pinned anonymously. Why do people do that? ;0(. I used Inktense blocks to paint this, with a Uniball pen.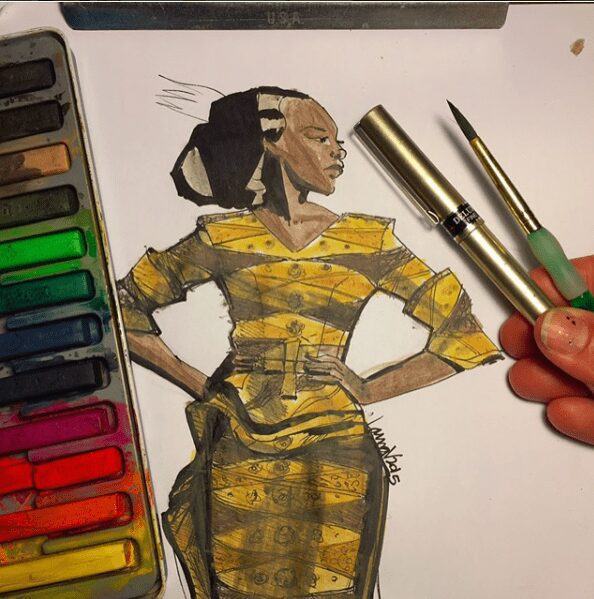 Evening wear from AFW: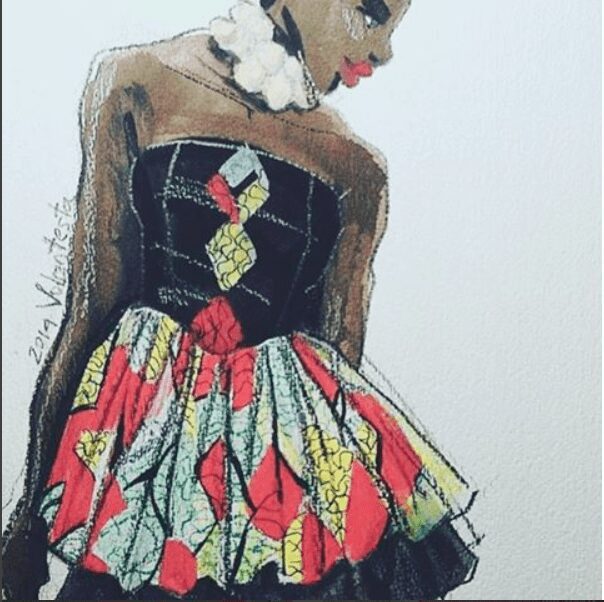 More of my own original designs and sketches: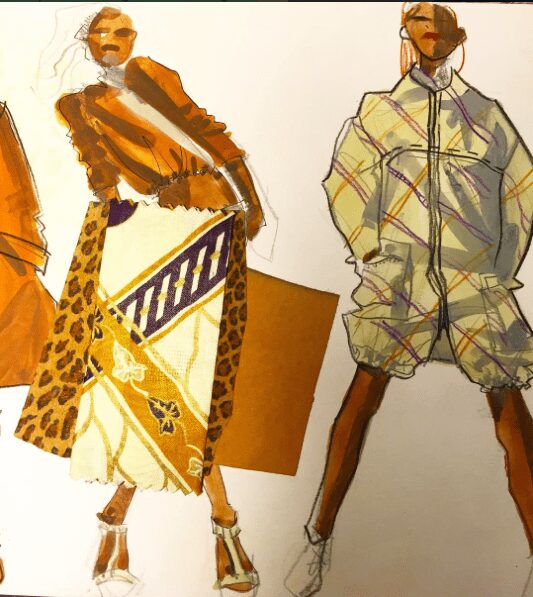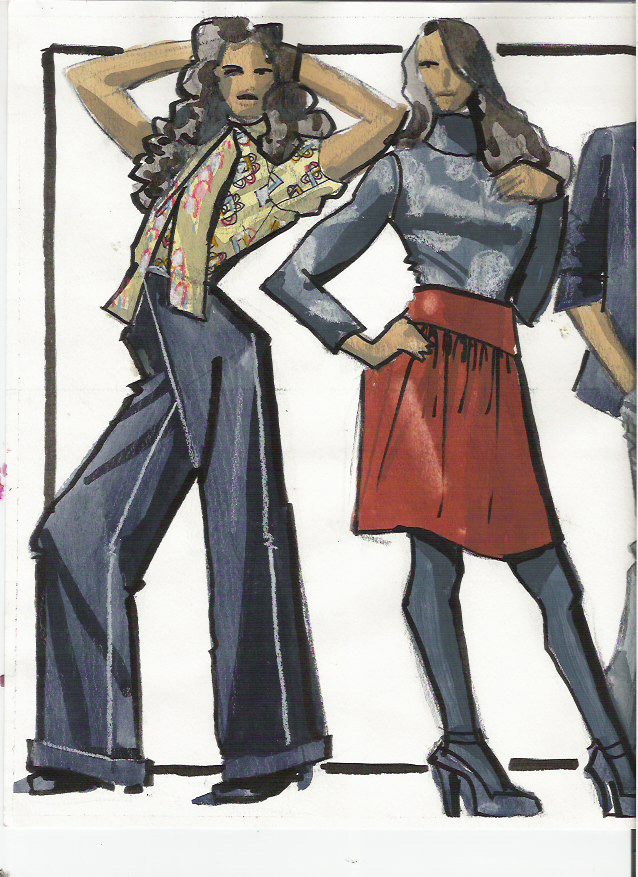 The following looks I illustrated are by Kaela Kaye by Catherine Addai-Boadu of Canada: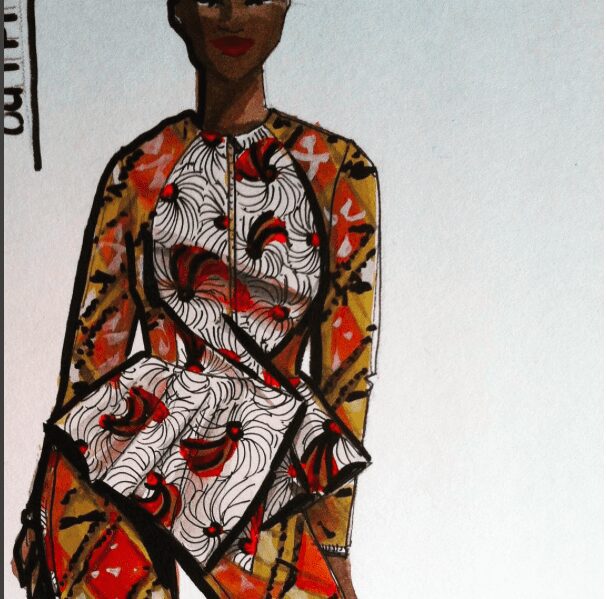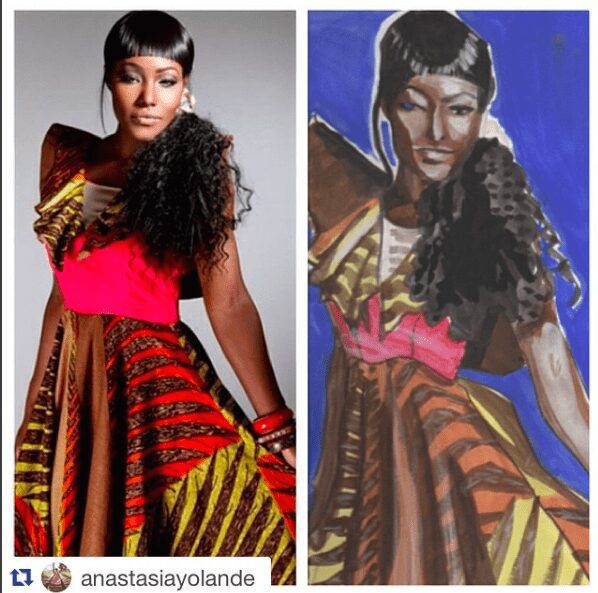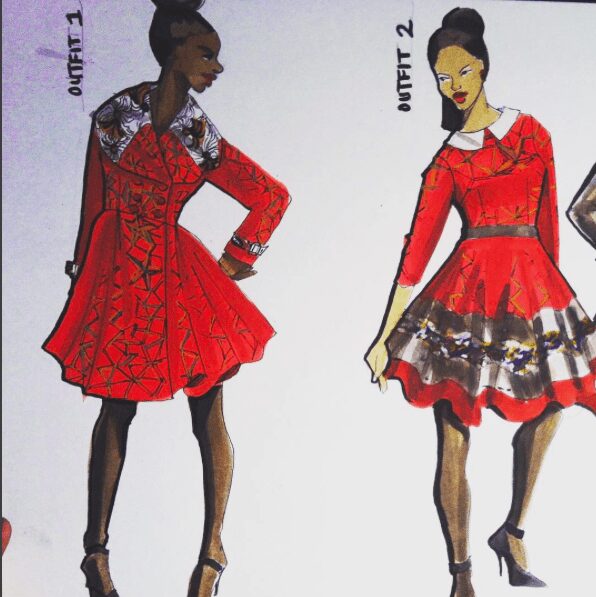 This is another designer from AFW African Fashion Week.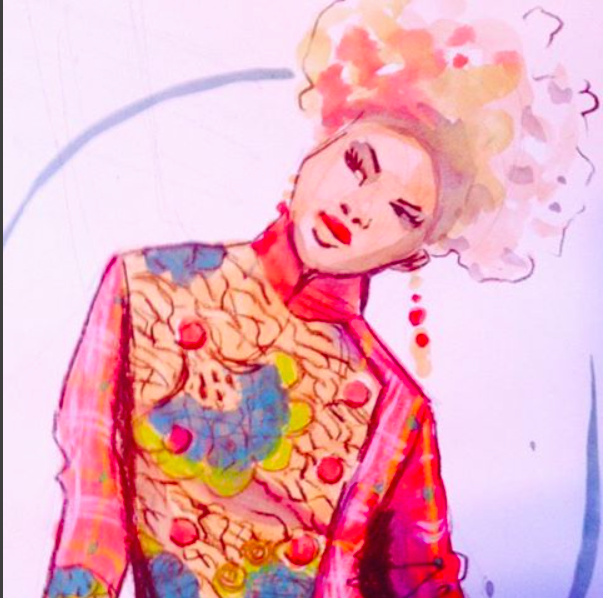 Please check out my affordable self study course or personal coaching package (including monthly Skype sessions with me) to learn more how to express yourself and your ideas through fashion design and illustration! I guarantee you will love the programs that I loved building:0)
xo thanks for visiting!