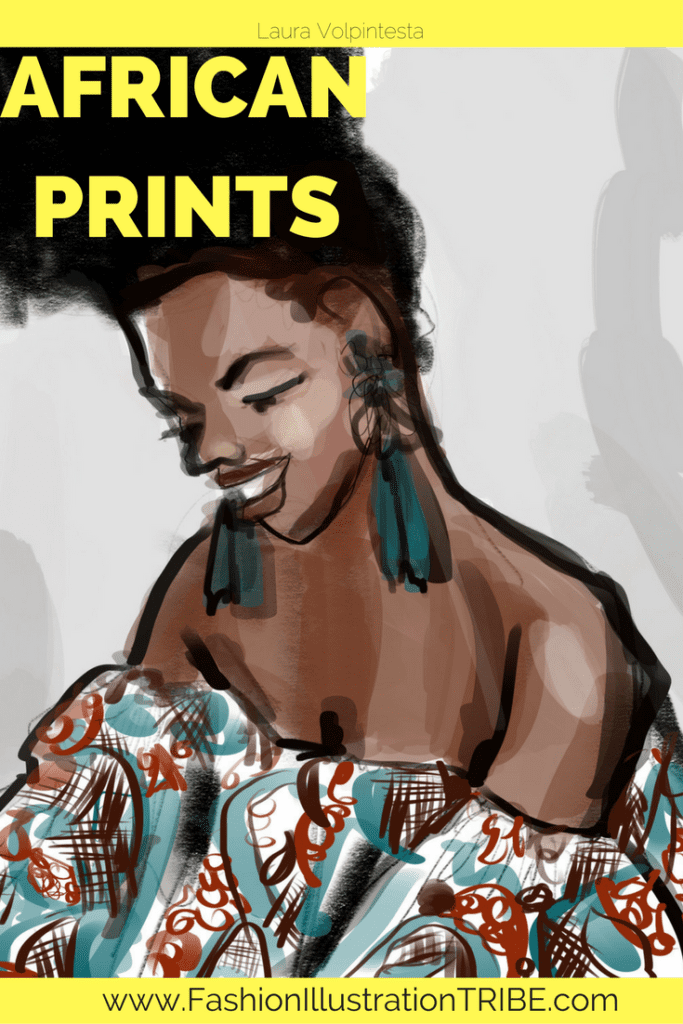 (video below)
There's not complicated story to this: I'm simply obsessed with African fashion.
In 1992 I moved to Paris as a Parsons fashion student and though I was fascinated by the couture and Japanese Avant Garde presence and jeunes creatures de la mode of Paris…
Nothing could hold a candle to the way I felt about the Africans and African fashion, music, food and culture.
That fashion, those beautiful sculptural hairstyles, headwraps, turbans,  and custom-made dresses, those fabric stores piled ot the ceiling with patterns, prints and colors that literally dazzled my eyes.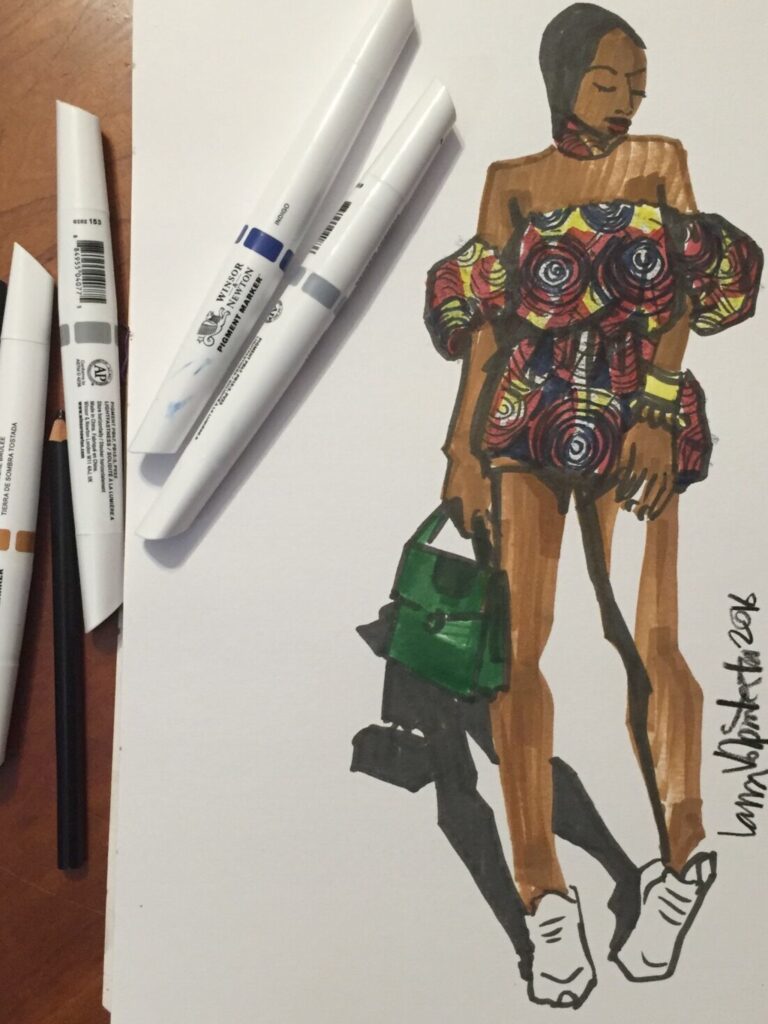 I was blown away.
the baby-carrying. The spices and markets. The pounding sun and elegance and peaceful joy that I could HEAR in the music.
Groups of women walking together, each in a brilliant jumple of mixed patterns, they were even more beautiful when they walked TOGETHER.
African fashion was literally so exotic and fascinating and beautiful, (and I was literally such a fashionista..) that I would follow a woman for a few extra blocks just so that I could observe and analyze how her dress was made or what the print motif was ….we did not have cameras then in our pockets!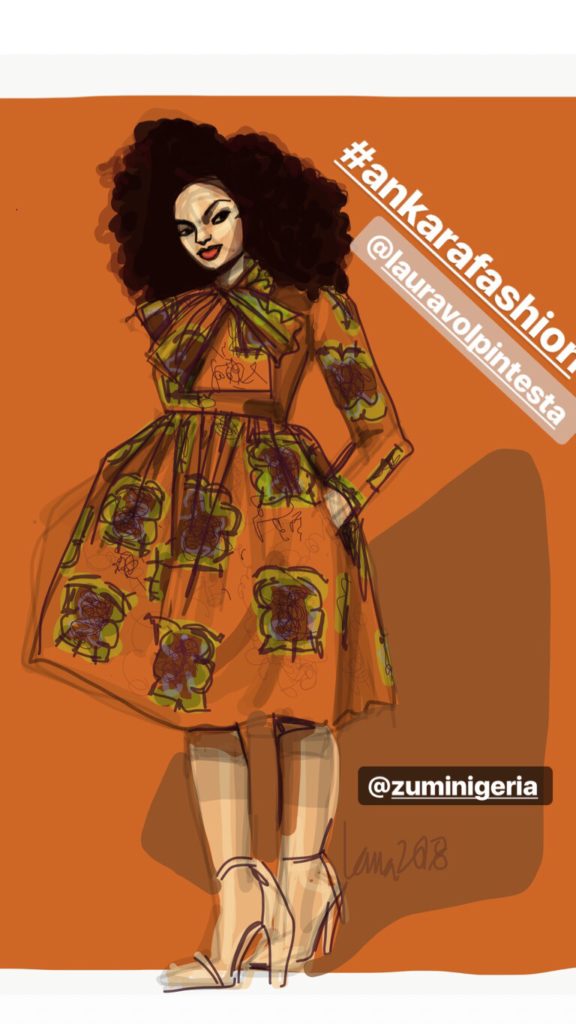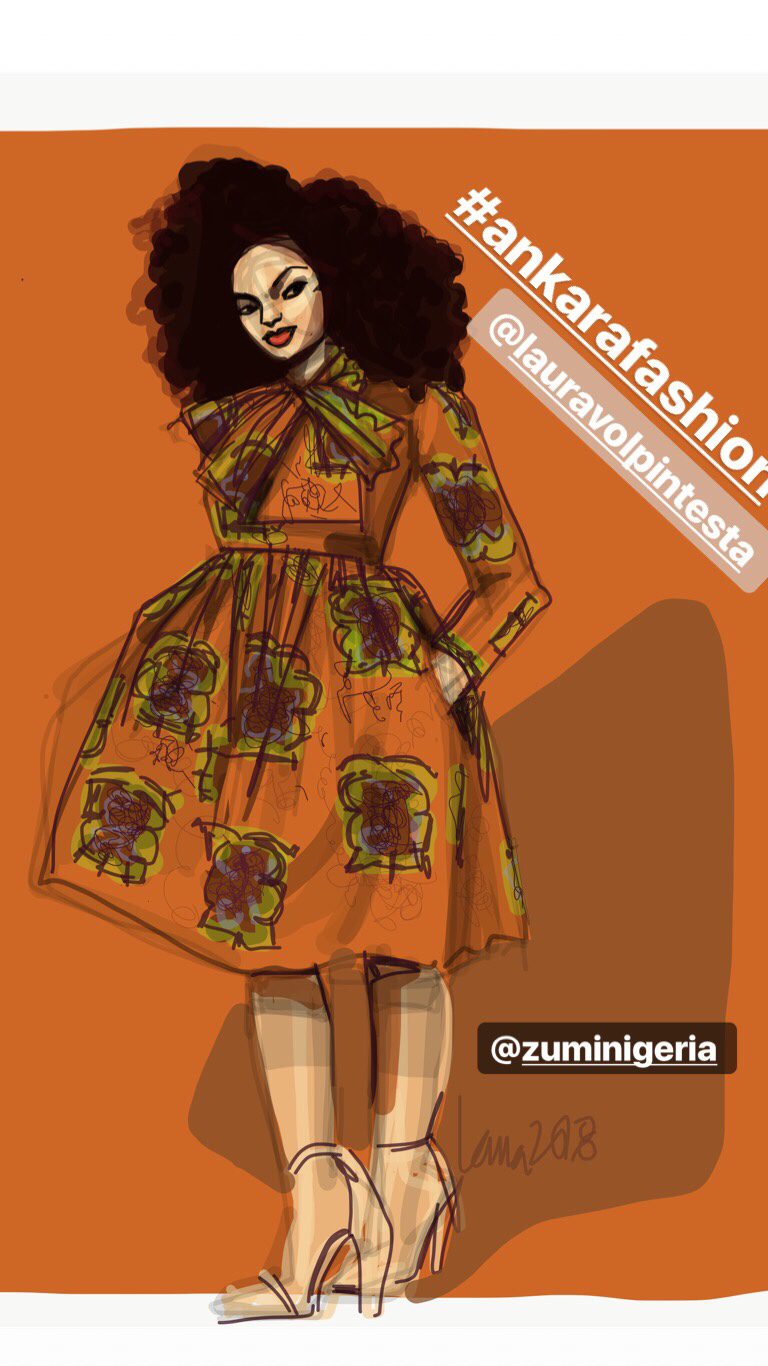 I would go home and sketch and sketch.
Now it's easy to find African and African inspired styles and designs online everywhere.
Maybe one part of what made it so incredibly magical then was that the only way I could see it was to be walking down the street!
It was rare, precious. And when I'd go to certain neighborhoods, it was like going to another country where I was just a total foreigner (oh wait, it  WAS another country and i WAS a foreigner.)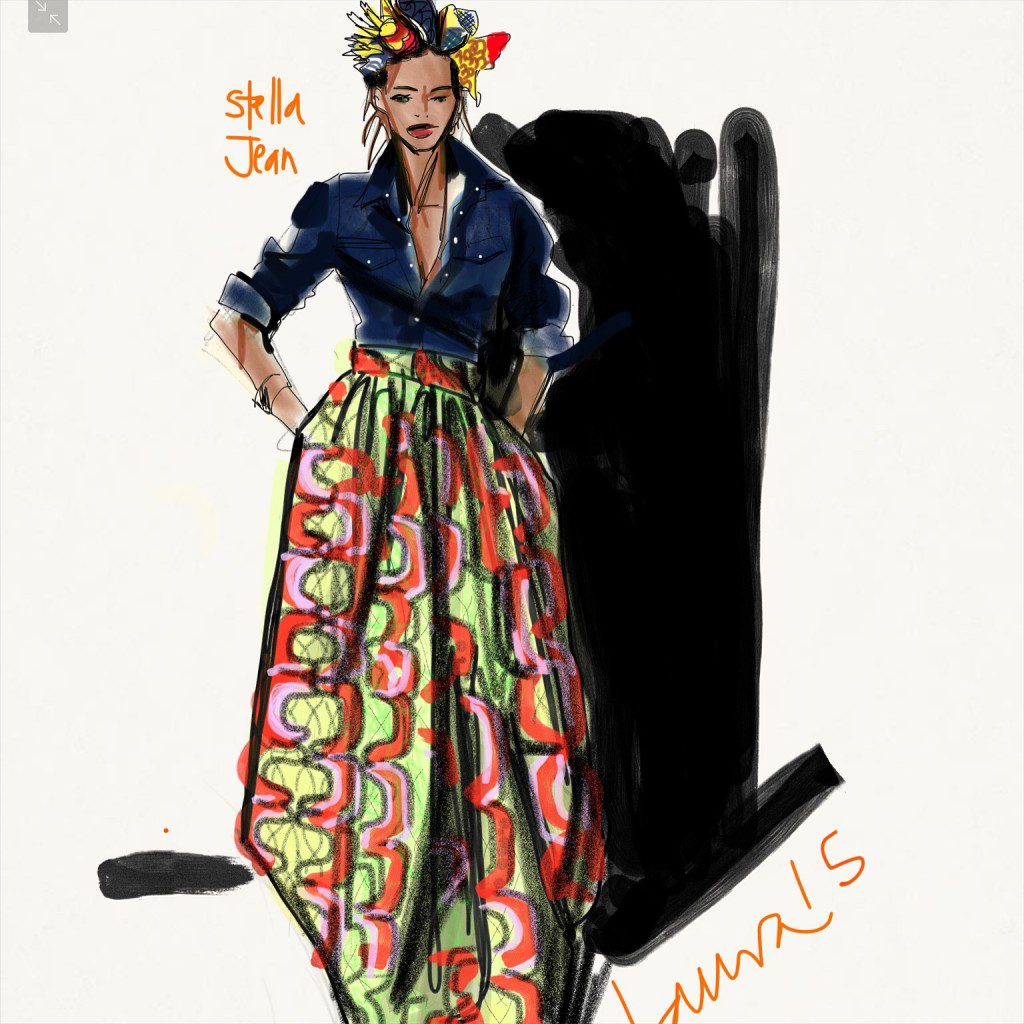 translates beautiful across markers, digital apps, gouache…. I've done them all and shared many on this page
And I"m adding  a youtube here so you can get a peek at the processes!
Fashion Illustration is so ultimate– I just love to capture souls of people on paper,
I love craft, cultures, creativity. I love adornment and I love stories about PEOPLE.
About women, About moms and families, About traditions and celebrations.
I love roots, I love the future, and I love now.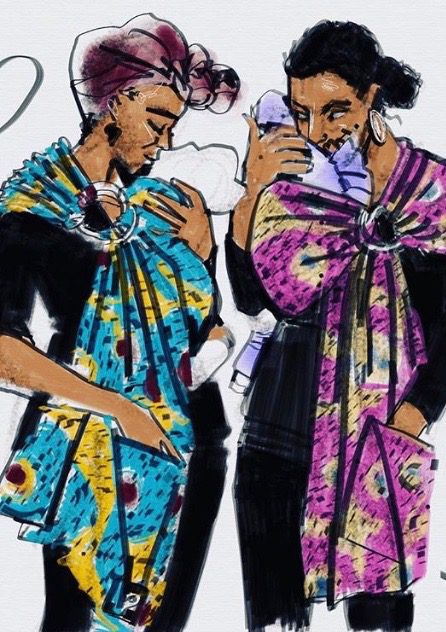 Why do you love fashion illustration?
This example below is a super-fast, 22 second video where you can see the blank paper evolve into a finished illustration using Procreate app on my iPad pro.
In the second video, here:
This video is 5 minutes long, and I'll talk to you more about what apps I"m using and explain how I'm using them so that you can get deeper into your own experience of making.
Let me know what insights from this video you can apply to your own drawing, whether you are a beginner or advanced in fashion drawing!
African Prints
enchant me because the motifs are often humongous, the scale is different from in traditional North American cultures.
I love them because the color combinations "clash"… that's not a judgment, it means that they vibrate strongly. That's a good thing!  It's a new kind of color theory– new harmonies to the murky washed out colors of my culture. Every color in them, I feel like i'm seeing for the very first time. And this is 25 years later after seeing my first African Prints!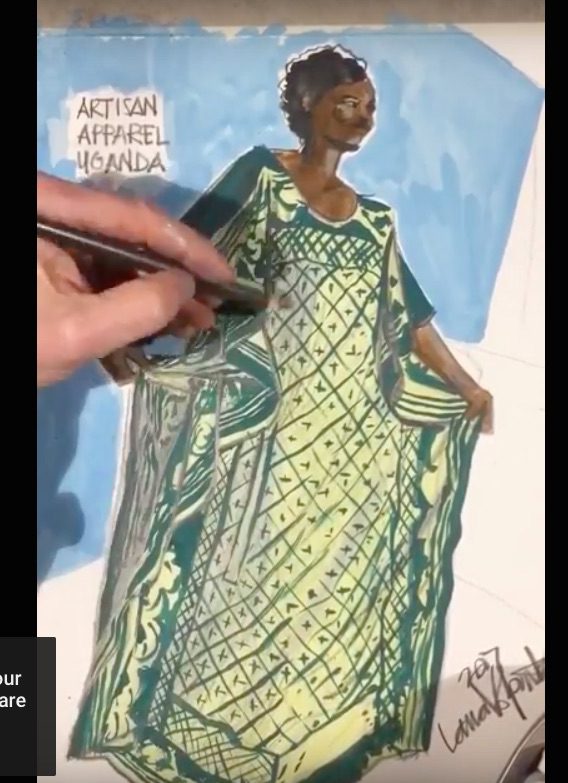 I love that they have a hand-blocked, crackled and uneven feel that gives infinite variation. I love that they don't look totally perfect and controlled.  They combine batik , wax-resist technique with block-printed opacity.
I love that Africa Prints and Wax Prints are as bright on the "right side" as they are on the "wrong side", and that they are cotton. Crisp, light, quality fabric is delightful.
African prints shine brightly off of dark skin, and they are so busy that it is easy to mix them. It delights my eyes to see them combined.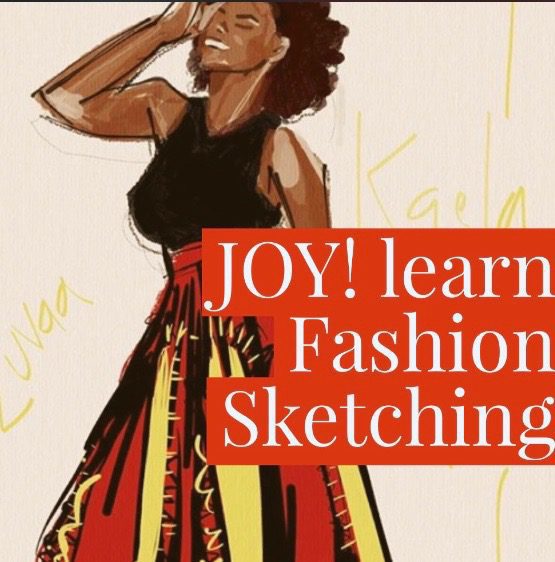 When you sew such bright and busy prints, the super fine details are less visible, so you can sew in a relaxed way and focus more on the major details of the shape of the garment.
Large motifs have great effects when you pleat, gather, or smock them. They shrink and get squished up.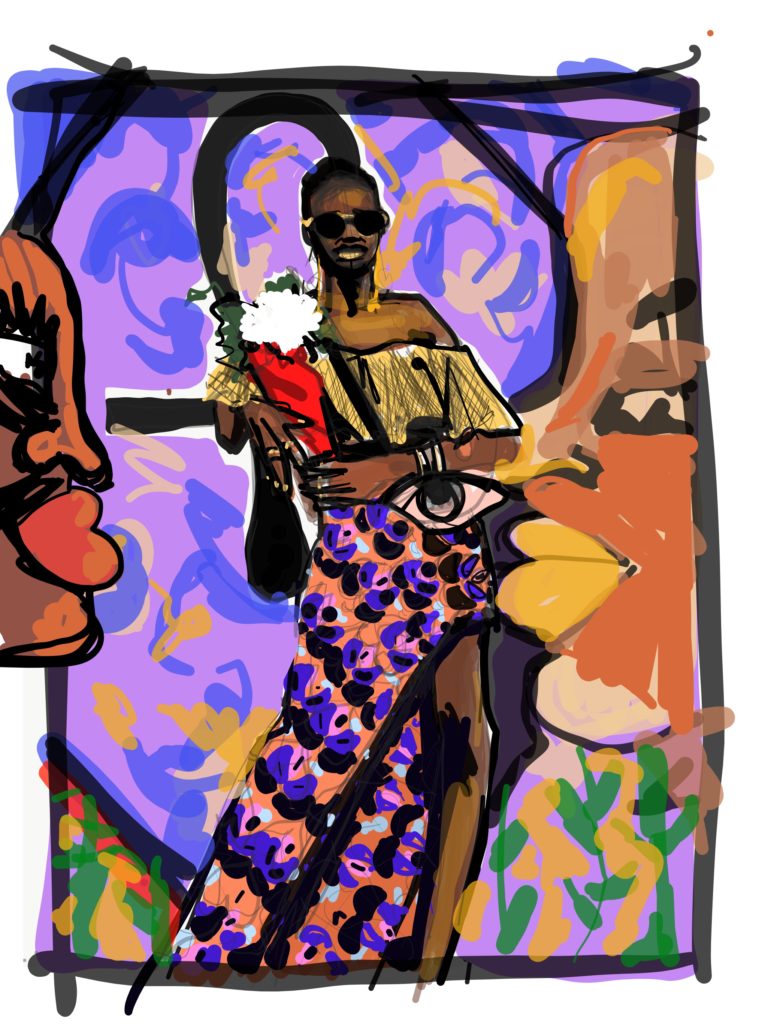 Afro Brazilian culture, dance, and music
folklore, culture, and food, etc…. all enchant me as well.
Today's illustration really reminds me of a Bahia-Brazilian style of beauty.
Now, you…..go sketch!!!!!
love,
Laura