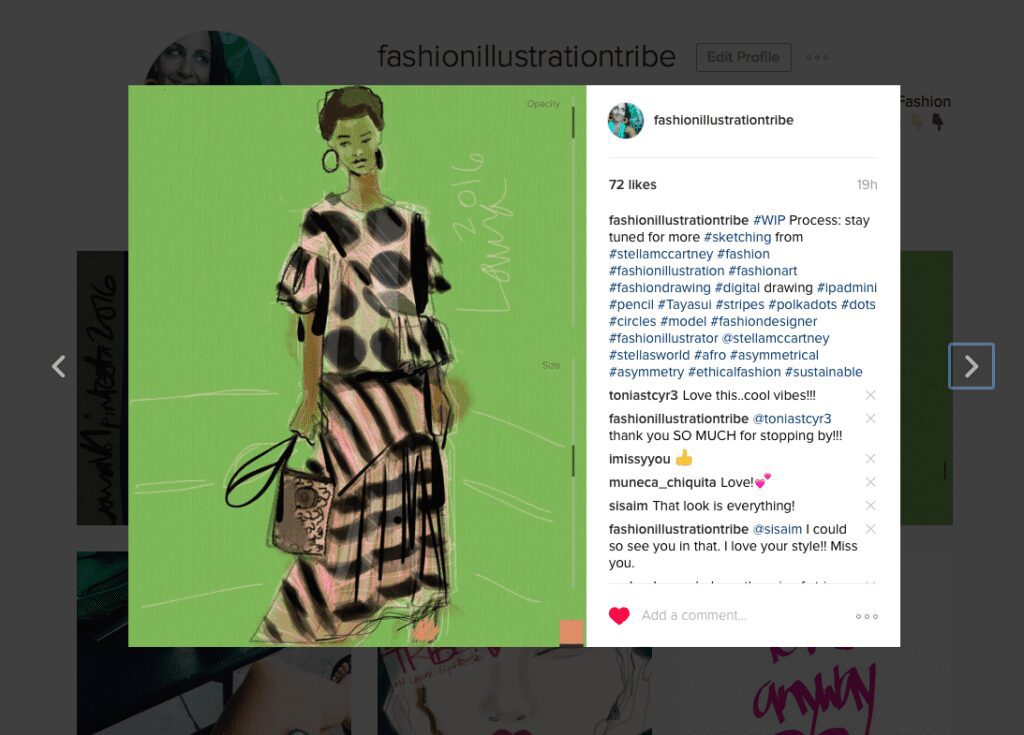 FASHION DRAWING APPS
are you afraid of them? Here are
-12 REASONS why I've fallen in love with fashion drawing on my iPad!
I have always taught art and fashion sketching with gouache, watercolors, pencils, ink pens…. and still do!
Exactly one year ago, though, I started exploring drawing apps on my new iPad to see what they were capable of for drawing and illustration.
I was skeptical and resistant and found a LOT OF DRAWING APPS I DIDN'T LIKE AT ALL!
And then, I had a breakthrough……….
I found a great one, and then feel in LOVE with digital drawing and painting ! (and I"m still in love with "old school art supplies" too!  We use them exclusively in my Signature FREEDOM FASHION online semester course.)
So much do I love them and SO RESISTANT I WAS to them (as a Fashion Design professor at Parsons School of Design, I always thought that students who sketched digitally were missing the richess and emotive qualities of analog art tools), that I CREATED A 4 week, 60 minutes/week plus online course on faces and drawing apps to retrace my steps and share the discoveries I made with YOU.
Scroll below the text here to see my step-by-step process in pics creating a fashion illustration with a drawing app. In my online course, I teach you through videos.
HERE ARE 12 REASONS why I adore drawing apps on a tablet or device.
I'm celebrating one year of loving digital "art supplies" for digital drawing on iPad or Tablet because:
digital drawing is clean, bright, FUN, inspiring to explore..

digital sketching tools are easy to 

erase and redo

drawing apps for the iPad or table are more 

versatile

 than you think

digital illustration is crisper and clearer when you 

share it on social media

different art and drawing apps have different capabilities…. some are very slick and clean, 

some are more "organic" and natural

 in feel.

digital art doesn't HAVE to look flat, stiff, or lifeless (as I once believed!)

drawing apps are 

elegant, user friendly

, intuitive and inexpensive

you can use your iPad  or tablet's drawing apps to create art anytime, anywhere, with no mess and nothing much to carry!

a 

stylus

 is NOT required

you can

 zoom in

 and out of your work

you can share it easily and 

don't need fancy cameras or lights to share your work in the world 

like with paper and paint.

it's easy to sign, watermark, and resize your images for different purposes. (I'll teach you how I use a watermarking app to create and use a watermark too so your name stays on your work!)
Here's a face I sketched
with the Adobe Illustrator Draw App. (now known as Adobe Fresco- same effects but a new interface)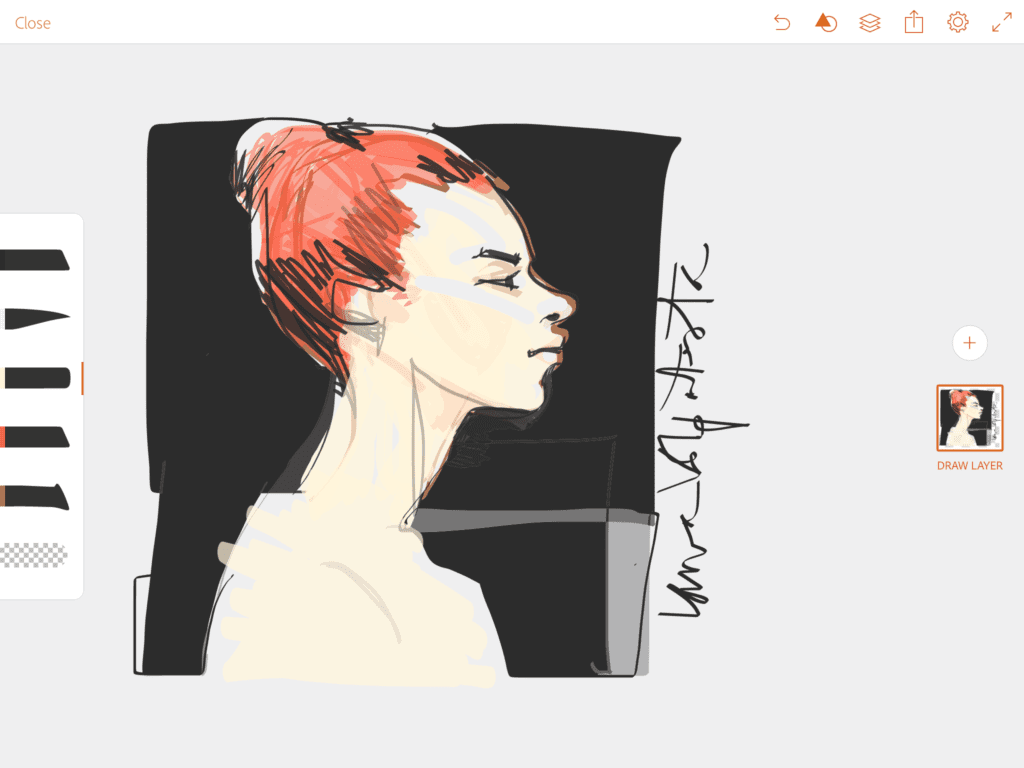 This is one of the smoother, slicker drawing apps…. not as gritty or natural looking  as some of the others, because its vector drawing that can be zoomed infinitely in size. But its minimal tools  interface and the fact that it works for iPhone,iPad,and Android Tablets makes it a great universal tool.
You can even use it to create your logo, watermark, signature, or quotes that are handwritten……all by yourself (also in my ABOUT FACES COURSE).
I love creating and sharing original content!
If drawing faces, fashion, heads and people fascinates you, don't forget to check out my class.
I'm SO EXCITED to share the beautiful creative course I created for you! It's grown in to not just a faces class, not just a digital illustration class, but a full rounded design sketching and development course as well!!!!
Students are already sharing their enthusiasm and creations in there and it's inspiring me so much to keep doing what I do.
love
Laura