An entirely LIVE iPad/ digital fashion drawing course! with Laura Volpintesta
About Faces is  my go-to homestudy course for learning faces by drawing and painting using luscious iPad apps or other digital device apps for illustration.
I am SO EXCITED To create something so special for December! #FashPadLIVE is different! It's a aLIVESTREAMED class.
It's covering more apps, one each night.
We'll work through the material and play with our new tools throughout December, and then close it up end of January. 
The livestream dates are December 4,6,11,13, 15,18, and 20 at 8:30 EST (Tuesdays, Thursdays and one Saturday). REPLAYS are up for the entire month of January for anyone who  misses the  live sessions!
Fully Online, this digital course has 7 meetings, about 60 mins each with live chat.
In each livestream class  I'll teach techniques and different apps that contain full sets of art tools and papers, colors, and textures.
Why did I create this? BECAUSE I LOVE THESE APPS!
Because I love students like you!
I love seeing what you do with your new knowledge.
I love watching you overcome bumps and blocks along the way, and discover that what you though you couldn't do, you can!
I'm excited to share with  you the capabilities that you never quite imagined existed in your digital devices and endless outlets to use your creativity in the course.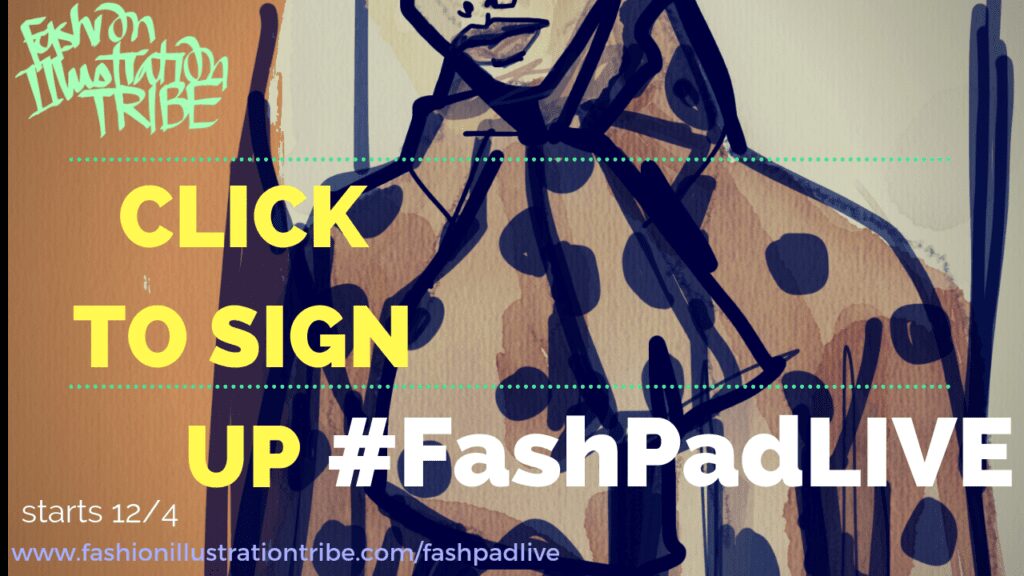 If you've been with me a while, you'll know that I love to dive deep with you and give you all i've got.
But as one of my Freedom Fashion stufents told me once…
"it isn't just about skill, Laura. You make me feel like I can do anything. I've never done this before and I've amazed myself".- Tatiana
MY GOAL IS TO OPEN YOU UP TO YOUR SUPERPOWERS.
You know you 've got big expression inside waiting to come out.
If you've got doubts, fears, or insecurities, I'm here to create the space of safety, playfulness and intention that moves you into being the creative you may have only dreamed of being before.
Undoing doubts and fears and proving to you that you are worty, able and powerful are at the core of what we do.
And we do it with humor, fun, and even child like curiosity and playfulness.
THAT"S WHERE THE MAGIC IS!!!!!
IS THIS CLASS ONLY FOR FASHION ILLUSTRATORS/DESIGNERS?
no. anyone who is curious about the capabilites of art supplies in drawing and painting apps is going to get a lot from this.
Anuone who wants to learn more about drawing clothes, faces, figures and create prints and patterns will love this.
Your iPad or digital device (app store or Google play apps) include:
pencils
colored pencils
watercolors
gouache
ink pens
brush pens
fineline pens
chisel tip markers
pastels
colored and textures papers
cutout shapes
LAYERS
ZOOM
ERASERS
TIMELAPSE MOVIES
HISTORY 
and so much more!
I can't wait to work with you.
I love you!
Laura