Men's Fashion Sketchbook/ Fashion Croquis book (video below)
Whether men's fashion sketchbook or womens, or children's, if you love fashion design, fashion art, and / or sketchbooks in general, there's nothing juicier to talk about!.
If you're a fashion student, especially, you know how exciting and inspiring it is to see other peoples' sketches and sketchbooks! 
Today I'll share one of my many fashion croquis books from my STUDENT years at Parsons School of Design. It's a Mens' fashion sketchbook but it's useful for any fashion student or designer,  Even for any lover of SKETCHBOOKS!
So what do I want to point out about this group of men's fashion design sketches?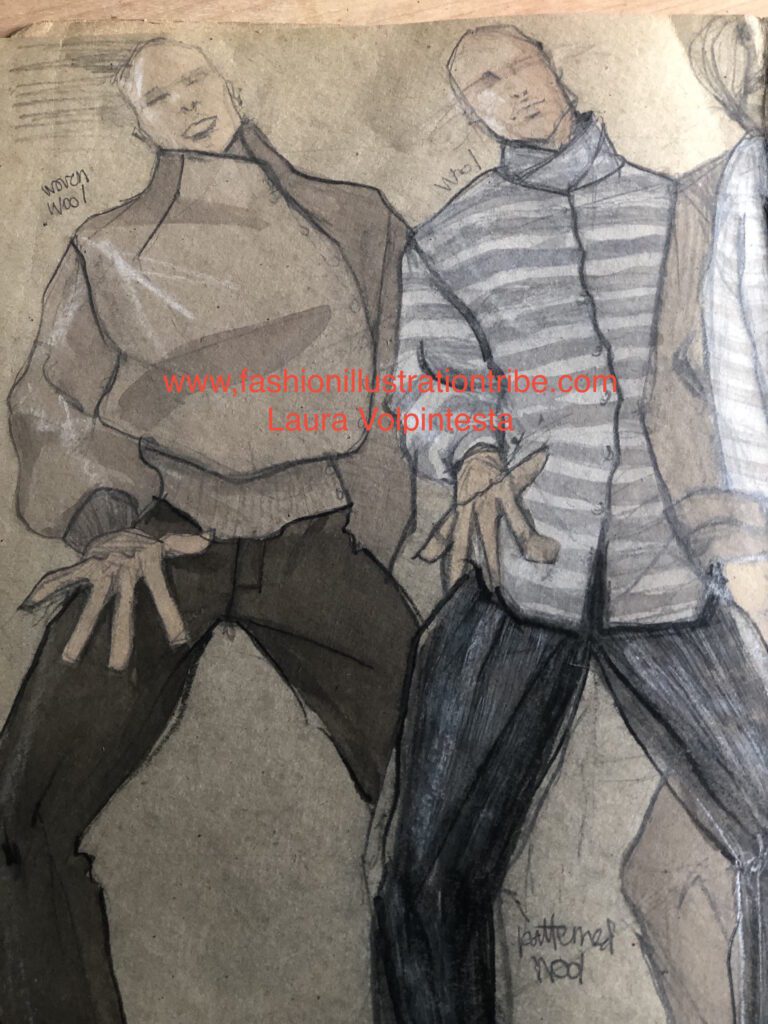 I decided for this Men's fashion sketchbook to try out the Bee paper/ Aquabee "FASHION PAD"/ "recycled sketch" (i think they changed the name since the 90s).
It was a unique experience to use this highly absorbent, mid-toned and extra gritty textured paper with graphite and gouache.  
Here's another example of the fashion pad paper but in the digital version: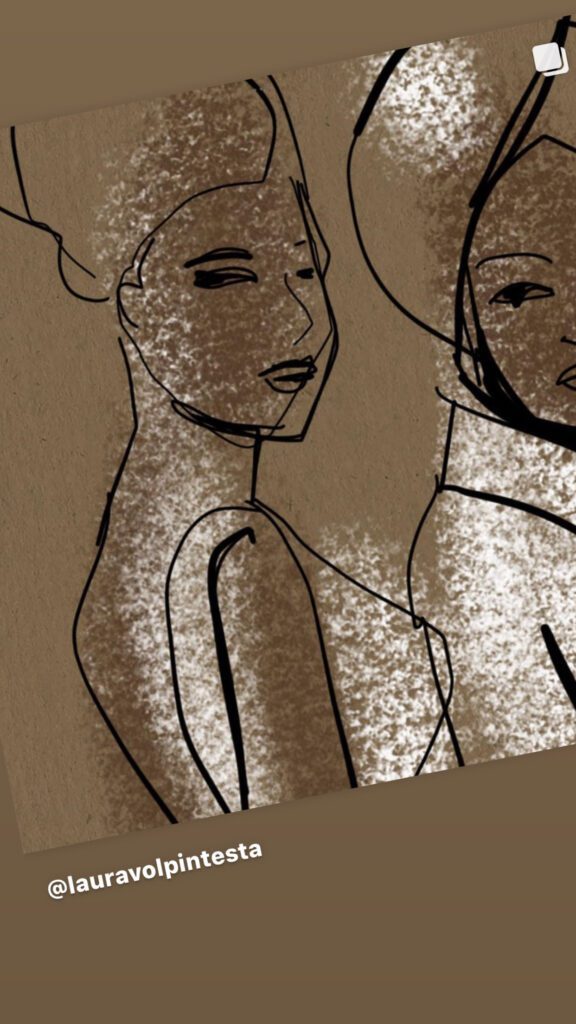 Gouache and Pencil fashion illustration
most likely I used Winsor &Newtown tube gouache though I also love many palette gouache sets for my croquis / fashion sketchbooks)
Ebony pencil is the soft, thick graphite pencil I use for these expressive, dynamic lines and line quality in my drawings.
LARGE format men's fashion sketchbook
In other articles and videos, I share large sketchbooks, small sketchbooks, digital and analog fashion sketchbooks,etc.
This particular croquis book/ fashion sketchbook is HUGE!! 18×24″ in size, It's the largest size I ever used for fashion sketches (but NOT the ONLY TIME i used this size)
I really recommend playing around with different sizes and orientations(portrait versus landscape) 
If you choose to work huge like this, don't forget that you don't have to fill the WHOLE PAGE WITH HUGE FIGURES like I did here.  You can, but working large can feel slower.
I always find that individuals have different sizes that they sketch best or most comfortably in. If you experiment, you'll realize what size looks or feels best for you. 
Another way to tap into that is to work with a MENTOR like me, in the Freedom Fashion Mentorship Year program!
Other Fashion Design Sketchbook variations
also try fashion sketching with different page layouts and art supplies like digital apps, markers or watercolors and gouache.
Using a huge sketchbook can be an excellent opportunity to include flats, notes, sketches, fabric swatches, trims and more ALL ON THE SAME PAGE!
In today's video I talk about why that can be so helpful for you to see all of your work at one single glance….
Another thought? PAPER TYPES!  Whether you use copy, sketch or marker paper (all are slightly sheer but don't hold water  or wet media well without buckling) they have the benefit of allowing you to trace easily!
Using a Digital fashion sketchbook instead of paper?  Fashion illustration apps gives the benefit of 
erasing paint or duplicating sketches easily.
Watercolor paper adds texture and bulk, holds wet media well, and doesn't wrinkle.
Brist0l paper has less texture than watercolor paper, and less thickness, but works so beautifully with gouache.
Include fabric swatches and mood boards in your sketchbooks too!
Write in all your thoughts, notes, dates, references and inspiration. Why hold back?
this is YOUR inspiration book. this is YOUR treasure trove of fashion design and inspiration!
The more full you feel, the more your sketches will flow effortlessly from so much motivation.
I hope today's video and post helps inspire you to try new things with your fashion design sketchbook, whether a men's fashion sketchbook or womens, childrenswear sketchbook, even accessories!
Here's another fashion sketchbook on fashion pad, but digital :0)
Let me know if this helped you, email me at info@fashionillustrationtribe for more info about ment6orships, visit my course pages and shops, and don't forget to subscribe!
happy creating,
Much Love,
Laura