TWEEN FASHION CROQUIS TEMPLATES-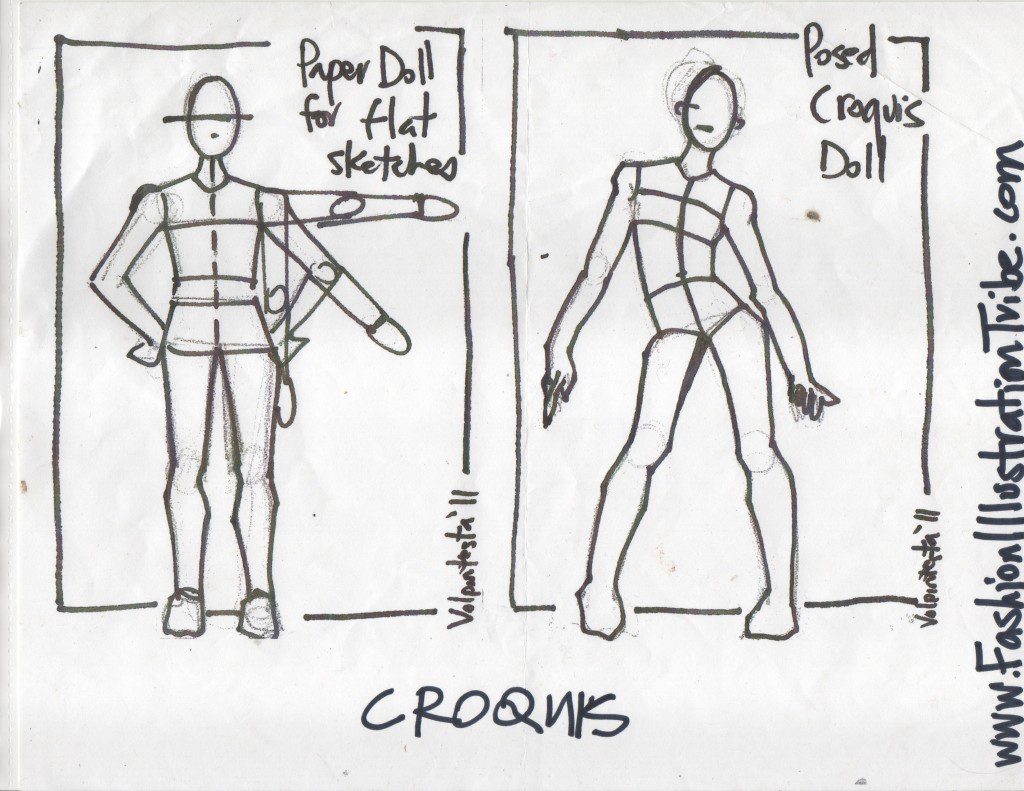 I have another resource page here including women's and men's templates that you can use to trace garments and illustrations onto, as well as flat sketches (technical drawings).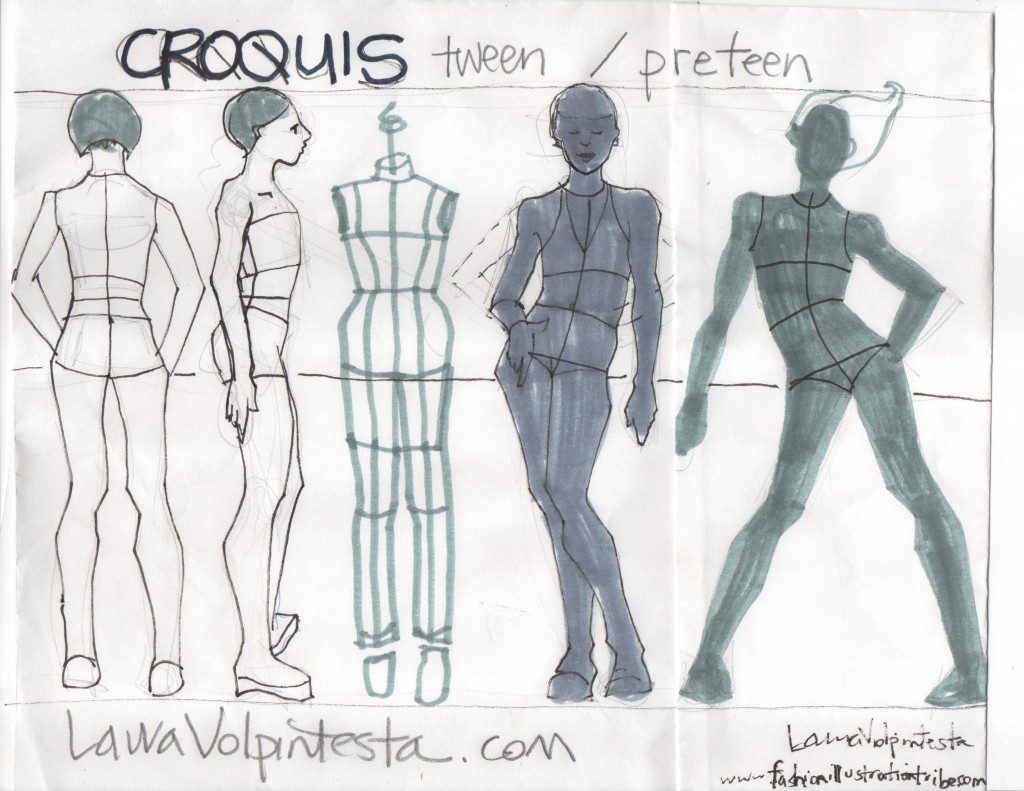 What are "croquis templates" used for in fashion design?  I call them "paper dolls" sometimes, or "flats templates", but whatever you call them, if you want to sketch fashion design and want to have a body to work on, using the same body for all of the sketches within a group can be EXTREMELY HELPFUL!!!
Use copy paper, sketch paper, or marker paper (all have a bit of sheer to them) and the body of the template shows through: sketch onto that body, so that all of your ideas can be applied to the same body, so that your sketches have a  consistent size.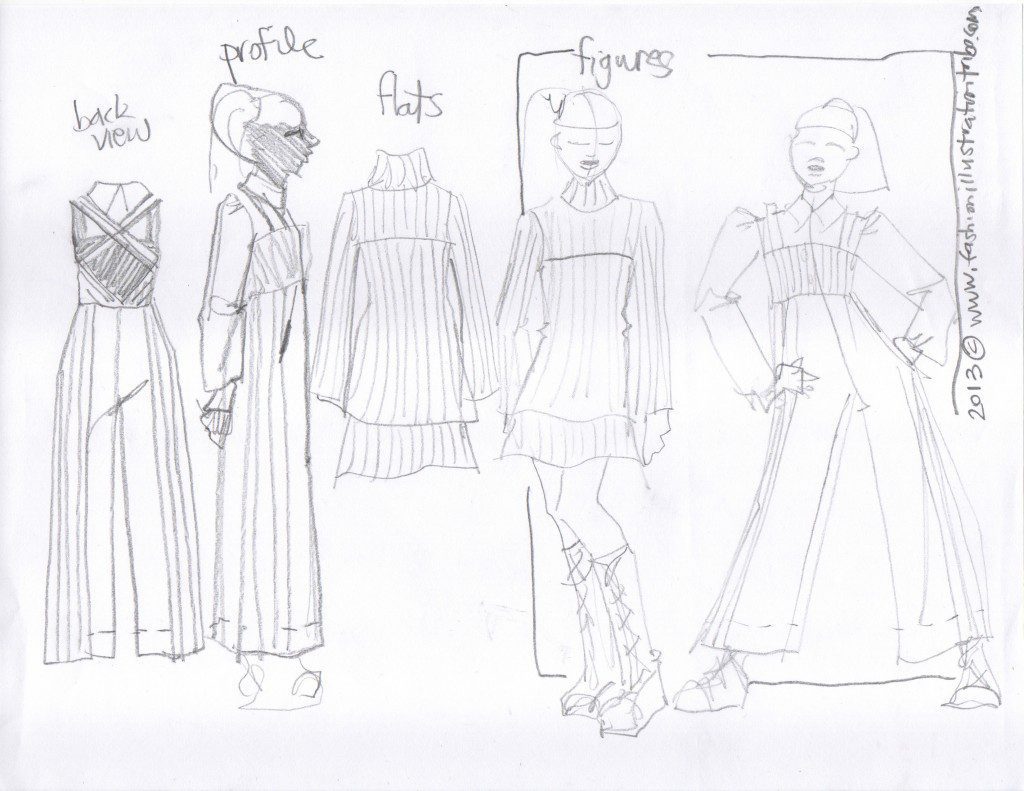 These sketches were created using the above template page. Notice the same bodies were used.
Granted, the body type can be absolutely different for any client, so these are just SOME of the preteen/tween body types that you can use for fashion design, of COURSE!!
My online course for absolute beginners takes you through 15 self-paced weeks (you keep your membership until you're done) of cumulative design and artistic drawing experience so you will be well seasoned when you emerge from the course :0), with your mini portfolio in hand, loads of experience, and a much stronger sense of your own design direction and style.  If you want to do children's wear, we can do that, just let me know first!
What I'm stressing here is that when you present or think out a group of sketches, it can help anyone who you are working with (INCLUDING YOURSELF!!) if all of your sketches are sketched to the same scale …. this helps you and /or your team be really clear about how high, how low, how wide, how deep, things are on your garments…..ah, yes, again, the ubiquitous topic of proportion in fashion design.  It is integral to everything, as lengths and widths are what create the forms.
Have fun designing!  Remember, as you are draping, drafting, or laying out pieces on your fabric width for your designs, that a new movement called Zero Waste Design is happening in fashion design….. consider how you can alter your design to create ZERO WASTE by using scraps for trims and closures, or really become conscious of how much waste you are producing with each garment cut.   Aiming to create a garment with not waste at all can be such an exciting design journey that will reap discoveries for the generations to come. There is no one way to create zero-waste garments or outfits, each individual can develop their own techniques, of course, by simply starting.  See my article on Zero-waste fashion to get started.
Also remember that if you are making your own garments one by one, you are also helping to eliminate waste by producing only what you need and not over-producing which can be much more wasteful.  Remember that the way you care for your garments is also a way to limit waste in the waterways and energy consumption.
I hope you find these templates useful! Let me know if you do, and please subscribe at the right, or share at the left, if they are!!!!
Thanks so much,
Love,
Laura